As we usher in 2022, we'd like to take a moment to proudly share all the achievements and milestones we have accomplished in 2021. From seeing growth in client base and revenue beyond our most optimistic plans to being recognized as Best New Vendor in the industry, we have been consistently pushing the envelope and moving closer to our vision of enabling the quickest possible finance transformation, one step at a time. We'd like to extend gratitude to our amazing team, partners, and customers across the globe, who helped us make great strides in all key areas, whether it is R&D for product development, partnerships, brand recognition, or market growth. Without any further ado, here are the major Acterys 2021 recap:
Doubling YoY Growth & Satisfied Enterprise Customers
In 2021, we saw a 100% ARR growth thanks to the large number of customers and partners that trusted Acterys for their financial planning, consolidation, and reporting needs. Some prominent customers worth mentioning include Coca-Cola, Heineken, Puma, Parliament of Victoria, and the US Department of Agriculture.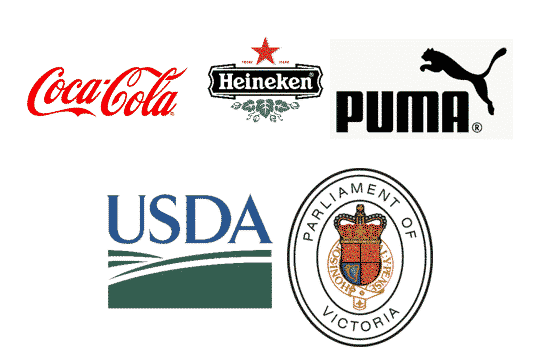 Working with some of the largest FP&A teams also enabled us to add true enterprise capabilities particularly from a scale, governance and security aspects to our products and evolve our technology to meet our customers' planning and reporting needs meticulously. That's largely because we use customer feedback to drive our product development efforts and allocate 80% of our annual budget to R&D, as compared to our industry where marketing spend of more than 60% is sadly the norm.
Talking about customer satisfaction, Acterys was nominated as G2 High Performer throughout 2021, owing to the stellar customer reviews and ratings we received. Here is what customers said about our platform in 2021: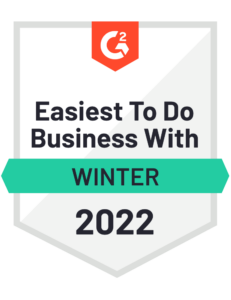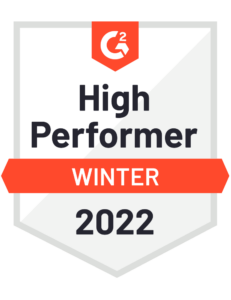 "Acterys Product and Service Review"
Acterys visuals are intuitive, with continued development and continuously providing new and functional features. Support is the key area that defines the product. Being a smaller customer, we are treated as if we were one of the larger ones.
The entire team is always on hand to answer the most basic questions from users like myself.
"Profit and Loss using Acterys solution"
I like the idea of the app itself, not only to use Power BI as a reporting system, but also to enter the data needed for further use. In one place to both see a sales report and to plan future sales.
And the nice thing is that the app does it well.
"The best Xero-BI product out there"
It makes my financial reporting and budgeting so easy. I can customise my reports to use Purchase orders and sales reports from a 3rd party program and integrate all in the one spot.
The setup was so easy, and the prebuilt templates mean you can get into it straight away. no need to build models and connect new Databases. The ability to integrate with Excel and upload plans/budgets straight from excel is awesome.

"Hyper-Segmented Business Solution for Planning that works"
Acterys leverages best-of-breed technology, SQL, PowerBI, and adds their secret sauce of enabling write back with pretty amazing techniques like splashing and planning and multi-level simultaneously. Hence we can leverage the current team and create value seamlessly with low code technologies
We Rolled Out New Features and Major Functionality Updates
2021 was the year we took the Acterys platform to the next level. We released two major versions of Acterys – v21.1 and v21.2. Each version came with significant new updates and features to make enterprise-level planning, consolidation, and reporting easier and more agile for our customers.
Aside from improvements in almost all areas of the Acterys platform, we added Power BI Sync to our product line in the 21.1 release. This new app makes Power BI models planning-enabled, synchronizes all the model details with the data warehouse, and distributes reports and dashboards as PDFs with just a click.
You can read the complete 21.1 release notes here.
We ended 2021 with a bang, releasing Acterys v21.2. The highlights include:
Acterys add-on for Excel Online
A new addition to the Acterys App family: Oracle NetSuite
Enhanced modeling and master data management capabilities through Logic Driven Columns and Instant Database Switching capabilities
Power BI Sync 2.0 with improved reports distribution module and ability to sync Power BI models with Snowflake
Major upgrades to Acterys Matrix, Comments, and Table Edit visuals, and an enhanced token-based authentication system for all Acterys Visuals
You can read the complete 21.2 release notes here.
Our Platform Recognized as Best New Vendor by BPM Partners
During the 2nd quarter, BPM Partners, an independent US market analyst firm, conducted the "Pulse of Performance Management 2021" survey. Acterys was chosen as 2021 'Best New Vendor' as our platform secured high user ratings for Product Flexibility, Streamlined Integration, Low Total Cost of Ownership, Price/Value, and Quick Implementation. In addition, Acterys was the overall winner for highest Support Satisfaction.

Sharing his thoughts on Acterys' success, BPM Partner CEO Craig Schiff commented:
"Acterys fully leverages Microsoft technologies and provides analytics in conjunction with dynamic planning instantly available in a cloud or on-premise environment. An ideal platform for realizing digital transformation of finance and operational processes and gaining a holistic view and consolidated results across nearly any data source. What's unique about them is that they offer instantly available data models optimized for analytics and planning on most major accounting and SaaS platforms as well as a bi-directional integration with both Power BI and Excel."
Our Efforts to Becoming Carbon Positive & Caring for the Environment
Since 2020, we have been working on an Environmental, Social, and Governance (ESG) offering that will enable users to track our company's ESG indicators. In Q1 2022, a new Rapid Results Package will be available that enables organizations to track ESG metrics in the quickest and easiest way: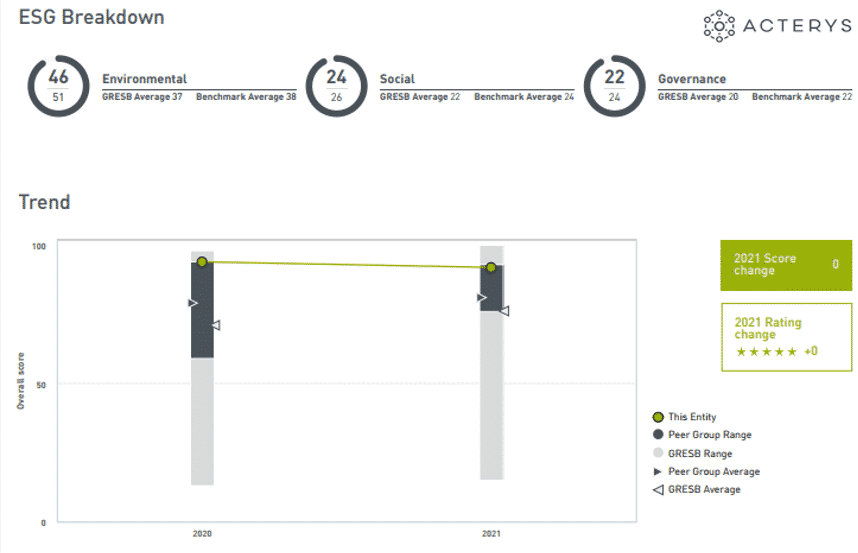 As an organization, we have recently gone "Carbon Negative" by installing a 10KW solar system with a Tesla Powerwall 2 battery system in our head office. This makes us a net supplier of green energy in addition to the 200+ trees that we maintain on a large rainforest area on the property.
Our Efforts to Enhance Acterys' Infrastructure Quality & Security through ISO 9000 and FedRAMP Certifications
In 2021, we did an initial extensive review of security processes and penetration tests to improve the overall security of our platform. We hired SEC Consult, one of the leading consultancies in the field of cyber and application security, for ongoing reviews and advice. The Initial tests confirmed the robustness of our enterprise-grade infrastructure and efforts in that area.

In addition, we are in the process of securing ISO 9000 certification for quality assurance, which confirms our commitment to continuous improvement and maintaining the highest level of customer service.
We are also working with a dedicated expert to amplify our efforts for becoming US Federal Risk and Authorization Management Program (FedRAMP) authorized SaaS provider. Having this certification ensures that we have all the measures in place to protect federal data at a high level in the cloud.
Our roadmap for 2022 encompasses significant product development milestones. So, keep an eye out on our website and social media pages for new feature releases and functionality updates to enable FP&A teams and business leaders to get the maximum value out of their business data.
Despite all the turbulences, 2021 has been a remarkable year for us – we understand that for some of you there have been challenges and hope we can leave all those behind in 2022. Also, our heart goes out to everyone affected by the pandemic, and we sincerely wish a healthy and prosperous 2022 to you and your families.
Have a data-driven and insightful year ahead!