Dieser Beitrag enthält einen Überblick über die externen Tools von Power BI, die Power BI Desktop zusätzliche Funktionen hinzufügen:
Power BI External Tool Name

Developer
Key Features
Licensing Model
Download
Acterys Power BI Sync
Acterys
Plan and write back enable Power BI models
Synchronization with SQL Server
Commercial
Power BI Sync
Acterys Modeller
Acterys
Automated data warehouse, Power BI model and reports generation for ERP and SaaS solutions
Creation and editing of data warehouse models
Commercial
Acterys Modeller
ALM Toolkit
Christian Wade
Application Lifecycle Managment for SSAS models
Free
ALM toolkit
Business Ops
PowerBi.tooltips
Addition of external tools
Free
Business Ops
DAX Studio
Darren Gosbell
Executing and analyzing DAX queries against Microsoft Tabular models
Free
DAX Studio
Metadata Translator
Various
Metadata management
Free
Meta Data Translator
Power BI Helper
Radacad, Reza Rad
Various tools to improve development process
Free
Power BI Helper
Power BI Side Tools
Didier Terrien
DAX Debugger
Export to Excel
Transfer DAX/M
Free
Power BI Sidetools
Tabular Editor
Daniel Otykier / Kapacity
Tabular model development
Scripting Engine
Free/Commercial Version 3
Tabular Editor
Möchten Sie Ihr externes Power BI-Tool zu unserer Liste hinzufügen? Antworten Sie uns im untenstehenden Kommentar oder kontaktieren Sie uns einfach.
Was sind externe Power BI-Tools für den Desktop?
Die Power BI External Tools sind Tools von Drittanbietern, die auf dem Power BI Desktop registriert und verfügbar sind. Sie können über das Menüband Externe Tools auf Power BI Desktop gestartet werden. Wenn ein Benutzer ein externes Power BI-Werkzeug auswählt, werden seine Informationen, einschließlich des Namens und der Portnummer der internen Datenmodell-Engine, an das Werkzeug weitergegeben.
Liste der externen Power BI Desktop-Tools
Hier finden Sie eine Liste der externen Power BI Desktop-Tools, auf die Sie über das Menüband Tools zugreifen können.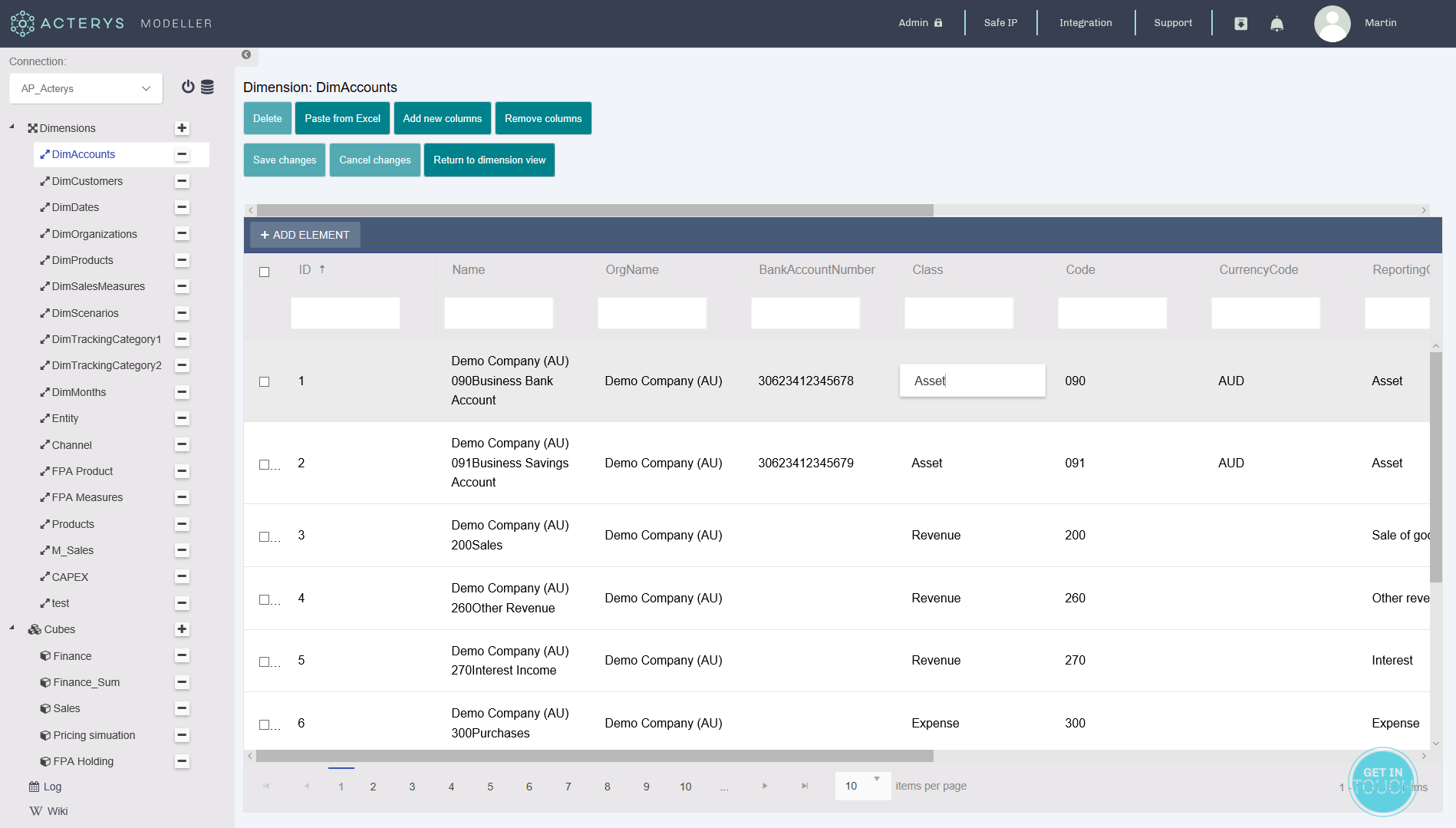 Acterys-Modellierer
Der Acterys Modeller ist ein cloudbasierter Dienst (mit der Option einer Vor-Ort-Installation), der es Geschäftsanwendern ermöglicht, automatisch optimale Analysemodelle (Star Schema Data Warehouse) aus einer Vielzahl von ERP-Systemen zu erstellen. Buchhaltung und SaaS-Systeme. Die erstellten Modelle sind schreib- und planungsfähig und können von Geschäftsanwendern nach Bedarf bearbeitet und erweitert werden, z. B. um neue Produkte/Attribute, Kontenzuordnungen, neue Szenarien usw. hinzuzufügen. Mit der neuen Instant-Link-Technologie können Anwender auch bestehende Data-Warehouse-Komponenten einfach hinzufügen, die dann im Modeller bearbeitet werden können, ohne dass die Quelltabellen davon betroffen sind.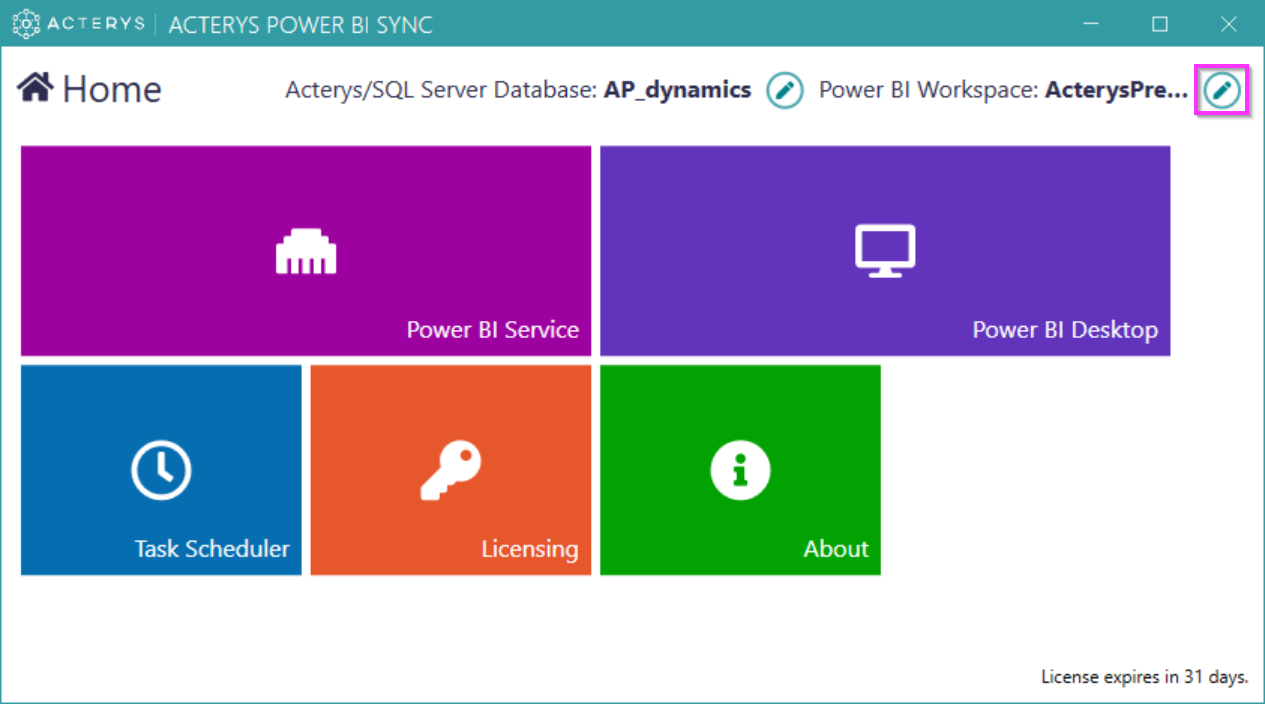 Acterys Power BI-Synchronisierung
Acterys Power BI Sync ist eine Windows-Anwendung (und bald auch als Cloud-Service im Acterys Modeller verfügbar), die als externes Power BI-Tool integriert ist. Mit Power BI Sync können Sie Power BI-Tabellen, einschließlich berechneter Spalten usw., mit einer SQL Server-Datenbank synchronisieren, entweder als Standard-Staging-Tabellen oder als zurückschreibbares und planbares Acterys Data Warehouse-Sternschema.
Merkmale von Acterys Power BI Sync:
Mit dem neuen Format können Benutzer jedem in Power BI hinzugefügten Datenmodell mit über 600 Konnektoren beispiellose Planungsfunktionen hinzufügen, von der Top-Down-Dateneingabe über die treiberbasierte Planung bis hin zu einer Vielzahl von Funktionen für das Corporate Performance Management (FX-Handling, gesetzliche Konsolidierung usw.).
Außerdem können Benutzer diese Tabellen im Webbrowser (Acterys Modeller), in Power BI(8 in AppSource gelistete benutzerdefinierte Power BI-Visualisierungen) sowie in einem Excel-Add-In, das wiederum alle Acterys-Bearbeitungs- und Planungsfunktionen unterstützt, einfach bearbeiten.
Laden Sie hier eine Testversion von Acterys Power BI Sync herunter: Acterys Power BI Sync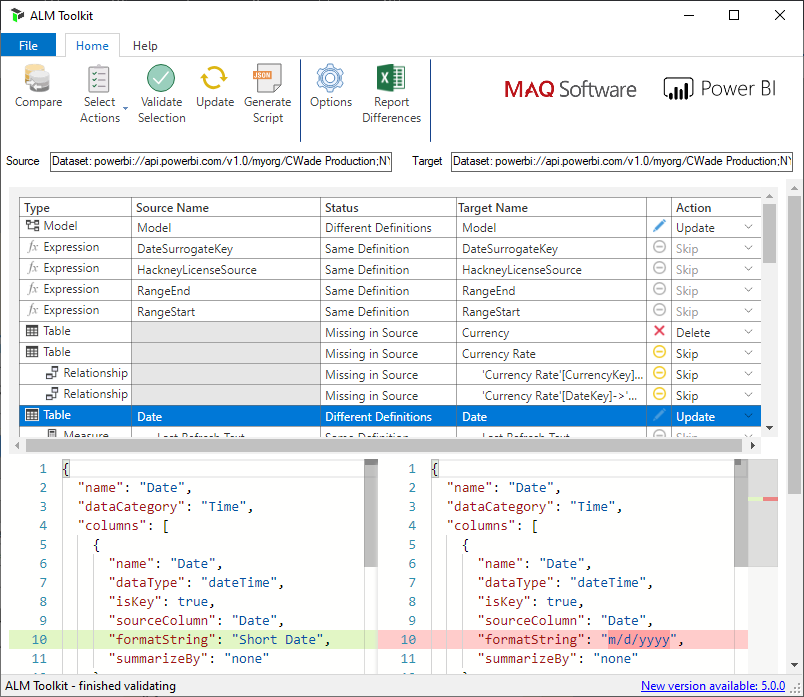 ALM-Werkzeugsatz
Das ALM Toolkit ist ein kostenloses und quelloffenes Tool zur Verwaltung von Microsoft Power BI-Datensätzen: Datenbankvergleich, Zusammenführen von Code, einfache Bereitstellung, Integration von Source-Control, Wiederverwendung von Definitionen, Selbstbedienung für Unternehmens-BI.
Er basiert auf dem Quellcode von BISM Normalizer, der ähnliche Funktionen für Tabellenmodelle bietet.
Laden Sie die kostenlose ALM-Toolkit für Power BI Desktop Version hier herunter: Startseite – ALM-Toolkit (alm-toolkit.com)
Business Ops
Das Business Ops Tool hilft Ihnen, das Hinzufügen von externen Tools in Power BI Desktop zu vereinfachen. Laden Sie dieses Installationsprogramm herunter und Sie können eine Vielzahl von externen Tools direkt in Power BI Desktop hinzufügen: Business Ops – (powerbi.tips)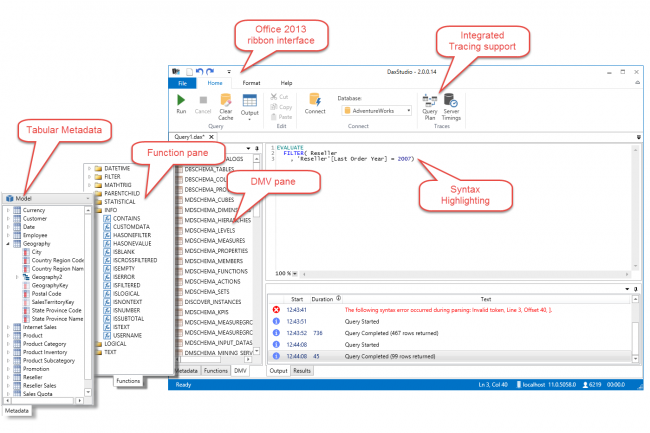 DAX-Studio
DAX Studio ermöglicht die Ausführung und Analyse von DAX-Abfragen gegen Microsoft Tabular (Analysis Service Tabular /Power BI) Modelle. Sie umfasst:
Automatisierte Verbesserungen der DAX-Formatierung und Hervorhebung
Analyse der Serverzeiten
Vertauschen des Begrenzungsstils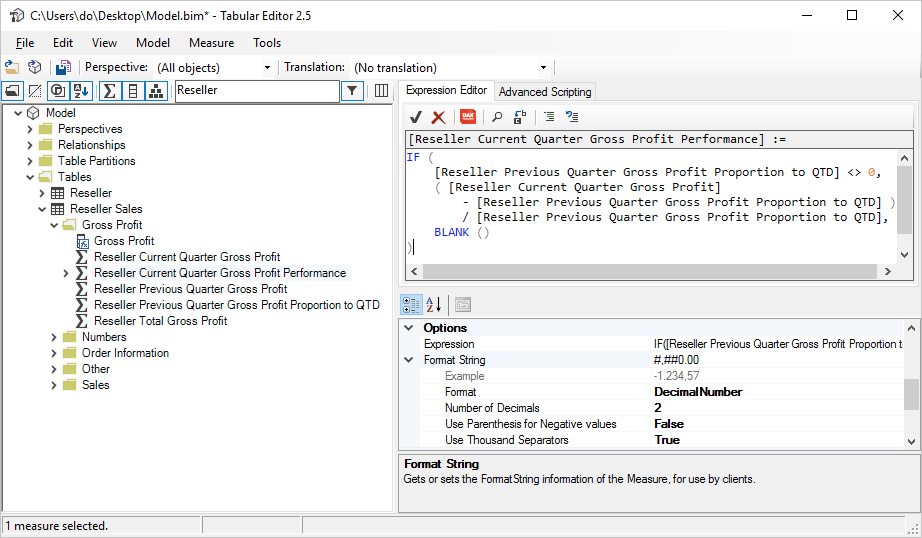 Kapacity Tabellarischer Editor
Der Tabelleneditor bietet eine intuitive hierarchische Ansicht jedes Objekts in einem Tabellenmodell (Analysis Service Tabular und Power BI). Es ermöglicht die Bearbeitung von Spalten, Kennzahlen und Hierarchien, die in Anzeigeordnern angeordnet sind. Benutzer können die Eigenschaften eines oder mehrerer Objekte bearbeiten, indem sie diese in der Baumstruktur (mehrfach) auswählen. Die neue Version 3 bietet einen DAX-Editor mit Syntaxhervorhebung, mit dem Sie die Ausdrücke von Kennzahlen, berechneten Spalten und berechneten Tabellen leicht bearbeiten können.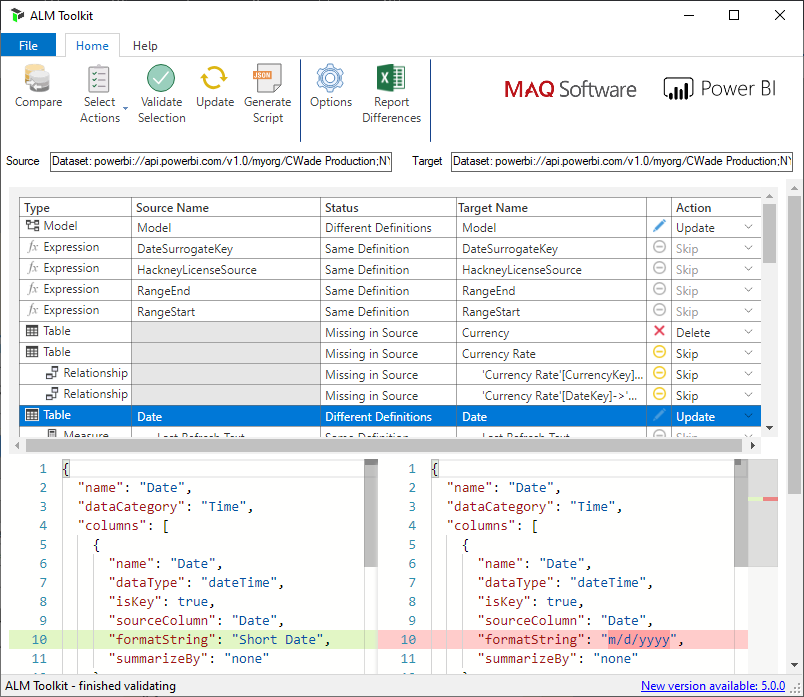 Metadaten-Übersetzer
Der Metadata Translator hilft, die Lokalisierung von Power BI-Datenmodellen zu optimieren. Das Tool kann die Beschriftungen, Beschreibungen und Anzeigeordnernamen von Tabellen, Spalten, Kennzahlen und Hierarchien automatisch übersetzen, indem es die maschinelle Übersetzungstechnologie von Azure Cognitive Services nutzt. Darüber hinaus können Sie Übersetzungen in Form von Dateien mit kommagetrennten Werten (.csv) exportieren und importieren, um sie bequem in Excel oder einem Lokalisierungstool zu bearbeiten.
Sie können die kostenlose Open-Source-Version von Metadata Translator hier herunterladen: Analysis-Services/MetadataTranslator bei master – microsoft/Analysis-Services – GitHub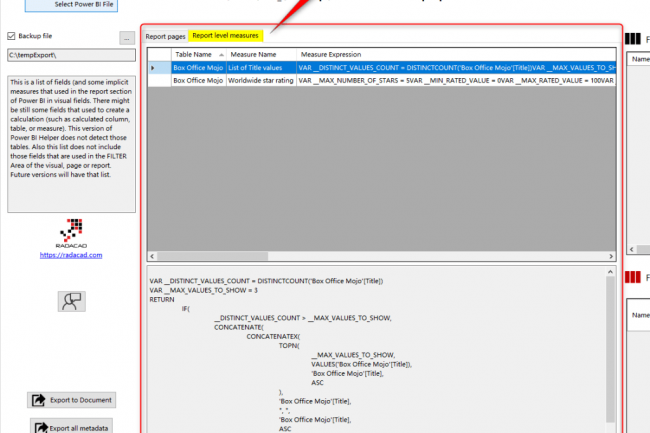 Power BI-Helfer
Der Power BI Helper enthält eine Reihe von Funktionen zur Verbesserung des Entwicklungsprozesses in Power BI Desktop:
Erkennung des Speichermodus von Tabellen (DirectQuery, Dual, Import)
Erkennung des Verbindungsmodus der Datei (Import, DirectQuery, Live-Verbindung, Composite/Mixed)
Maßnahmen auf Berichtsebene
Vergleichen Sie zwei Dateien auf der Grundlage ihrer Kennzahlen auf Berichtsebene
Analyse der Visualisierung durch einfache Auswahl des Modells
Die kostenlose Version von Power BI Helper kann hier heruntergeladen werden: Power BI-Helfer – RADACAD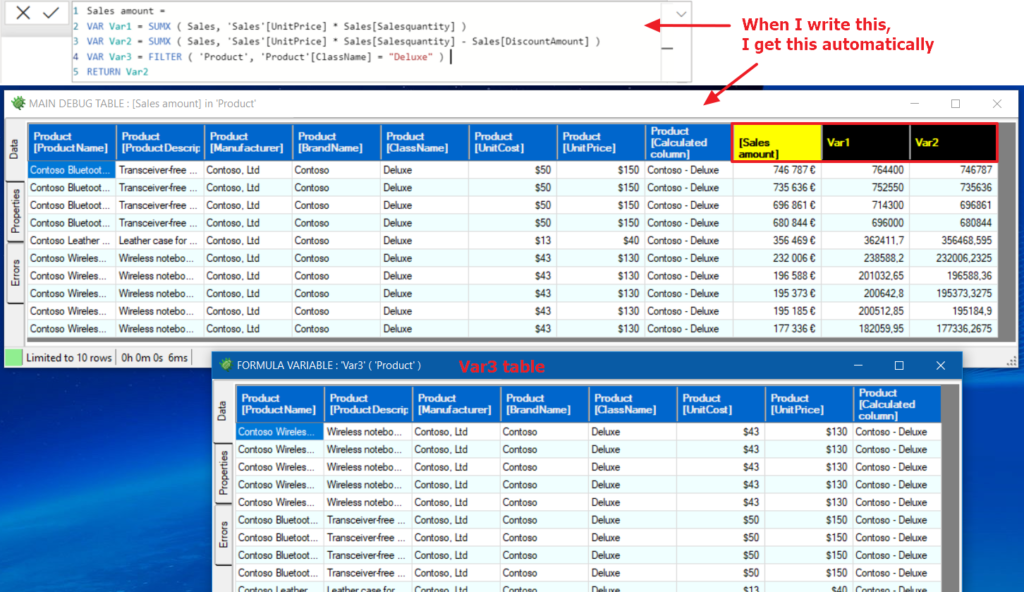 Power BI-Seitentools
Power BI Sidetools ist ein kostenloses externes Power BI-Tool zur Steigerung der Produktivität bei der Entwicklung von Berichten in Power BI Desktop. Sie können Sidetools von hier herunterladen: Power BI-Seitentools
Dies ist die vollständige Liste der externen Tools, die auf dem Power BI-Desktop verfügbar sind und den Benutzern bei der einfachen Planung, Prognose und Verwaltung ihrer Daten helfen.
Um diese Power BI-Tools für Ihr Unternehmen zu nutzen, wenden Sie sich an unser Support-Team.