Ce post contient un aperçu des outils externes de Power BI qui ajoutent des fonctionnalités supplémentaires à Power BI Desktop :
Power BI External Tool Name

Developer
Key Features
Licensing Model
Download
Acterys Power BI Sync
Acterys
Plan and write back enable Power BI models
Synchronization with SQL Server
Commercial
Power BI Sync
Acterys Modeller
Acterys
Automated data warehouse, Power BI model and reports generation for ERP and SaaS solutions
Creation and editing of data warehouse models
Commercial
Acterys Modeller
ALM Toolkit
Christian Wade
Application Lifecycle Managment for SSAS models
Free
ALM toolkit
Business Ops
PowerBi.tooltips
Addition of external tools
Free
Business Ops
DAX Studio
Darren Gosbell
Executing and analyzing DAX queries against Microsoft Tabular models
Free
DAX Studio
Metadata Translator
Various
Metadata management
Free
Meta Data Translator
Power BI Helper
Radacad, Reza Rad
Various tools to improve development process
Free
Power BI Helper
Power BI Side Tools
Didier Terrien
DAX Debugger
Export to Excel
Transfer DAX/M
Free
Power BI Sidetools
Tabular Editor
Daniel Otykier / Kapacity
Tabular model development
Scripting Engine
Free/Commercial Version 3
Tabular Editor
Vous voulez ajouter votre outil Power BI externe à notre liste ? Répondez-nous dans le commentaire ci-dessous ou contactez-nous simplement.
Que sont les outils externes de Power BI pour le bureau ?
Les outils externes Power BI sont des outils tiers qui sont enregistrés et disponibles sur le bureau Power BI. Ils peuvent être lancés à partir du ruban Outils externes disponible sur Power BI Desktop. Lorsqu'un utilisateur sélectionne un outil externe de Power BI, ses informations, notamment le nom et le numéro de port de l'instance interne du moteur de modèle de données, sont transmises à l'outil.
Liste des outils externes de Power BI Desktop
Voici une liste des outils externes du bureau Power BI auxquels on peut accéder par le ruban des outils.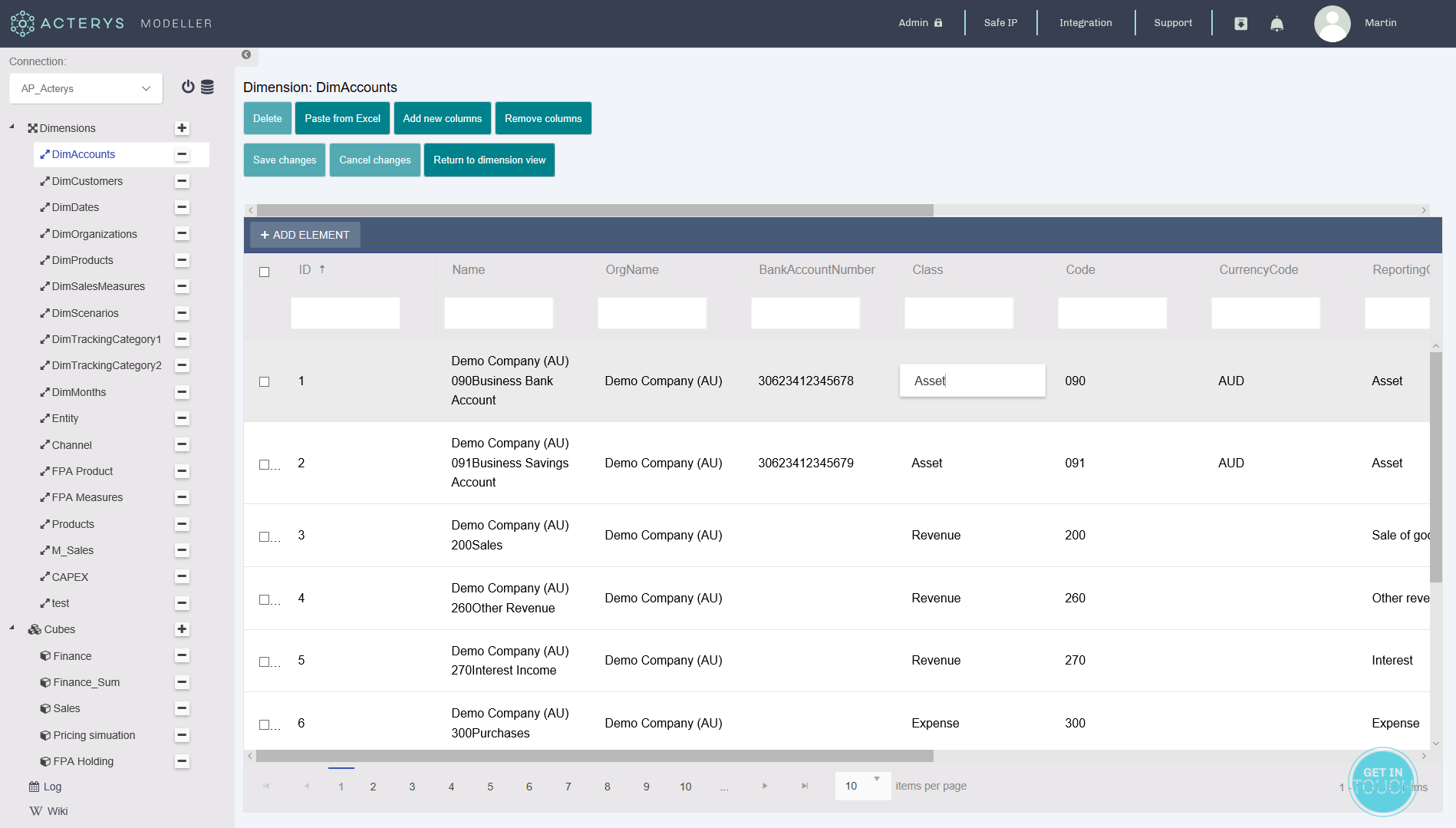 Modéliste Acterys
Acterys Modeller est un service basé sur le cloud (avec une option d'installation sur site) qui permet aux utilisateurs professionnels de créer automatiquement des modèles d'analyse optimaux (entrepôt de données à schéma en étoile) à partir d'une variété d'ERP. la comptabilité et les systèmes SaaS. Les modèles créés sont compatibles avec l'écriture et la planification et peuvent être modifiés et étendus selon les besoins des utilisateurs professionnels, par exemple pour ajouter de nouveaux produits/attributs, des mappages de comptes, de nouveaux scénarios, etc. Grâce à la nouvelle technologie Instant Link, les utilisateurs peuvent également ajouter facilement des composants d'entrepôt de données existants qui peuvent ensuite être modifiés dans le Modeller sans affecter les tables sources.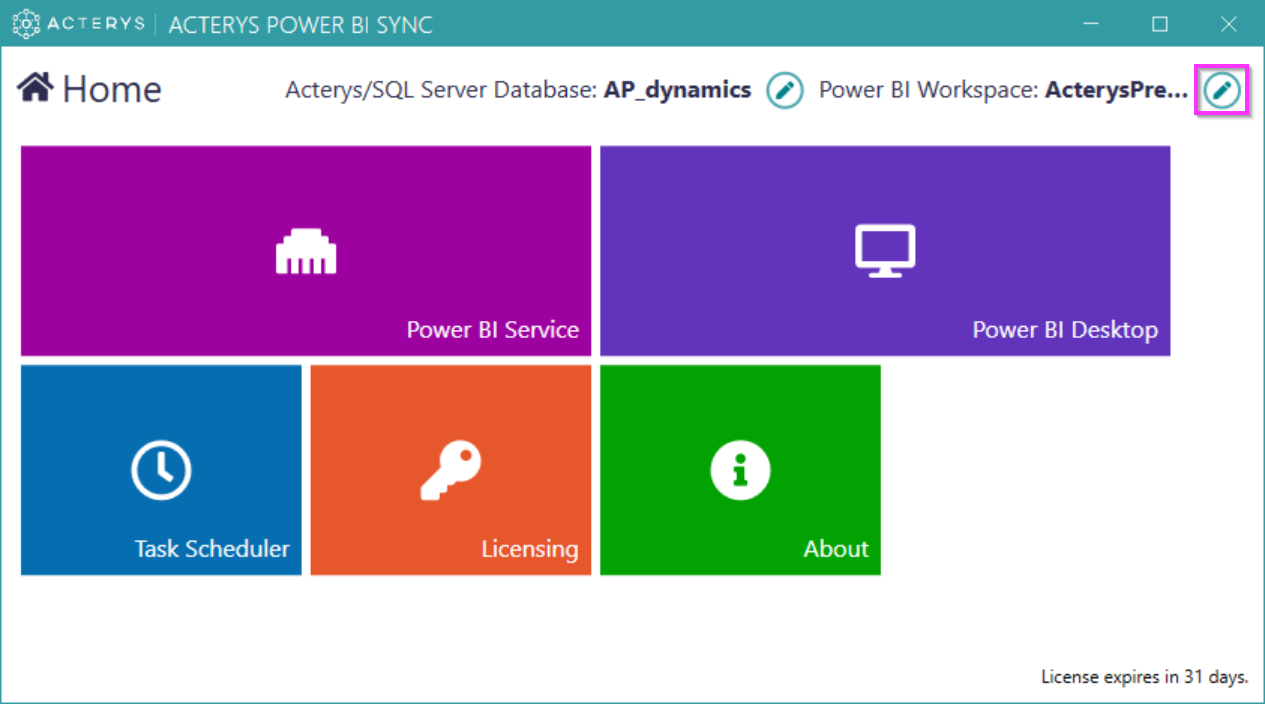 Acterys Power BI Sync
Acterys Power BI Sync est une application Windows (et bientôt aussi disponible en tant que service cloud dans Acterys Modeller) qui est intégrée comme un outil Power BI externe. Power BI Sync vous permet de synchroniser les tables Power BI, y compris les colonnes calculées, etc., avec une base de données SQL Server, soit en tant que tables de transit standard, soit en tant que schéma en étoile de l'entrepôt de données Acterys permettant la réécriture et la planification.
Caractéristiques de Acterys Power BI Sync :
Avec ce dernier format, les utilisateurs peuvent ajouter des fonctions de planification inégalées, de la saisie de données descendante à la planification basée sur le conducteur, en passant par diverses fonctions de gestion des performances de l'entreprise (traitement des changes, consolidation statutaire, etc.), à tout modèle de données ajouté dans Power BI avec plus de 600 connecteurs.
Il permet également aux utilisateurs de modifier facilement ces tableaux dans le navigateur web (Acterys Modeller), dans Power BI(8 visuels personnalisés Power BI répertoriés par AppSource) ainsi que dans un module complémentaire Excel qui prend en charge toutes les fonctions d'édition et de planification d'Acterys.
Téléchargez une version d'essai d'Acterys Power BI Sync ici : Acterys Power BI Sync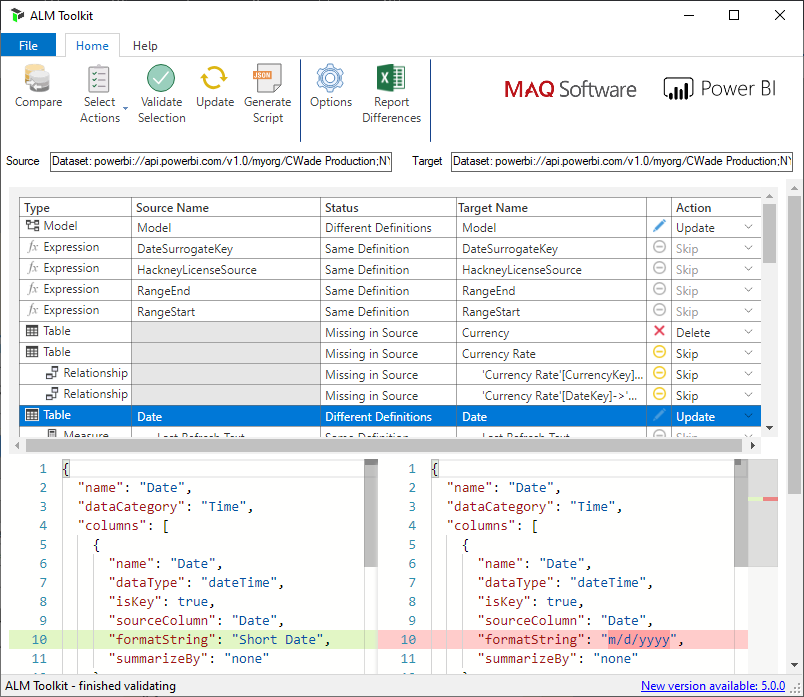 Boîte à outils ALM
L'ALM Toolkit est un outil gratuit et open-source pour gérer les ensembles de données Microsoft Power BI : Comparaison de bases de données, fusion de codes, déploiement facile, intégration du contrôle des sources, définitions de réutilisation, libre-service vers la BI de l'entreprise.
Il est basé sur le code source de BISM Normalizer, qui offre des fonctionnalités similaires pour les modèles Tabular.
Téléchargez la version gratuite de ALM toolkit pour Power BI Desktop ici : Page d'accueil – ALM Toolkit
Opérations commerciales
L'outil Business Ops vous aide à faciliter l'ajout d'outils externes dans Power BI Desktop. Téléchargez cet installateur et vous pourrez ajouter une variété d'outils externes directement dans Power BI Desktop : Business Ops – (powerbi.tips)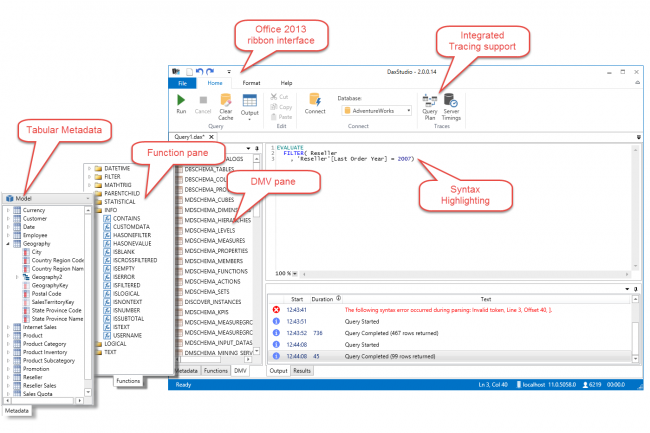 DAX Studio
DAX Studio permet l'exécution et l'analyse de requêtes DAX contre des modèles Microsoft Tabular (Analysis Service Tabular /Power BI). Il comprend :
Améliorations et mise en évidence du formatage DAX automatisé
Analyse des temps d'utilisation des serveurs
Changement de style de délimiteur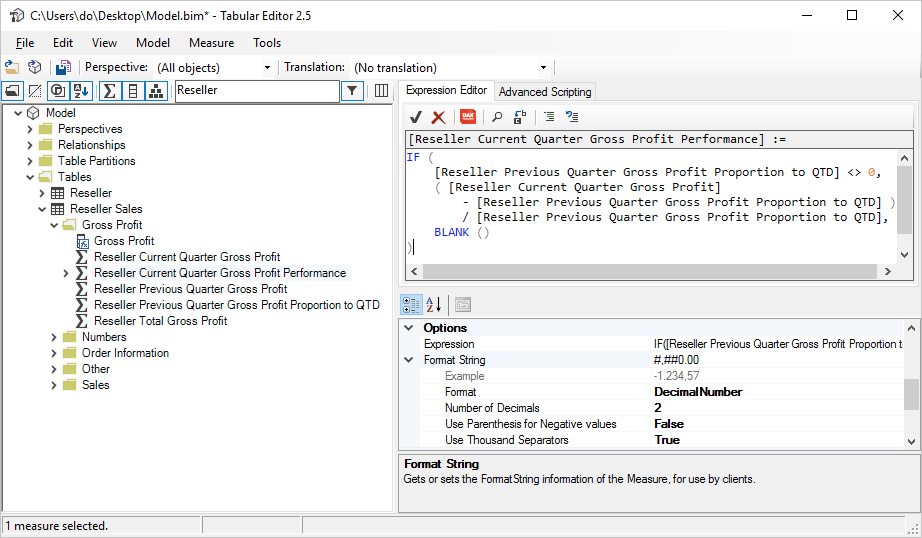 Kapacity Tabular Editor
L'éditeur tabulaire offre une vue hiérarchique intuitive de chaque objet dans un modèle tabulaire (Analysis Service Tabular et Power BI). Il permet d'éditer les colonnes, les mesures et les hiérarchies qui sont disposées dans des dossiers d'affichage. Les utilisateurs peuvent modifier les propriétés d'un ou plusieurs objets, en les (multi)sélectionnant dans l'arbre. La nouvelle version 3 offre un éditeur DAX avec coloration syntaxique qui vous permet de modifier facilement les expressions des mesures, des colonnes calculées et des tableaux calculés.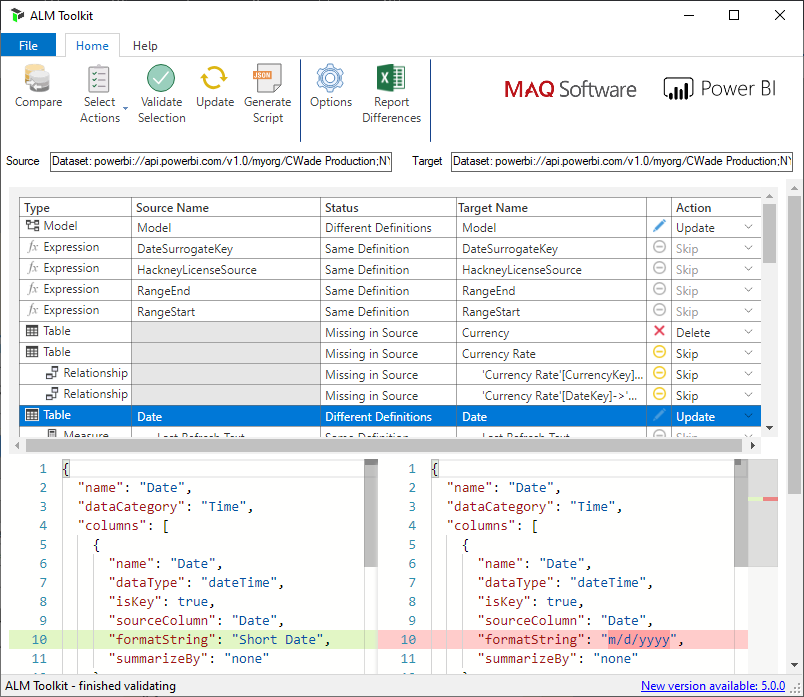 Traducteur de métadonnées
Metadata Translator permet de rationaliser la localisation des modèles de données Power BI. L'outil peut traduire automatiquement les légendes, les descriptions et les noms de dossiers d'affichage des tableaux, des colonnes, des mesures et des hiérarchies en utilisant la technologie de traduction automatique d'Azure Cognitive Services. Il vous permet également d'exporter et d'importer des traductions via des fichiers Comma Separated Values (.csv) pour une édition en masse pratique dans Excel ou un outil de localisation.
Vous pouvez télécharger la version open source gratuite de Metadata Translator ici : Analysis-Services/MetadataTranslator at master – microsoft/Analysis-Services – GitHub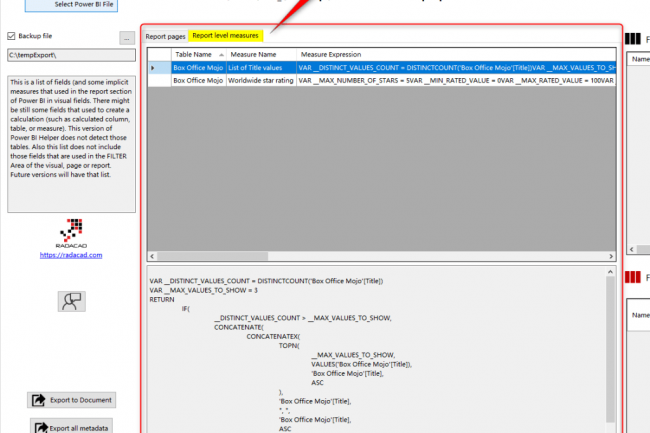 Assistant Power BI
Le Power BI Helper comprend un ensemble de fonctionnalités visant à améliorer le processus de développement dans Power BI Desktop :
Détection du mode de stockage des tables (DirectQuery, Dual, Import)
Détection du mode de connexion du fichier (Import, DirectQuery, Live Connection, Composite/Mixed)
Mesures au niveau du rapport
Comparer deux fichiers sur la base de leurs mesures au niveau du rapport
Analyser la visualisation en sélectionnant simplement le modèle
La version gratuite de Power BI Helper peut être téléchargée ici : Power BI Helper – RADACAD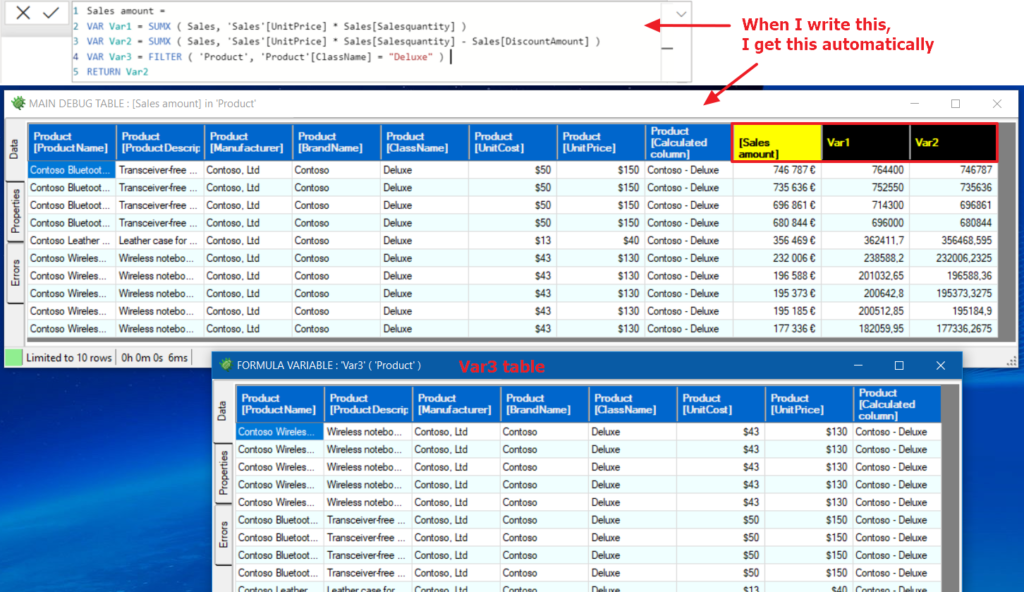 Outils auxiliaires de Power BI
Power BI Sidetools est un outil externe gratuit de Power BI destiné à augmenter la productivité lors du développement de rapports dans le bureau Power BI. Vous pouvez télécharger Sidetools à partir d'ici : Power BI Sidetools
Voici la liste complète des outils externes disponibles sur le bureau Power BI qui peuvent aider les utilisateurs à planifier, prévoir et gérer facilement leurs données.
Pour utiliser ces outils Power BI pour votre entreprise, contactez notre équipe d'assistance.