De feestdagen zijn in volle gang en iedereen neemt de tijd om te ontspannen en tot rust te komen. Het is ook de tijd van het jaar waarin we terugkijken en waardering hebben voor de mijlpalen die we hebben bereikt en de klanten die we hebben geholpen geweldige resultaten te behalen met onze oplossingen. 2022 was het meest succesvolle jaar sinds onze oprichting in 2016 met een immense groei op alle belangrijke gebieden, waaronder klantenbestand, omzet & winst, teamgrootte, erkenning door toonaangevende analisten en marktpenetratie. Hier zijn de belangrijkste hoogtepunten van Acterys 2022:
Een indrukwekkende omzetgroei van 233% j-o-j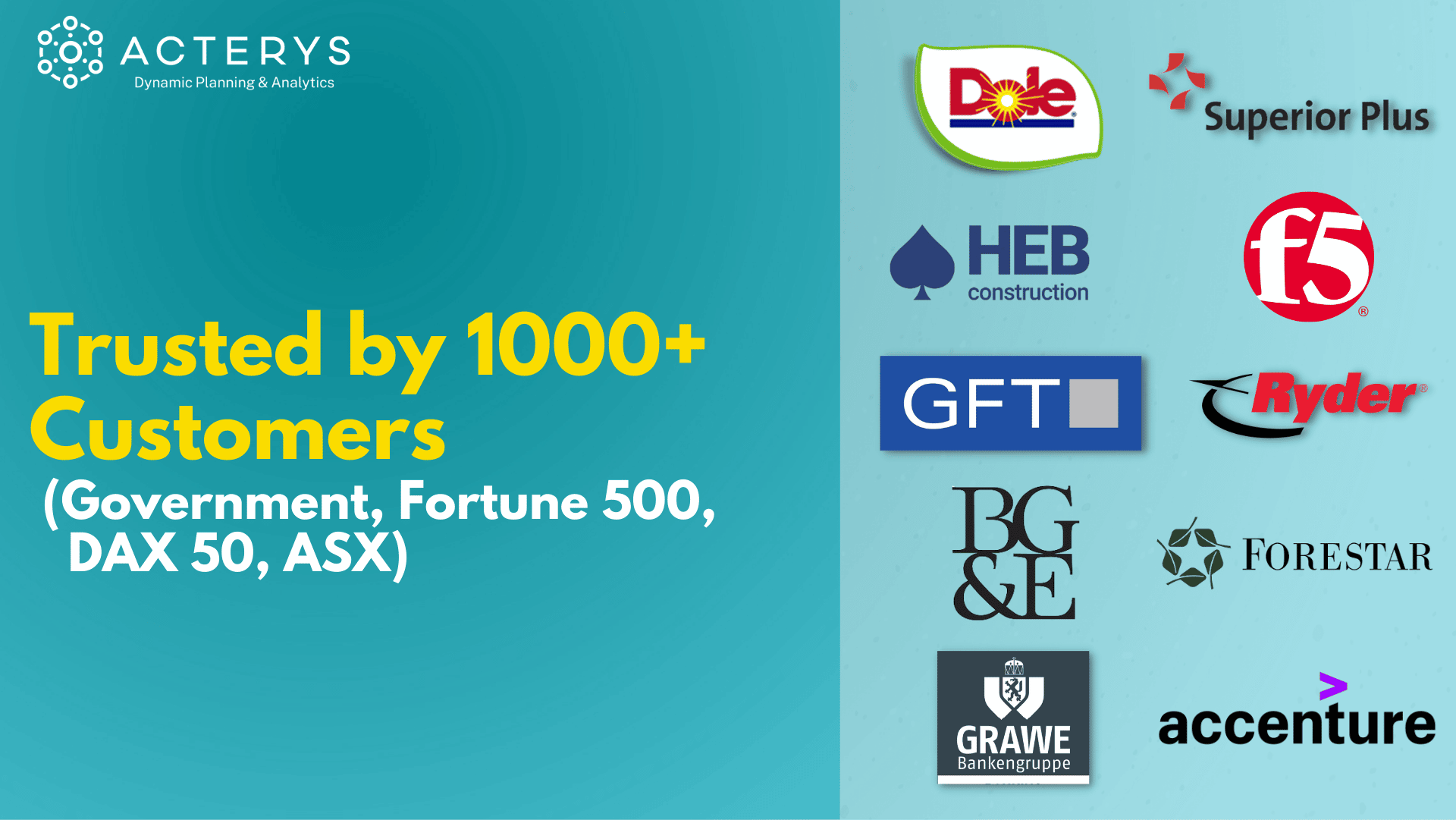 Met het succes van vorig jaar stevig in onze visie (2021 – 100% YoY Growth), gingen we vol gas vooruit en behaalden we een opmerkelijke omzetstijging van 233% ten opzichte van het voorgaande jaar. Deze indrukwekkende groei is te danken aan het grote aantal zakelijke klanten en partners die voor de oplossingen van Acterys kozen om de dynamische xP&A-transformatie te stimuleren.
Enkele van de prominente klantnamen zijn Superior Plus (toonaangevende Noord-Amerikaanse distributeur en verkoper van propaan en distillaat), F5 Networks (technologiebedrijf gespecialiseerd in applicatiebeveiliging, multi-cloud management, online fraudepreventie), Publix (Amerikaanse supermarktketen), Accenture, Grawe Bank Group (financiën), HEB Construction en Forestar Group Inc. en vele anderen.
Als onderdeel van onze missie om klanten de beste waarde te bieden, zijn we er bijzonder trots op dat 80% van onze inkomsten wordt geïnvesteerd in R&D en productontwikkeling. Hierdoor kunnen we nieuwe functies en verbeterde functionaliteit leveren in een aanzienlijk hoger tempo dan wie dan ook in de branche. Onze benadering van productontwikkeling is gebaseerd op de waardevolle inzichten van onze klanten.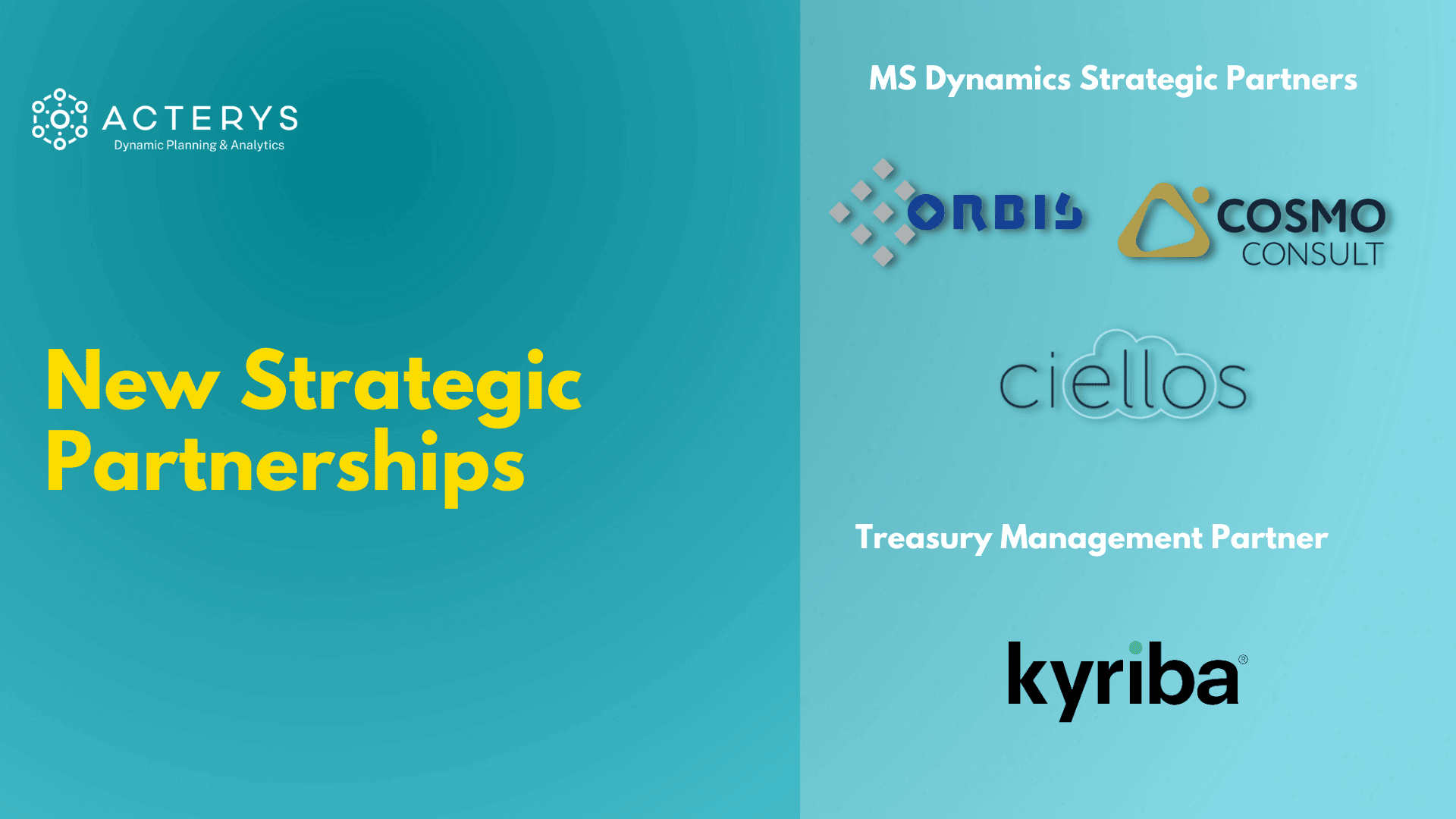 Acterys is onlangs een aantal krachtige partnerschappen aangegaan om zijn oplossingenpakket uit te breiden naar onontgonnen markten. Dit biedt innovatieve en diverse mogelijkheden voor bedrijven die hun bedrijfsprocessen willen stroomlijnen. Dit houdt ook in dat we samenwerken met MS Dynamics implementatiepartners, waaronder Cosmo Consult, Orbis Consulting LLC en Ciellos. We are also proud to be part of the Kyriba network that provides treasury management solutions to the Office of CFO (Chief Financial Officer).
Acterys Recognized by Leading Independent Analysts Like Gartner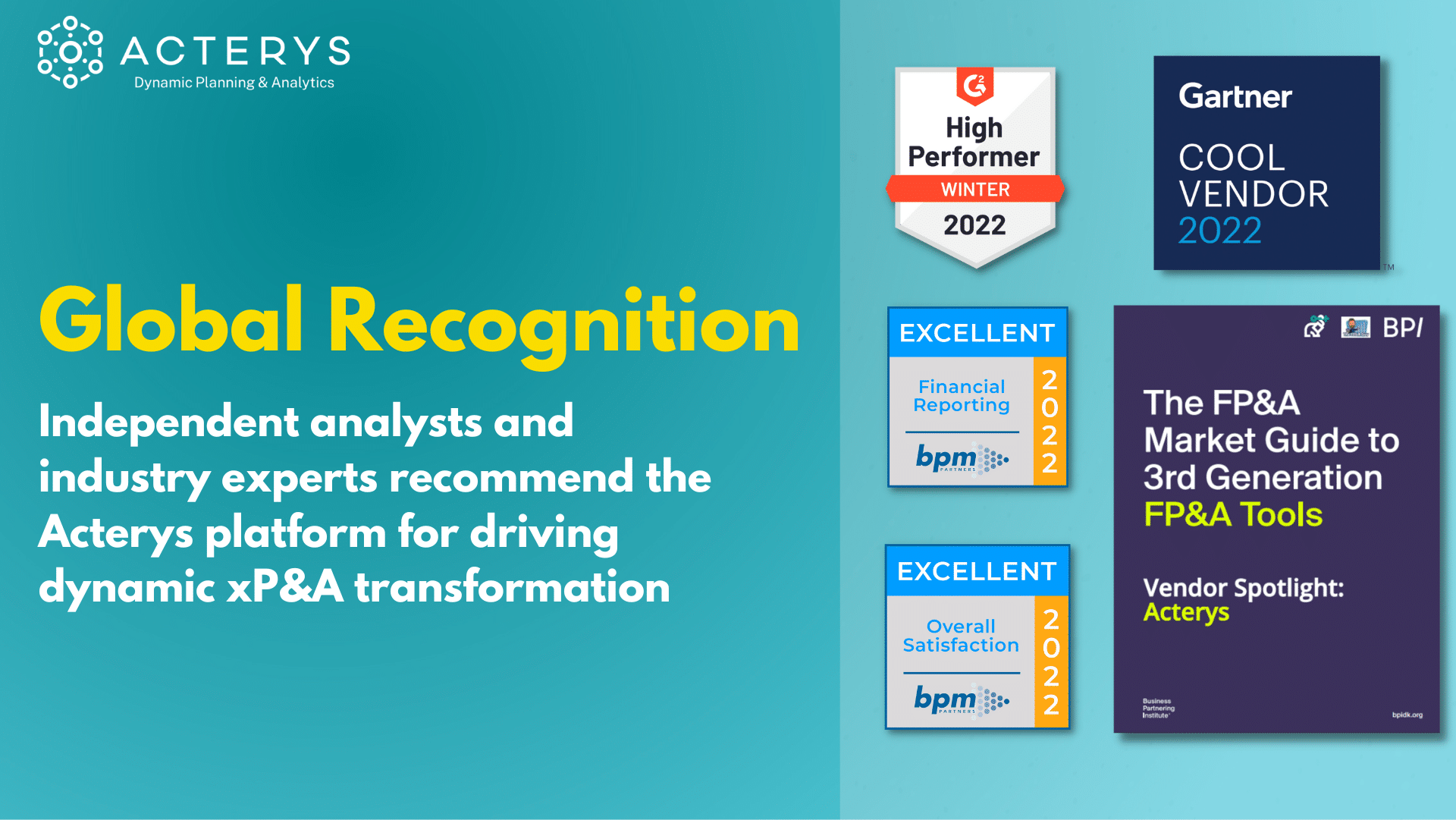 Throughout the year, Acterys has been featured in multiple analyst reports and received stellar ratings from customers.
De meest indrukwekkende van deze erkenningen is de benoeming tot Gartner's Cool Vendor in Financiën (Het rapport is beschikbaar op de Gartner Portal voor klanten van Gartner. Als u geïnteresseerd bent in een exemplaar, neem dan contact met ons op). Onze ongeëvenaarde, bekroonde aanpak van verenigde xP&A met Power BI + Excel legt de basis voor bedrijven in verschillende sectoren om aanzienlijke kostenbesparingen te realiseren, de tijdlijnen van projecten te versnellen en gemakkelijker bruikbare inzichten te verkrijgen.
A few other noteworthy achievements include:
Here is what some of our customers had to say about Acterys solutions in 2022:
"Powerful Planning and Writeback in Power BI"
Acterys Writeback Power BI Visuals allow the managers to review actuals and budgeting data side by side from within Power BI and update the planning details directly on the database. The security around the Writeback capabilities is both solid and flexible.
Jonnie Smurthwaite
PMO and BI Manager
Kampeerders Herberg
"Aanzienlijke verbetering van procescyclustijden en kostenbesparingen"
We gebruiken Acterys al 2 jaar met succes bij Puma en hebben de kans gehad om al enkele van de nieuwe functies in de nieuwe Acterys Excel Online Add-in te gebruiken, wat heeft geresulteerd in een aanzienlijke verbetering van de doorlooptijden van processen en kostenbesparingen.
Susan Wong
Hoofd planning
Puma SE
"Great Support"
We gebruiken Acterys voor de verbinding tussen QBO en Power BI. I have received great support from Acterys. Mike heeft ons verschillende sessies op afstand gegeven en heeft goed ingespeeld op onze behoeften. Bedankt, Mike en Acterys.
Oscar Gallego
CFO
TP Leasing LLC
Our Acterys Family Grew by 100%
Acterys has offices in the US, UK, Germany, and Australia, but we are also a remote-friendly organization. At Acterys, we open the door of opportunity to talented individuals around the world. We invite those who are motivated and have a drive for success to come be part of our team!
In 2022, we expanded the Acterys family by 100% and hired extremely talented people in different departments, including Sales, Development, and Operations. Our journey of exponential growth is only the beginning. In the year ahead, we look forward to welcoming new talented members into our family!
New Features and Improved Functionality Rolled Out for an Enhanced xP&A Experience
This year, we concentrated our efforts on developing phenomenal new features and updates to take the xP&A experience with Acterys to the next level. We have been making strides in modernizing our process throughout the year with one focus: to turbocharge time-to-value and optimize the efficiency & security of operations, all the while ensuring user friendliness. Empowering business users is at the core of this initiative for maximum control over their processes.
In het vierde kwartaal van '22 is Acterys v22.2 uitgebracht, waarin de basis is gelegd voor Acterys Hub, de prestaties van de planningsengine drastisch zijn verbeterd, Acterys Apps voor Stripe zijn geïntroduceerd en alle Acterys Power BI Visuals aanzienlijk zijn verbeterd:
Multi-update Algorithm – Enhanced Acterys planning engine to intelligently combine multiple planning activities in a single step and multithreaded in-memory processing, both resulting in dramatic performance improvements
Acterys Hub – Introduced in the 22.1 product release, it now integrates all data integration processes in a single new section in the Acterys Modeller, making all modeling tasks much more manageable while ensuring faster implementation times.
Power BI Automation – Enables users to create and update models in Power BI instantly and even allows including calculation logic with automatic DAX updates.
Acterys Matrix Gen 2- A completely new calculation engine that provides users with the optimal plan based on targets and restrictions they can define. It now also supports all Power BI DAX calculation features as well.
Acterys Variance 3.0 – Now adds amazing new KPI card reporting capabilities
Acterys Visual Planning – Allows planning directly in a chart and gives options for cell locking, planning by percentages, and entering data manually, giving you even more flexibility to handle more detailed assumptions easier.
Acterys Apps for Stripe has been added to our collection of Apps.
U kunt de
volledige release notes van v22.2 hier bekijken.

4 New Rapid Results Packs
After the successful and well-received launch of the Acterys template store, Rapid Results Packs (RRPs), we continuously added templates to provide best-practice application designs for a wide range of use cases across different industries. Some of the latest RRPs that our team has been working on include:
Change Management in Construction
Financial Planning for Government Contractors
Location AI-recommendation based on Consensus Data
Out-of-the-box financial reporting for NetSuite
You can check out all the listed Rapid Results Packs and get in touch with our team to discuss how they can work for your organization.
Veiligheid voor alles
Kortom, we hebben de veiligheid van de gegevens van onze klanten voorop gesteld bij onze inspanningen om van Acterys een veilige en betrouwbare oplossing te maken. Als bewijs van onze toewijding zijn we verheugd te kunnen aankondigen dat Acterys bezig is met het afronden van SOC2 en ISO 27001 certificeringen. Both of these audits are considered the gold standard for information security, ensuring that stringent measures are in place to secure data from internal and external threats.
2022 has been a year of remarkably fast-paced growth, in terms of revenue, product development, and customer adoption of the Acterys suite of products. We have a lot more in store for our customers in 2023, which includes adding new artificial intelligence planning capabilities and making complex planning logic scenarios even easier.
The Acterys family wishes you a happy holiday season and a great start to 2023!