Onze favoriete tips voor financiële rapportage in Excel
In dit artikel zal ik enkele handige tips & tricks behandelen om uw financiële rapportage en planning met Excel te verbeteren. In meer dan 20 jaar in de BI-industrie moet ik nog steeds een veelzijdiger oplossing zien. We gebruiken waarschijnlijk nog steeds maar een fractie van wat deze tool kan en vaak – vooral met alle game-veranderende functies die de afgelopen jaren zijn toegevoegd – niet in overeenstemming met de huidige mogelijkheden. Hier zijn mijn 5 favoriete tips die veel van onze klanten helpen Excel effectiever te gebruiken voor financiële rapportagedoeleinden:
Afzonderlijke gegevens en presentatie
Dit is de essentiële, waarop ik ook een speciale blog heb geschreven: Excel Een BI-speeltje?. Als u grotere hoeveelheden gegevens uit andere bronnen gebruikt die beschikbaar zijn in een gestructureerd formaat, vermijd dan absoluut kopieer en plak deze rechtstreeks naar Excel. Excel was nooit bedoeld als database. U zult alleen veel onderhouds- en prestatieproblemen veroorzaken. Dit is 2018, er zijn fantastische opties om een ​​live verbinding tot stand te brengen met uw gegevens in Excel, met name ondersteund door Power Query waarmee u vrijwel elke bron onder de zon supergemakkelijk kunt integreren en naar uw wensen kunt transformeren. In tegenstelling tot kopiëren en plakken, geeft deze benadering u een dynamische link naar uw respectieve gegevensbronnen en wordt de spreadsheet automatisch vernieuwd om de huidige status van de gegevens weer te geven. Wanneer u een platte bestandsimport gebruikt, wordt deze bijgewerkt op basis van de nieuwste versie van het bestand of met meerdere platte bestanden. U kunt Power Query configureren om alle bestanden in een uploadmap te koppelen waar de gegevens van elk nieuw bestand automatisch aan uw gegevens worden toegevoegd model.
Excel-formuleweergaven
Deze vereist de voorafgaande tip: formulerapporten vereisen een "OLAP" -gegevensbron, bijvoorbeeld Power Pivot (die kan worden gekoppeld aan bijna elke bron, bijvoorbeeld relationele tabellen, enz.) Wanneer u gegevens lokaal in het werkblad of oplossingen zoals SQL wilt opslaan serveranalyseservices (tabelvorm of multidimensionaal), evenals een verscheidenheid aan opties van derden in een client-serverconfiguratie.
Formuleweergaven kunnen vanaf nul worden gestart of door een draaitabel te converteren (houd er rekening mee dat u de draaitabel het beste van tevoren kunt dupliceren, anders gaat deze verloren). Het voordeel hiervan is dat u een rapport hebt dat dynamisch is gekoppeld aan uw brongegevens met volledige flexibiliteit met betrekking tot de lay-out (asymmetrische rapporten, bijv. Werkelijk vorig jaar / budget huidig ​​jaar) en geweldige opties om rapportstructuren bij te werken op basis van formules: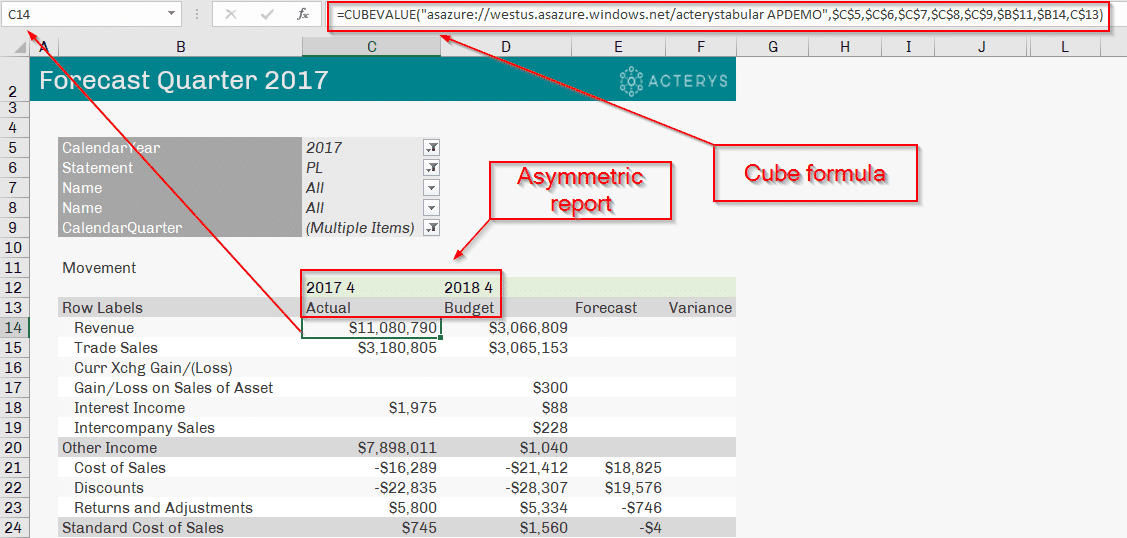 Excel-draaitabellen
Ik ben nog steeds verbaasd hoeveel financiële professionals geen gebruik maken van de ongeëvenaarde kracht van de draaitabel, die een enorme flexibiliteit biedt voor rapportage (en ook voor het gebruik van Acterys voor planning!). Mijn niet zo bekende tips hier: Maak gebruik van doordrillen (dubbelklik op een cel) om naar de onderliggende records van een cel te gaan (helaas nog niet ondersteund met DirectQuery), gebruik "Snel verkennen" om in details te duiken voor een andere dimensieattribuut en combineer draaitabellen met draaigrafieken. Hier zijn een paar voorbeelden: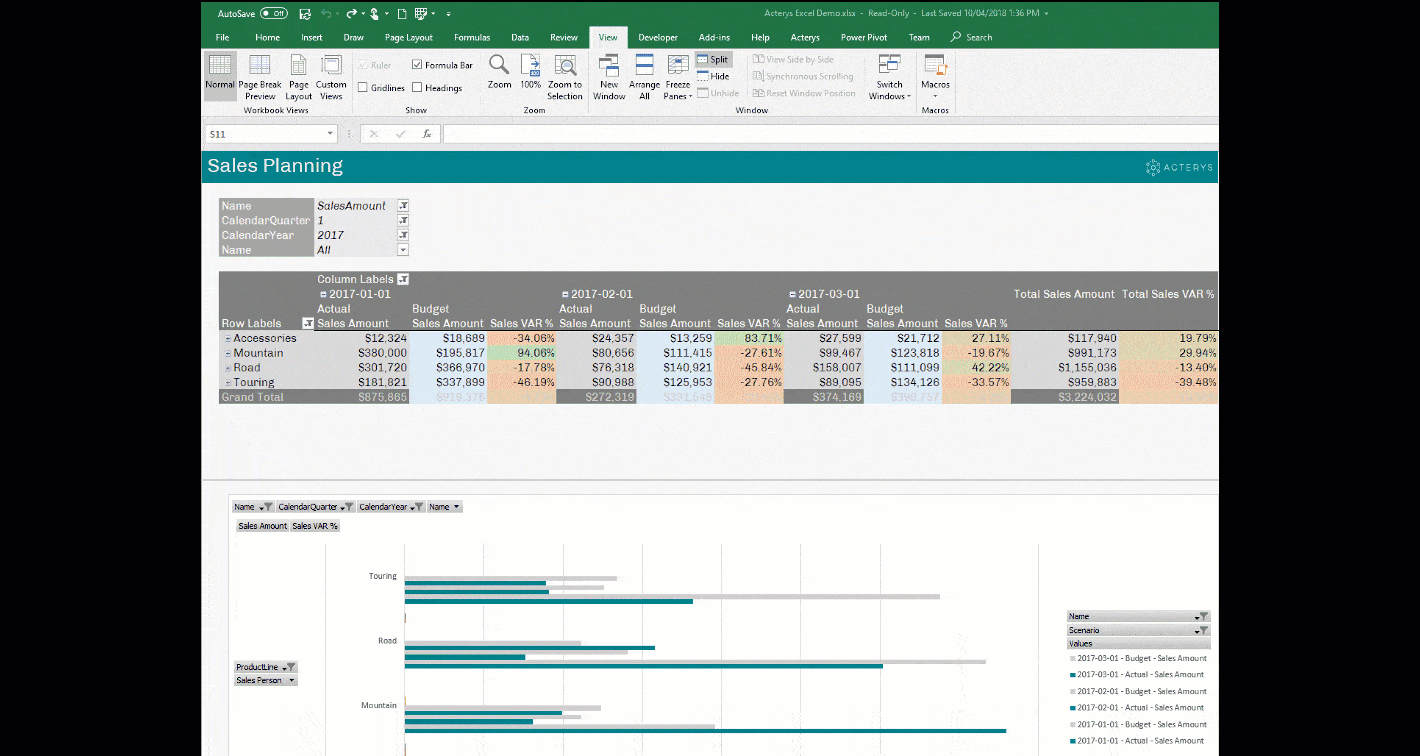 Split Screen to work with two Pivot Tables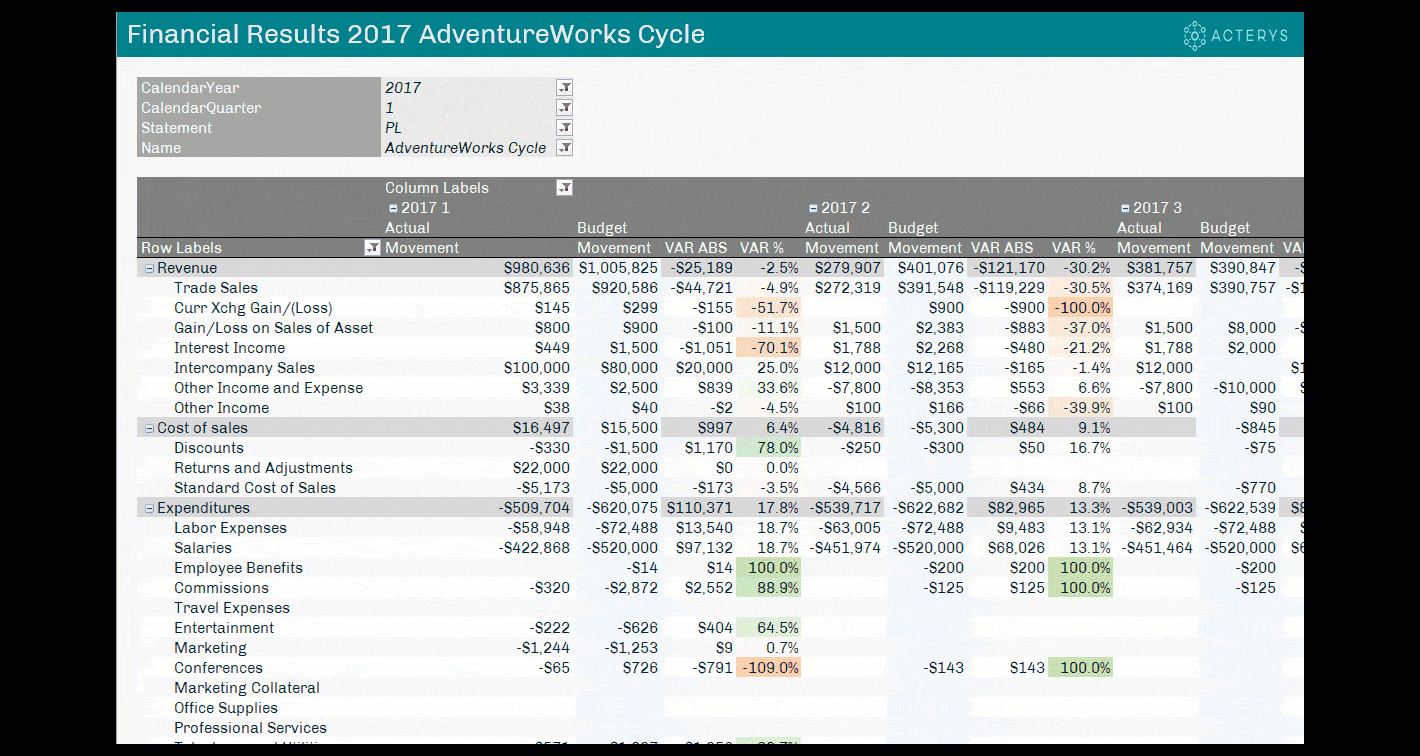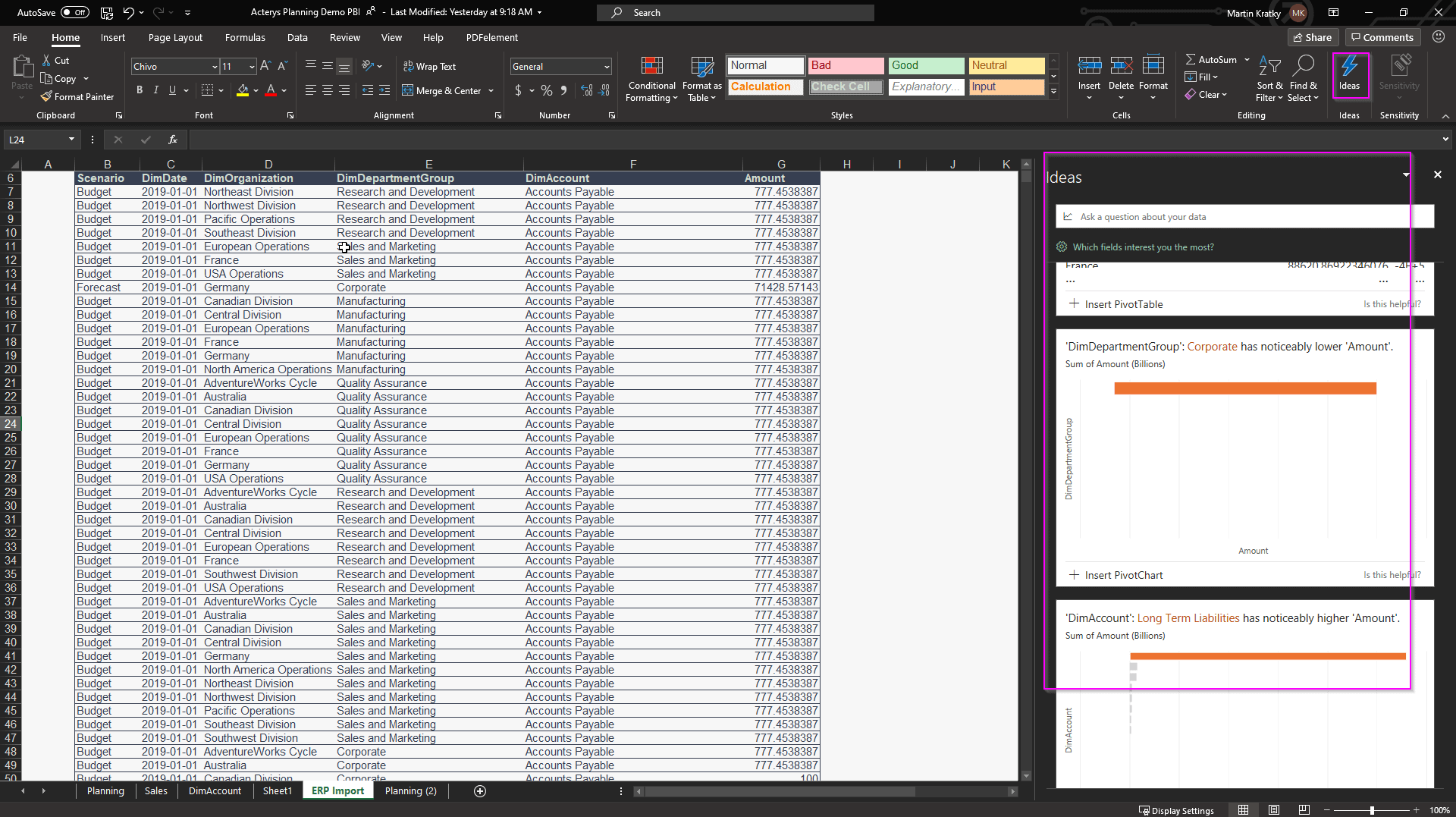 Insights Feature in Excel
Terugschrijven op draaitabel
Met de Acterys Add-in kunt u deze formules ook "schrijven inschakelen":
Conditionele opmaak
Een geweldige hulp in het bijzonder in combinatie met de draaitabel is voorwaardelijke opmaak (die zelfs kan worden geconfigureerd om alleen van toepassing te zijn op bepaalde tuples van metingen als u een OLAP-bron zoals Acterys gebruikt). Om uw publiek te helpen de gegevens in één oogopslag te begrijpen en in perspectief te plaatsen, bijvoorbeeld door gebruik te maken van een voorwaardelijk formaat, zal de gebruiker onmiddellijk de betekenis van een cel laten zien voordat u bewust naar het getal moet kijken en ook op uitschieters moet wijzen. Mijn aanbeveling hier: wees subtiel, gebruik kleuren die niet te hard voor het oog zijn en overweeg om het voorwaardelijke formaat te gebruiken om het type cel aan te geven, bijvoorbeeld per gegevensscenario: gebruik een witte achtergrondkleur voor normale cellen en een arcering voor een ander scenario zoals 'budget "(Vooral belangrijk wanneer u Acterys gebruikt, waar de gebruikers gegevens in de draaitabel kunnen invoeren.Dit zal hen onmiddellijk laten zien waar ze moeten binnenkomen)
Algemene tips voor Excel-opmaak
De duizenden spreadsheets van klanten die ik heb gezien, bevatten vaak absoluut cruciale inzichten, maar vaker wel dan niet gepresenteerd op een manier die niet noodzakelijkerwijs wil dat iemand meer dan de absoluut noodzakelijke tijd met hen doorbrengt, omdat ze zo vreselijk lelijk zijn. Ik zie te vaak onbezonnen, gekleurde nachtmerries. Hier zijn een paar tips: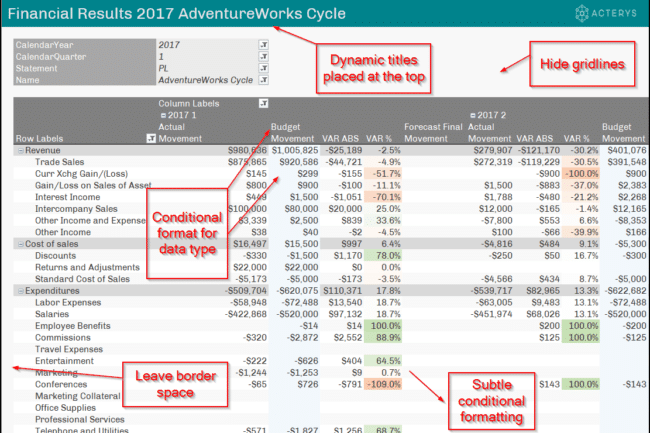 Met de titel mijn tip: gebruik een duidelijk tekstvak, klik erop en voeg een dynamische link toe in de formulebalk, bijv. = "Financiële resultaten" & $ C $ 6 om uw titel onafhankelijk te maken van alle wijzigingen op het blad en dynamisch bij te werken volgens de details geselecteerd, bijvoorbeeld in dit geval door naar de cel te wijzen die de tijd en de bedrijfsnaam bevat.