xP&A Solutions for the Public Sector
Streamline financial planning with Acterys' modern xP&A solutions for optimal resource utilization, aligning capital spending and operating plans, and predicting future economic downturns. Acterys provides government organization leaders with fast access to real-time insights for accurate budgeting and enables building a flexible reporting infrastructure through a unified platform.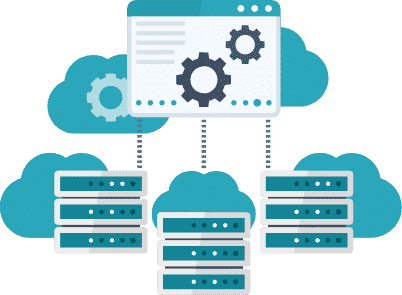 Modernize Your Planning & Analytics with our Free Trial Now
Make actionable decisions with Acterys and fast-track your plans and budgets. Changes in data can be modeled in minutes and viewed in real-time, informing you of possible risks and allowing you to simulate what-if scenarios quickly.
Bring Agility and Flexibility to Government Reporting & Budgeting
From Spreadsheets & Legacy Systems to Integrated Planning
Acterys saves public sector organizations from working with disparate legacy solutions like separate applications for data discovery, consolidation, reporting, planning, and analytics. Instead, it combines all these capabilities into a complete, fully integrated xP&A platform that utilizes high performance and secure Microsoft technologies, including Azure, SQL, Power BI & Excel.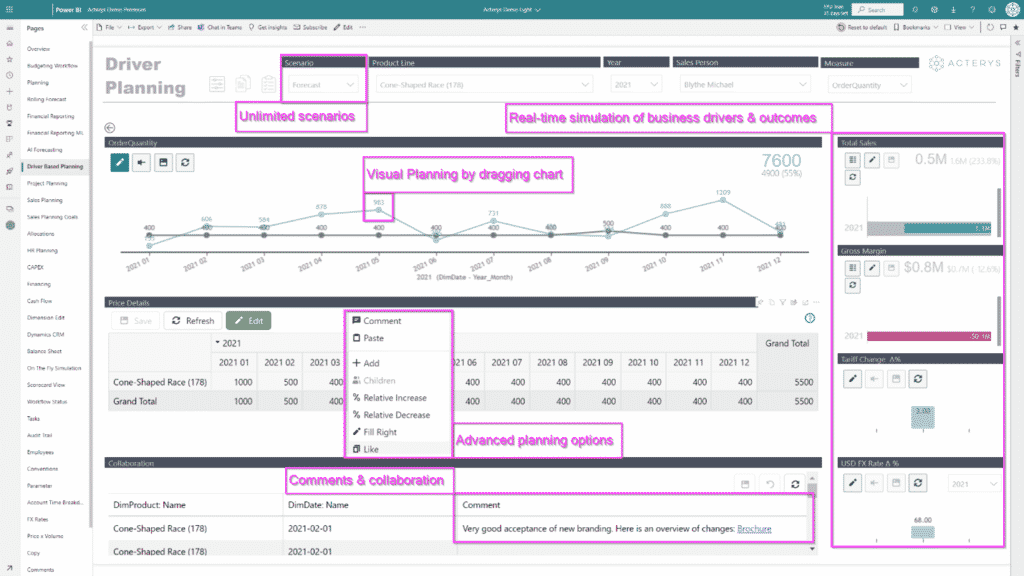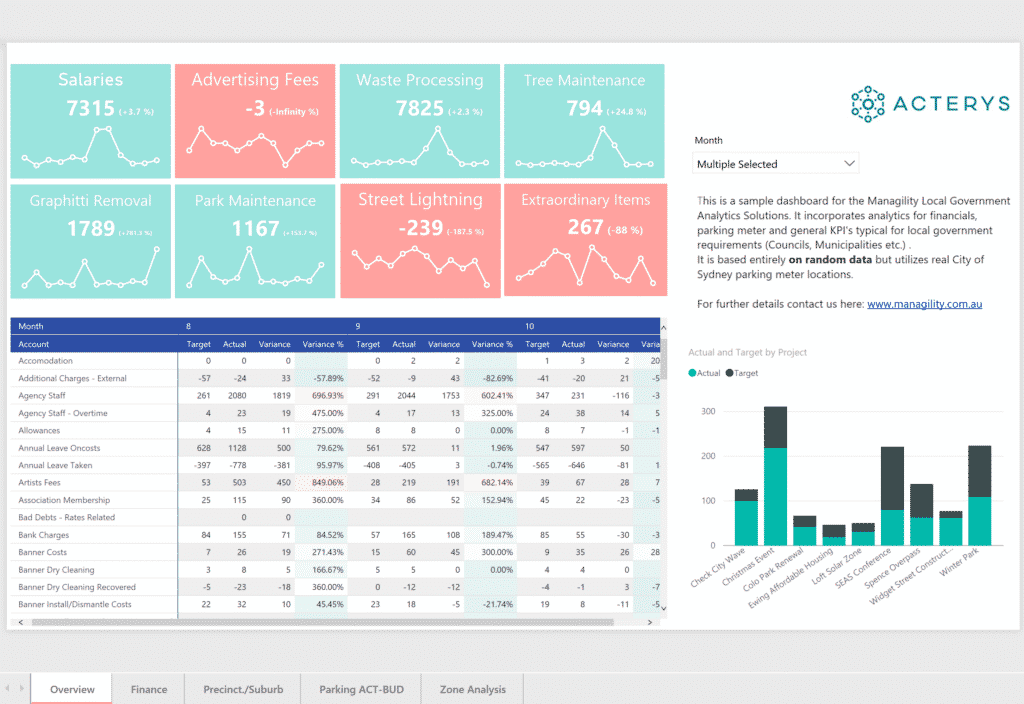 Gain Insights Across Multiple Government Projects
Acterys provides one-click integration to business-critical sources and automates all data loading processes that allow working with a single source of truth to get insights into multiple ongoing and archived government projects. Acterys automatically builds a centralized data model that allows you to define a reporting logic through a star schema and facilitates feeding real-time data into live dashboards.
Optimal Resource and Personnel Utilization
On local, state, and federal levels, government organizations have to work with fixed resources and tight budgets while meeting citizens' expectations and delivering timely results. With Acterys, users get performance insights at their fingertips on interactive management dashboards and reports directly in Power BI or Excel, allowing them to allocate human resources efficiently.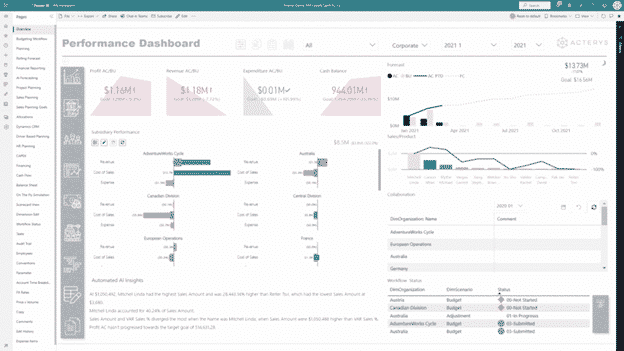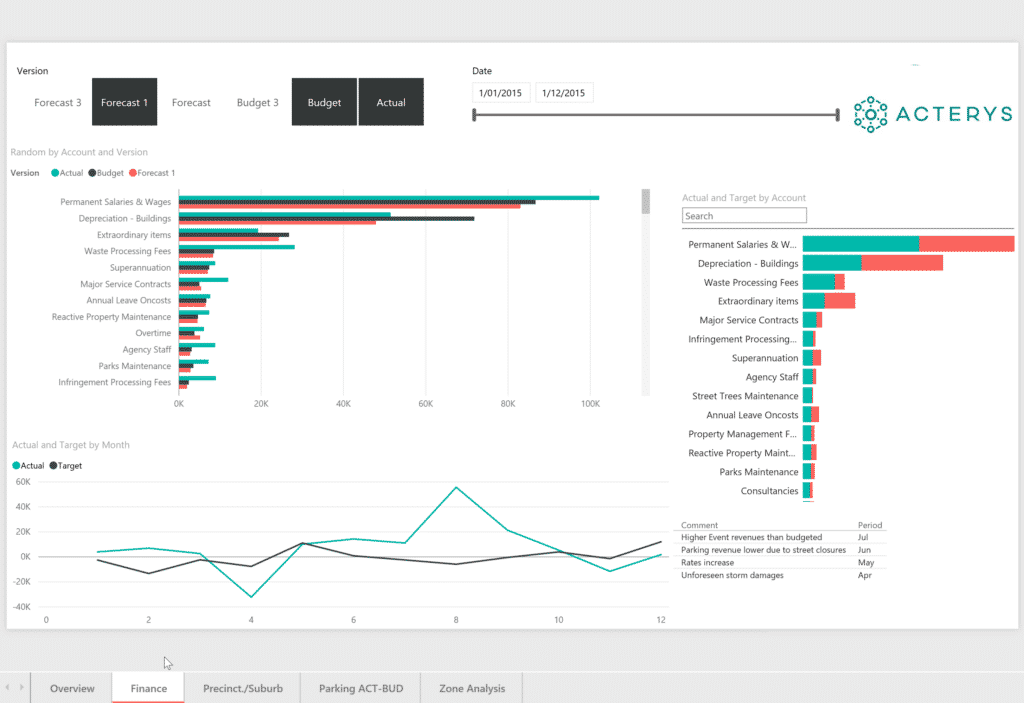 Effective Budgeting with What-If Scenario Planning
Acterys empowers government organizations to build detailed models for multiple scenarios and gauge the impact of different variables and dimensions on plans and budgets. Users have the ability to make adjustments to reports and dashboards in Power BI or Excel using Acterys write-back enabled visuals and use real-time data to perform variance analysis with a single click. This provides the most up-to-date picture of your assets, expenses, and funds available for building effective, flexible budgets.
"We tested all alternatives: the only solution that really works seamlessly with Power BI is Acterys"
"Super smooth, quick implementation of reporting, planning and consolidation for our 30 global entities"
"We couldn't believe how quickly we had results that were perfectly integrated with our existing processes."
"Our forecasting process was reduced from 3 weeks to 4 hours"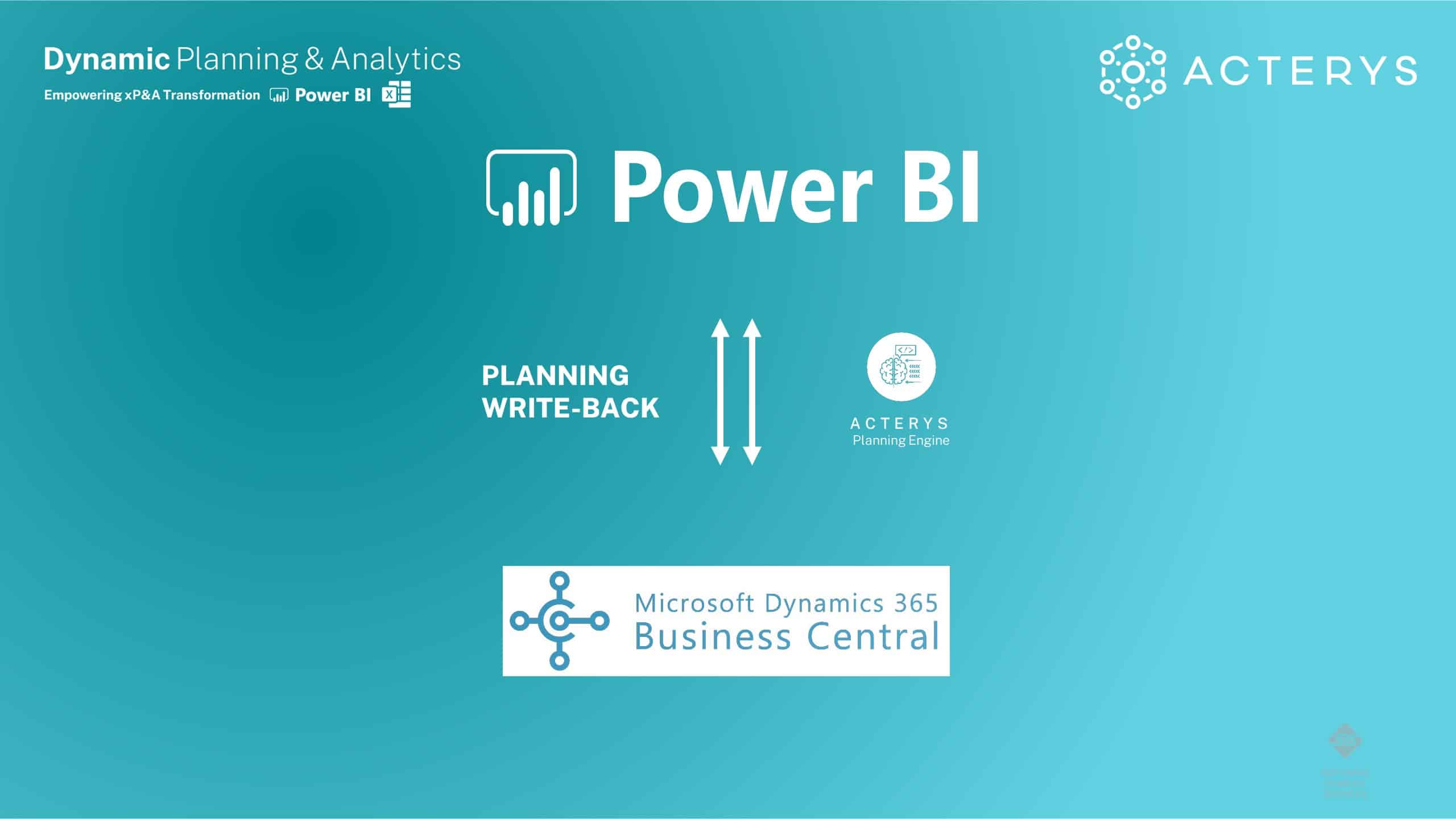 How to add planning and budgeting with Business Central NAV in Power BI
Power BI offers unparalleled features for analysis and visualization: in this post we explain how you can add comprehensive planning and budgeting with all editions of Business Central and NAV.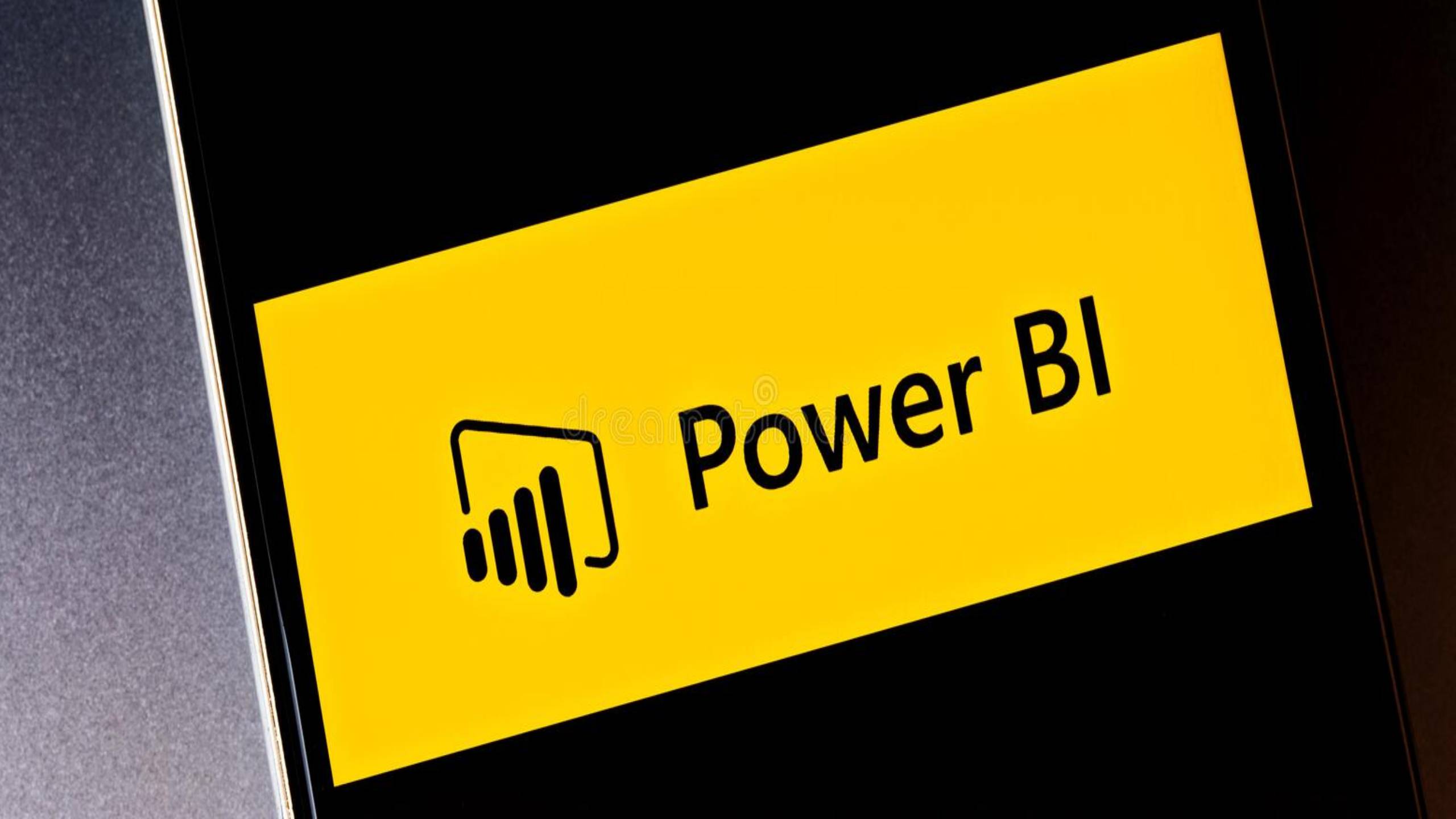 How to Implement Planning, Forecasting and Write back in Power BI
Power BI is the leading analytics platform – with the right approach it can be turned into an extremely versatile and powerful platform for Planning, Forecasting and Write back.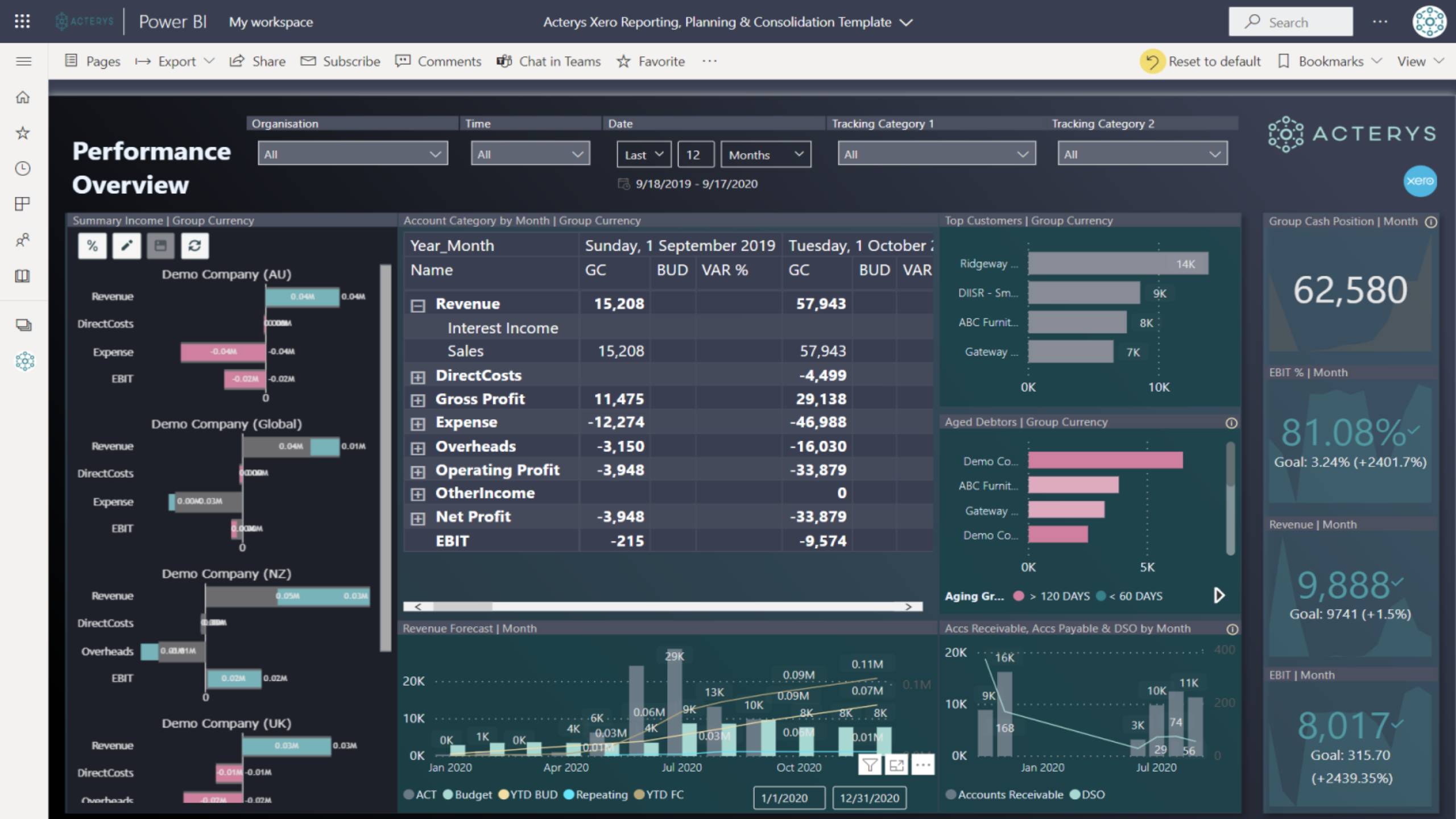 Reporting & Planning Redefined: Xero | QuickBooks | HubSpot | Dear | MYOB
Following the tremendous success of these solutions with now more than 1000+ companies under management we have made significant improvements to all Apps.