Acterys Apps - Reporting, Consolidation and Planning Apps
End-to-end reporting, consolidation and planning solutions for major cloud-based systems (Accounting, ERP, CRM, etc.)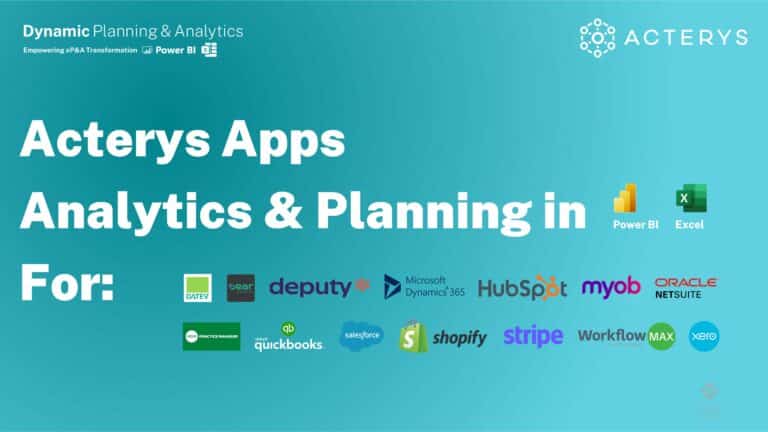 Reporting, Consolidation & Planning The Quickest Way
Acterys Apps are pre-configured applications for cloud-based accounting/ERP/SaaS systems that include data integration, business logic, interactive dashboards, reports and planning forms.
In minutes, you can connect any system you want – for unlimited companies. The data is automatically loaded, updated and consolidated in a cloud based (Azure SQL) database optimized for analysis, business modelling and planning requirements. You can customize data models exactly as needed. The solution also includes a set of proven best practice reports, interactive dashboards, planning and consolidation workflows for the respective system in either Microsoft Power BI or Excel. These can be edited and exactly to your needs without reliance on external experts.
Get rich dashboards & reports automatically populated with your source system data instantly.
Unlock dynamic planning, reporting & analytics capabilities within Excel via centralized server model.
"We tested all alternatives: the only solution that really works seamlessly with Power BI is Acterys"
"Super smooth, quick implementation of reporting, planning and consolidation for our 30 global entities"
"We couldn't believe how quickly we had results that were perfectly integrated with our existing processes."
"Our forecasting process was reduced from 3 weeks to 4 hours"
Talk to our solutions experts to see how you can streamline your extended planning and analytics efforts with Acterys Apps.