Cash Flow Forecasting with Power BI
Get a holistic view of how cash flows in & out of your business, make accurate forecasts to improve working capital, and confidently align cash flow projections with long-term investments. Acterys Power BI integrated planning capabilities helps calculate future cash surpluses and deficits, enabling your business to make the right moves to stay afloat and in positive cash flow all the time.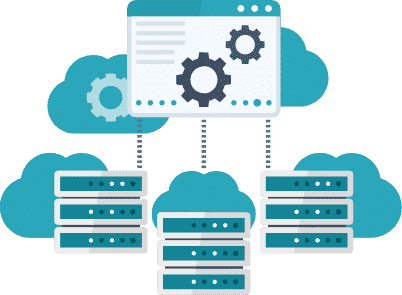 Modernize Your Planning & Analytics with our Free Trial Now
Make actionable decisions with Acterys and fast-track your plans and budgets. Changes in data can be modeled in minutes and viewed in real-time, informing you of possible risks and allowing you to simulate what-if scenarios quickly.
Enhanced Cash Flow Forecasting
Manage Account Receivables and Payables
Keep a check on when payments are due and when the cash is coming in with Acterys Power BI Cashflow dashboards. Update all cash-centric data at any time in a centralized data model and view the impact in the overall projections as you change financial policies and plans. With Acterys' unparalleled cash forecasting and planning abilities, maintaining a steady cash flow system and creating detailed reports is now possible in an intuitive manner.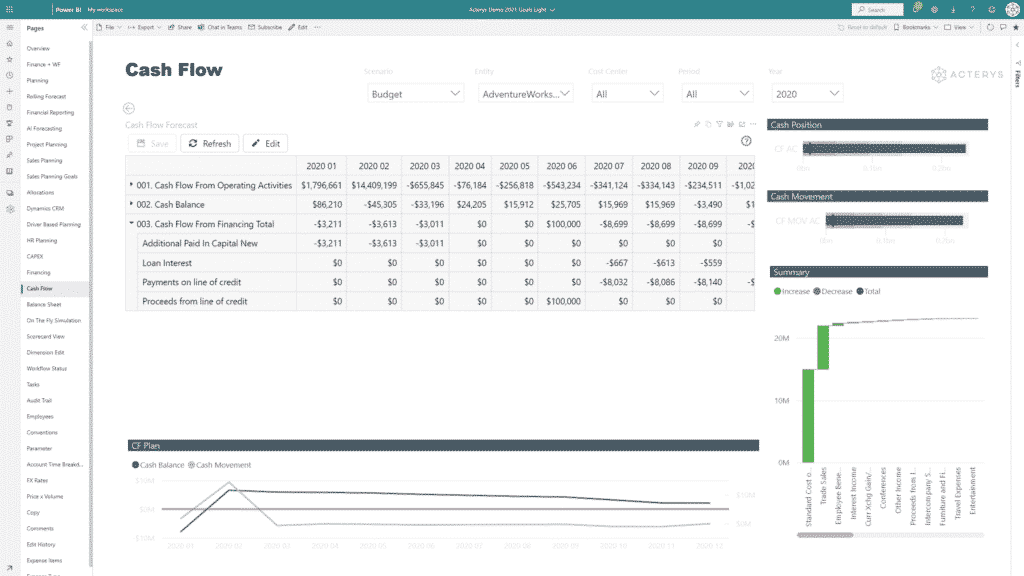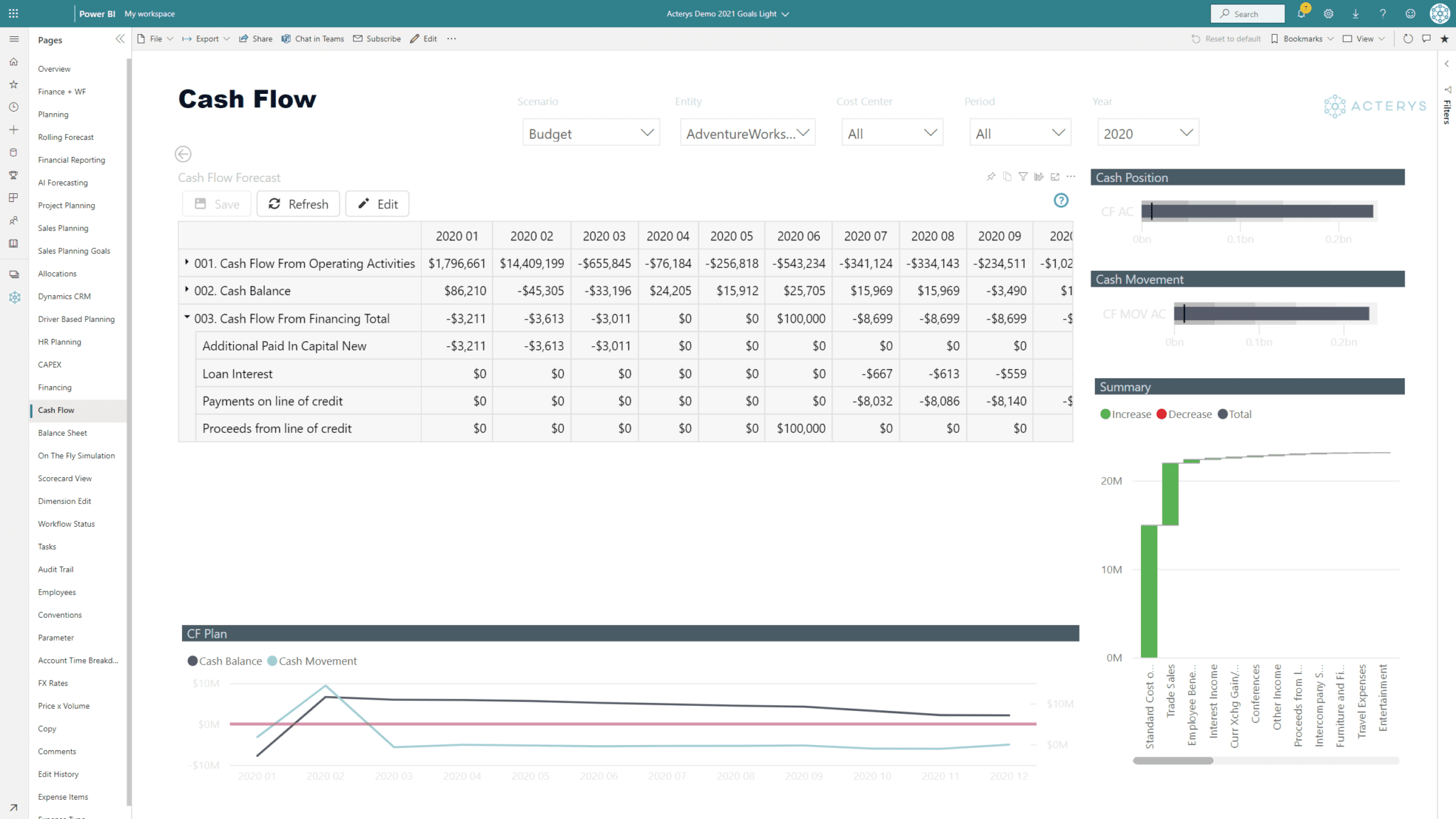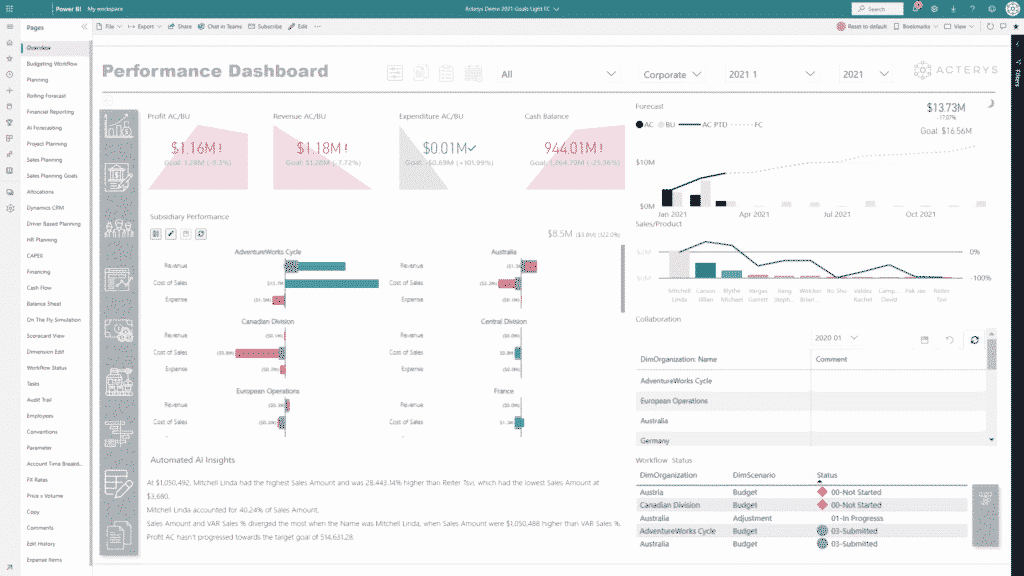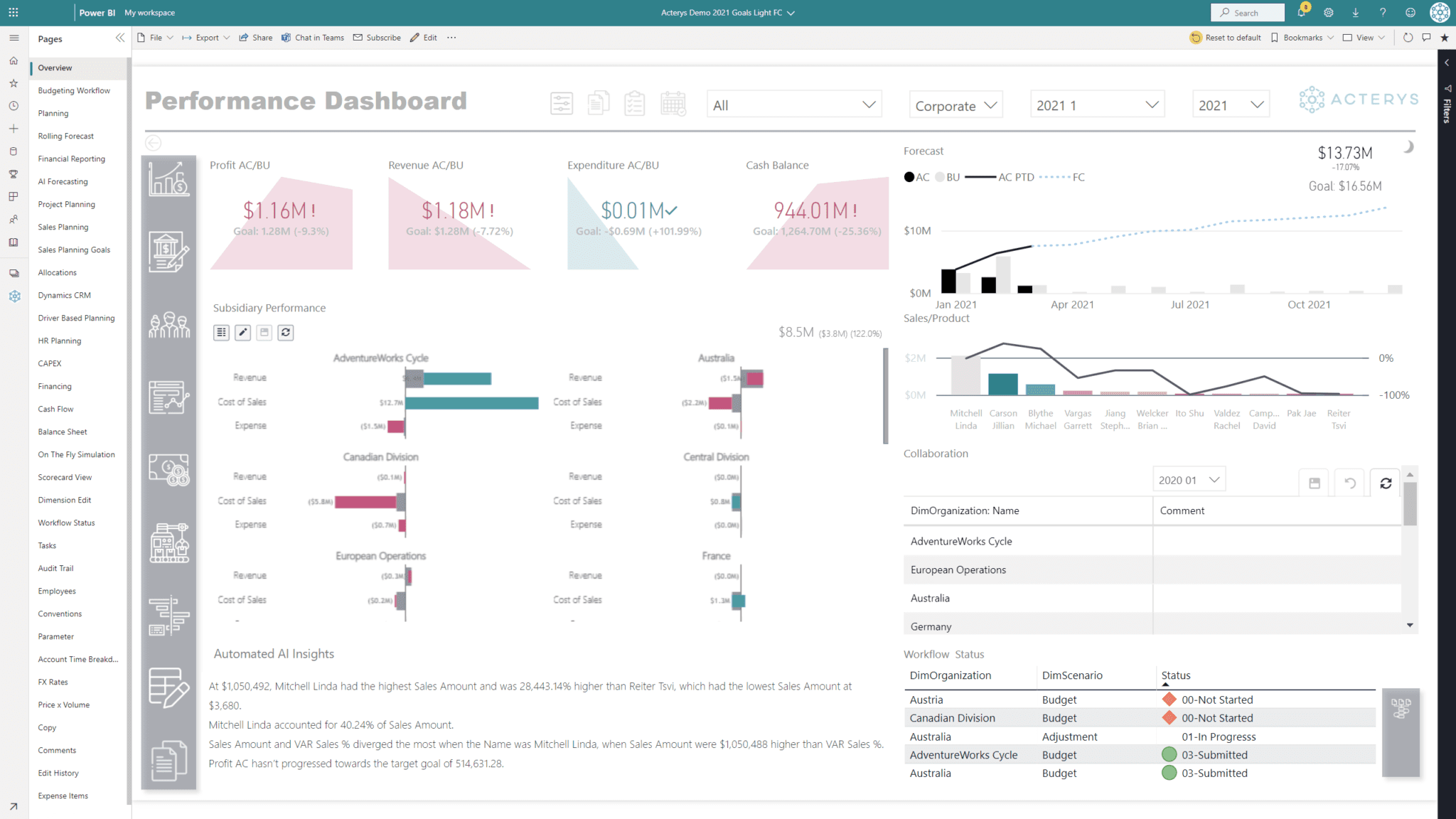 Utilize your working capital to its optimal capacity and minimize cash flow risk by gaining complete transparency over each payable and receivable across the value chain. Plan for long-term investments without fretting over dues and debts with Acterys best-practice templates for cash flow management. Perform scenario analysis to understand the impact of key decisions on the cash situation of your business.
Tie Cash Flow Forecasts with Financial Plans & Budgets
With Acterys Apps for Xero, QuickBooks, Oracle NetSuite, and Microsoft Dynamics or Acterys InstaLink for any source, automate data consolidation from key systems and use real-time data for cash flow projections. Quickly integrate results with your financial planning and budgeting and share insights with business leaders and key stakeholders through visual, interactive Power BI cashflow reports and visuals seamlessly.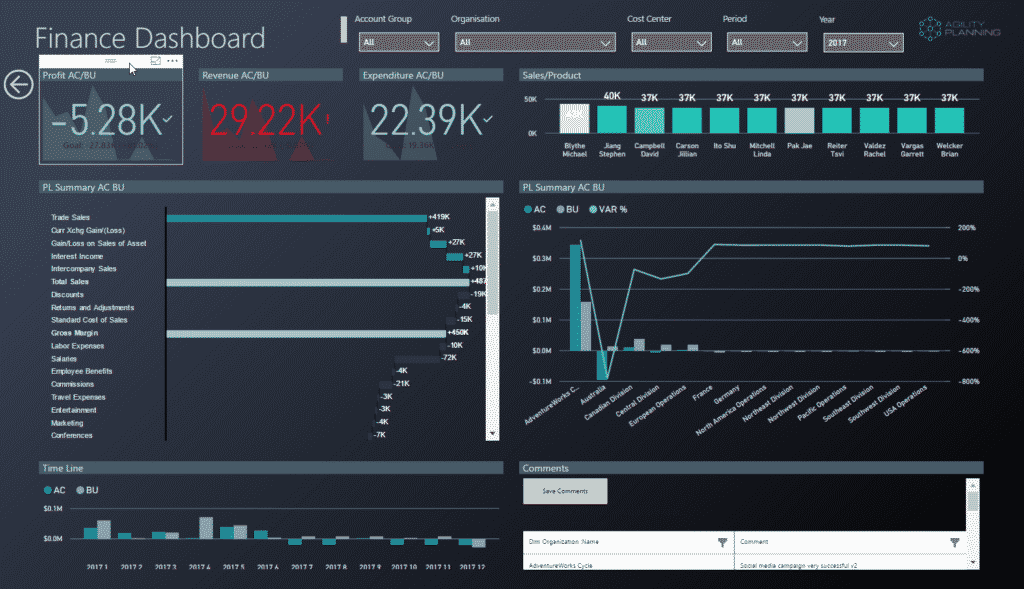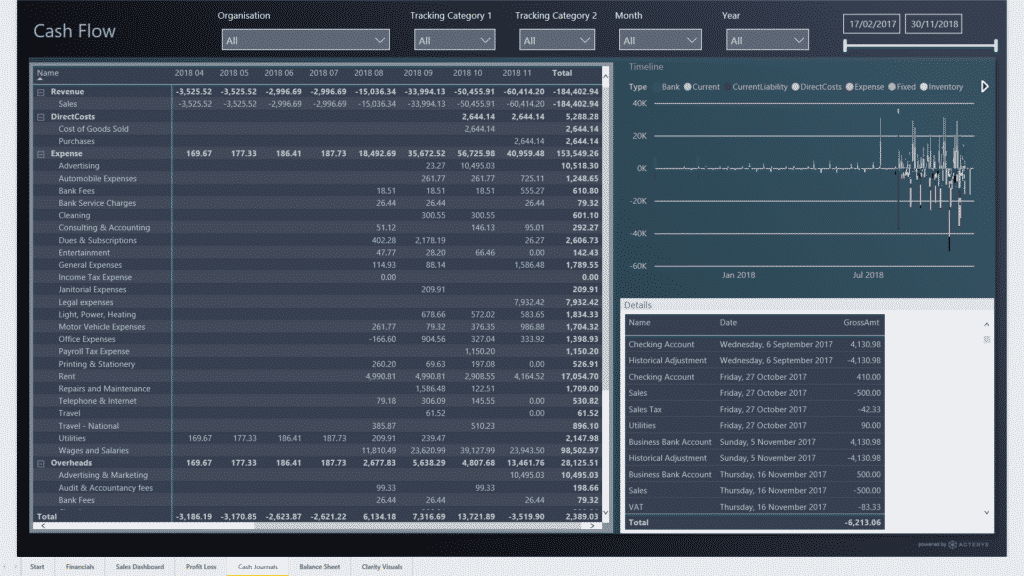 Rise Above the Spreadsheet Chaos
With Acterys, you no longer have to manage cash flow, balance sheets, or P&L statements from bank accounts manually in spreadsheets. It automates the time-consuming data collection and standardization processes to bring actuals from different financial statements and allows instantly creating cash forecasts without dealing with Excel workbooks at any stage. This enables your team to spend more time on identifying ways to strengthen your cash flow position rather than wasting energy in time-consuming, error-prone Excel-based planning.
Customer Stories & Testimonials
"We tested all alternatives: the only solution that really works seamlessly with Power BI is Acterys"
"Super smooth, quick implementation of reporting, planning and consolidation for our 30 global entities"
"We couldn't believe how quickly we had results that were perfectly integrated with our existing processes."
"Our forecasting process was reduced from 3 weeks to 4 hours"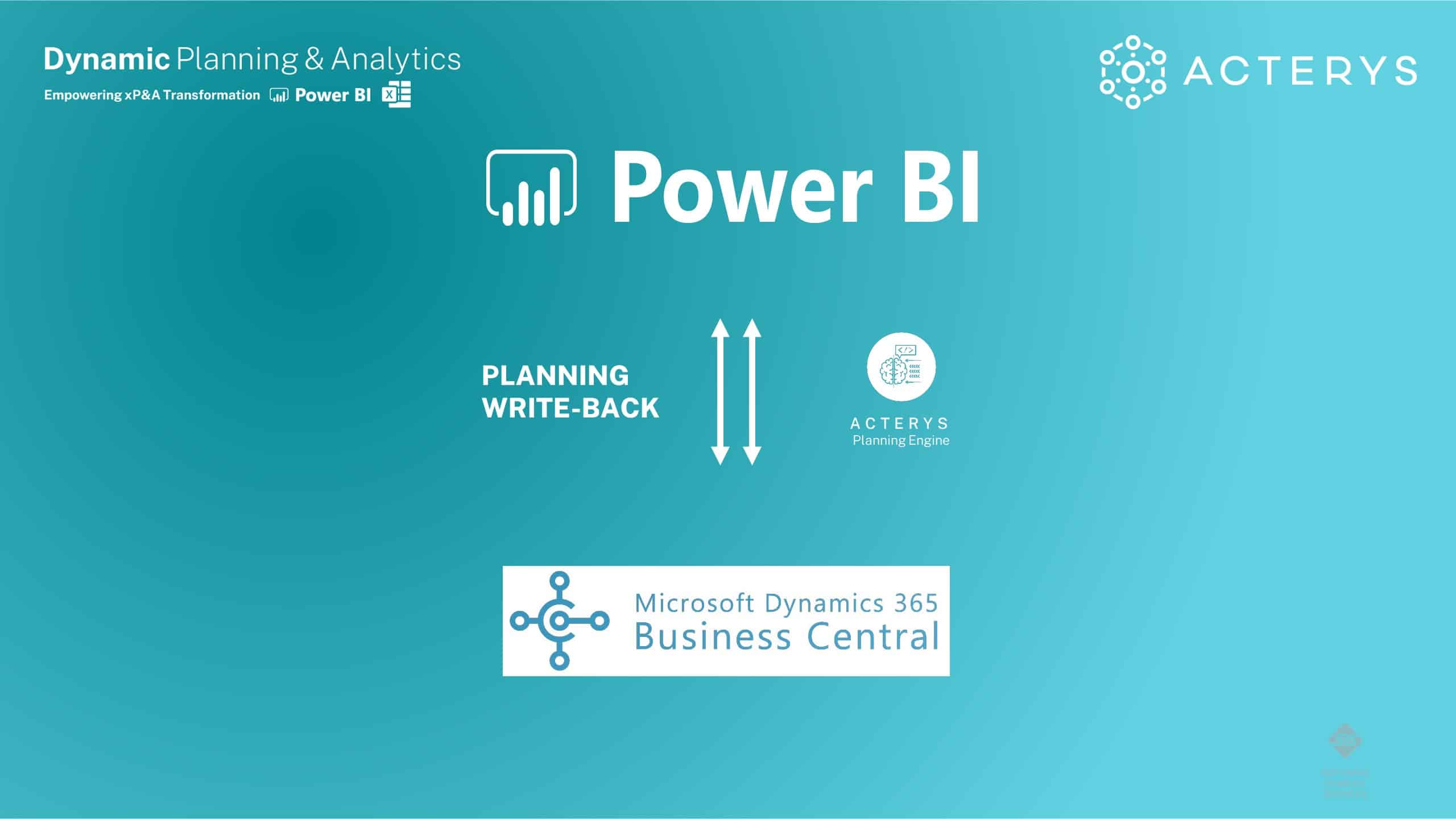 How to add planning and budgeting with Business Central NAV in Power BI
Power BI offers unparalleled features for analysis and visualization: in this post we explain how you can add comprehensive planning and budgeting with all editions of Business Central and NAV.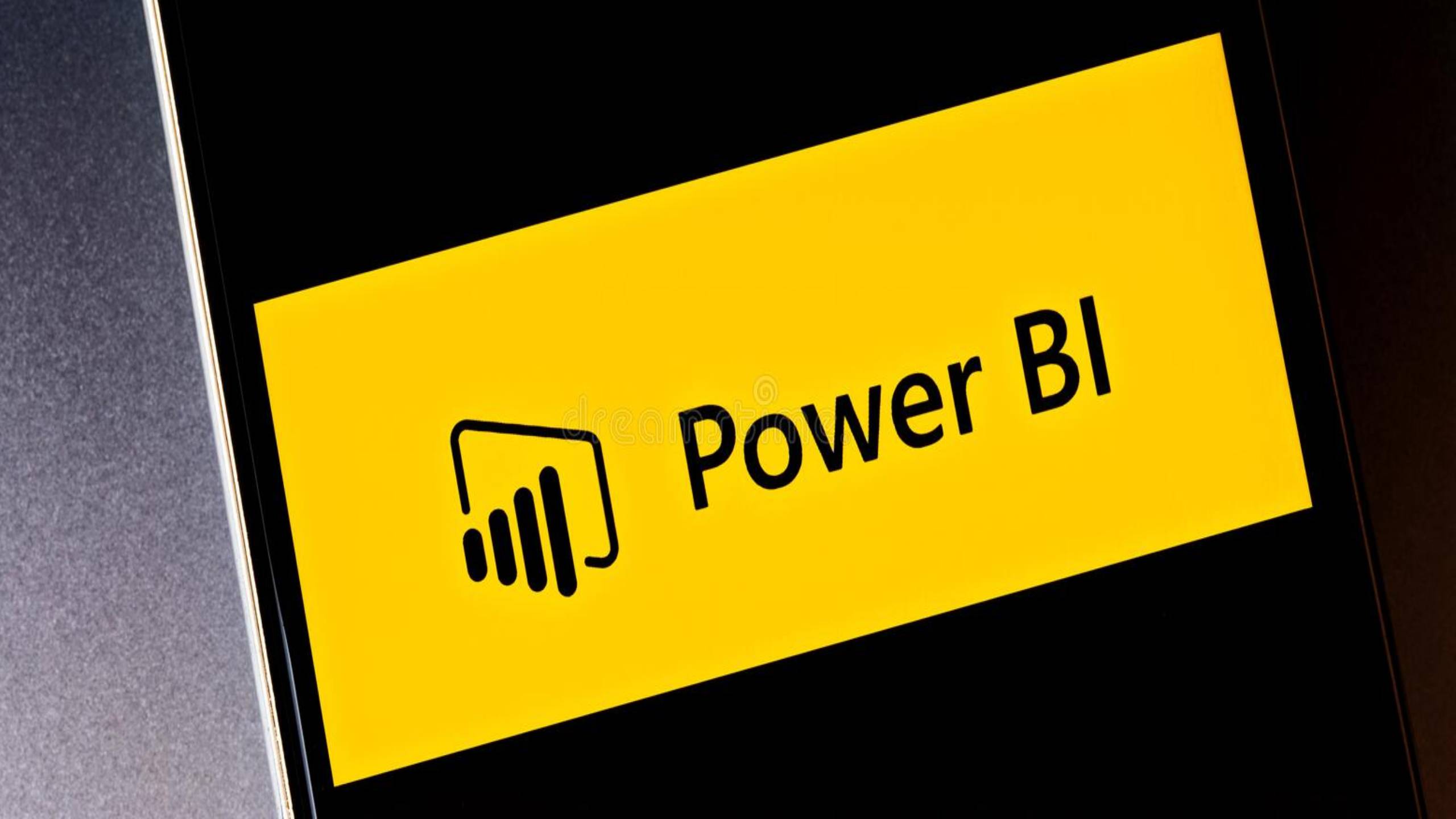 How to Implement Planning, Forecasting and Write back in Power BI
Power BI is the leading analytics platform – with the right approach it can be turned into an extremely versatile and powerful platform for Planning, Forecasting and Write back.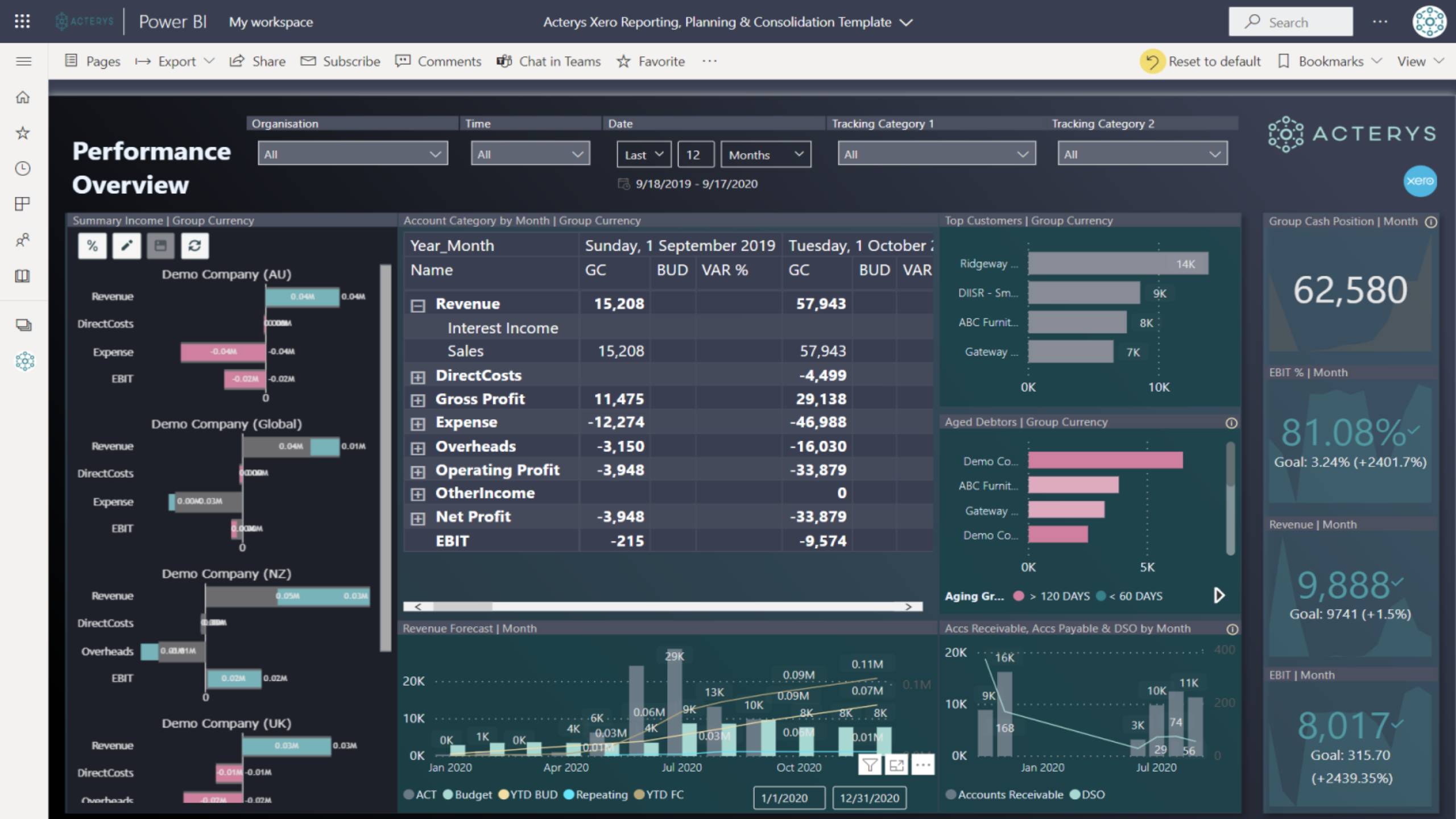 Reporting & Planning Redefined: Xero | QuickBooks | HubSpot | Dear | MYOB
Following the tremendous success of these solutions with now more than 1000+ companies under management we have made significant improvements to all Apps.