Financial Close and Consolidation
Accelerate your financial closing and consolidation processes by automating data loading, validation and modeling while ensuring optimal data integrity and governance with an advanced XP&A platform. Acterys provides built-in functions to quickly perform intercompany conversions and eliminations and manage account reconciliations, leading to an accurate financial close.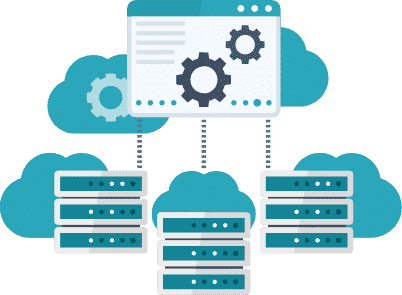 Modernize Your Planning & Analytics with our Free Trial Now
Make actionable decisions with Acterys and fast-track your plans and budgets. Changes in data can be modeled in minutes and viewed in real-time, informing you of possible risks and allowing you to simulate what-if scenarios quickly.
Accelerate closing, and attain hassle-free consolidation
Effortless Financial Close Management
Acterys financial consolidation software for QuickBooks, Xero, and MYOB lets you work in familiar environments for data integration, business logic, dashboards, reporting and planning. Automatically load data, validate, and consolidate from unlimited companies in Azure SQL database.
Keep track of all financial transactions, including collecting financial data and accounts reconciliations. Get validated and detailed reports at a fraction of the time to manual processes while taking into account each data entry and movement throughout your system.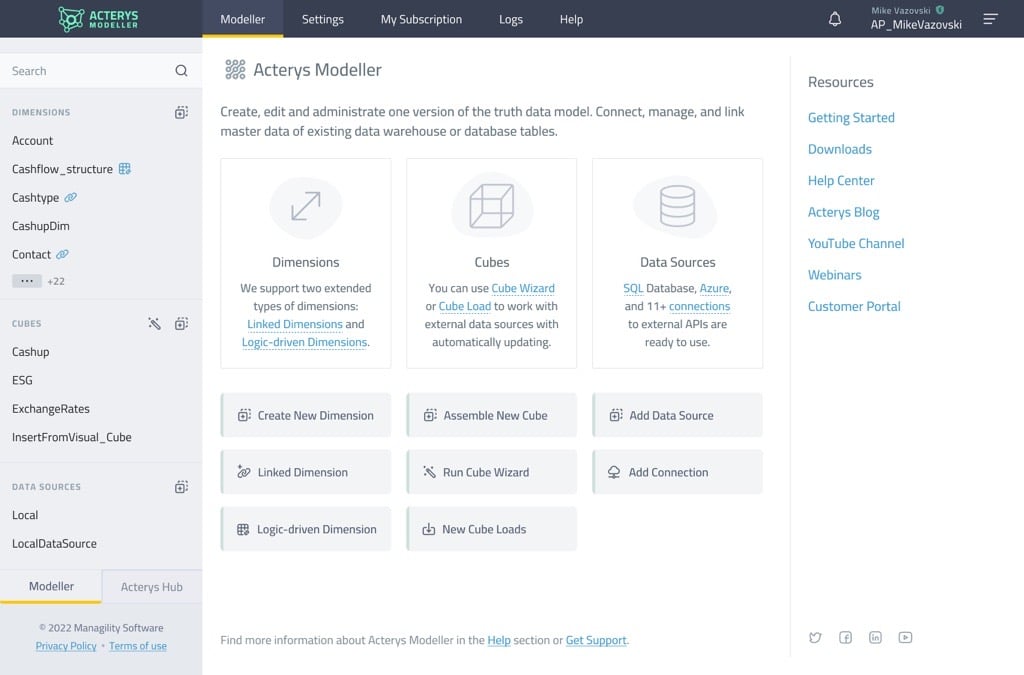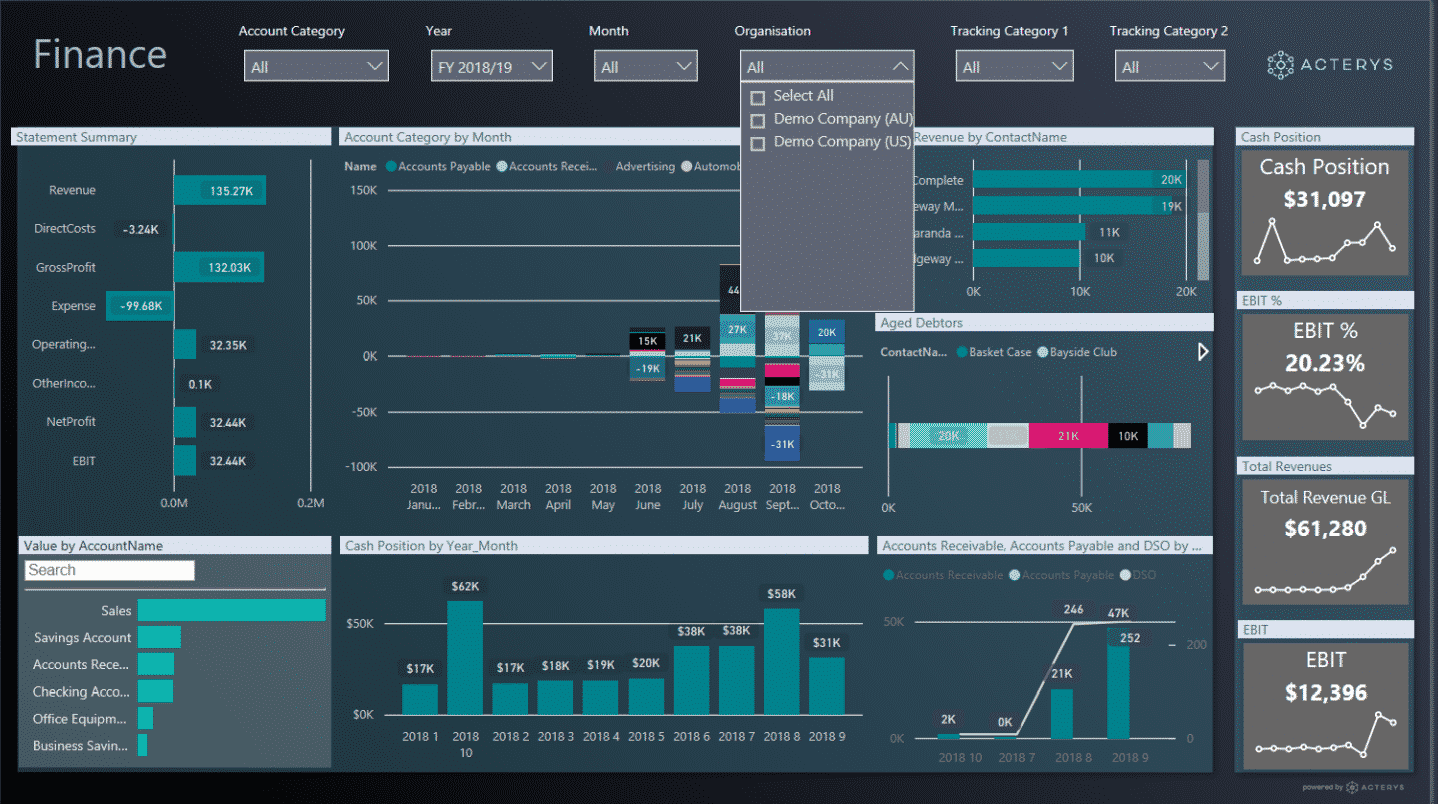 Automatically combine data for global transactions, acquisitions, and mergers, and manage partner companies in the familiar Microsoft environments, either in Excel or Power BI.
With built-in abilities of intercompany eliminations, cash flow management, and currency conversions, all your financial consolidation needs are taken care of, creating a 'single version of truth' in a centralized, transparent manner.
All-in-One Consolidation, Reporting & Analytics
Obtain data from any source, merge and combine general-ledgers from different locations, and maintain control over who input what, to streamline auditibility.
Utilize the power of efficient closing and consolidation to speed up planning and decision making. Consolidate unlimited entities from different ERP and customize integration or automate the process using solution templates. Keep finance professionals, accountants and upper-management in the loop with Acterys-backed Business Intelligence. Create and compare reports and forecasts based on the consolidated version of multiple accounts, both on premise and cloud.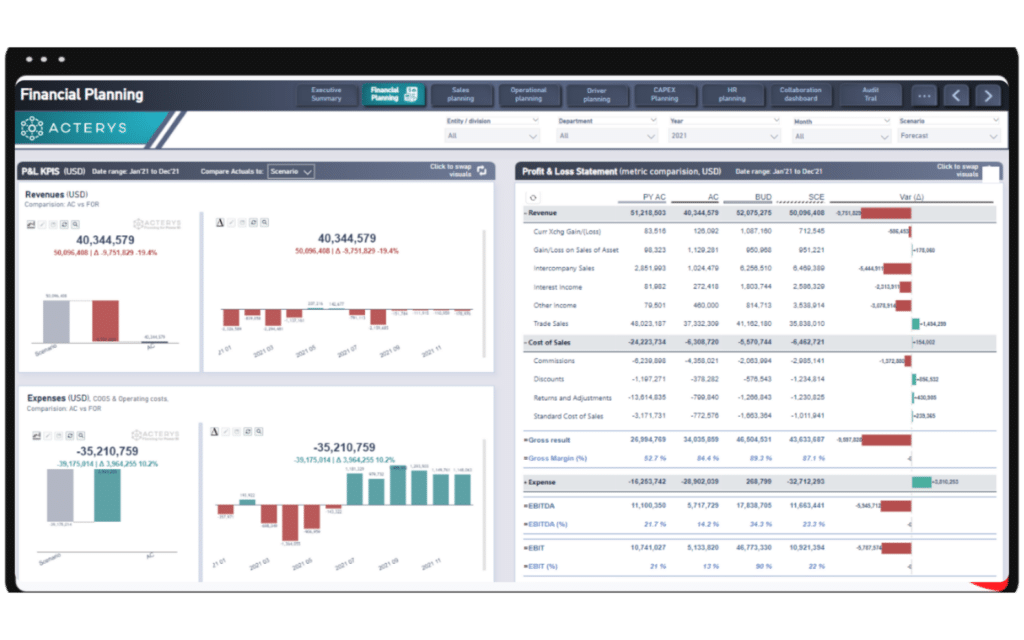 Complete Auditability and Airtight Compliance
Acterys financial consolidation software records all adjustments and reconciliations made during the close and provides process and data transparency through detailed audit trails that trace back to every single change. Avoid complexities and comply with international standards for external reporting, such as IFRS, US GAAP and other regulations, giving stakeholders accurate insights at the end of every close cycle.
"We tested all alternatives: the only solution that really works seamlessly with Power BI is Acterys"
"Super smooth, quick implementation of reporting, planning and consolidation for our 30 global entities"
"We couldn't believe how quickly we had results that were perfectly integrated with our existing processes."
"Our forecasting process was reduced from 3 weeks to 4 hours"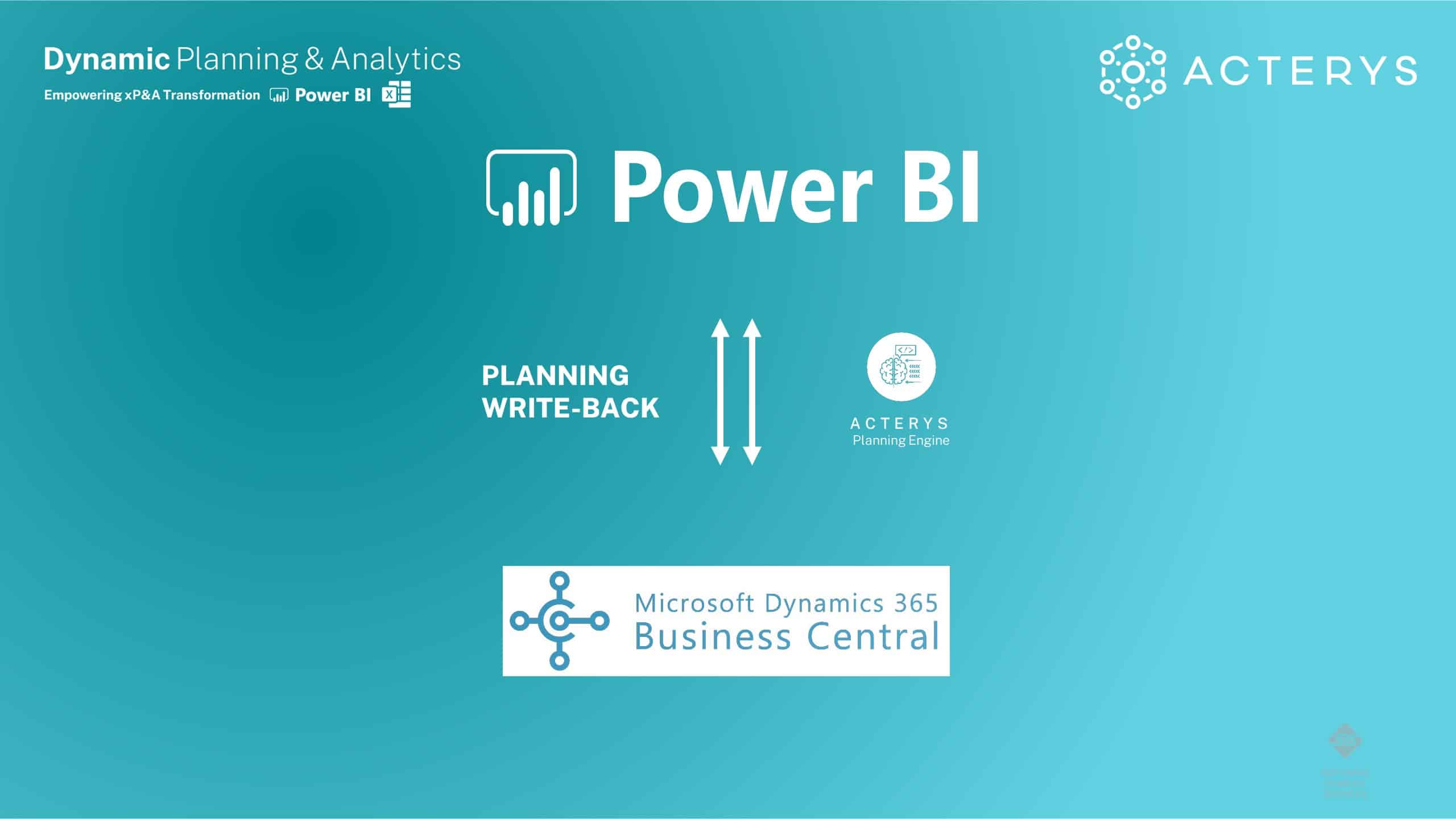 How to add planning and budgeting with Business Central NAV in Power BI
Power BI offers unparalleled features for analysis and visualization: in this post we explain how you can add comprehensive planning and budgeting with all editions of Business Central and NAV.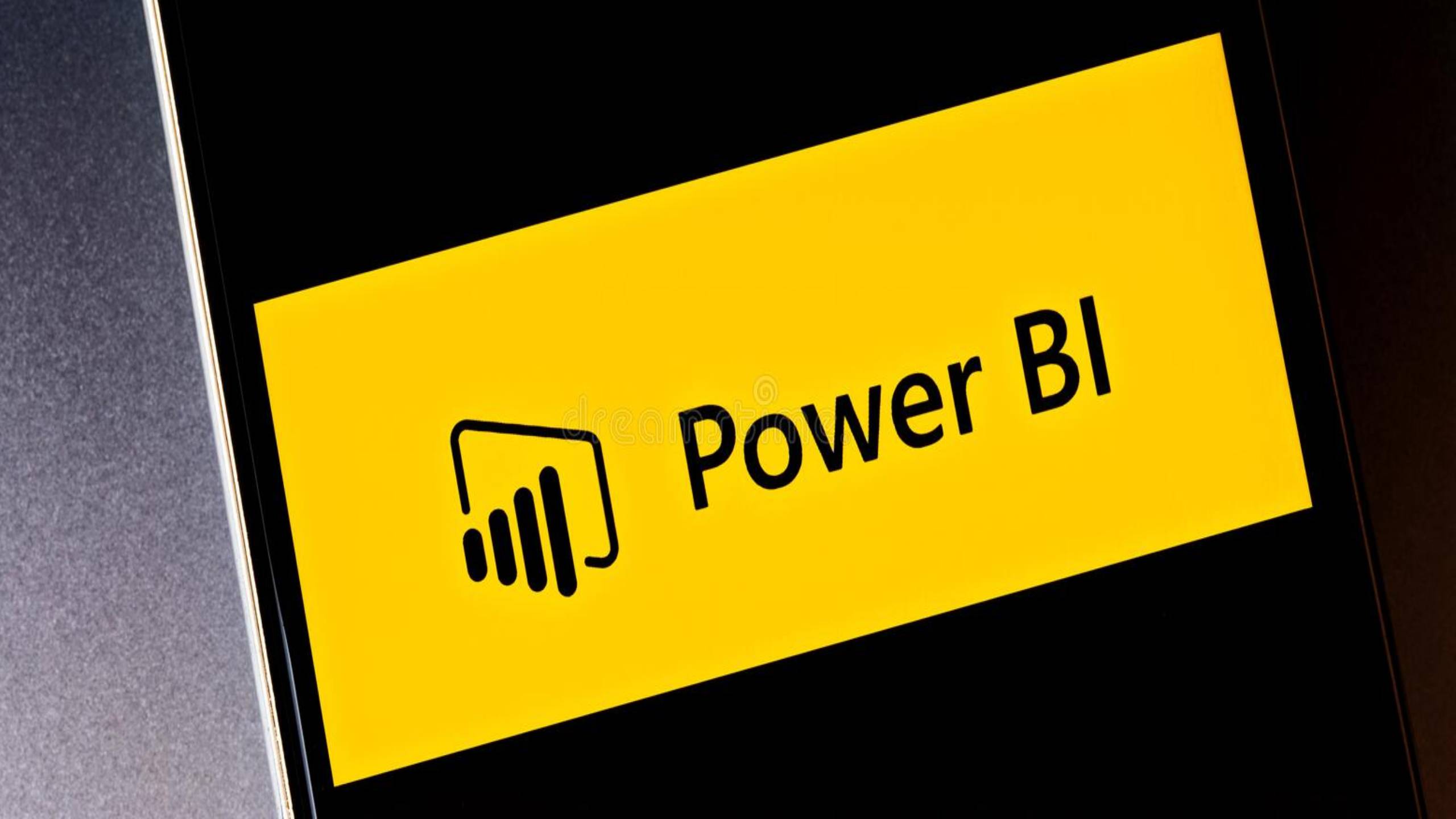 How to Implement Planning, Forecasting and Write back in Power BI
Power BI is the leading analytics platform – with the right approach it can be turned into an extremely versatile and powerful platform for Planning, Forecasting and Write back.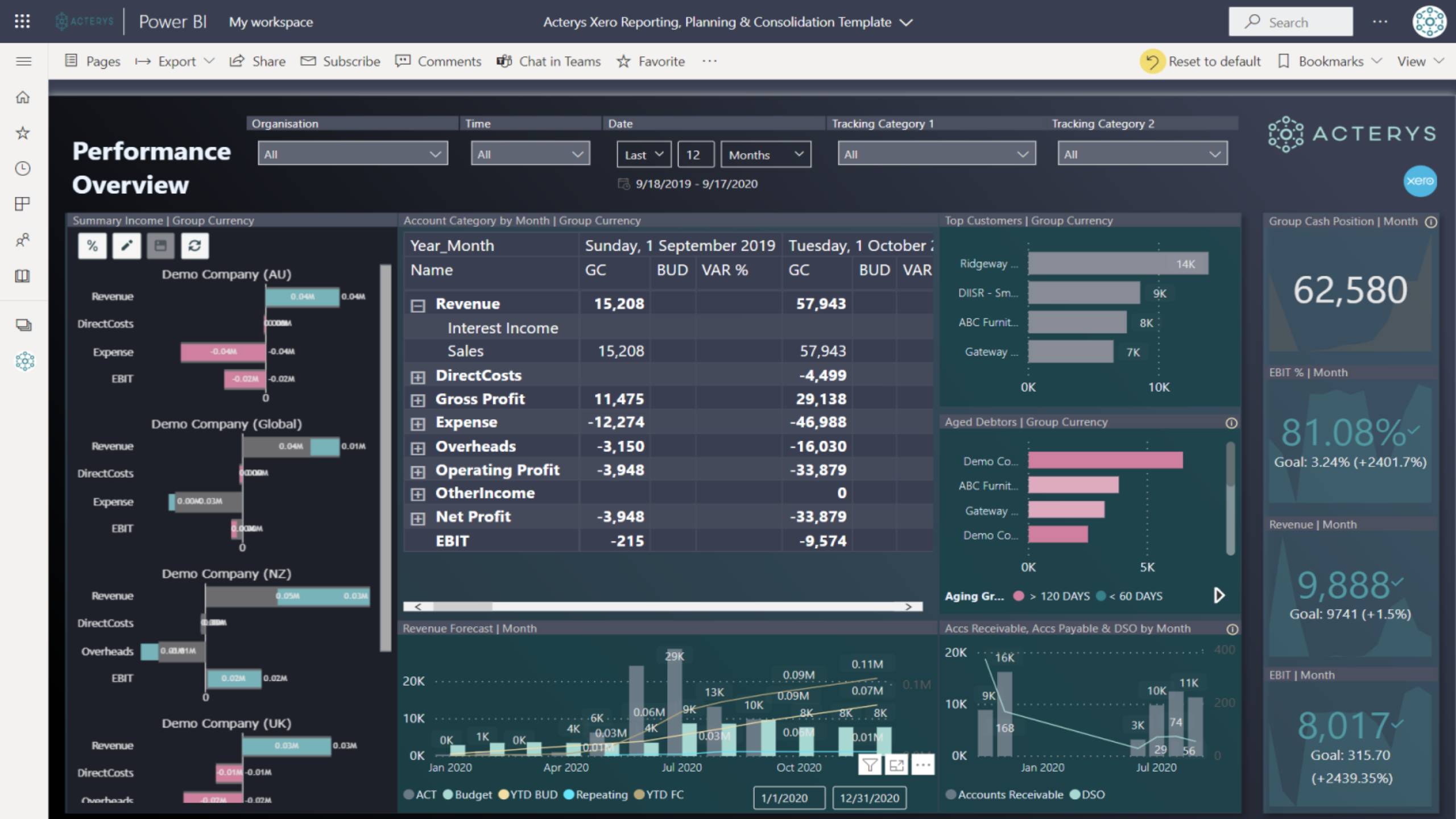 Reporting & Planning Redefined: Xero | QuickBooks | HubSpot | Dear | MYOB
Following the tremendous success of these solutions with now more than 1000+ companies under management we have made significant improvements to all Apps.
FAQs about Financial Close & Consolidation
Financial close is the process of finalizing all the financial transactions between two or more companies. Consolidation is the process of combining two or more companies into a single entity.
Acterys financial consolidation software helps companies close and consolidate data by providing key performance indicators and trends to help identify areas for improvement. Additionally, the software can help automate the consolidation process, making it more efficient and accurate. By reducing the time needed to complete these tasks, Acterys helps businesses save money and improve their overall performance.
Acterys offers close and consolidated reporting by offering financial experts all their data in one place from accounting apps like Xero, MYOB, Quickbooks, and others. This makes it easy to track progress and make changes as needed. Additionally, Acterys provides consolidated financial reporting & analysis from extracted data in Power BI, Excel, Tableau, and even Qlik that can be customized to meet specific needs. This ensures that financial experts always have the information they need to make informed decisions.