Acterys Rapid Results Packs
Der schnellste Weg, Ihre xP&A-Ergebnisse zu initiieren!

ACTERYS Rapid Results Packs (RRP):

Optimales Modell, Logik, Arbeitsabläufe, Berichte und Dashboards
Starten Sie mit bewährten Lösungen und Fachwissen für eine Vielzahl von Anwendungsfällen: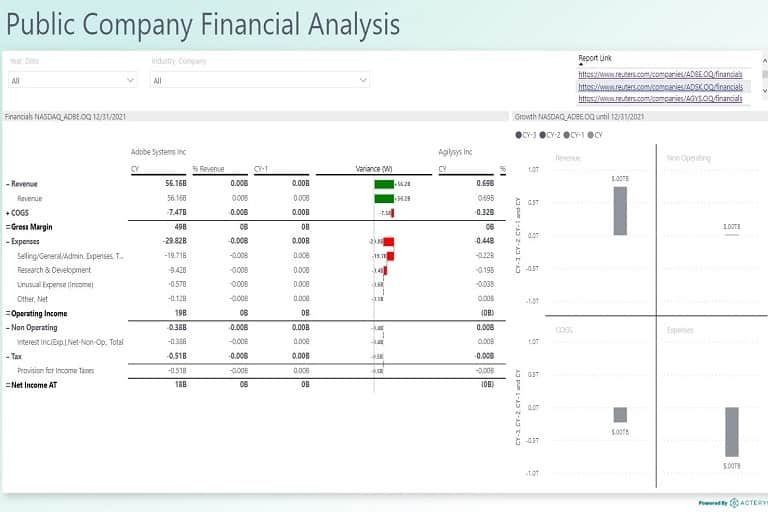 Erfahren Sie, wie Acterys Power BI fantastische neue Perspektiven für die Investitionsanalyse eröffnen kann, wie z.B. die Discounted-Cashflow-Bewertung für börsennotierte Unternehmen in den Vereinigten Staaten.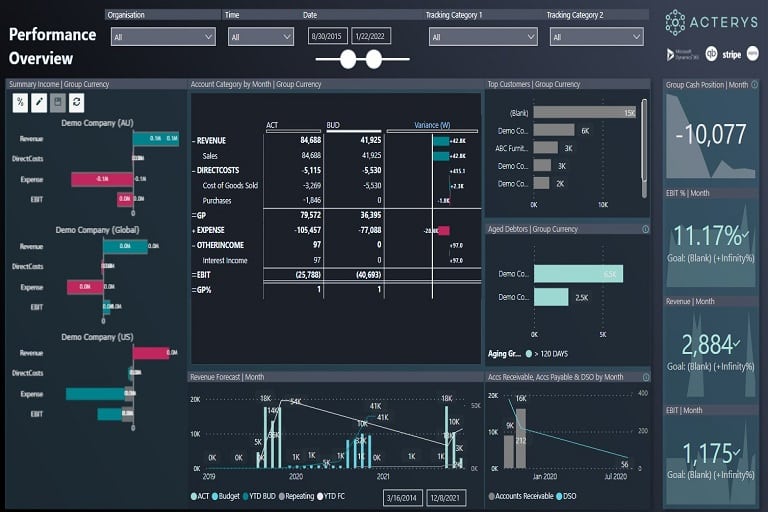 Dieser Acterys Power BI Showcase demonstriert die Analyse- und Planungsvorlagen für Software as a Service (SaaS) und Abonnement-basierte Unternehmen, die es xP&A-Teams ermöglichen, einfach und schnell ganzheitliche Einblicke für Plattformanalysen zu gewinnen.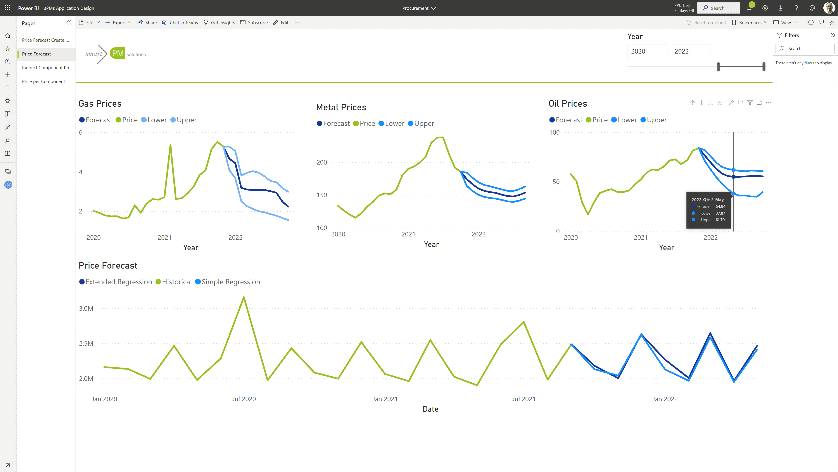 Dieser Acterys Power BI Showcase für Procurement Performance Analytics ermöglicht multidimensionale Ausgabenanalysen, Preis-/Mengenprognosen mit integrierter KI, Risikoüberwachung, Verfolgung von Initiativen, Vertragsanalysen, Einsparungsprognosen und eine nahtlose Integration in S&OP, einschließlich Stücklisten (BOM).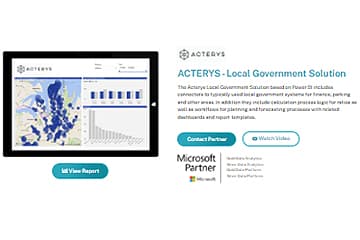 Das Acterys Local Government RRP enthält Konnektoren zu typischen Systemen von Kommunalverwaltungen für Finanzen, Parken und andere Bereiche. Darüber hinaus enthalten sie Berechnungsprozesslogik für Kennzahlen sowie Workflows für Planungs- und Prognoseprozesse mit zugehörigen Dashboards und Berichtsvorlagen.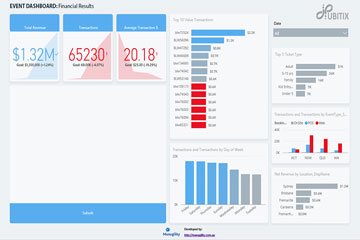 Das Acterys RRP for Event Analytics bietet ganzheitliche Einblicke für Event- und Entertainment-Betreiber. Es liefert ein Echtzeitbild, das finanzielle, operative und Marketing-Ergebnisse kombiniert.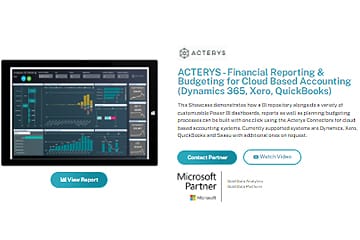 Profitieren Sie von End-to-End-Analyse- und Planungslösungen mit 1-Klick-Integrationen zu den wichtigsten Buchhaltungs-, ERP-, CRM- und anderen Systemen, die mit einem zentralisierten Datenmodell und gebrauchsfertigen Planungs-, Berichts- und Analysevorlagen geliefert werden.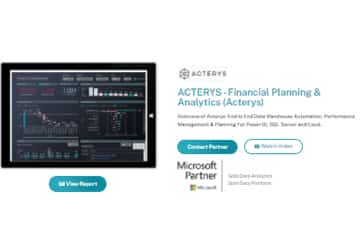 Verwaltung der Interaktionen zwischen Vertrieb und Produktion: Bedarfsplanung, Optimierung der Landekosten, Produktionsplanung.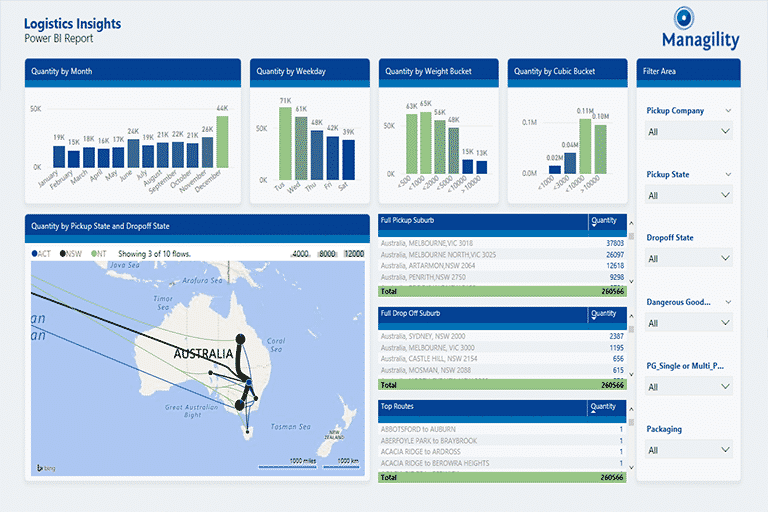 Die auf Power BI basierende Acterys Logistics Optimization ermöglicht es Unternehmen mit umfangreichen Versandaktivitäten, wertvolle Erkenntnisse zu gewinnen und den Prozess zu verbessern.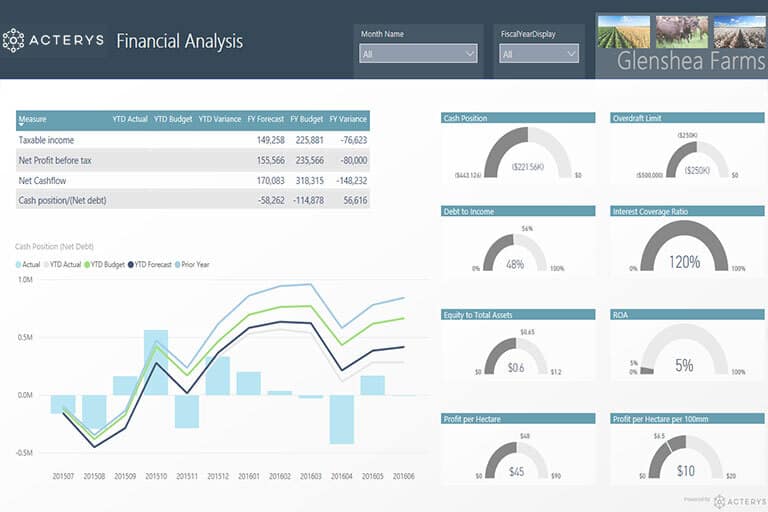 Das Acterys Rapid Results Pack For Agribusiness verbindet sich entweder automatisch mit den in der Landwirtschaft üblichen Buchhaltungssystemen. Integrieren Sie mühelos jede Datenquelle, von IoT-Sensorinformationen bis hin zu Live-Daten und relevanten Nachrichtendiensten.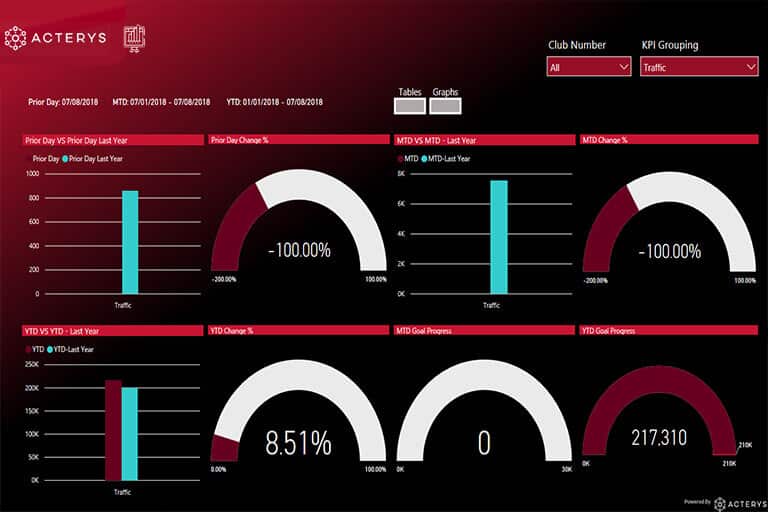 Acterys Gym Analytics & Planning ist eine integrierte Lösung, die es Betreibern von Fitnessstudios ermöglicht, unvergleichliche Einblicke in ihr Geschäft zu gewinnen und für die Zukunft zu planen. Die Lösung unterstützt die automatisierte Integration von Daten, die in Systemen gehostet werden, die typischerweise in diesem Bereich verwendet werden, wie zum Beispiel ABC Financials. Mit wenigen Klicks kann der Nutzer einen oder mehrere Vereine zu einem "One Version of the Truth"-Datenmodell verbinden und sofort detaillierte oder konsolidierte Ergebnisse in interaktiven Dashboards analysieren.
Acterys bietet unvergleichliche Konsolidierungs-, Berichts- und Analysefunktionen und lässt sich nahtlos in Microsoft Azure, Power BI und Excel integrieren. Sie ermöglicht es xP&A-Teams auf der ganzen Welt, finanzielle und operative Planungen auf der Grundlage von Best-Practice-Prozessen einfach und schnell durchzuführen.
Die Acterys xP&A-Plattform umfasst:
Ausführung und Automatisierung von Data-Warehouse-Prozessen und allen Aspekten von CPM auf einer einzigen Plattform
1-Klick-Integrationen zu den wichtigsten Buchhaltungs-, ERP-, CRM- und anderen Systemen über Acterys Apps
8 benutzerdefinierte Visuals mit Schwerpunkt auf Rückschreibung, Planung und Finanzberichterstattung in Power BI
2 Excel-Add-ins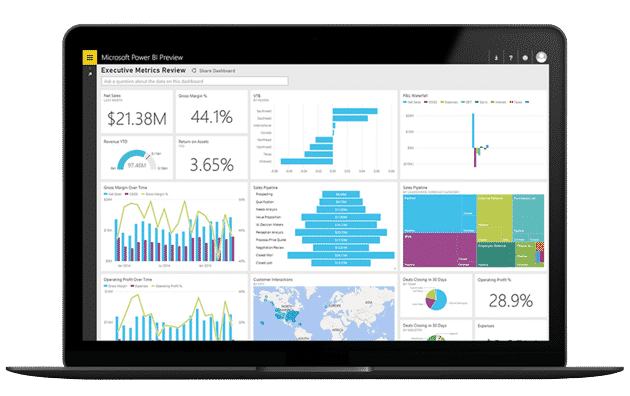 Organisationsweite Analytik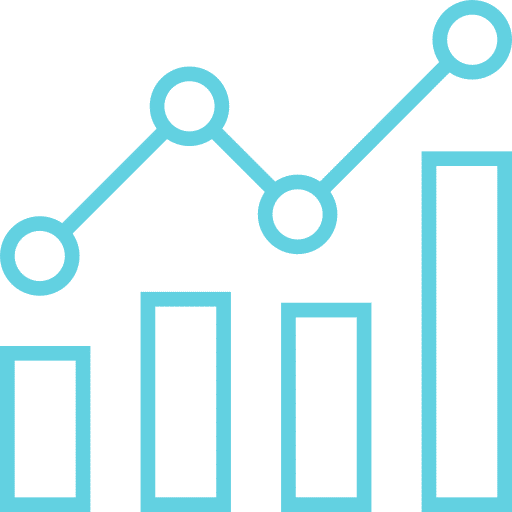 Zentralisiertes Datenmodell
Profitieren Sie von einem einzigen Datenmodell, das Daten aus all Ihren finanziellen und nicht-finanziellen Quellen konsolidiert und für unvergleichliche Planungs- und Analysefunktionen in Power BI bereitstellt.

Planung mit Rückschreibefunktion
Mit 8 benutzerdefinierten Acterys Visuals erhalten Sie fertige, vollständig editierbare Power BI Desktop Financial Report Templates, die umfassende Planungsfunktionen und die Bearbeitung direkt in ihrem Power BI-Bericht ermöglichen

Konsistente Analyse in Ihrer gesamten Organisation
Mit SQL Server Analysis Services vor Ort und Azure Analysis Services in der Cloud können Sie ganz einfach robuste, wiederverwendbare Modelle über Ihre Daten erstellen, um die Konsistenz von Berichten und Analysen in Ihrem Unternehmen zu gewährleisten.

Einfaches Einbetten von BI und Analysen in Ihre Anwendung
Stellen Sie mit dem Power BI Embedded-Dienst beeindruckende interaktive Berichte in Ihrer Anwendung bereit.
Neugierig auf Power BI-gestützte Planung?
Registrieren Sie sich für unser Rapid Results Pack, und wir helfen Ihnen, innerhalb eines Tages ein funktionierendes Dashboard zu entwickeln.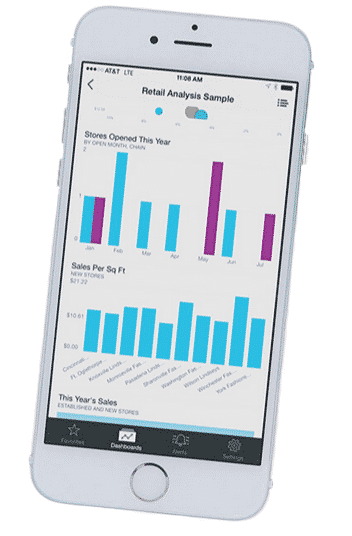 Meistern Sie Ihre Planungsprozesse mit Acterys Rapid Results Packs
Acterys stellt seinen Kunden die besten Tools zur Verfügung, um Konsolidierungs-, Planungs-, Berichts- und Analyseprojekte durchzuführen. Unsere Plattform umfasst alles von intelligenten, sofort einsetzbaren Apps über Excel-Add-Ins bis hin zu Lösungen für maschinelles Lernen und vieles mehr. Unser Ziel ist es, Ihre Führungskräfte und xP&A-Profis mit Funktionen auszustatten, die Ihr Unternehmen mit präziser Voraussicht voranbringen und gleichzeitig maximale Flexibilität, Benutzerfreundlichkeit, Sicherheit und Zuverlässigkeit bieten.
Unsere Lösungsexperten verfügen über umfassende Kenntnisse und Erfahrungen bei der Implementierung von Power BI-basierten Lösungen für eine Reihe von xP&A-Anwendungsfällen. Mit Acterys in Ihrem Fintech-Stack gewinnen Sie einen Wettbewerbsvorteil durch unsere robusten Lösungen.
Wenn Sie sich für Power BI entschieden haben, können Sie mit der Acterys-Plattform jeden einzelnen Dollar Ihrer Investition ausschöpfen.
ACTERYS RAPID RESULTS PACK
Das Acterys Rapid Results Pack zeigt Berichte und Dashboards, die in dynamischen Unternehmen verschiedener Branchen mit Acterys implementiert und kuratiert wurden. Diese zeigen das Potenzial effektiver Planungs-, Business Intelligence- und Analyseprozesse auf, die durch eine robuste Performance-Management-Plattform schnellstmöglich umgesetzt werden können. Sie können diese Pakete mit Hilfe unserer Lösungsexperten und Partner individuell für Ihr Unternehmen implementieren.