Logistics Insights and Optimization with Acterys and Managility Pty Ltd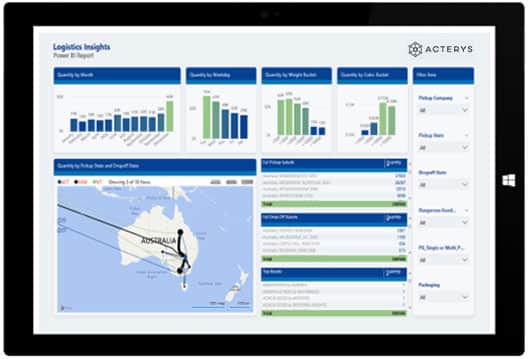 Logistics Dashboard Template for Power BI (Insights and Optimizations)
This Logistics dashboard template provides a Power BI dashboard for tracking logistics performance. The dashboard includes charts and graphs that show shipping volumes, delivery times, and other key metrics. It can be used to track progress against goals and identify areas for improvement..
It enables organizations with large scale shipping operations to gain valuable insights and improve the process efficiency.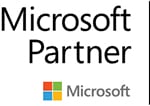 Silver Cloud Platform
Gold Data Analytics
Silver Data Analytics
Gold Data Platform
Silver Data Platform
Acterys just completed a project with a large retail company analysing and optimising their shipment processes based on a Power BI solution. The relevant data set included 300.000 annual shipment transactions with all relevant details like pickup/drop off location, weight, volume, provider and shipment cost as well as a pricing data from a variety of logistics companies.
The initial step involved gaining insights into the data and providing the client with a clear picture. The outcome is shown in the dashboard below (for confidentiality reasons all data is anonymised). It enables insights into developments over time, grouping data into weight and volume buckets, rankings of top sender and drop off locations as well as a variety of filter options (e.g. dangerous goods etc.). Helpful insight was gained through a new custom visual called "Flow Map" that visualises route details e.g. the thickness of the link between two locations.
The next step in the project was focused on realising tangible savings. Shipment rates of all relevant logistics suppliers were added to the model. This fairly complex requirement with a variety of varying rate parameters like availability in the route, differentiations by weight, time of day, urgency, volume etc. was handled effectively with Power Query. DAX calculation logic was then implemented to determine the optimal provider/ rate option to minimise cost.
The results of this process are available in an interactive dashboard that includes all providers and their shipping products. As shown in the screen shot below savings of around $1m through using an optimal mix of logistics products was identified that can then be further filtered using the criteria on the right.
The projects was initiated using Acterys's Fast Start program that included clarification of project deliverables and priorities, the building of an initial prototype and a project plan for the entire project that in the end took only 10 days from start to finish. Using legacy BI solutions that Acterys has been using beforehand, a project like this would have taken weeks.
Get Logistics Dashboard Template Tailored To Your Business Needs
The Logistics Dashboard Template for Power BI is a great way to track your logistics operations. It provides a real-time view of your inventory levels, shipping statuses, and more. Our solution experts and partners can help you build this Rapid Results Pack customized to your business's reporting and analytics needs in a day. Get in touch with us today.
See More Rapid Results Packs
Environment, Social, & Governance (ESG)
This Acterys Power BI Showcase demonstrates the reporting and planning templates for Environmental, Social, & Governance (ESP) reporting. It shows a holistic approach that enables compliance professionals to build a sustainable ESG reporting framework in Power BI, which is easily shareable with stakeholders.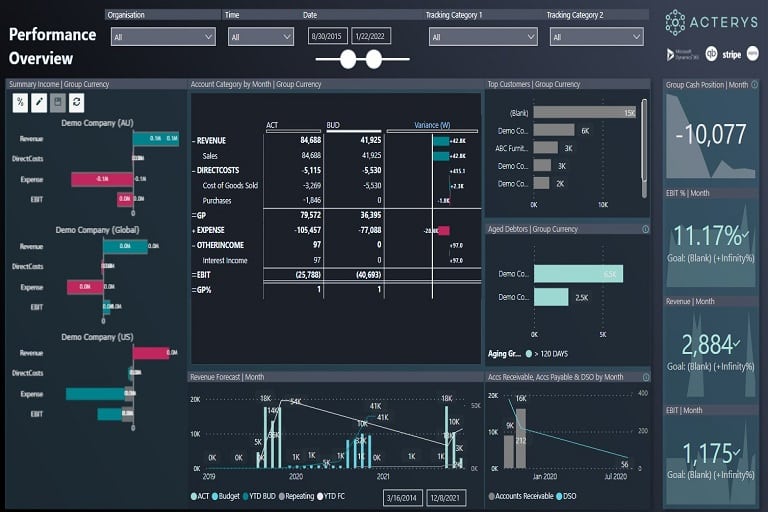 Software as a Service (SaaS) and Subscription Business
This Acterys Power BI Showcase demonstrates the analytics and planning templates for Software as a Service (SaaS) and Subscription based businesses, enabling xP&A teams to gain holistic insights for platform analytics with ease and speed.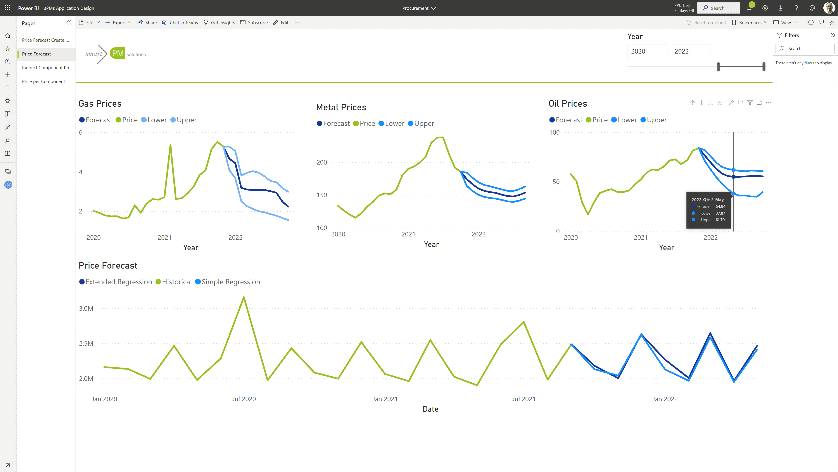 Procurement Performance Management
This Acterys Power BI Showcase for Procurement Performance Analytics enables multidimensional spend analysis, price/volume forecasts with baked-in AI, risk monitoring, initiative tracking, contract analysis, savings forecast and seamless integration into S&OP, including bills of material (BOM).