Acterys Snelle Resultaten Pakken
De snelste manier om uw xP&A uitkomsten te initiëren!

ACTERYS Rapid Results Packs (RRP):

Optimaal model, logica, workflows, rapporten en dashboards
Ga aan de slag met bewezen oplossingen en expertise voor uiteenlopende gebruikssituaties: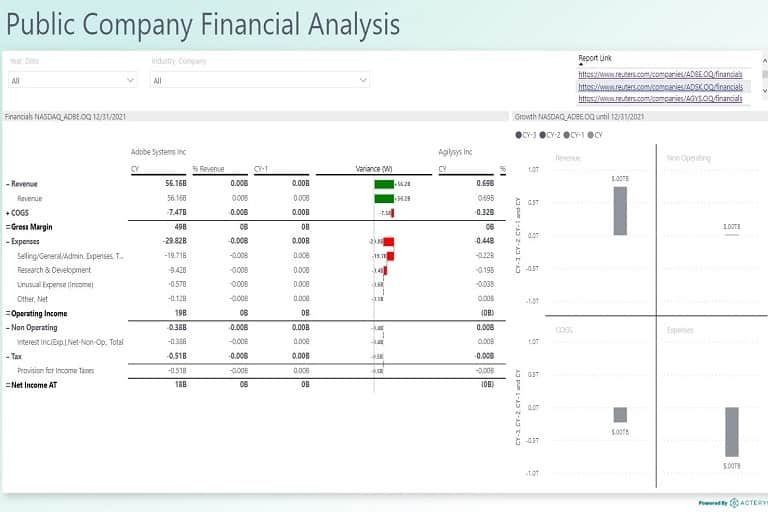 Ontdek hoe Acterys Power BI fantastische nieuwe invalshoeken kan openen voor investeringsanalyses zoals discounted cashflow valuation voor beursgenoteerde bedrijven in de Verenigde Staten.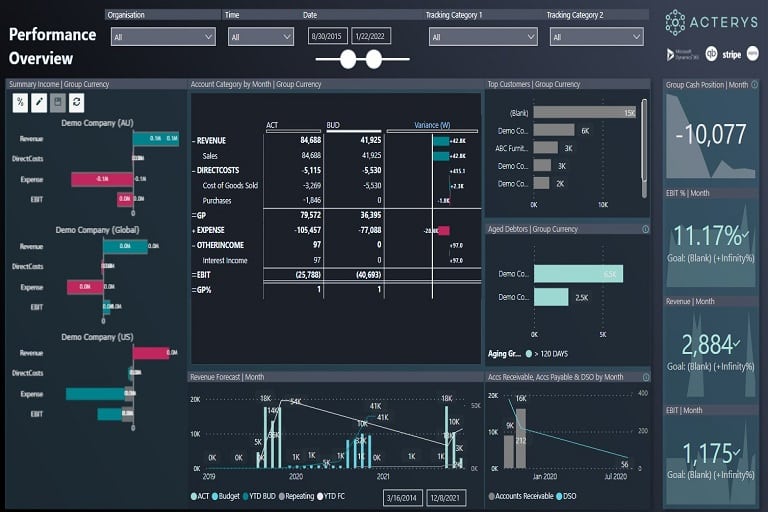 Deze Acterys Power BI Showcase demonstreert de analytics en planning templates voor Software as a Service (SaaS) en Subscription gebaseerde bedrijven, waardoor xP&A teams met gemak en snelheid holistische inzichten kunnen verkrijgen voor platform analytics.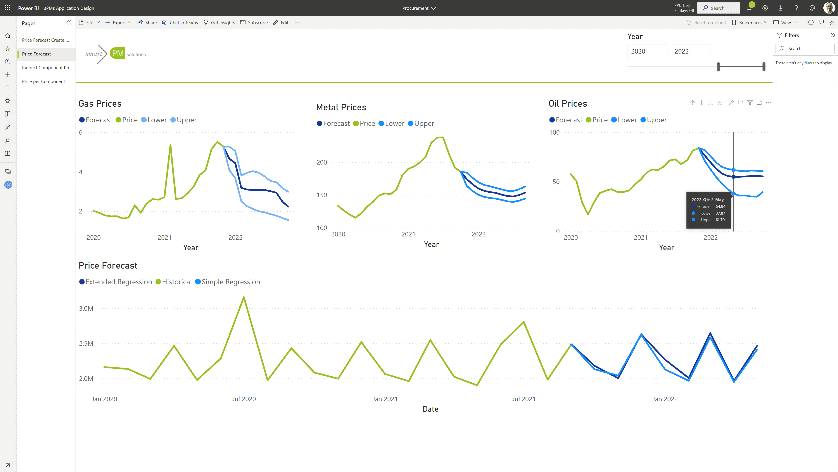 Deze Acterys Power BI Showcase voor Procurement Performance Analytics maakt multidimensionale uitgavenanalyses, prijs-/volumevoorspellingen met ingebouwde AI, risicomonitoring, het volgen van initiatieven, contractanalyse, besparingsprognose en naadloze integratie in S&OP mogelijk, inclusief stuklijsten (BOM).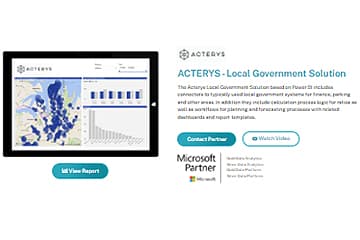 Het Acterys RRP voor lokale overheden bevat connectoren naar typische lokale overheidssystemen voor financiën, parkeren en andere gebieden. Daarnaast omvatten zij logica voor berekeningsprocessen voor ratio's en workflows voor plannings- en prognoseprocessen met bijbehorende dashboards en rapportagesjablonen.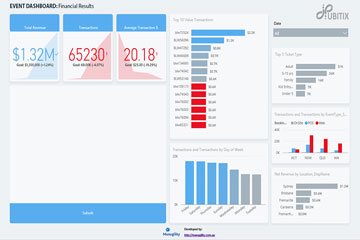 Het Acterys RRP voor Event Analytics omvat holistische inzichten voor evenementen- en entertainmentorganisaties. Het biedt een real time beeld dat financiële, operationele en marketingresultaten combineert.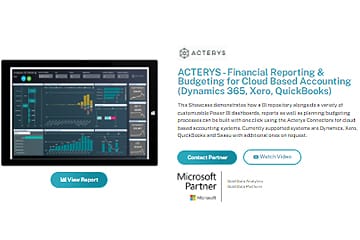 Profiteer van end-to-end analyse- en planningsoplossingen met 1-klik integraties met belangrijke boekhoud-, ERP-, CRM- en andere systemen die worden geleverd met een gecentraliseerd gegevensmodel en kant-en-klare sjablonen voor planning, rapportage en analyse.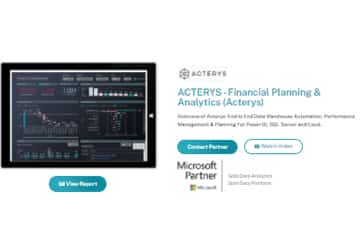 Beheer van interacties tussen verkoop- en productie-entiteiten: planning van de vraag, optimalisering van de landingskosten, productieplanning.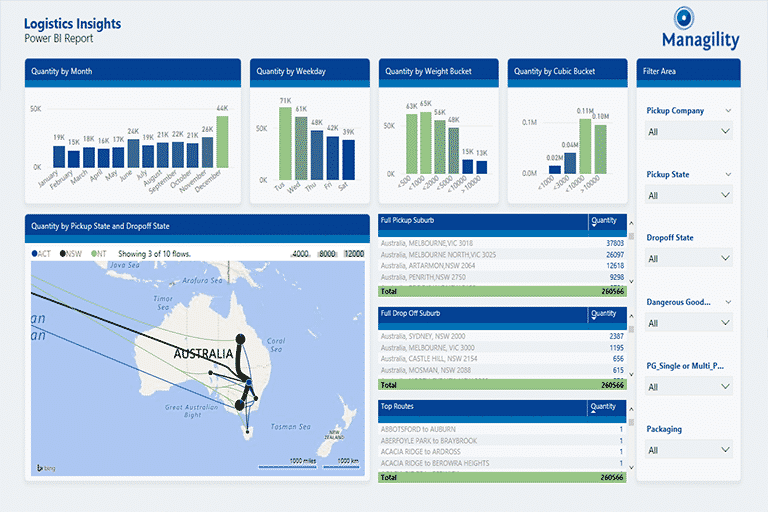 De Acterys Logistics Optimization op basis van Power BI stelt organisaties met grootschalige verzendoperaties in staat om waardevolle inzichten te verkrijgen en het proces te verbeteren.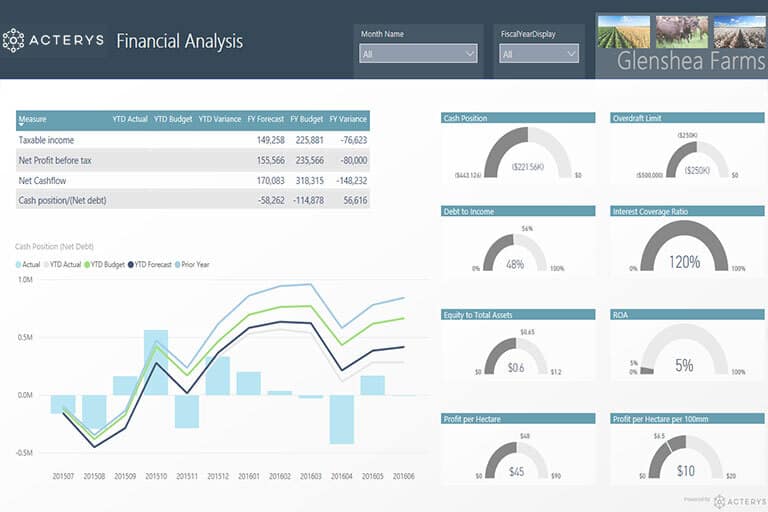 Het Acterys Rapid Results Pack voor de landbouwsector maakt automatisch een verbinding met de in de landbouw gebruikelijke boekhoudsystemen. Integreer eenvoudig elke gegevensbron, van IoT-sensorinformatie tot live gegevens en relevante nieuwsdiensten.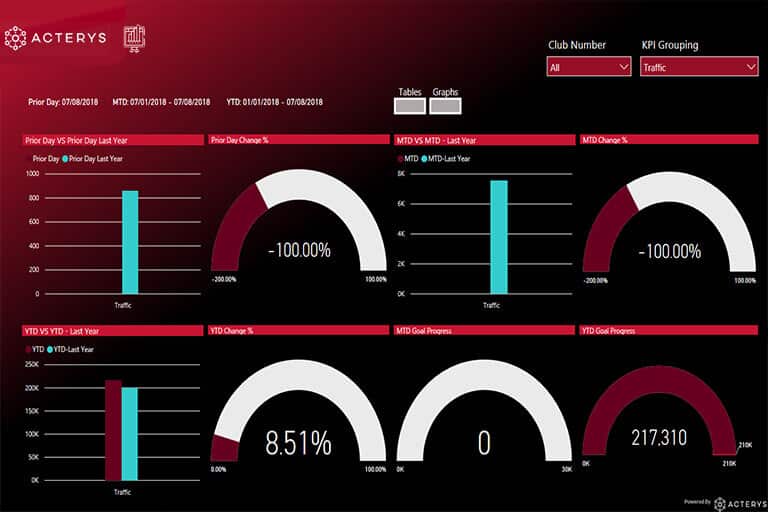 Acterys Gym Analytics & Planning is een geïntegreerde oplossing die sportschool- en fitnessuitbaters in staat stelt een ongeëvenaard inzicht te krijgen in hun business en te plannen voor de toekomst. De oplossing ondersteunt de geautomatiseerde integratie van gegevens die gehost worden in systemen die typisch gebruikt worden in deze sector, zoals bijvoorbeeld ABC Financials. Met een paar muisklikken kan de gebruiker een of meer clubs koppelen tot een "one version of the truth"-gegevensmodel en onmiddellijk gedetailleerde of geconsolideerde resultaten analyseren in interactieve dashboards.
Acterys voegt ongeëvenaarde consolidatie-, rapportage- en analysemogelijkheden toe en integreert naadloos met Microsoft Azure, Power BI en Excel. Het stelt xP&A-teams over de hele wereld in staat om eenvoudig en snel financiële en operationele planning uit te voeren op basis van best practice-processen.
Het Acterys xP&A-platform omvat:
Het draaien en automatiseren van data warehouse processen en alle aspecten van CPM op een enkel platform
1-klik integraties met de belangrijkste boekhoud-, ERP-, CRM- en andere systemen via Acterys Apps
8 Custom Visuals gericht op write-back, planning en financiële rapportage in Power BI
2 Excel invoegtoepassingen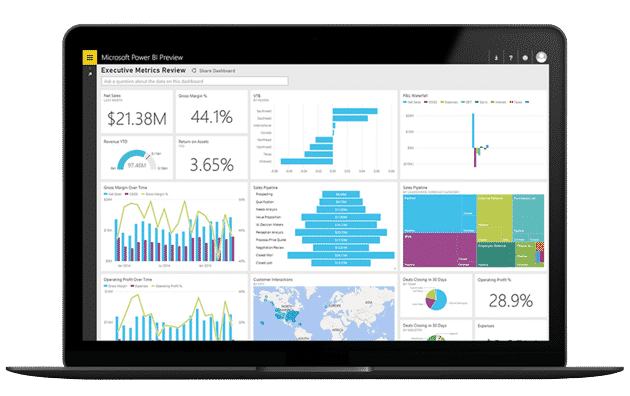 Organisatiebrede analytics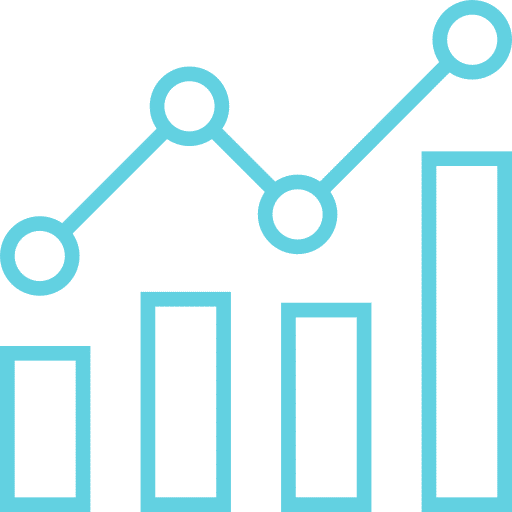 Gecentraliseerd gegevensmodel
Profiteer van één enkel gegevensmodel dat gegevens uit al uw financiële en niet-financiële bronnen consolideert en aanlevert voor ongeëvenaarde planning en analyses in Power BI.

Write-back enabled planning
Met 8 op maat gemaakte Acterys Visuals krijgt u kant-en-klare, volledig bewerkbare financiële Power BI Desktop-rapportsjablonen die uitgebreide planningsfuncties en bewerking direct op hun Power BI-rapport mogelijk maken

Consistente analyse in uw hele organisatie
Met SQL Server Analysis Services on-premises en Azure Analysis Services in de cloud kunt u eenvoudig robuuste, herbruikbare modellen bouwen over uw gegevens om consistentie te bieden in de rapportage en analyse in uw organisatie.

Integreer BI en analytics eenvoudig in uw app
Lever verbluffende interactieve rapporten in uw app met de Power BI Embedded service.
Nieuwsgierig geworden naar Power BI-gebaseerde planning?
Schrijf u in voor ons Rapid Results Pack, en wij helpen u binnen een dag een werkend dashboard te ontwikkelen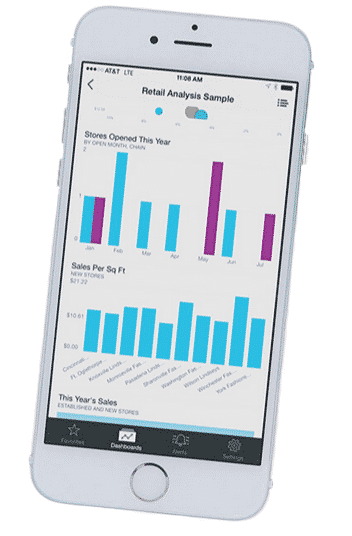 Beheers uw planningsprocessen met Acterys Rapid Results Packs
Bij Acterys bieden we klanten de beste toolset in zijn klasse om consolidatie-, plannings-, rapportage- en analyseprojecten te ondersteunen. Ons platform omvat alles van slimme kant-en-klare apps tot Excel-invoegtoepassingen tot Machine Learning-oplossingen en nog veel meer. Ons doel is om uw bedrijfsleiders en xP&A-professionals te voorzien van functies die u helpen uw bedrijf vooruit te helpen met nauwkeurige prognoses, terwijl ze maximale flexibiliteit, gebruiksgemak, veiligheid en betrouwbaarheid bieden.
Onze oplossingsexperts hebben veel expertise en ervaring met het implementeren van Power BI-gebaseerde oplossingen voor een reeks van xP&A use cases. Met Acterys in uw fintech stack, behaalt u een concurrentievoordeel met onze robuuste oplossingen.
Als Power BI de door u gekozen BI-tool is, stelt het Acterys-platform u in staat om elke laatste dollar uit uw investering te halen.
ACTERYS PAKKET SNELLE RESULTATEN
Het Acterys Rapid Results Pack toont rapporten en dashboards die zijn geïmplementeerd en samengesteld in dynamische organisaties in verschillende sectoren die gebruik maken van Acterys. Hieruit blijkt het potentieel van effectieve Planning, Business Intelligence & Analytics processen op de snelst mogelijke manier opgebouwd via een robuust performance management platform. U kunt deze pakketten op maat van uw organisatie implementeren met de hulp van onze oplossingsexperts en partners.