Acterys Rapportage Visuals
Acterys Reporting stelt u in staat om professionele rapporten te maken met financiële gegevensvisualisaties volgens de principes van IBCS. Gebruikers kunnen hun eigen rij- of kolomgebaseerde berekeningen en opmaak naar behoefte toevoegen met spreadsheet-gemak, waardoor complexe DAX niet nodig is.
Toevoeging van aangepaste rijen en kolommen berekeningen en subtotalen precies waar nodig, bijv. Brutomarge, EBIT, enz.
Opties voor financiële opmaak per rij (onder/boven regels, (), %, schaling enz.)
Visualisatie van afwijkingen volgens IBCS-principes
Opmerkingen per rij
Integratie met alle Acterys functies voor terugschrijven, planning en bedrijfsmodellering.
Begrip in één oogopslag: Financiële verslagen perfect geformatteerd volgens de IBCS-principes
Berekeningen naar behoefte: Voeg subtotalen, ratio's en formules toe met Excel-gemak zonder de noodzaak van complexe DAX.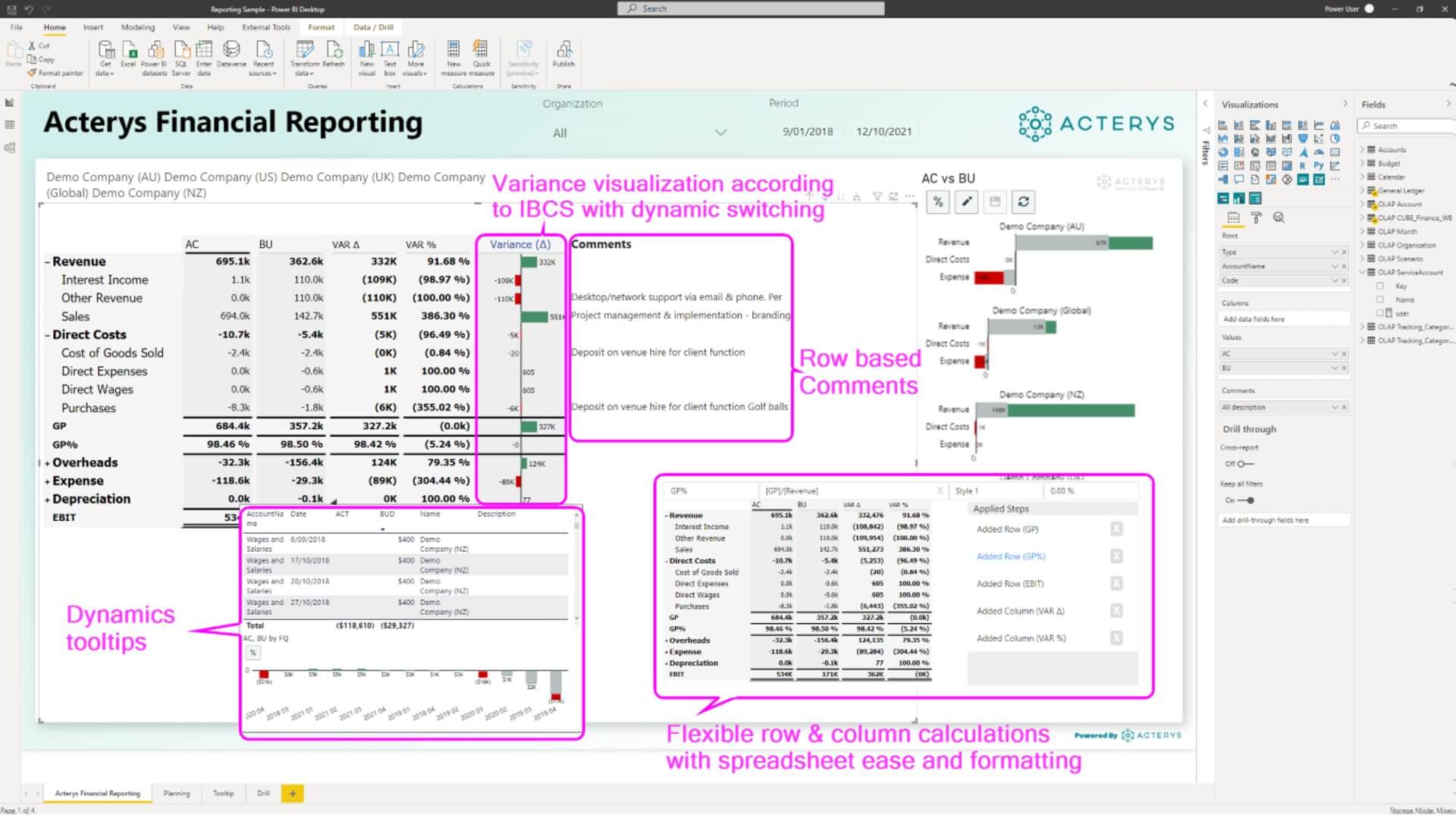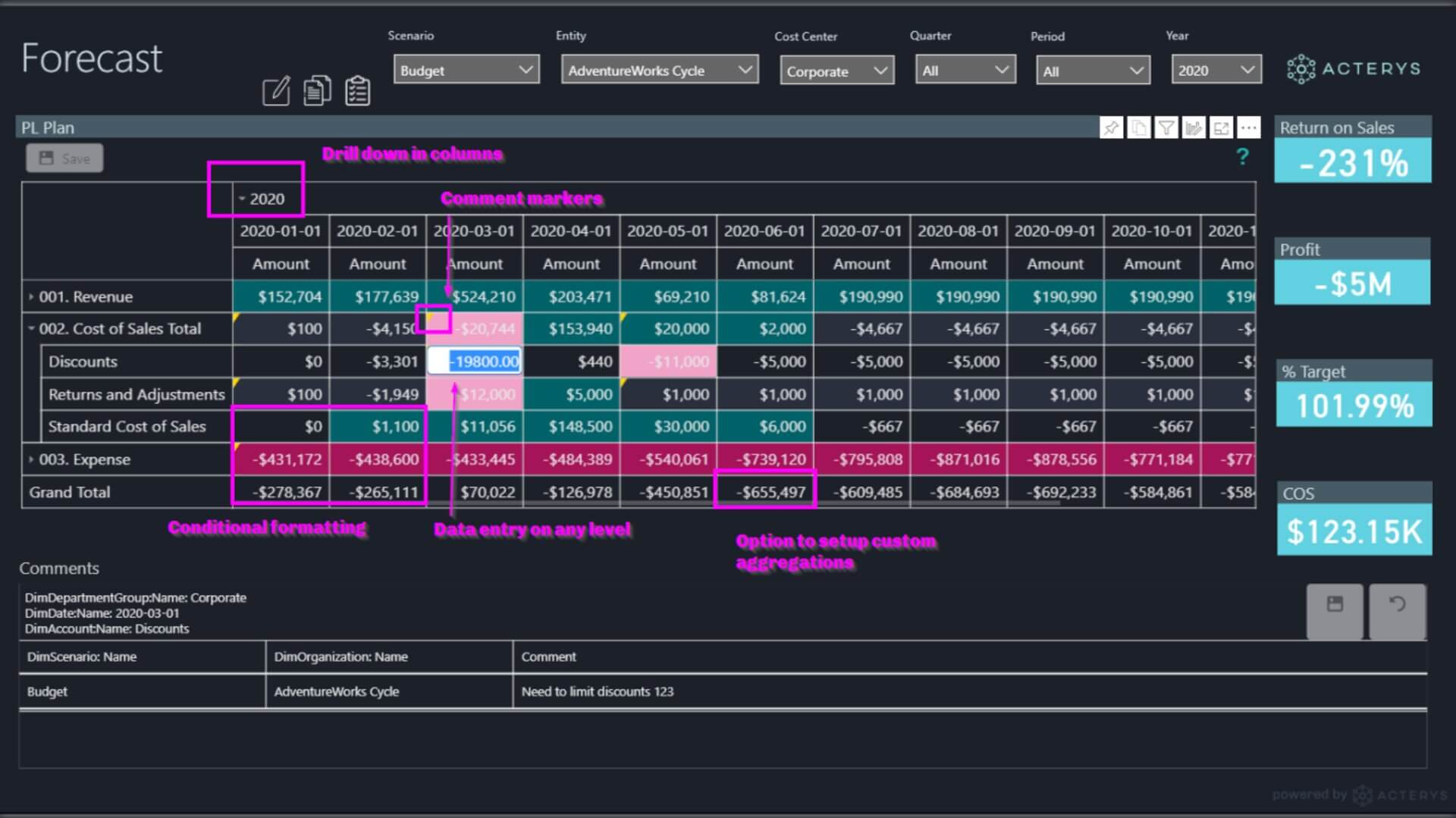 Acterys Matrix biedt een verscheidenheid aan pivot grid-functies.
In rijen en kolommen naar beneden

Persistente status van visual: drill down in hiërarchie niet verloren na refresh

Aangepaste kolomberekeningen

Flexibele voorwaardelijke opmaak.
Met de Acterys Comments visual kunnen gebruikers vrije tekst invoeren met rijke tekstopmaak, van voorgedefinieerde lijsten of waarden in een multi-dimensionaal model. De gegevens worden opgeslagen in standaard MS SQL-databasetabellen voor de actieve filtercontext / dimensiedetails (bv. gebruiker, datum, scenario, enz.)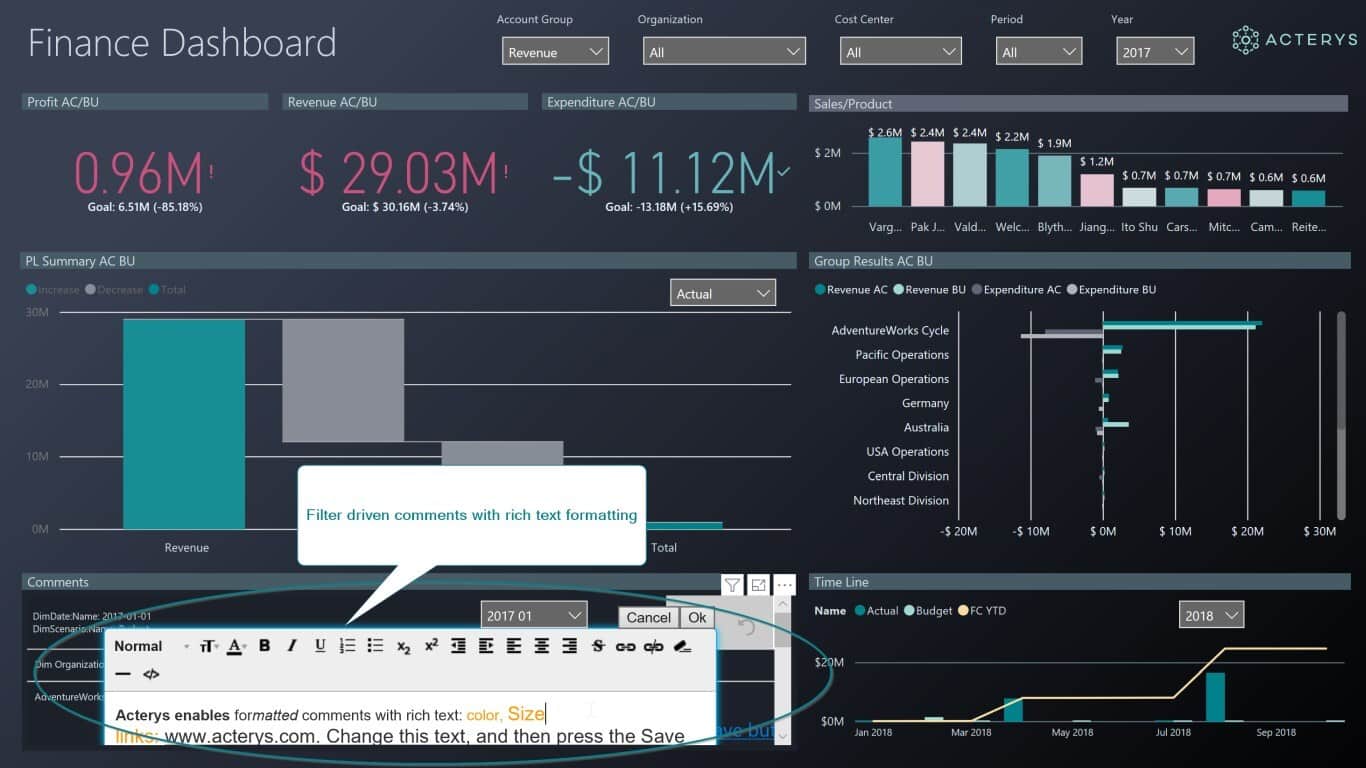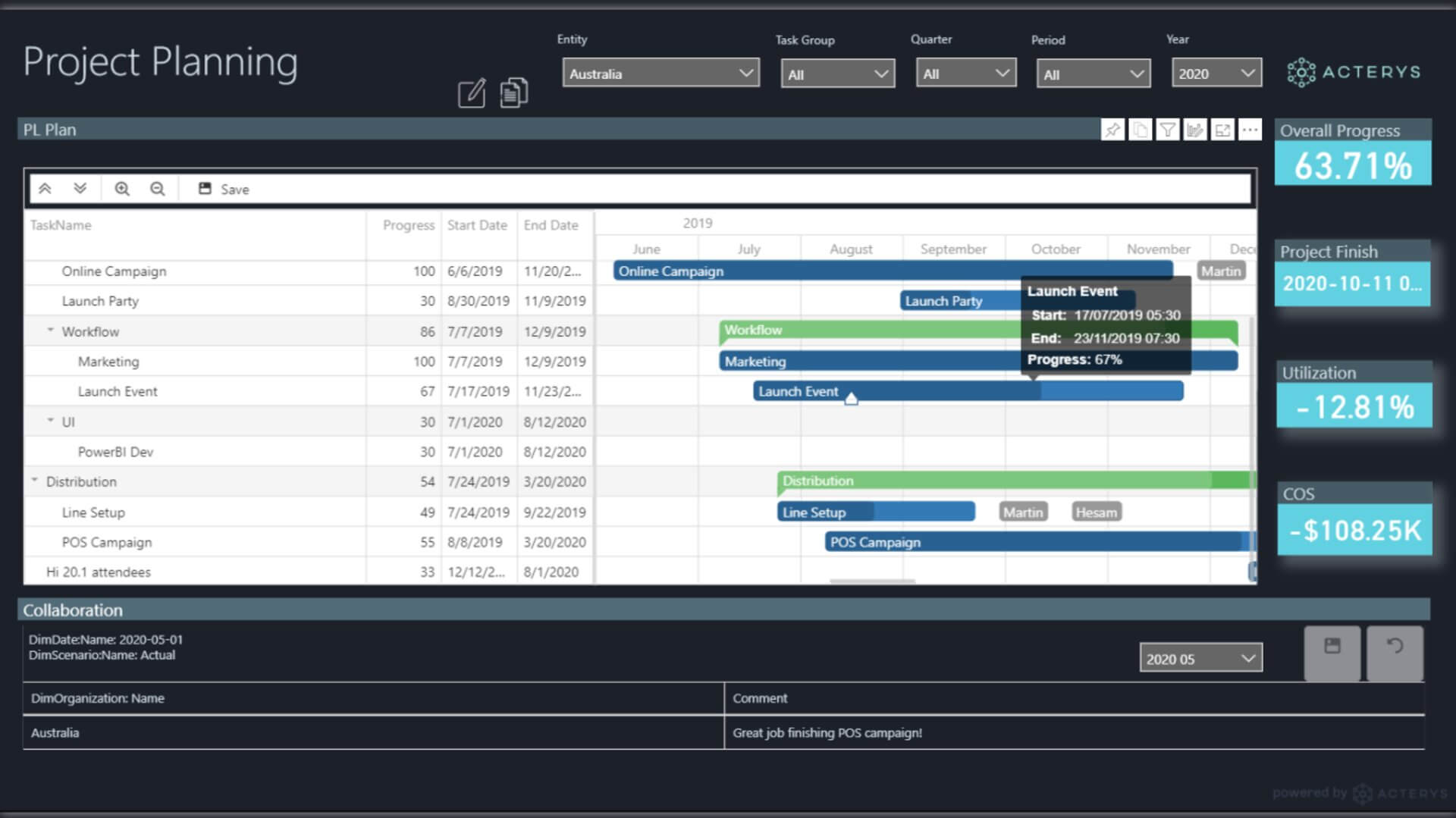 Acterys Gantt maakt uitgebreide functionaliteit voor projectbeheer in Power BI mogelijk.
Gantt-weergave van taken op meerdere hiërarchische niveaus en taakgroeperingen
Toevoegen en bewerken van taken die zijn opgeslagen in een ondersteunde gegevensbron (bijv. SQL Server en elke gegevensbron die door Acterys wordt ondersteund)
Bewerking voltooiing vooruitgang
Beheer van aan taken toegewezen middelen.
Acterys Variance is als het ware een datavisualisatie-instrument waarmee u varianties kunt visualiseren in verticale of horizontale staafdiagrammen met ondersteuning voor kleine veelvouden en resultaten in real-time kunt bewerken voor effectieve planning en prognose.
Omschakelen tussen absolute en relatieve variantieweergave
Categorie drill down
Terugschrijven, planning en prognose (Acterys-abonnement vereist)
Aangepaste gereedschapstips en doorboren.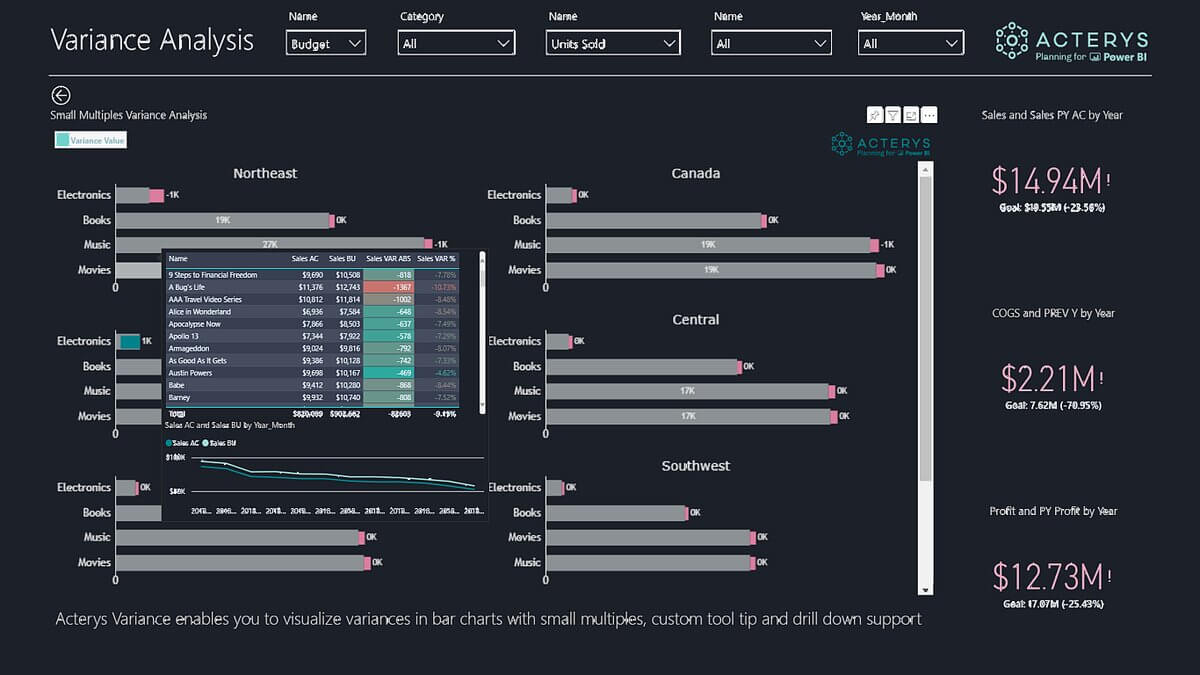 Aan de slag met Acterys Reporting Visuals Suite
Omvat één met name genoemde gebruiker voor gegevensinvoer in combinatie met ten minste één admin-gebruiker.
USD / Per maand / Jaarlijks gefactureerd