Acterys Reporting stelt u in staat om professionele financiële rapporten met visualisaties te maken volgens de principes van IBCS. Gebruikers kunnen hun eigen rij- of kolomgebaseerde berekeningen en opmaak naar behoefte toevoegen met spreadsheet-gemak, waardoor complexe DAX niet nodig is.
Toevoeging van aangepaste rijen en kolommen berekeningen en subtotalen precies waar nodig, bijv. Brutomarge, EBIT, enz.
Opties voor financiële opmaak per rij (onder/boven regels, (), %, schaling enz.)
Visualisatie van afwijkingen volgens IBCS-principes
Opmerkingen per rij
Integratie met alle Acterys functies voor terugschrijven, planning en bedrijfsmodellering.
Begrip in één oogopslag: Financiële verslagen perfect geformatteerd volgens de IBCS-principes
Berekeningen naar behoefte: Voeg subtotalen, ratio's en formules toe met Excel-gemak zonder de noodzaak van complexe DAX.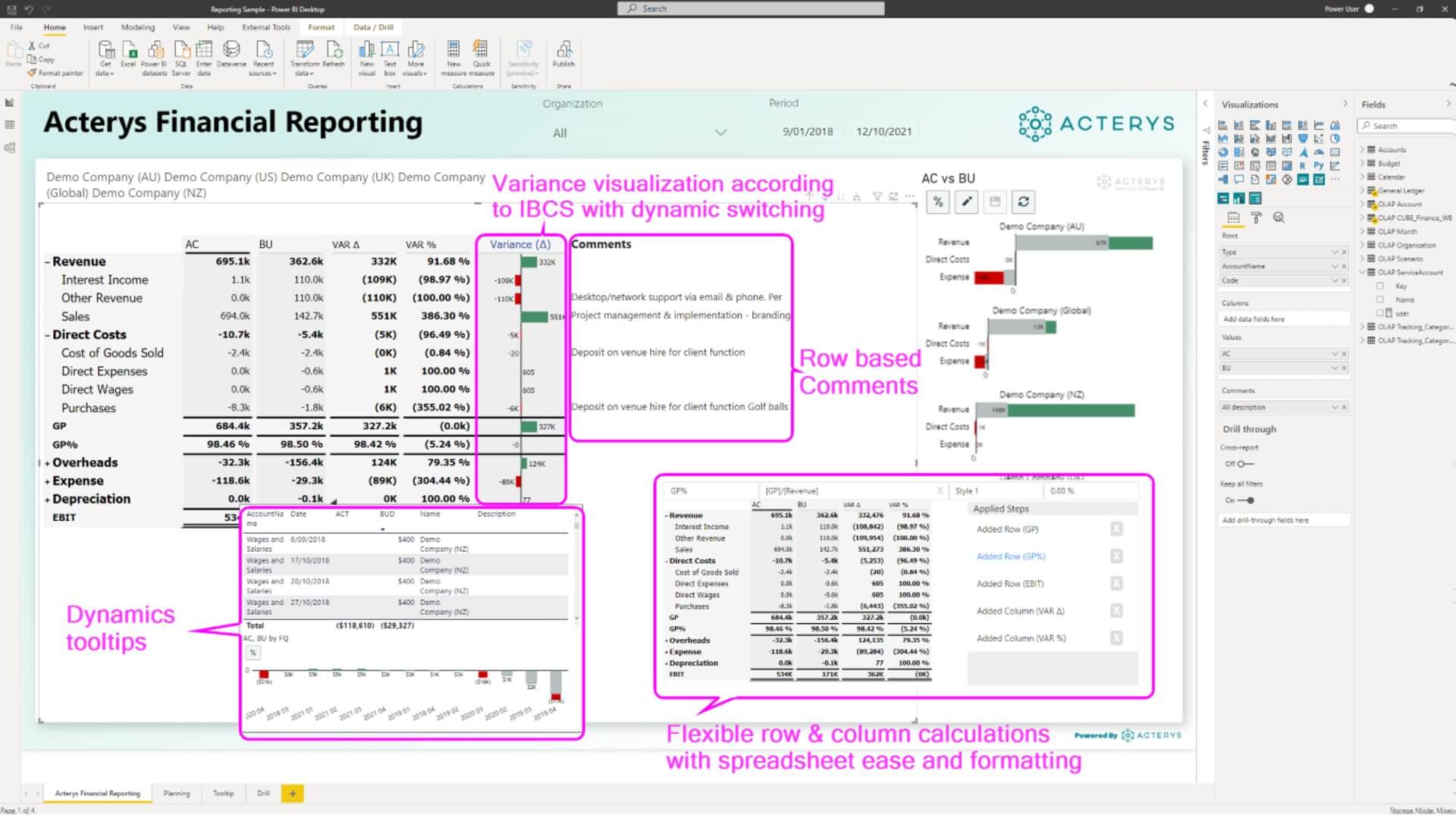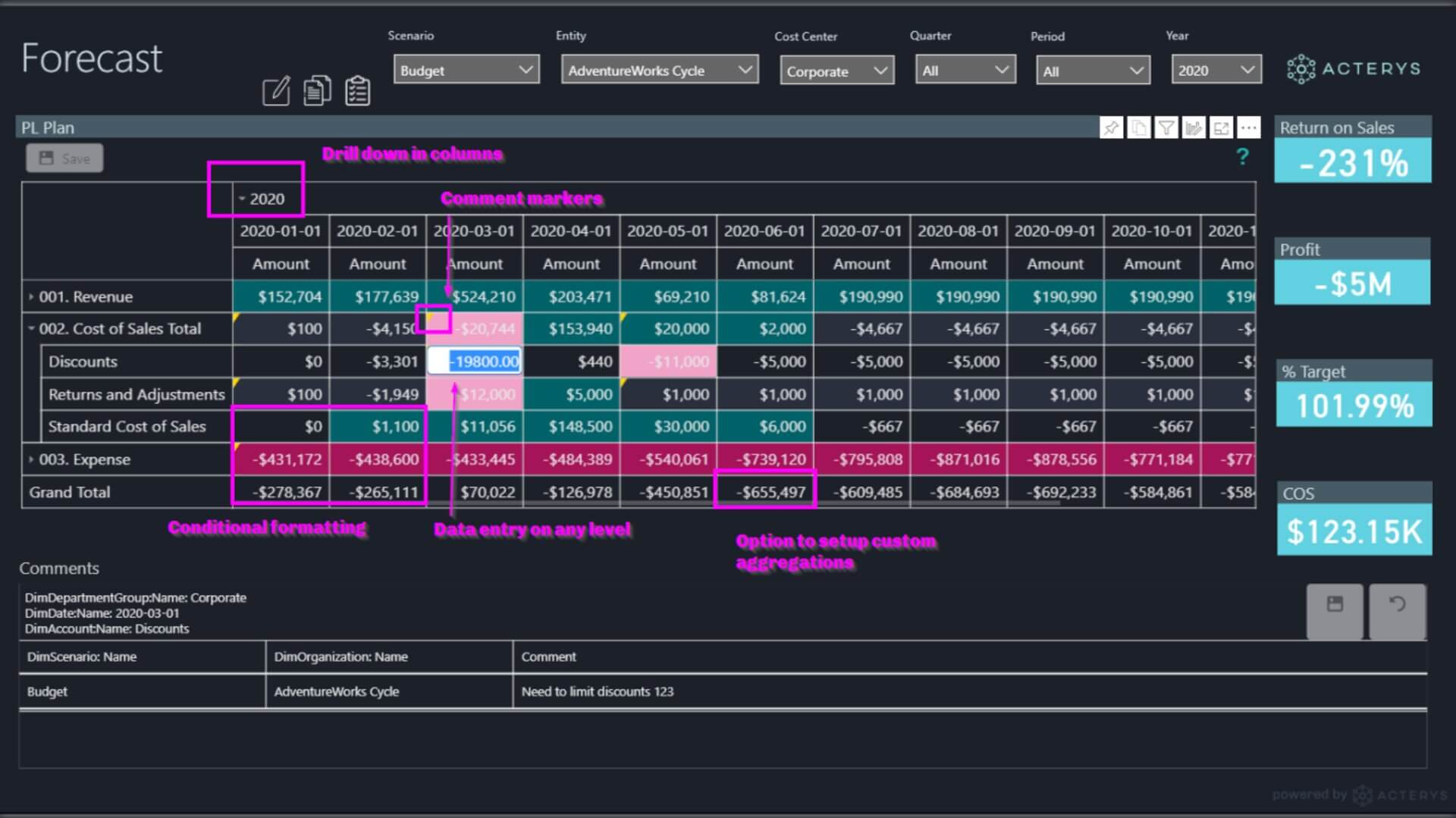 Acterys Matrix Onderneming
Acterys Matrix maakt uitgebreide write-back, planning en prognoses in Power BI mogelijk.
Gegevensinvoer op elk niveau: detailniveau of samenvattingsniveau met flexibele toewijzingsopties
Absolute en relatieve veranderingen
In rijen en kolommen naar beneden
Persistente status van visual: drill down in hiërarchie niet verloren na refresh
Terugschrijven naar SQL tabellen
Aangepaste kolomberekeningen
Flexibele voorwaardelijke opmaak.
Met de Acterys Comments visual kunnen gebruikers vrije tekst invoeren met rijke tekstopmaak, van voorgedefinieerde lijsten of waarden in een multi-dimensionaal model. De gegevens worden opgeslagen in standaard MS SQL-databasetabellen voor de actieve filtercontext / dimensiedetails (bv. gebruiker, datum, scenario, enz.)
Uitgebreide rich-text opmaakopties
Invoegen van HTML-links (weblinks, SharePoint, OneDrive, enz.)
Integratie met Acterys Matrix visual voor celgebaseerde commentaren.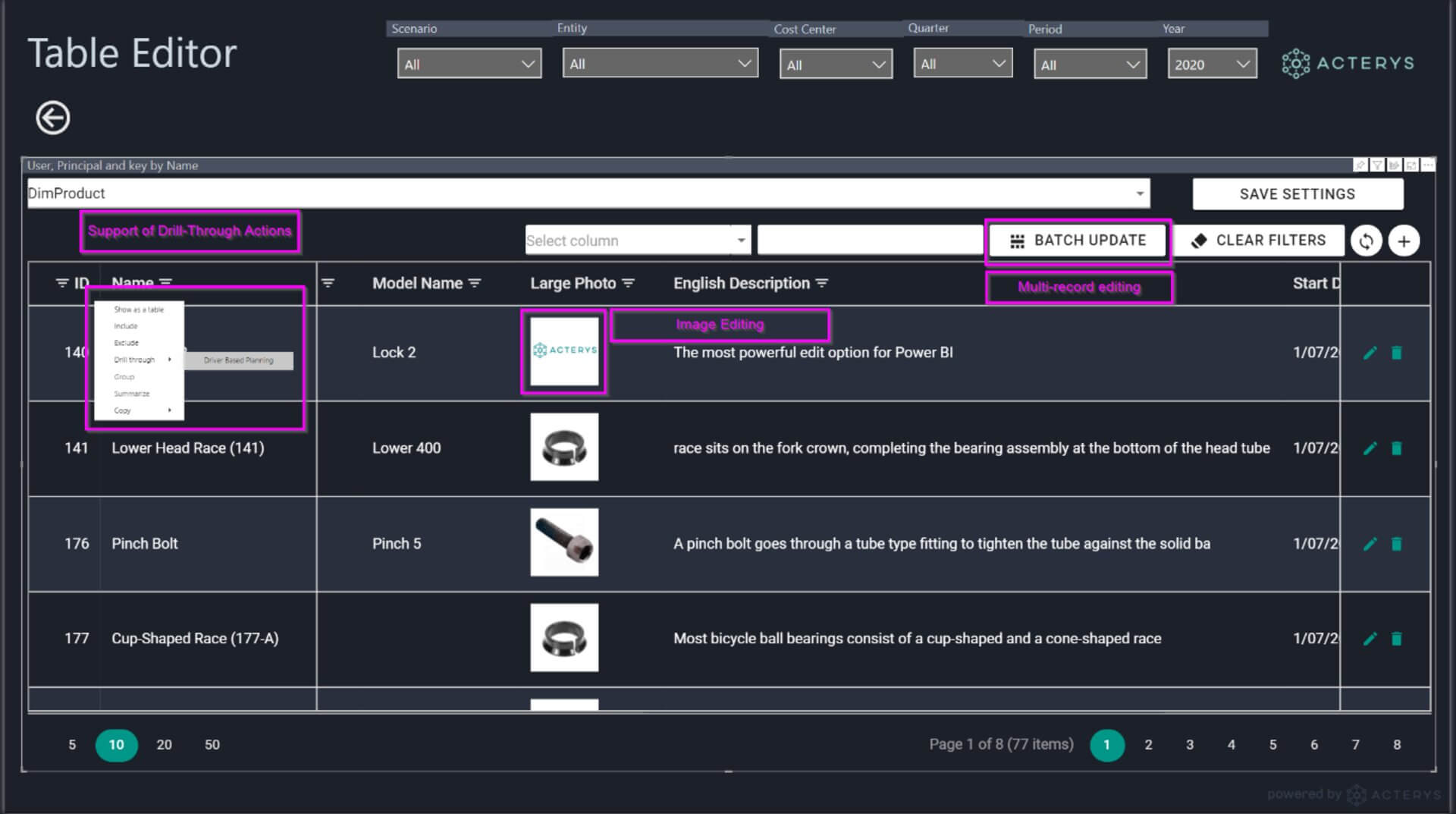 Uitgebreide bewerkingsopties (toevoegen, bewerken, verwijderen) voor SQL-tabellen in een LIGHTWEIGHT Power BI aangepaste visual.
Bewerken van elke tabel die door Acterys wordt ondersteund (MS SQL, Azure SQL, SharePoint, enz.)
Bulkbewerking van records op basis van filtercriteria.
Zoekfuncties
Beeldweergave en -bewerking
Ondersteuning voor doorklikken en aangepaste tooltips
Validatie van gegevens en selectie uit lijsten, b.v. gekoppelde lijsten en datumkiezer.
Acterys Visual Planning stelt gebruikers in staat te plannen en terug te schrijven door elementen in verschillende grafiektypes te slepen.
Definitie van vergelijkingsscenario
Weergave van totalen en relatieve variantie
Categorie drill down
Terugschrijven, planning en prognose (vereist
Acterys abonnement)
Aangepaste gereedschapstips en doorboren.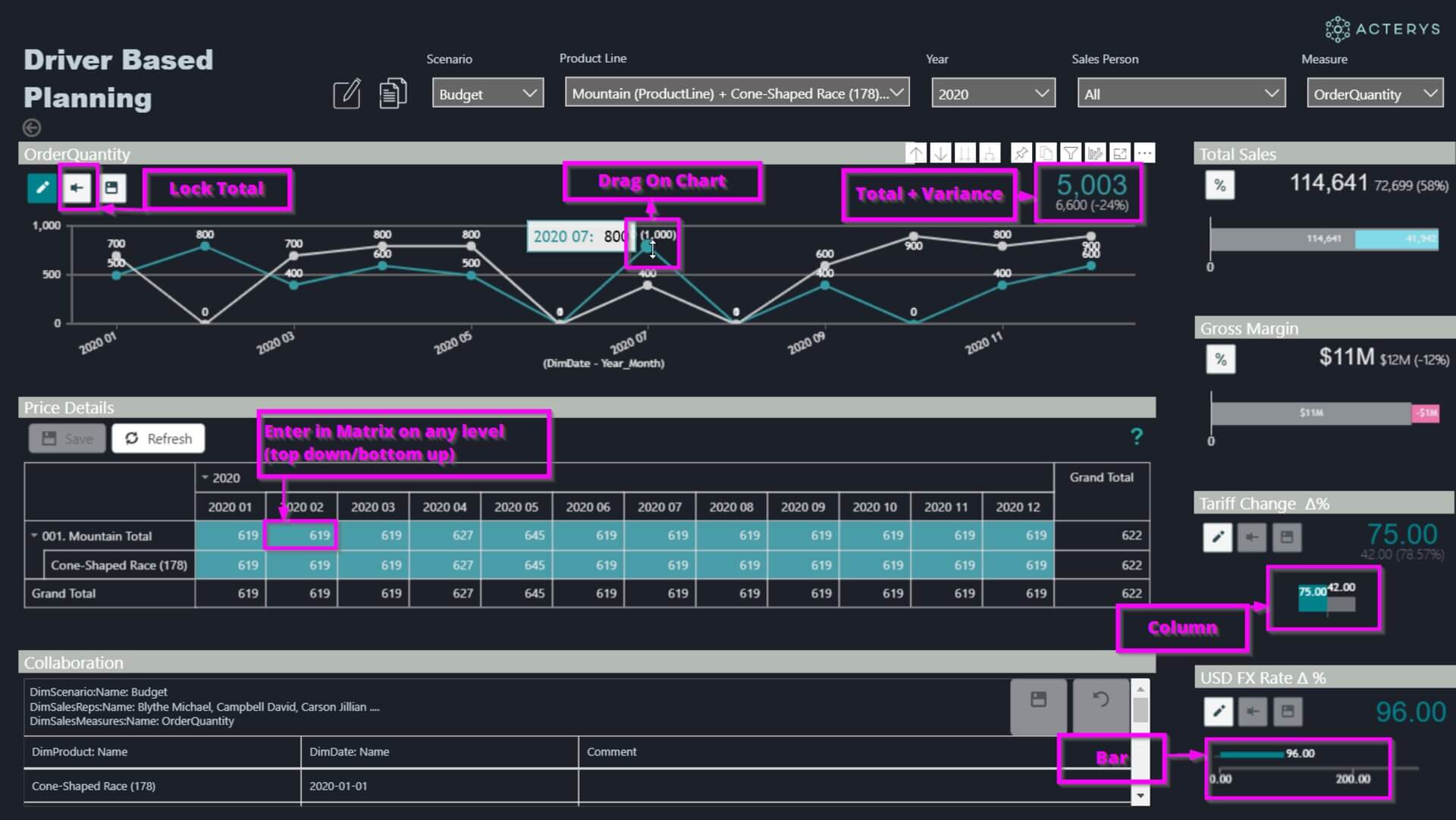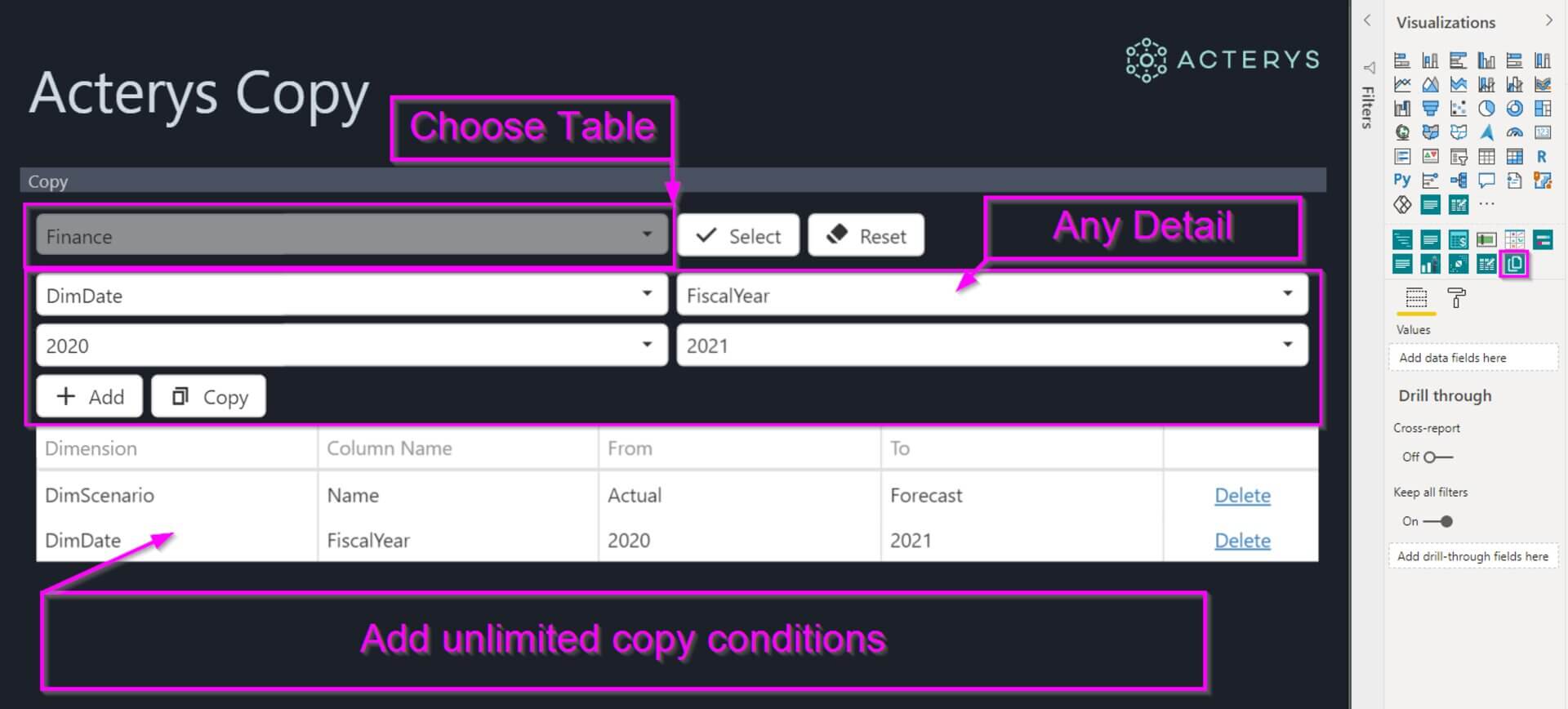 Met de Acterys Copy Power BI visual kunt u gegevens kopiëren tussen verschillende scenario's en modellen met de optie om elk detailniveau te gebruiken.
Bijvoorbeeld het kopiëren van gegevens uit de actuals van het voorgaande jaar als basis voor een nieuw plan, hetzij in zijn geheel, hetzij met verdere dimensiedetails, b.v. alleen een bepaalde kostenplaats, produkt, enz.