Transform Your Business Insights with Acterys and Microsoft Power BI - Partner Showcase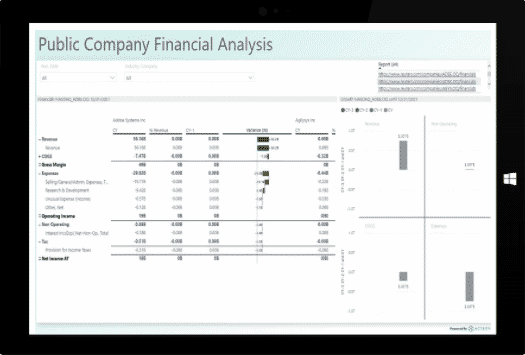 Public Company Financial Analysis Template for Power BI
In this Rapid Results Template showcase, we have demonstrated how you can explore fantastic new angles for investment analysis like a discounted cash flow valuation for listed companies in the United States and more.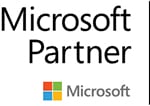 Silver Cloud Platform
Gold Data Analytics
Silver Data Analytics
Gold Data Platform
Silver Data Platform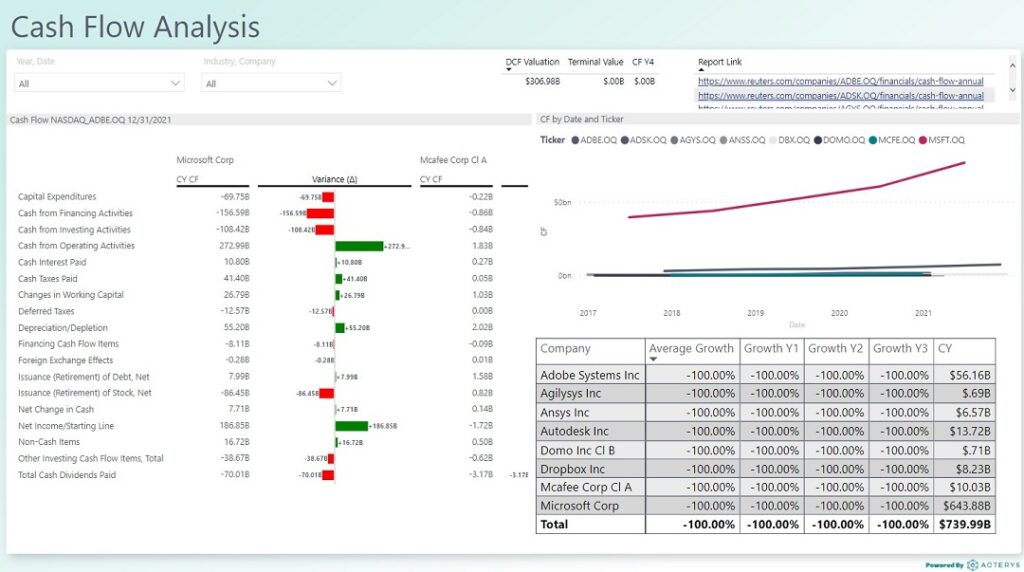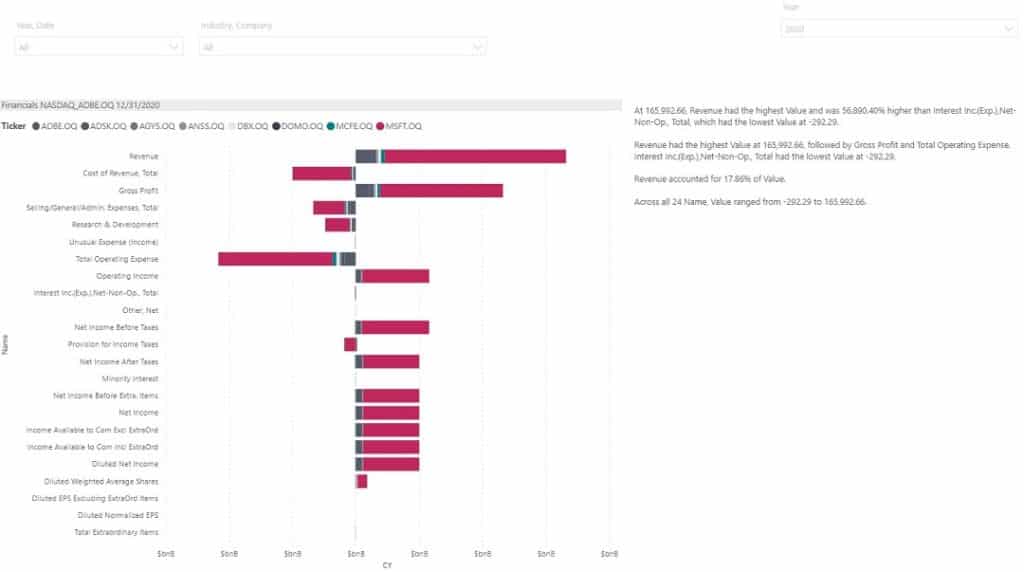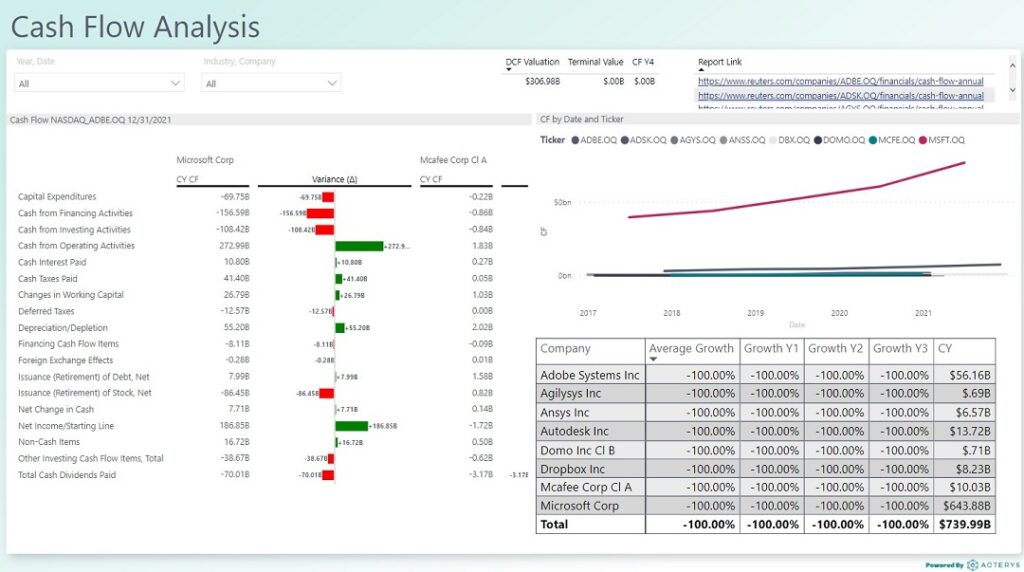 The public or comparable company analysis template for Power BI is a great way to get a snapshot of your company's performance. It includes information such as revenue, profit, and loss, as well as other key metrics. You can use this template to track your company's progress over time and identify any trends.
In this comparable company analysis template, t
he data set includes income statement and cash flow details but can be extended to any data point that is published to the SEC.
By using the Acterys Financial Reporting Power BI visual, users have the option to put together financial
reports
in seconds that include advanced visualization options like switching between absolute, relative, and waterfall charts just by clicking on the header.
The visual also enables the user to add typically required formatting options for row and column level details, as well as under and over lines.
Most importantly, users can also add their own row and column calculations without a single line of DAX, which not only makes it easy to use but typically also dramatically faster.
Another feature of the report is the option to link back to the source data by just clicking on an active link.
The report also includes valuation metrics like discounted cash flow (DCF) that calculate future cash flows with an applied discount and growth factor based on the prior 3-year results and a terminal value.
The report also includes editing options available in the Acterys visuals, where the users can easily edit account mappings, the treatment of signs, and other details that are immediately applied to the report.
Features include:
Analysis of all items in the income statement and cash flow statement supported by variance calculations like quarter to quarter change and configurable conditional formatting.
Industry analysis by different sector categorizations
Comparative analysis of Key Ratios and Indicators
Top Bottom Performer for all categories of the data stream
Get Company Analysis Template Tailored To Your Business Needs
Our solution experts and partners can help you build this Rapid Results Template customized to your business's reporting and analytics needs in a day. Get in touch with us today.
See More Rapid Results Templates
Environment, Social, & Governance (ESG)
This Acterys Power BI Showcase demonstrates the reporting and planning templates for Environmental, Social, & Governance (ESP) reporting. It shows a holistic approach that enables compliance professionals to build a sustainable ESG reporting framework in Power BI, which is easily shareable with stakeholders.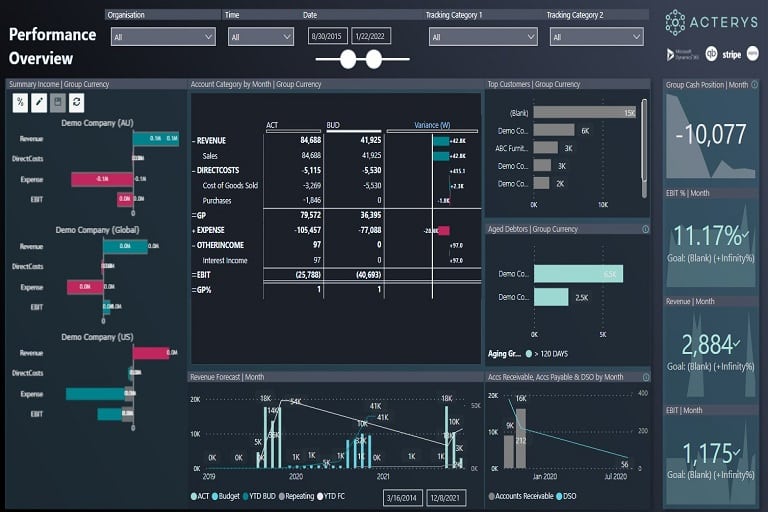 Software as a Service (SaaS) and Subscription Business
This Acterys Power BI Showcase demonstrates the analytics and planning templates for Software as a Service (SaaS) and Subscription based businesses, enabling xP&A teams to gain holistic insights for platform analytics with ease and speed.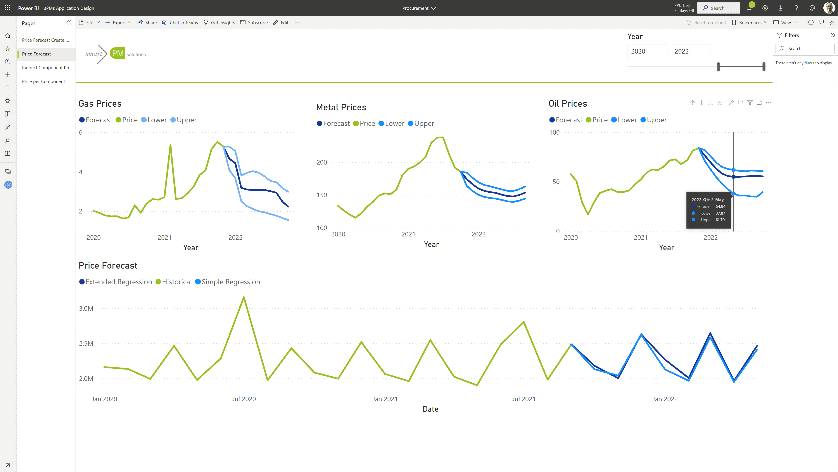 Procurement Performance Management
This Acterys Power BI Showcase for Procurement Performance Analytics enables multidimensional spend analysis, price/volume forecasts with baked-in AI, risk monitoring, initiative tracking, contract analysis, savings forecast and seamless integration into S&OP, including bills of material (BOM).