Power BI Reporting - Create Interactive Reports and Dashboards with Ease
Acterys includes the most extensive, enterprise-ready range of Power BI visuals that offer unparalleled extended planning and analytics (xP&A) capabilities. They enable business users to implement and adapt any planning process requirement (financial planning, S&OP, HR, CAPEX, legal consolidation, etc.) in the quickest possible time.
Acterys Reporting: Financial Reporting & Power BI In-Visual Calculations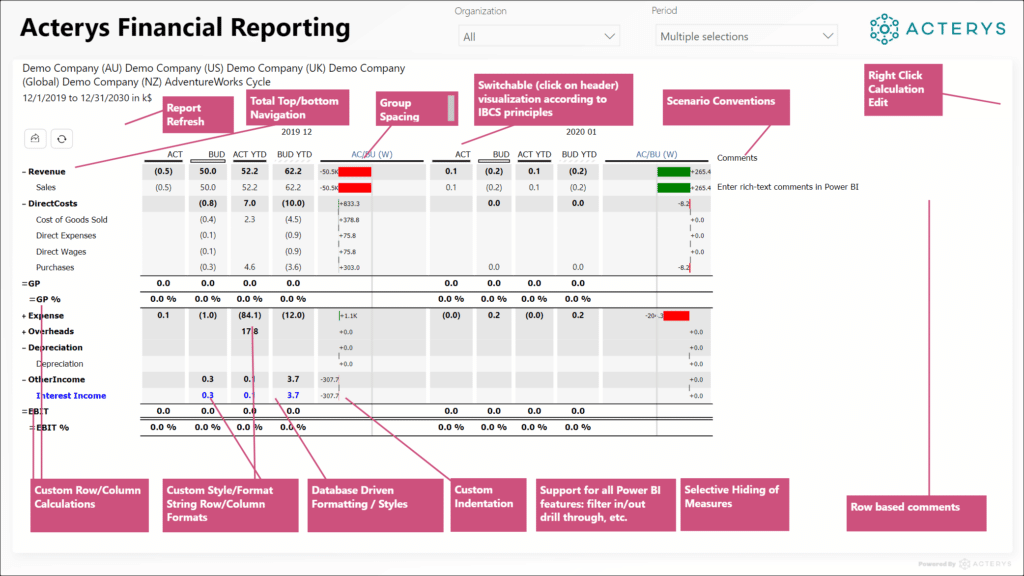 The quickest way to realize financial reports and visualization according to IBCS (International Business Communication Standards) principles with extensive formatting, custom subtotals as well as combined table, chart, and comment display.
Add your own row or column-based calculations and formatting exactly as needed with spreadsheet ease directly in the visual avoiding the need for complex DAX. The revolutionary "Data-Driven Styles" feature automatically applies formatting and updates of all Acterys Reporting visuals used in any report in your Power BI tenant according to the latest definition in a central style table.
Addition of custom rows and column calculations and subtotals exactly where needed e.g., Gross Margin, EBIT, etc.
Financial reporting format options per row (under/over lines, (), %, scaling, etc.)
Data Driven Styles: automatically apply and update all report formatting options (size, color, under/over lines, etc.) according to the latest definition in a central style table
Switchable variance visualization according to IBCS principles absolute/relative variance and waterfall option with option to specify comparison columns
Rich text commenting on a row or cell-level basis
Integration with all Acterys write-back, planning, and business modelling features.
All aspects of financial reports the quickest way in Power BI
Instant insight: Financial reports perfectly formatted according to IBCS principles
Avoid the need for complex DAX and run your financial reports faster
KPI cards with planning and forecasting option. Switch between different display options: absolute, relative and waterfall in a vertical or horizontal small multiple display. Set cut off period and see projected results of your plan changes in real-time.
Analyze actual/target variances with support for small multiples and 4 visualization types (combined, absolute/relative variance and waterfall) and zoom in option.
Advanced forecasting and planning on any level by dragging on the bars. Set cut off periods see projections based on plan changes in real-time.
Fully configurable KPI indicator display
Option to display total across all cards
Zoom into charts
Category drill down
The Acterys Comments visual enables users to enter free text with rich text formatting, from predefined lists or values into a multi-dimensional model. The data is stored in standard MS SQL database tables for the active filter context / dimension detail (e.g. user, date, scenario, etc.)
Acterys Gantt enables comprehensive project management functionality in Power BI.
Gantt Display of tasks on multiple hierarchy levels and task groupings
Adding and editing of tasks stored in a supported data source (e.g., SQL Server and any data source supported by Acterys)
Editing completion progress
Managing resources assigned to tasks.