Financial planning and analysis (FP&A) teams are critical for a business' strategic foresight and its ability to navigate evolving market conditions. These teams are essential in parsing business performance data and crafting informed strategies. However, outdated systems and manual workflows can hinder their effectiveness, leading to issues with data access, accuracy and responsiveness. Consequently, many businesses are combining FP&A and Power BI to overcome these challenges.
Microsoft's Power BI is a tool many enterprise FP&A teams rely on. Professionals in data analytics and financial planning are drawn to Power BI's intuitive interface, its array of data source connectors and its dynamic analysis features — all of which contribute to more efficient workflows and improved performance.
Combining Excel and Power BI provides notable benefits for planning and analysis. With proper implementation, Power BI's extended capabilities can significantly enhance FP&A functions. Learn more about the advantages of Power BI for finance and accounting experts, particularly when integrated with a comprehensive planning tool like Acterys.
What is Power BI for FP&A?
Power BI is Microsoft's business intelligence (BI) and data visualization platform that bolsters FP&A teams with its extensive features, allowing them to analyze and visualize financial data more effectively.
A standout feature of Power BI is its versatility in connecting with different data sources, including both on-premises and cloud environments. FP&A teams can integrate data from varied systems like enterprise resource planning, customer relationship management and financial databases for a holistic view of the company's financial health.
The platform excels in data modeling, offering FP&A professionals the tools to build sophisticated financial models and computations. With DAX and Power Query, teams can reshape data to extract significant insights and conduct thorough financial assessments.
Visualization tools within Power BI, such as charts, graphs and interactive dashboards, enable FP&A teams to convey compelling financial data. This helps stakeholders understand crucial information and explore trends. Users can delve into the data in detail, applying filters and identifying patterns or inconsistencies.
Power BI offers sharing and joint report and dashboard development, which can help foster a culture of transparency and build a synchronized understanding of financial and operational statuses across departments. This collaboration can sharpen business decisions and enhance financial and operational outcomes.
Incorporating Acterys with Power BI can drastically improve FP&A capabilities. Acterys augments budget forecasting and financial consolidation, and its integration with Power BI offers a unified FP&A platform. This combination offers immediate data updates, real-time dashboards with key metrics, automated workflows, and more robust data governance. These enhancements reduce time spent on manual data collecting and consolidating tasks. The increased efficiency allows for more streamlined FP&A activities, freeing up financial professionals to spend their time performing deeper and more timely analyses.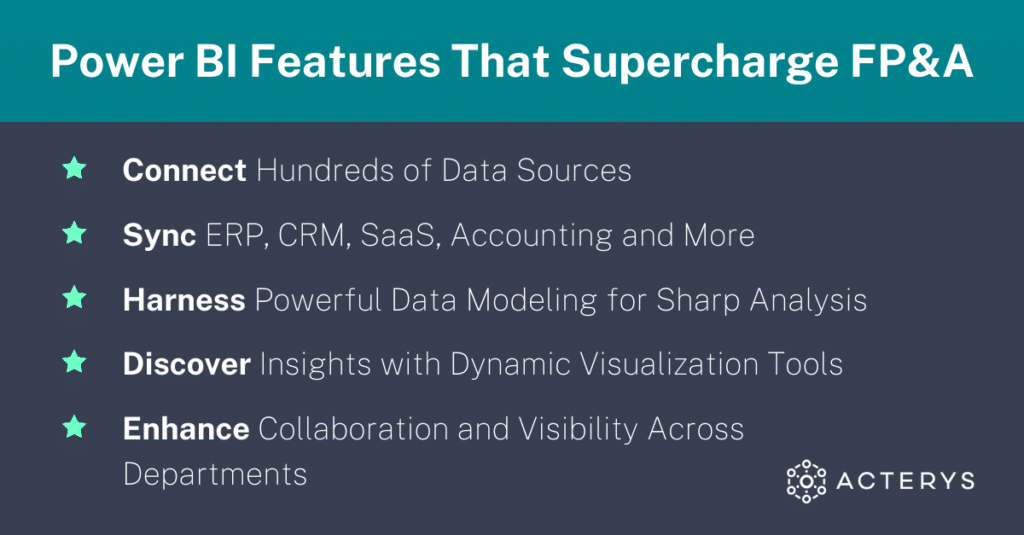 10 Benefits of Power BI for FP&A
Now that you understand many of the key features of Power BI, let's take a closer look at how the platform can empower FP&A teams to do their best work.
Data Accessibility and Integration
Power BI connects various data sources used by teams and departments throughout the organization. This heightened visibility allows for better decision-making using timely and relevant information that might otherwise not be accessible for FP&A planning.
Advanced Data Modeling and Analysis
With Power BI, FP&A teams can easily undertake complex analyses, like scenario modeling and variance analysis. Digging deeper into financial data allows for a more nuanced understanding of an organization's performance and more precise, confident decision-making.
Rich Visualization Options
The platform's visual tools help translate financial data into accessible, engaging formats, enhancing stakeholder understanding and discovering trends or outliers that may go unnoticed in raw figures. Interactive visualizations give you and your team another way to present and understand data, increasing understanding for all stakeholders.
Collaboration and Sharing
Power BI's sharing features ensure that updated financial insights are readily available, supporting informed decisions and strategic alignment across the organization. It allows multiple users to work on a report collaboratively, promoting a unified approach to financial strategy development.
Efficiency and Performance
By automating data workflows, Power BI streamlines FP&A tasks, reduces manual labor and speeds up identification of issues. Teams have more time to focus on improving performance metrics.
Scalability and Flexibility
Handling data of any volume, Power BI grows with your business, effortlessly integrating new data sources and evolving with your analytical needs, guaranteeing a sustainable tool for FP&A tasks.
Cost Efficiency
Power BI is a subscription-based platform, offering a cost-saving alternative to traditional FP&A systems, reducing the need for extensive IT infrastructure and ongoing maintenance.
Continuous Updates and Support
Microsoft's commitment to regular updates ensures FP&A teams always have cutting-edge tools, coupled with comprehensive support for any troubleshooting needs.
User-Friendly Interface
Designed for ease of use, Power BI allows finance professionals to become adept quickly, without extensive training, simplifying adoption and utilization of the platform's full capabilities.
Integration With Acterys for Enhanced xP&A
Combining Power BI with Acterys refines FP&A processes by leveraging real-time data, automated workflows and superior data governance, empowering teams with advanced forecasting and planning features for a comprehensive FP&A solution.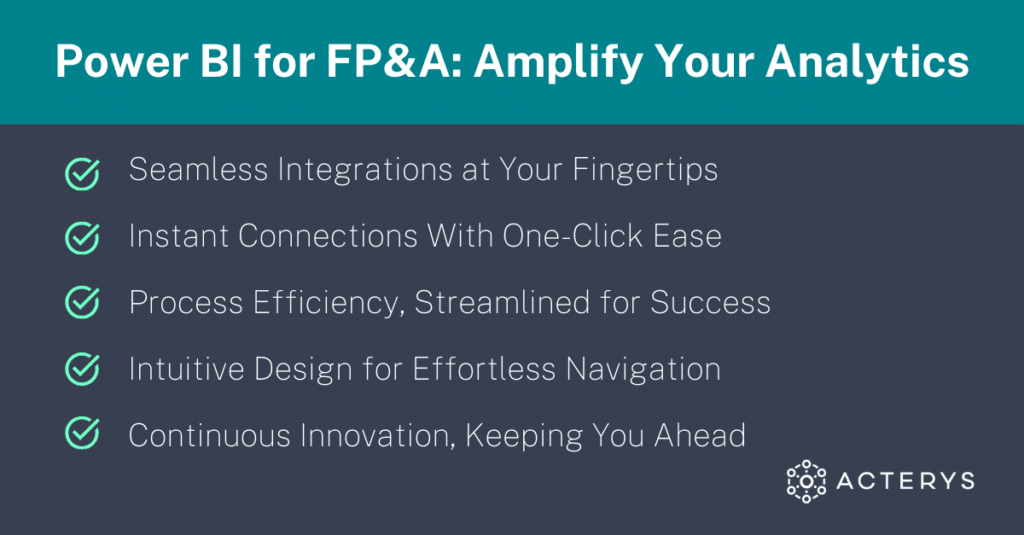 FP&A Solutions Designed for Power BI
Acterys enhances the Power BI experience with a tailored extended planning and analysis (xP&A) solution that doesn't require additional installations or maintenance. Let's look at how Acterys improves FP&A with Power BI.
Custom Power BI Visuals
Acterys offers eight custom Power BI visuals. Users can perform data entry, write-back, planning and forecasting directly within Power BI reports without switching between applications. These visuals make possible any planning process requirement, such as financial planning, HR or legal consolidation.
With Acterys Matrix, users can analyze data from multiple dimensions and gain deeper insights into their financial performance in Power BI. Users can enter data on any level with flexible allocation options, perform custom column calculations and apply flexible conditional formatting. The visual supports persistent state, ensuring that your drill-down hierarchy isn't lost after refreshing the report.
Acterys Table Edit is a lightweight enterprise-grade editing visual that allows users to edit tables directly within Power BI. It offers grid and bulk-edit capabilities based on filter criteria, as well as search and filter functions, image display and editing, and more. This visual provides a seamless experience for real-time data editing and manipulation.
Power BI Sync
Acterys Power BI Sync is a Windows application or cloud-based service that adds planning and write-back capabilities to any Power BI model. It automates the integration with your data warehouse so you can synchronize Power BI data with relational databases including Microsoft SQL Server, Azure SQL Server, Synapse and Snowflake. This synchronization ensures that your Power BI data is always up to date and aligned with your data warehouse for a unified and accurate view of financial data.
Enhanced Reporting
Acterys reporting enables users to quickly create interactive reports and dashboards in accordance with International Business Communication Standards (ICBS) principles. This accelerates processes including financial planning, sales and operations planning, and capital expenditure. Users can add custom row or column-based calculations and formatting — such as gross margin or earning before interest and taxes — directly within the visual. This eliminates the need for complex DAX formulas and simplifies the reporting process.
For example, Acterys Variance allows users to analyze actual versus target variances, with support for small multiples and four visualization types: combined, absolute variance, relative variance and waterfall. Users can switch between display options and set cut-off periods, seeing projected results based on real-time plan changes.
Acterys Gantt is another custom visual that enables comprehensive project management functionality within Power BI. Users can visualize tasks on multiple hierarchy levels and task groupings, add and edit tasks stored in supported data sources, manage resources assigned to tasks and track completion progress.
Transform Your Financial Processes With Power BI and FP&A
It's common to see disparate applications for different areas of the FP&A process. You might have a read-only enterprise data warehouse, a specialized planning application and a separate data discovery tool. However, this fragmented approach often leads to extensive maintenance efforts and challenges in integrating data from these different sources.
Imagine comparing actuals in your data warehouse with budgets and forecasts seamlessly without requiring complex extraction, transformation and loading (ETL) jobs. On the front end, the cost and hassle of learning and using separate tools for BI reporting, data entry forms and dashboard design can be overwhelming and difficult to justify.
Using Power BI for FP&A, you can consolidate all your data from multiple software and platforms into a single interface. Power BI is a central hub, providing a unified view of your financial data. With Acterys seamlessly integrating into this environment, all your data is stored directly in one central place using an open relational data warehouse architecture.
Power BI users can perform budgeting, forecasting and business modeling without any friction, synchronization requirements, or ever having to leave the environment. With the added ability to write-back and change data in Power BI, team members can actively participate in the planning and analysis process. However, managing these changes requires careful monitoring and control. Acterys provides an audit trail of every transaction, giving you complete visibility and enabling you to stay in control of complex planning scenarios.
By leveraging FP&A, Power BI and Acterys, you can transform your financial processes. Say goodbye to the challenges of maintaining disparate applications and embrace a streamlined and efficient approach to FP&A. Empower your finance team with a single interface, enhanced data visibility and a simplified process.
Ready to take your FP&A to the next level? Get in touch with us today to learn more or start a free trial of Power BI and Acterys. Revolutionize your financial processes and unlock the full potential of your data with Power BI FP&A.