In this article, we cover how to automate the data load for HubSpot into a data warehouse optimized for analytics options with Power BI or designing dynamically updating reports in Excel. The approach that we are covering here is based on an enterprise-grade data warehouse using Acterys which utilizes Microsoft's (Azure) SQL Server in the cloud or on-premise./
Advantages
• You have a full backup of your data in a format that can be accessed by nearly every client tool from Power BI, Excel, Tableau, Qlik to custom-built solutions
• The platform is optimized for reporting and analytics requirements and enables the fastest possible query times
• The approach is nearly infinitely scalable as the cloud capacity can be instantly adapted to the needed capacity
• Build dashboards and interactive reports with Hubspot data alongside any other data source e.g. accounting, ERP, web analytics sources among others.
Here are the necessary steps:
Reporting for Hubspot in Power BI Desktop and Excel
1. Sign up and start a free Acterys trial with an expert at your side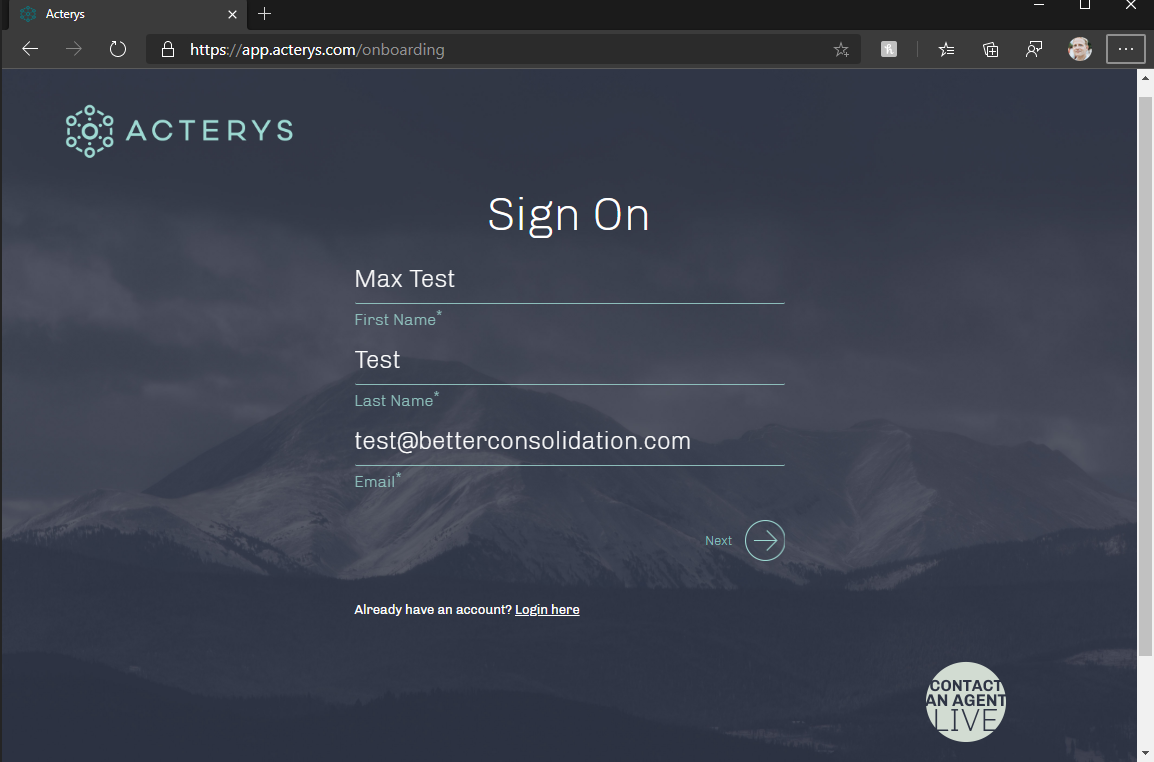 2. Add your Hubspot Account in the Apps section: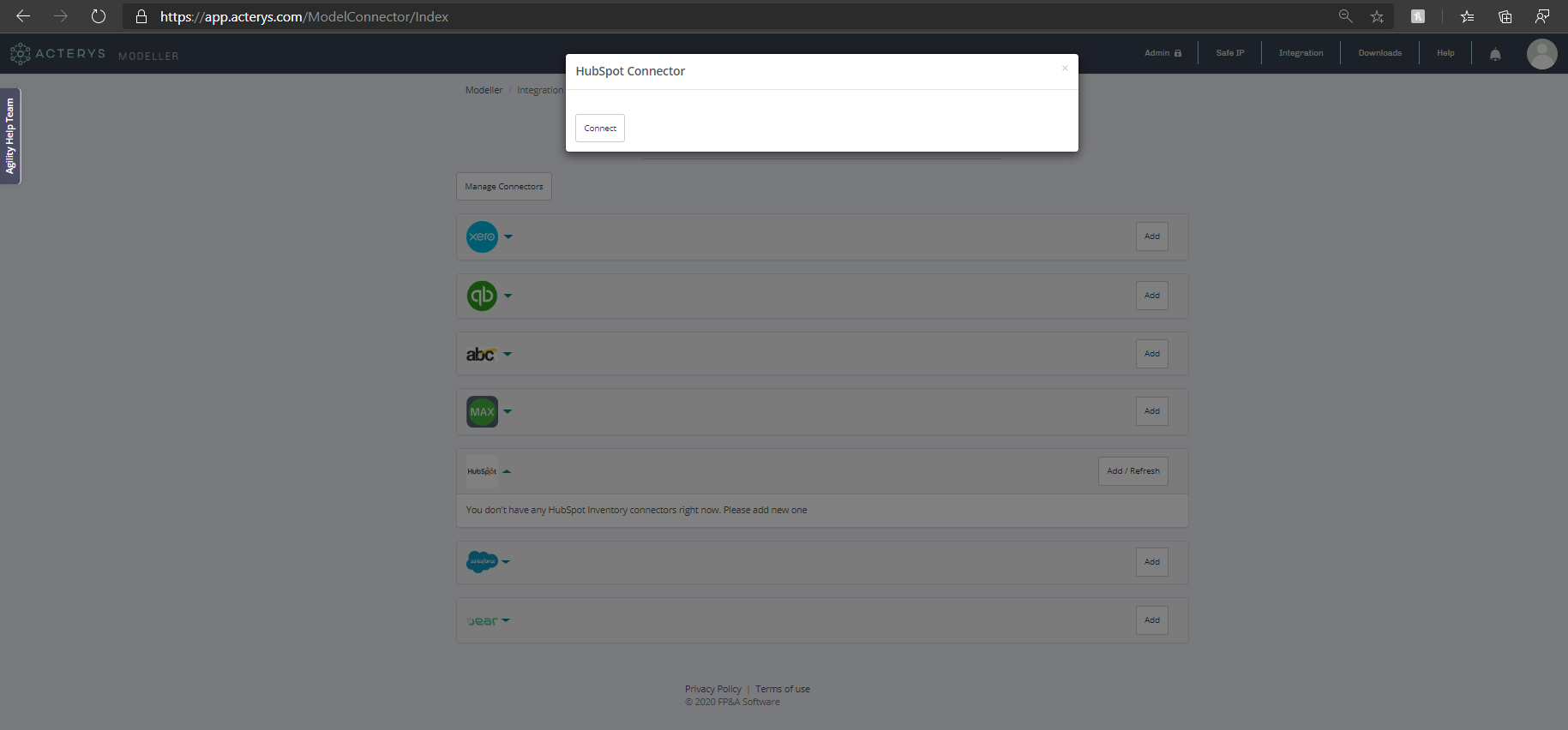 This step will create the data warehouse tables for your Hubspot data (currently contacts, companies and deals tables) in a relational star schema format optimized for analysis purposes.
3. Connect to Hubspot Data Warehouse in Power BI Desktop or Excel
Just connect to your database with your Acterys user name and password or use the Acterys Power BI Connector and select the required Hubspot tables.
4. Build reports with any Power BI visual, Excel Pivot Tables or Acterys Cube Formulas: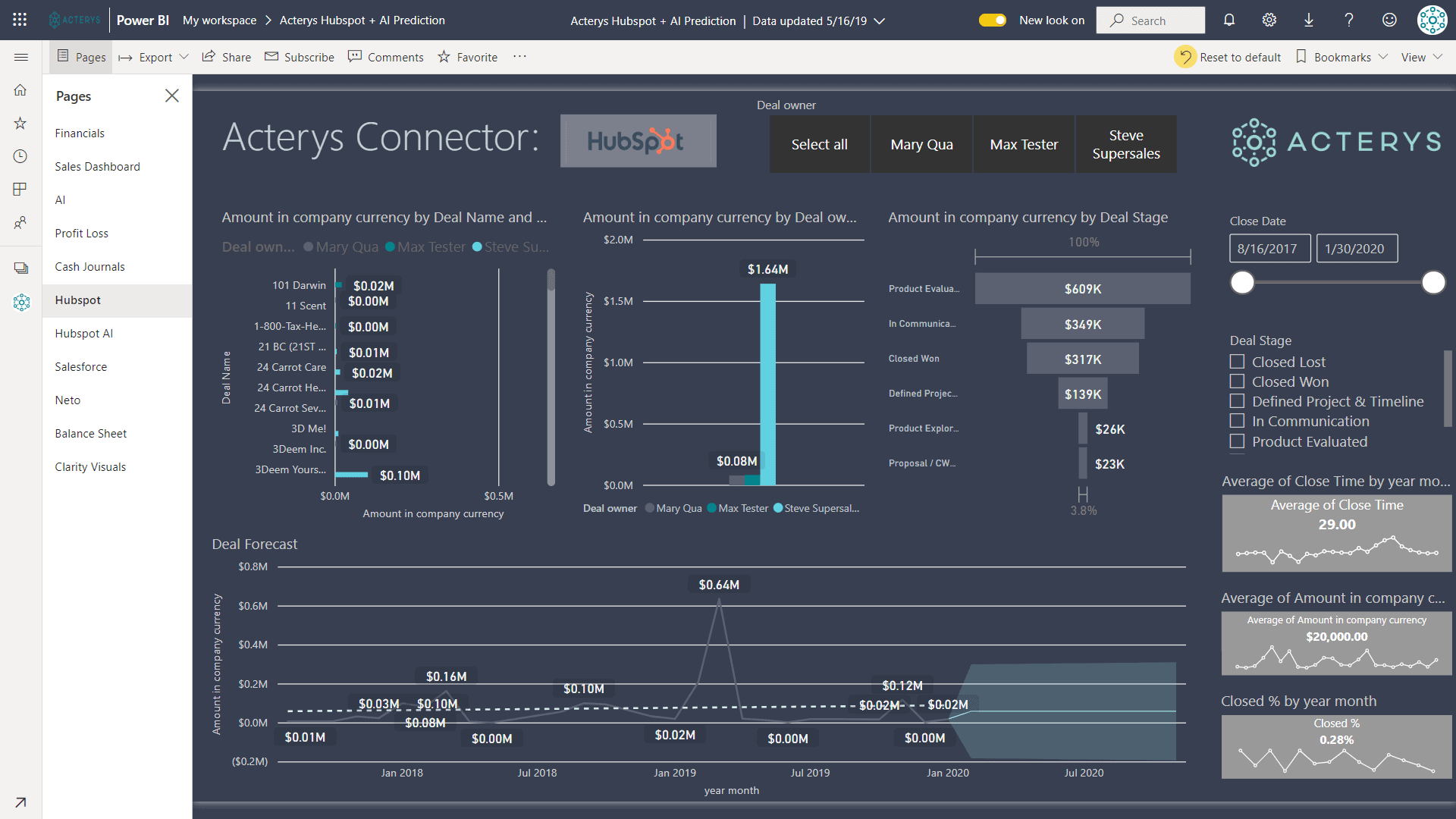 Install the Acterys HubspotPower BI App in AppSource.
One of the biggest benefits of this approach is that reporting is just one of many aspects that the solution covers. It can be easily extended with other business requirements from planning and budgeting to project management and the addition of nearly any data source.
The shown approach natively supports widely used authentication standards like Microsoft accounts and active directory and instantly integrates with Office Productivity solutions.
Finally, there is the option to easily extend Acterys with new no-code app development platforms like PowerApps and workflow automation like Microsoft Automate, enabling you to realize nearly any workflow requirement from approvals to email notifications.
Please feel free to contact us for any questions or start a trial for better analysis for Hubspot data in Power BI or Excel.