This post contains an overview of Power BI External tools that add additional functionality to Power BI Desktop:
Power BI External Tool Name

Developer
Key Features
Licensing Model
Download
Acterys Power BI Sync
Acterys
Plan and write back enable Power BI models
Synchronization with SQL Server
Commercial
Power BI Sync
Acterys Modeller
Acterys
Automated data warehouse, Power BI model and reports generation for ERP and SaaS solutions
Creation and editing of data warehouse models
Commercial
Acterys Modeller
ALM Toolkit
Christian Wade
Application Lifecycle Managment for SSAS models
Free
ALM toolkit
Business Ops
PowerBi.tooltips
Addition of external tools
Free
Business Ops
DAX Studio
Darren Gosbell
Executing and analyzing DAX queries against Microsoft Tabular models
Free
DAX Studio
Metadata Translator
Various
Metadata management
Free
Meta Data Translator
Power BI Helper
Radacad, Reza Rad
Various tools to improve development process
Free
Power BI Helper
Power BI Side Tools
Didier Terrien
DAX Debugger
Export to Excel
Transfer DAX/M
Free
Power BI Sidetools
Tabular Editor
Daniel Otykier / Kapacity
Tabular model development
Scripting Engine
Free/Commercial Version 3
Tabular Editor
Want to add your external Power BI tool to our list? Reply to us in the comment below or simply contact us.
What are Power BI External Tools for Desktop?
The Power BI External Tools are third-party tools that are registered and available on the Power BI Desktop. They can be launched from the External Tools ribbon available on Power BI Desktop. When a user selects a Power BI external tool, their information including the name and port number internal data model engine instance are passed to the tool.
Note: If you are wondering: "is Power BI  desktop free?" the answer is yes. But the Power BI Pro version is paid.
Why Use Power BI Desktop External Tools?
Using Power BI Desktop external tools can help you to clean up and consolidate your data. This can help you to ensure that your data is ready for analysis and reporting. Additionally, using external tools can help you to speed up your data analysis and reporting processes.
Power BI External Tools: Desktop vs Web App
The Desktop app is a standalone application that you can download and install on your computer. The Web app is a version of Power BI that you access online. The Desktop app has more features than the Web app, and the Desktop app is updated more frequently than the Web app.
Power BI does not currently offer external tools for the web version. However, the Power BI team is always looking for ways to improve the user experience, so this may be something that is added in the future. In the meantime, users can export their reports and dashboards to PDF or Excel files, which can then be shared with others.
---
List of External Tools for Power BI Desktop
Here is a list of the Power BI Desktop external tools that can be accessed through the tools ribbon.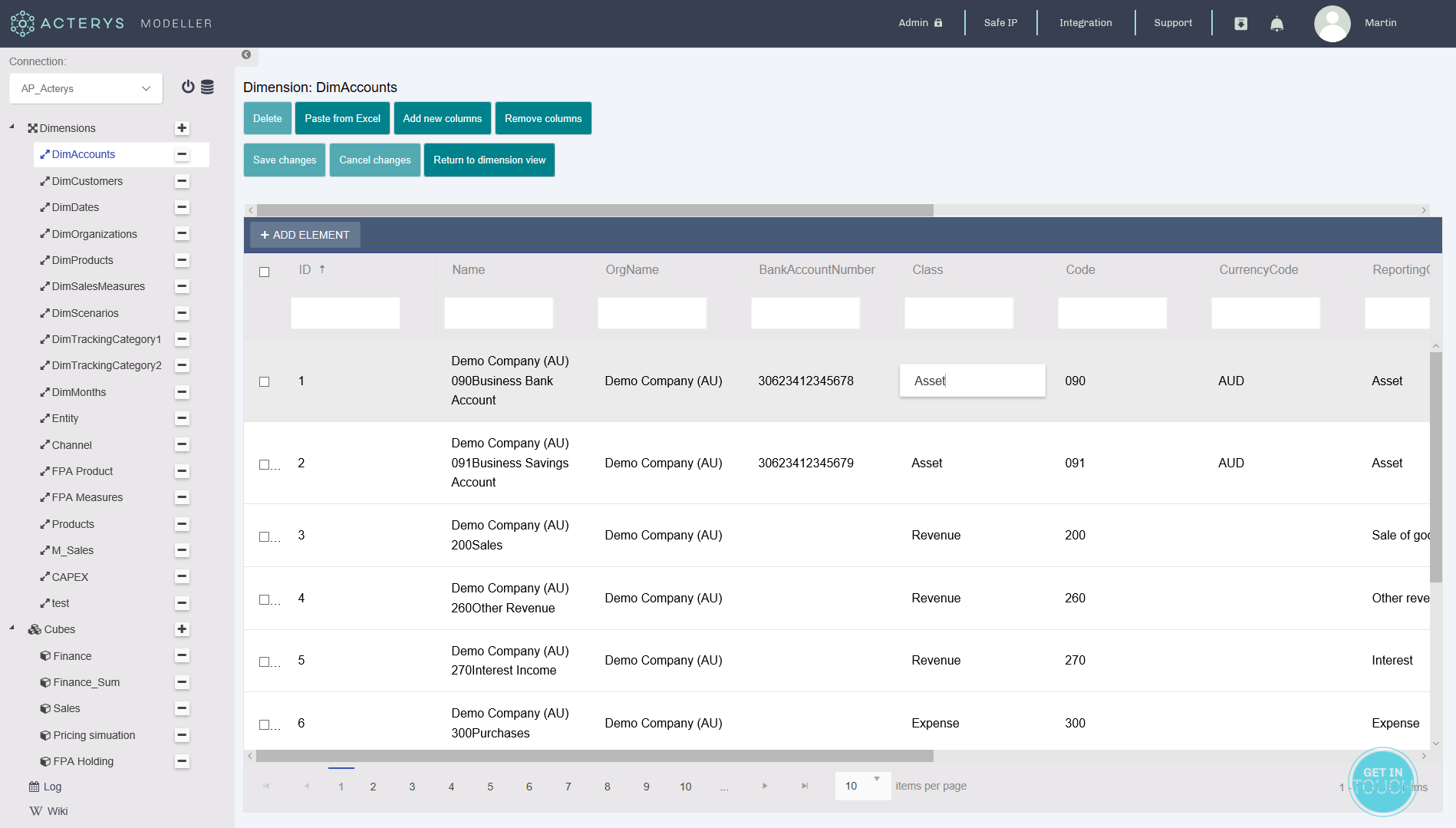 Acterys Modeller
The Acterys Modeller is cloud-based service (with an on-premise installation option) that allows enables business users to automatically create optimal analysis models (star schema data warehouse) from a variety to ERP. accounting and SaaS systems.
The created models are write-back and planning-enabled and can be edited and extended as needed by business users e.g. for adding new products/attributes, account mappings, new scenarios, etc. With the new Instant Link technology users can also easily add existing data warehouse components that can then be edited in the Modeller without affecting the source tables.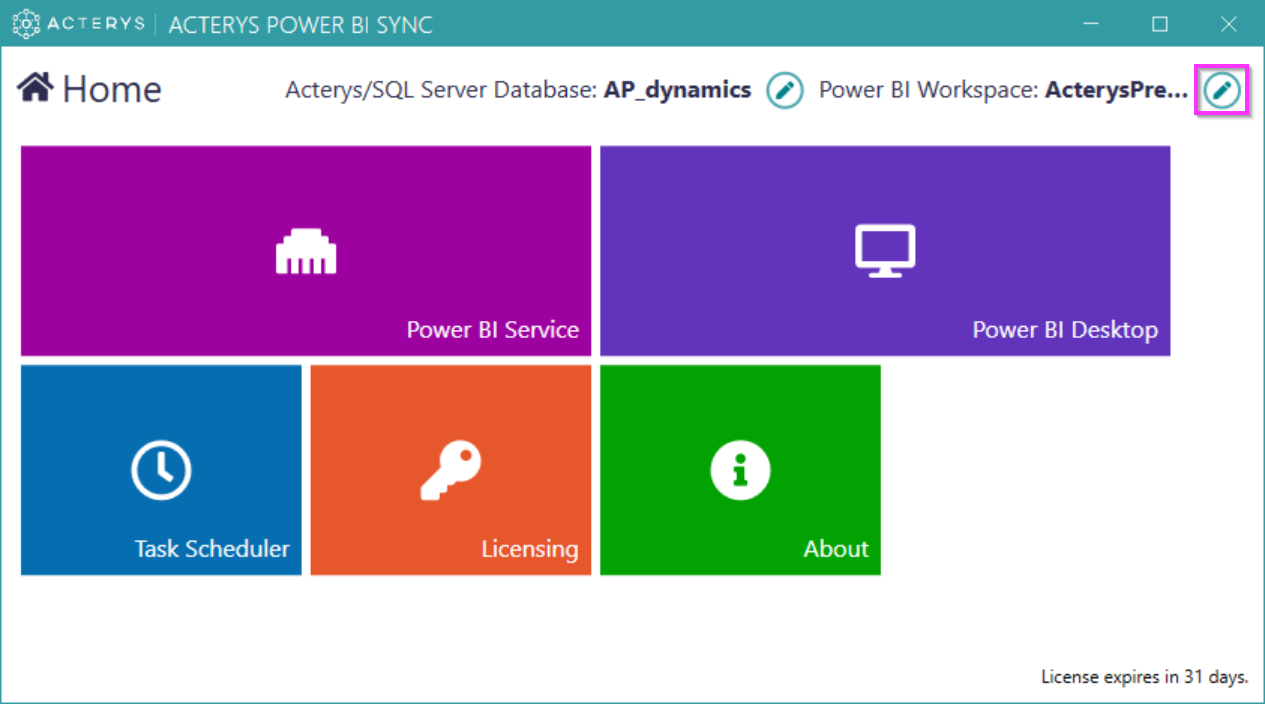 Acterys Power BI Sync
Acterys Power BI Sync is a Windows application (and soon also available as a cloud service in the Acterys Modeller) that is integrated as an external Power BI tool. Power BI Sync enables you to synchronize Power BI tables including calculated columns etc. with a SQL Server database either as standard staging tables or as a write-back and planning enabled Acterys data warehouse star schema.
Features of Acterys Power BI Sync:
With the later format, users can add unparalleled planning features from top down data entry, driver based planning, and a variety of corporate performance management features (FX handling statutory consolidation, etc.) to any data model added in Power BI with 600+ connectors.
It also enables users to easily edit these tables in the web browser (Acterys Modeller), in Power BI (8 AppSource listed Power BI custom visuals) as well as in an Excel add-in that again supports all Acterys editing and planning features.
Download a trial version of Acterys Power BI Sync here: Acterys Power BI Sync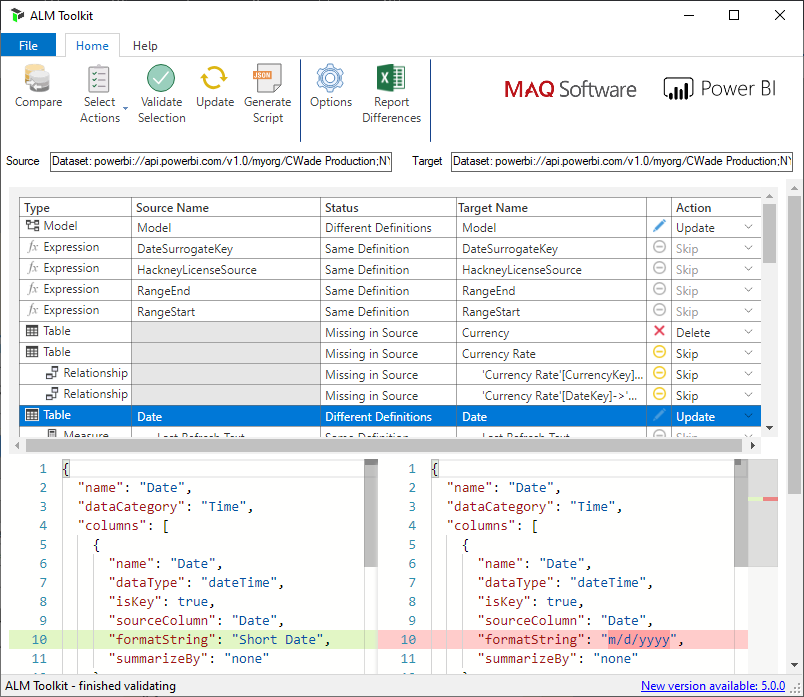 ALM Toolkit
The ALM Toolkit is a free and open-source tool to manage Microsoft Power BI datasets: Database compare, Code merging, Easy deployment, Source-control integration, Reuse definitions, Self-service to corporate BI.
It is based on the source code of BISM Normalizer, which provides similar features for Tabular models.
Download a the free ALM toolkit for Power BI Desktop version here: Home Page – ALM Toolkit (alm-toolkit.com)
Business Ops
Business Ops tool helps you to make the addition of external tools in Power BI Desktop easier. Download this installer and you can add a variety of External Tools directly into Power BI Desktop: Business Ops – (powerbi.tips)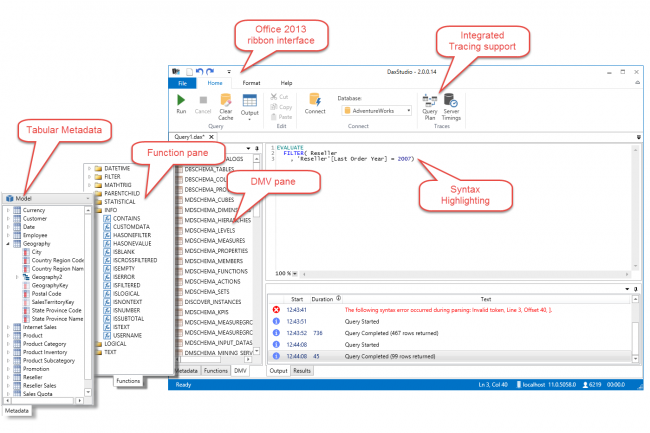 DAX Studio
DAX Studio enables the execution and analysis of  DAX queries against Microsoft Tabular (Analysis Service Tabular /Power BI) models. It includes:
Automated DAX formatting improvements and highlighting
 Analysis of server timings
Swapping the delimiter style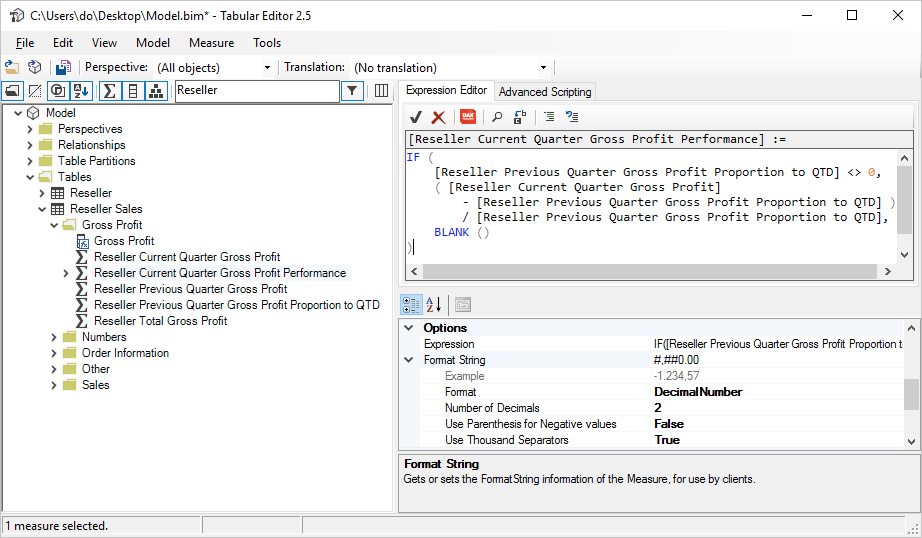 Kapacity Tabular Editor
Tabular Editor provides an intuitive hierarchical view of every object in a tabular model (Analysis Service Tabular and Power BI). It enables editing Columns, Measures and Hierarchies are arranged in Display Folders. Users can edit properties of one or more objects, by (multi)selecting them in the tree. The new version 3 provides a DAX Editor with syntax highlighting that lets you easily edit the expressions of Measures, Calculated Columns and Calculated Tables.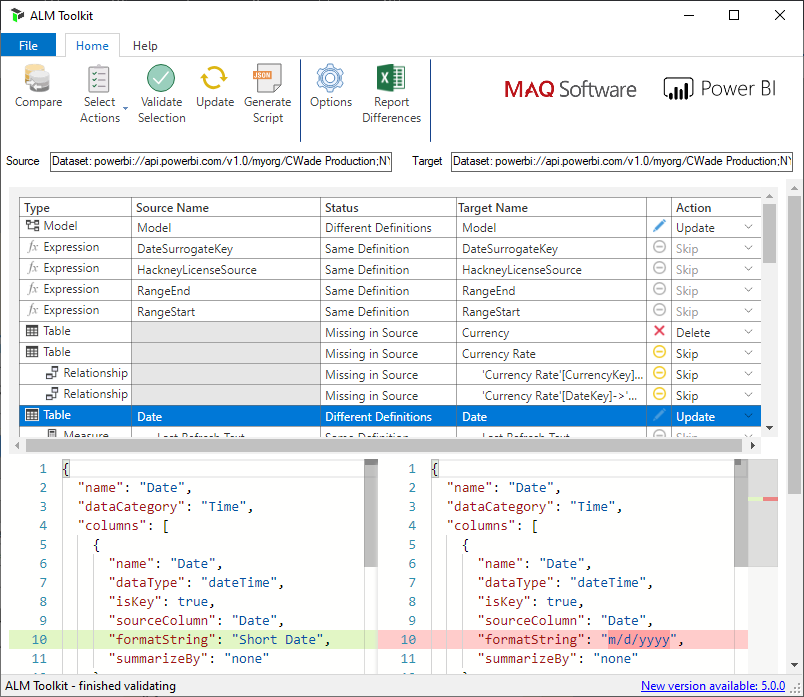 Want to See How Planning at Hyper Speed Feels Like?
Take Acterys Power BI out for a test drive now!
Start Free Trial
Metadata Translator
Metadata Translator Power BI helps to streamline the localization of data models. The tool can automatically translate the captions, descriptions, and display folder names of tables, columns, measures, and hierarchies by using the machine translation technology of Azure Cognitive Services. It also lets you export and import translations via Comma Separated Values (.csv) files for convenient bulk editing in Excel or a localization tool.
You can download the free open source version of Metadata Translator here: Analysis-Services/MetadataTranslator at master · microsoft/Analysis-Services · GitHub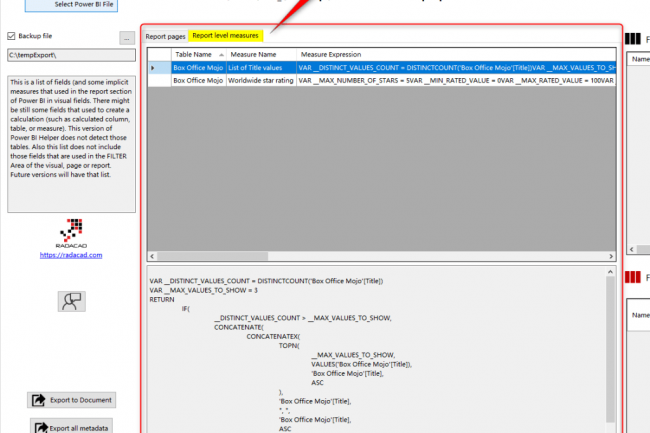 Power BI Helper
The Power BI Helper includes a set of features to improve the development process in Power BI Desktop:
Detecting the storage mode of tables (DirectQuery, Dual, Import)
Detecting the connection mode of the file (Import, DirectQuery, Live Connection, Composite/Mixed)
Report level measures
Compare two files based on their report level measures
Analyzing the visualization just by selecting the model
The free version of Power BI Helper can be downloaded here: Power BI Helper – RADACAD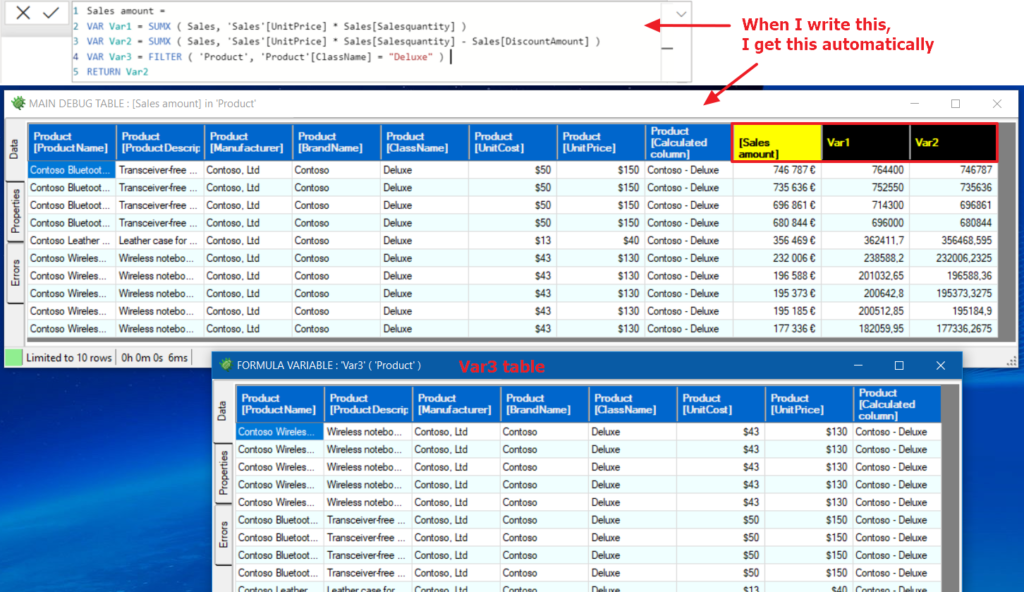 Power BI Sidetools
Power BI Sidetools is a free Power BI external tool intended to increase productivity during reports development in Power BI desktop. You can download Sidetools from here: Power BI Sidetools
This is the complete list of External tools available on the Power BI desktop that can help users easily plan, forecast, manage their data.
To use these Power BI tools for your business, get in touch with our support team.
How Acterys Power BI External Tool Helps Users?
Acterys is a cloud or on-premise based service for data discovery and planning. It enables business users to generate professional data models that integrate all your relevant data sources with connectors to a variety of accounting systems and other sources.
To try out all the Acterys power BI external tool's features for budgeting and forecasting, you can start a trial here.
Need Tailored Reporting, Planning & Analytics Solutions?
Talk to our solution experts now
Book a Meeting