In a recent study conducted by Momentive, data security was ranked as the primary concern for 77% of IT decision makers when considering a new cloud service provider. Having delivered planning solutions to over 700 companies globally, Acterys understands that security is a top consideration for organizations when choosing a vendor.
Acterys's commitment to security has led to the successful completion of SOC 2 compliance audit. This achievement has instilled trust in our customers that our planning, forecasting, and budgeting solutions are developed on a secure foundation.
To fully understand how SOC 2 compliance benefits our customers, it is crucial to have a basic understanding of what it is. In this blog, we will discuss the basics of SOC 2 compliance, its benefits for our customers, and the strict measures that Acterys implements to protect its customers' data.
What is SOC 2?
SOC 2, established by the American Institute of Certified Public Accountants (AICPA), is a set of standards designed to ensure that service providers have implemented appropriate controls to protect their customers' data and meet industry standards for security, availability, processing integrity, confidentiality, and privacy.
SOC 2 compliance does not dictate every specific control that must be in place but rather establishes criteria for evaluating the overall security of a service provider's methods, procedures, and controls. By meeting these criteria, a service provider can demonstrate effective management of their systems and processes to keep data safe and secure.
Who does SOC 2 apply to?
SOC 2 compliance is relevant for SaaS companies and cloud computing vendors that deal with or store customer data. With a SOC 2 report, clients can trust their data is in safe hands – carefully guarded from any potential intrusion by unauthorized users.
What is the Trust Services Criteria in SOC 2 compliance?
The Trust Services Criteria (TSC) highlights the five categories of controls that a service organization must have in place to meet SOC 2 requirements. These categories include:
Security: Are there controls in place to protect data from unauthorized access, such as cyberthreats and data breaches?
Availability: Are there controls in place to ensure continuous operation and recovery of system functions as agreed in the SLA?
Processing integrity: Are there controls in place to ensure that the data is accurate, complete, and free from errors at every stage of its cycle?
Confidentiality: Are there controls in place to ensure that authorized personnel can only access the data assets that they are allowed to?
Privacy: Are there controls in place to protect customer information as it is collected and used across different business functions?
How Do Customers Benefit from Working with a SOC 2 Compliant Vendor?
Data safety and security is a key concern for all businesses. SOC 2 compliant vendors offer peace of mind and trust to their customers by demonstrating their commitment to data security and privacy through adherence to industry standards. Choosing SOC 2 compliant vendors can help its customers to:
Feel a sense confidence and trust with the vendor and eliminate any concerns about the safety and privacy of their data during storage and processing.
Protect highly sensitive data such as financial transactions and personally identifiable information (PII).
Comply with their own standards and regulations by proving that they work with SOC 2 compliant businesses.
Improve brand reputation and competitive advantage by being perceived as a security-first company.
Mitigate risk associated with data breaches and cyberthreats.
How to Become SOC2 Compliant?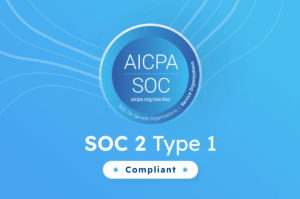 Achieving SOC 2 compliance depends on the current state of the vendor's security controls and measures. Simply put, the process has the following four steps:
1. Perform self-audit
SOC 2 compliance is certified by external auditors. But before involving an auditing firm, the vendor can first conduct a self-assessment of its organizational controls and measures for data storage and processing and document all its findings.
2. Improve security controls wherever necessary
Next, the vendor should develop and implement policies and procedures to address any identified deficiencies and to ensure ongoing compliance with the SOC 2 standards.
3. Involve external auditor and complete compliance
The next step is to engage an auditing firm to conduct an independent assessment of the organization's controls and processes. The auditor will review the documentation and test its controls to ensure they meet the SOC 2 standards.
Once the auditor has completed the assessment and issued a report, the vendor can use the report to demonstrate its compliance to customers, partners, and other stakeholders.
4. Monitor compliance regularly
It is important to note that SOC 2 compliance is an ongoing process and organizations need to perform regular assessments and update their controls and procedures as necessary to maintain compliance.
Your Security, Our #1 Priority: Acterys Completes SOC 2 Compliance Audit
40% of our clients cited the company's commitment to security as a key factor in their decision to choose Acterys.
Acterys – a leading solution provider in the xP&A industry – enables fast, secure, and smart data analytics capabilities for its customers by offering advanced features for plan-enabling any data source and application.
Our powerful data modeling and analysis engine generates valuable insights in a matter of minutes. However, providing advanced and high-end processing solutions can often bring up security doubts and concerns, and it is important for us to assure our customers that their data is in the right hands.
For this reason, we are delighted to announce the successful completion of our SOC 2 audit!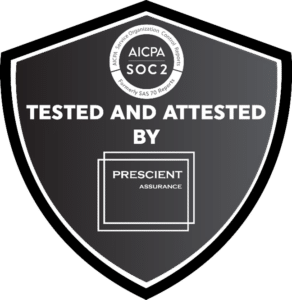 Acterys was audited by Prescient Assurance, a company that specializes in providing security and compliance attestation services for B2B and SAAS companies globally. The outcome of this audit, an unqualified opinion on a SOC 2 Type I report, proves to our current and future customers that we maintain the highest level of security and compliance in managing their data.
To ensure continuous compliance, Acterys has implemented tools that streamline and automate the SOC 2 compliance journey. One tool Acterys leveraged was Drata – a compliance automation software developed by security experts.
"Acterys is built on the four foundational pillars: Fast, Effective, Smart, and Secure. Successfully completing the SOC 2 compliance audit is a huge step toward further strengthening the security aspect of our platform's foundation," Martin Kratky, CEO & Founder at Acterys. "It gives our customers even greater confidence that their critical data is handled with the highest level of breach-proof security and compliance protocols."
Our compliance with SOC 2 standards demonstrates our dedication to maintaining security and adherence to regulations with the implementation of several controls. These processes include (but are not limited to):
Continuous compliance: Regularly reviewing and updating compliance efforts to ensure that there are no security and policy violations.
Multi-factor authentication (MFA): Implementing multiple forms of identification in order to grant access to users, such as biometric identification and code verification via email or phone number, etc.
Automated detection and response technology: Utilizing advanced AI and ML algorithms to automatically detect and respond to potential security threats and anomalies within the network.
Hosted with Microsoft Azure: Acterys is hosted on MS Azure. Being compliant with several industry standards (HIPAA, PCI DSS, and ISO 27001), Azure implements many security controls to protect data and infrastructure in the cloud.
For more information on our security efforts, check out Security at Acterys.
Final thoughts
In conclusion, SOC 2 compliance is a crucial step for any organization that wishes to foster a sense of trust and confidence with its customers. It provides assurance to clients that their data is protected and kept safe to the highest standard.
Acterys is committed to creating cutting-edge planning analytics technology that is built on a foundation of security. Sign up for a 14-day free trial of Acterys today and see how it levels up your planning, forecasting, and budgeting initiatives in a secure and safe manner.