Easiest Way of Realizing Financial Reports in Power BI
The default visuals in Power BI are not perfectly suited for financial reporting. There are ways to realize more advanced financial reporting requirements using DAX as Managility describes in Income Statement using DAX. These typically require intermediate knowledge of DAX that many financial professionals don't necessarily have.
For an easier way for using Power BI for financial reporting, Acterys is adding a new visual to the existing 7 listed Power BI visuals on AppSource.  The new Acterys Reporting Power BI Visual includes: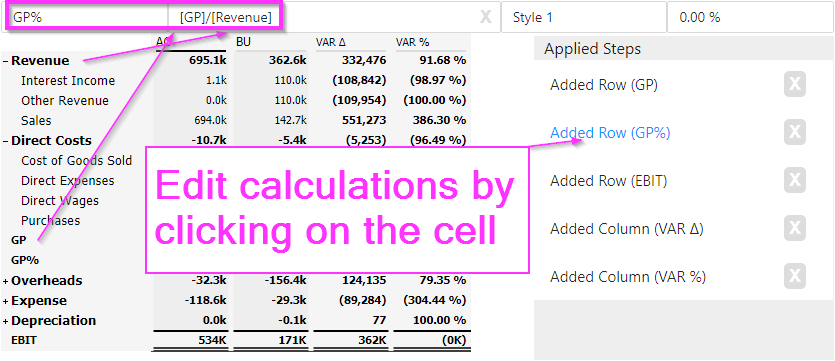 Add/Edit Report Calculations With Ease
Addition of custom rows and column calculations and subtotals exactly where needed e.g. income statement and balance sheet lines like Gross Margin, EBIT, Return on Equity, etc.
 Financial reporting format options per row (under/over lines, (), %, scaling, etc.) and column
Variance visualization according to IBCS principles with dynamic switching between relative and absolute display
Unparalleled write-back, planning, and business modelling options with all components of the Acterys Suite 8 Power BI Custom Visual, Acterys Modeller, Excel Add-on)


• Row based comments that are stored automatically in Acterys database and can be edited directly in Power BI with Acterys Comments visual
Download the free preview here: Acterys Reporting Preview & Sample File
Detailed documentation of all features is available in the Acterys Wiki
For any comments and feature requests please use the new Acterys Forum
Using Acterys for Financial Reports in Power BI
The Acterys Connector is built on Managility's more than ten years of expertise building financial-focused enterprise business intelligence solutions. It only takes one click to get started with cloud-based accounting systems and construct a performance management and planning solution. Dynamics, Xero, QuickBooks, and Saasu are currently supported, with more on the way.
Financial Statements in Power BI
Acterys enables creating and editing Power BI financial statements, like P&L statements, balance sheets, cash flows, and more through its writeback capabilities and custom visuals. With these, you can easily find a range of options that facilitate real-time planning and seeing the effect of actual vs forecast values any of the financial statements without any hassle. It even provides Power BI income statement templates to make the process easier for users.

Financial Data Templates in Power BI Tool
Using every attribute in the accounting system, the Acterys data model provides in-depth insights in Power BI to precisely adapt dashboards, reports, and planning processes to your requirements. Users can merge as many organizations as they want into a "one version of the truth" data model, even if they use various accounting systems. This is then accessible from your preferred front end (Power BI, Excel, etc.) for unrivaled financial and sales analysis, and it can be integrated with any other data source supported by Power BI's vast variety of connectors.