Corporate financial planning and analysis (FP&A) involves more than budgets, forecasts and spreadsheets. FP&A solutions deliver key insights into business performance and financial health that drive strategic decisions and set companies on the path to growth.
Unfortunately, too many companies are slow to detect or address performance issues. Gartner reports that only 13% identify performance issues before they cause financial impact, and 81% wait too long to fix these issues. Compounding this challenge is that FP&A tools often present the "Goldilocks" problem. You might not like the limitations of Microsoft Excel or the complexity and long implementation time of enterprise solutions, but what's the "just right" option?
Read on to learn what to look for in "just right" financial planning and analysis software and how to streamline FP&A with an xP&A solution.
10 Considerations for FP&A Solutions
Whether businesses use spreadsheets, legacy solutions or any of the top 10 FP&A software solutions, they need a tool that empowers FP&A teams to analyze financial data, create accurate forecasts and make informed decisions. Here are 10 considerations when shopping for a solution.
Accurate and Reliable Data
Data accuracy and transparency are essential for business planning. Inaccurate or outdated data can cascade down to unreliable insights, flawed assumptions and missed forecasts. FP&A tools should ensure that data is accurate, up to date and reliable. Your solution should validate data integrity, perform data cleansing and handle data transformations — ensuring the highest quality of information available.
System Integrations
FP&A software should seamlessly integrate with various data sources, including enterprise resource planning (ERP) systems, accounting software and customer relationship management platforms. When you can consolidate data from multiple sources, you can generate a comprehensive and reliable view of the organization's financial performance.
Forecasting and Budgeting Capabilities
Effective FP&A solutions generate accurate forecasts and budgets, allowing finance teams to perform scenario planning and analysis, what-if simulations and more. FP&A teams can make informed decisions based on reliable projections.
Variance Analysis
FP&A tools should allow users to compare actual financial results against forecasts and budgets, allowing for variance analysis and identification of key drivers. This helps organizations understand why forecasts and outcomes differ so they can improve forecasting going forward.
Collaboration
FP&A solutions should facilitate collaboration and efficient workflow management. Features such as version control, commenting and task assignments allow multiple people to touch data without compromising accuracy or creating confusion. When everyone has the most up-to-date information, they can better communicate and coordinate their efforts.
Reporting and Visualization
FP&A platforms should offer powerful reporting and visualization capabilities, allowing finance teams to present data in clear and meaningful ways for different audiences. Common features include interactive dashboards, dynamic reports and visualizations that can be easily shared with stakeholders. Your solutions should also allow for reports and visualizations to be easily updated.
Automation and Efficiency
FP&A software should automate repetitive tasks and streamline processes. Features such as data import/export, data transformation and automated data refresh contribute to increased productivity and accuracy. If your FP&A tool isn't improving on spreadsheets, it's not worth the time, effort and expense.
Scalability and Performance
FP&A systems handle large volumes of data and perform complex calculations without compromising performance. This ensures that FP&A teams can work with large datasets and perform analysis in a timely manner, even as data volumes grow and reporting tasks become more complex.
Security and Data Governance
FP&A tools have robust security measures to protect sensitive financial data. Common features include user access control, data encryption and audit trails. Your tools should ensure data integrity while complying with regulatory requirements.
User-Friendly Experience
Practical FP&A solutions should have intuitive and user-friendly interfaces, making it easy for users to navigate and perform their tasks efficiently. A user-friendly experience reduces the learning curve and allows FP&A teams to focus on analysis and decision-making. The user experience should extend to reporting and visualizations; stakeholders across the organization should be able to access and interpret relevant data without needing to be experts on the FP&A solution.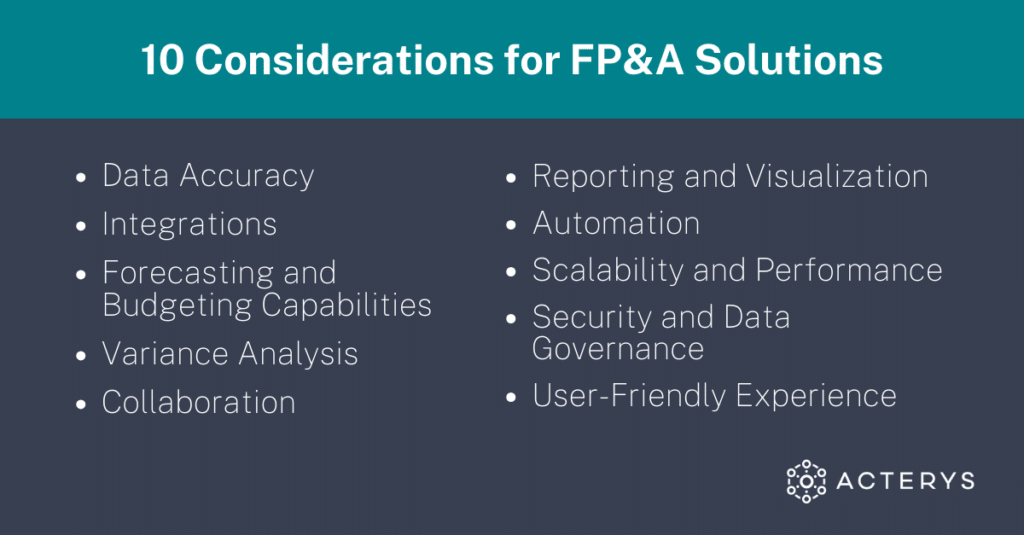 Comparing 3 Types of FP&A Tools
Excel
Most organizations still rely on Excel for all things FP&A, even enterprise organizations that have expensive FP&A software or modules included with their ERP. This is a testament to Excel's flexibility. Excel remains a good choice for growing organizations that might lack the budget or resources to invest in more advanced FP&A tools.
Another advantage of Excel is that it's widely known and used. Stakeholders at all levels understand what a spreadsheet is and what they're looking at. Excel can be easy for finance teams to use, especially when you're willing to dive into models and data. Excel offers customizable financial modeling and can perform complex calculations, making it a versatile tool for FP&A tasks.
However, there are limitations to using Excel for FP&A operations. Excel isn't designed to be a data storage tool, and as files grow, they can become clunky and difficult to maintain. Version control is especially difficult when files are stored locally instead of in the cloud. Making top-down changes in Excel remains difficult, especially in a collaborative environment. Ensuring data integrity and fixing errors can be time-consuming, impacting the efficiency and accuracy of FP&A processes.
Enterprise Financial Planning Software
Companies can buy pre-built enterprise FP&A software solutions or opt for custom-built solutions. Enterprise FP&A software is typically best for organizations with large budgets and resources, including in-house teams with extensive experience.
Enterprise financial planning software has drawbacks, especially when pre-built solutions don't mesh with your organization's evolving needs. Companies can find themselves with a difficult choice: Spend time and money on extensive customization or feel like you have to change organizational processes to fit the tools.
Not only can enterprise financial planning solutions be costly, so can hiring third-party services to help you select and implement the right solution. These costs can be prohibitive for smaller organizations or those with tight budgets.
Meanwhile, organizations might need years to shop for new software and plan the implementation — all while trying to get day-to-day work done and keep up with larger strategic goals. But that's only one phase of the process.
Change management can be one of the most difficult parts of adopting enterprise FP&A software. People naturally resist change, especially when they have to abandon the tools they're comfortable with and have grown used to. If you fail to win employee buy-in, the transformation will be bumpy at best, unsuccessful at worst.
Unified Extended Planning and Analysis
Many organizations need something more powerful than Excel but want to avoid the costs and inflexibility of traditional enterprise software. For these companies, unified extended planning and analysis (xP&A) solutions, such as Acterys, offer a reasonable middle ground.
One of the key advantages of xP&A solutions like Acterys is the fast and cost-effective implementation. Traditional enterprise software that can take months to implement, even with the help of consultants. Acterys, however, can be up and running in just a few days.
Implementation is easy, as one-click connectors and easy-to-configure integration tools mean that organizations don't need advanced IT skills or third-party help to get started. This saves time and resources, allowing organizations to quickly start leveraging xP&A solutions for their planning and analysis needs.
Acterys focuses on flexibility and user-friendliness by providing FP&A tools and capabilities while leaving non-FP&A features to existing technologies. With the Acterys xP&A suite, there's no need to worry about proprietary data storage mechanisms. You can rely on proven, highly secure and widely used standard technologies, whether cloud-based or on-premises.
Solutions like Acterys are designed to save you time and be more efficient. For example, you don't have to provide application-specific training or reshape your workflows according to the vendor's offering. You can follow your current workflow using existing systems, such as leveraging Microsoft Office components like PowerApps and MS Flow. You'll experience higher employee buy-in when they can adopt new solutions while still using the tools and workflows they're used to.
Tracking and auditing is simple, too. Acterys tracks every transaction in the system, whether it's a change to the model or a simple data entry. Nothing gets lost, and the entire history is transparent.
Keep in mind that with xP&A tools like Acterys, you won't have a team of consultants on-site for months to build your solution and advice. However, because implementation is easy, you can be up and running faster and without overhauling your processes, workflow and culture. You are the solution champion. You can manage, extend and use the solution as you see fit.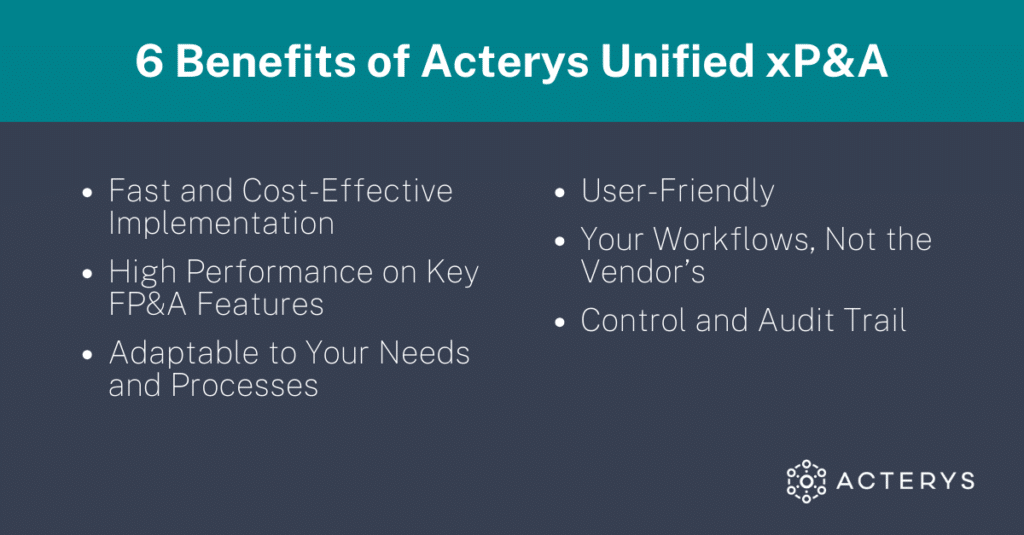 Assessing Your FP&A Solutions
If you're looking to improve your FP&A processes and outcomes, you need to start by understanding your current setup and anticipated needs. With that information, you can choose the right FP&A solution for your company's needs, size and budget.
Many organizations find themselves ready to move on from Excel. While it's familiar, ubiquitous and convenient, it has clear limitations, especially for rapidly scaling or complex environments. Meanwhile, many companies are frustrated by traditional enterprise financial planning software that offers endless features but is costly, time-consuming to implement and inflexible.
A unified xP&A platform offers a compelling middle ground that solves financial teams' challenges without creating ones. Acterys offers this at a fraction of the cost of less-nimble FP&A software.
Looking to explore your options for flexible, light and powerful FP&A solutions? Get in touch or sign up for a free trial.