Excel is nog steeds favoriet voor rapportering in verhouding tot cloud-gebaseerde toepassingen zoals Xero op boekhoudkundig gebied. Het is vooral gebaseerd op algemeen beschikbare kennis, flexibiliteit en mogelijkheden om aangepaste berekeningsopties toe te voegen.
Het mooie van dit productiviteitshulpmiddel is dat het exporteren van gegevens naar Excel eenvoudig en ongecompliceerd is, dat de kennis ruim voorhanden is en dat de flexibiliteit en het gemak waarmee aangepaste berekeningen kunnen worden toegevoegd ongeëvenaard zijn. Voor eenmalige toepassingen is dit een prima aanpak. Voor permanente doeleinden waarbij steeds grotere hoeveelheden en een steeds hogere frequentie van gegevens komen kijken – absoluut noodzakelijk in dynamische omgevingen – is Excel alleen vaak niet de beste oplossing, en wel om de volgende redenen:
Moeilijk te onderhouden
Werken met een eenvoudige tabel voor een eenmalig rapport of analyse is één ding. Maar gegevens exporteren uit verschillende boekhoudkundige gebieden, zoals journaals, facturen en kwitanties, en vervolgens gegevens uit deze bronnen combineren en er een bruikbaar rapport van maken, is een heel ander verhaal. En dan hebben we het nog niet eens over het feit dat u de gegevens misschien wilt combineren met andere bronnen zoals CRM, operationele systemen, enz.
Het gevolg is dat hooggekwalificeerde accountants vaak een halve maand bezig zijn met het voorbereiden van gegevens, het uitvoeren van lookups, het aggregeren van meerdere sheets, en het waarborgen van de kwaliteit van de gegevens. Wanneer het rapport eindelijk klaar is, zijn de gegevens verouderd.
Geen Granulaire beveiliging
Een ander nadeel van het dumpen van gegevens is dat je eindigt met een veelheid aan onveilige werkmappen, aangezien gegevens openlijk worden opgeslagen, rechtstreeks in een bestand (Excel-werkmap / Google Sheet). Het is "alles of niets" wie toegang heeft tot de werkmap heeft toegang tot alle gegevens. Nog erger is het gevaar van onbedoelde gevolgen wanneer gebruikers (onbedoeld) de formules of records overschrijven. Concepten zoals audit trails die duidelijke transparantie bieden over "wie wat heeft veranderd" zijn niet beschikbaar.
Beperkte gegevens
Over het algemeen is er een limiet van een miljoen rijen in Excel, maar door Power Pivot te gebruiken, kunt u dat uitbreiden. Toch is noch Excel, noch Google Sheets gebouwd voor het verwerken van grote hoeveelheden gegevens.
Een moderne Excel-invoegtoepassing voor Xero gebruiken
Tegenwoordig zijn er slechts enkele oplossingen die een goed functionerende Excel Add-in bieden: DataDear en Acterys behoren tot de populairste en betrouwbaarste. Nu DataDear de stekker uit zijn ondersteuning voor Xero heeft getrokken, omdat het bedrijf is overgenomen door Intuit (een concurrent van Xero), is Acterys uw beste keuze als het meest betrouwbare en effectieve alternatief voor uw financiële planning en rapportagebehoeften.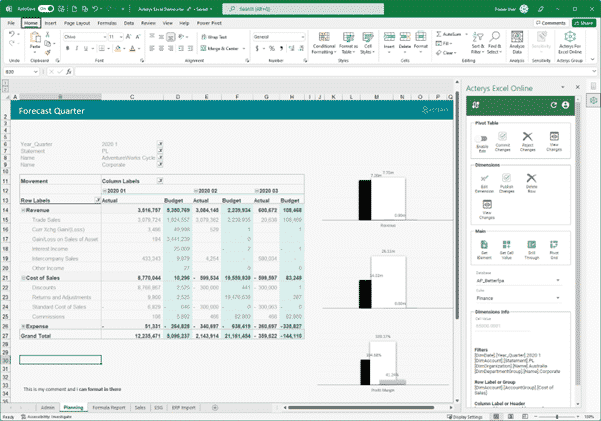 Ingebouwd on-prem of cloud datawarehouse
Terwijl u voor de meeste oplossingen een bestaande gegevensinfrastructuur moet hebben, krijgt u met de Acterys Excel Add-in alles in het pakket. De oplossing wordt geleverd met een vooraf gebouwd datawarehouse (Azure SQL) en draait binnen Excel, waardoor u extra infrastructuurkosten bespaart en uw totale eigendomskosten aanzienlijk dalen.
Rapportageautomatisering via live verbinding met het data warehouse
De oplossing onderhoudt een live-koppeling met het datawarehouse en werkt Excel-rapporten automatisch bij als er nieuwe gegevens uit de Xero-database binnenkomen. Dit betekent dat al uw gegevens in één spreadsheet staan, zodat u niet meer te maken krijgt met honderden afzonderlijke Excel-werkmappen die door de organisatie zweven.
Met andere woorden, het maakt voorgoed een einde aan de gevreesde spreadsheetchaos!
Beveiliging op detailniveau
De Excel-invoegtoepassing vereist dat gebruikers zich authentiseren vanaf de centrale server om ervoor te zorgen dat rapporten alleen zichtbaar zijn voor mensen die gemachtigd zijn om ze te bekijken en te bewerken. De oplossing houdt ook een volledig controletraject bij, waarbij elke stap die gebruikers zetten wanneer ze in de spreadsheet werken, wordt bijgehouden.
Nul onderhoud
Met de Acterys Excel Add-in kunt u het onderhoud tot bijna nul terugbrengen. Dit gebeurt dankzij het ene centrale, goed gestructureerde gegevensmodel dat automatisch wordt gegenereerd zodra u Xero met de centrale server verbindt. Voor specifieke rapporteringseisen kunt u het gegevensmodel moeiteloos aanpassen aan uw eigen wensen.
Een centraal model bespaart ook veel tijd bij het doorvoeren van wijzigingen in de rapporten. Bijvoorbeeld, als u een nieuwe mapping op de server toevoegt, zal dit automatisch in alle rapporten worden weergegeven.
Werkt naadloos samen met ander gereedschap
Naast de flexibiliteit en schaalbaarheid die u krijgt binnen Excel, kunt u andere tools gebruiken met de centrale database, met name Power BI, waardoor u toegang krijgt tot ongeëvenaarde analysekracht, interactieve dashboards, AI-inzichten, enz. Dit stimuleert uw analyse- en planningsinspanningen, zodat u gegevens snel kunt gebruiken in Power BI-rapporten en -dashboards en in realtime inzichten krijgt.
Of u nu een regelmatige Excel-gebruiker bent die de tekortkomingen van deze reeds lang bestaande productiviteitstool wil overwinnen of een DataDear-gebruiker die op zoek is naar een alternatieve Excel-invoegtoepassing, Acterys kan gemakkelijk aan al uw behoeften op het gebied van rapportage en planning voldoen.
Download de gratis proefversie en probeer de Acterys Excel Add-in vandaag nog uit. Voor DataDear-gebruikers bieden we een gratis begeleide onboardingsessie aan, inclusief initiële training en migratieondersteuning om uw DataDear-rapporten over te zetten naar Acterys.