Forward thinking organizations across the globe are now enabling their finance teams to link operations with strategies. Moving beyond their traditional roles, the office of the finance is now being equipped with unified platforms which not only enable them to do their routine tasks with ease, but equip them with the business intelligence, collaborative environment, and data-centrality for effective planning across the board.
In these times when data is currency, the fusion of advanced analytics with planning in finance departments takes center-stage. Identifying, adapting to, and implementing change in the way a business operates and grows is the purpose behind linking planning processes with analytics.
Data collection, reporting, consolidations and modelling; all of these tasks in a business should be aimed towards one key function: gaining insights. Hours spent on reconciling and standardizing data, building reports and models spread across different systems, and linking them to your analytics solution not just raises expenditures and labor, but accumulates considerable man-hours which could have been spent on modeling contingency plans and what-if scenarios for effective decision-making.
With Acterys, turn your day-to-day activities into meaningful insights geared towards dominating the difficulties of data-driven planning and forecasts, all under the umbrella of a single, comprehensive solution. Let's look at how it addresses the many challenges of legacy planning and analytics systems.
Spreadsheets: A love/hate affair?
Spreadsheets programs, more specifically, Excel, has always been the weapon of choice for most finance professionals for everyday reporting and number-crunching. It is unsurprising when the finance professionals worldwide hesitate to give up the familiarity of Excel, no matter how cumbersome and unsophisticated it gets, as the numbers increase.  Companies dealing with Big Data often want to move away from Excel, but fail to do so because of the ease-of-use, and an interface which they are accustomed to. Yet, there are key drawbacks:
Spreadsheet software has several data constraints, namely its inability to perform data operations on figures above its range. 

Excel is prone to error due to manual data entry; a single error can under-report key company financial statement data.

It tends to lag when calculating formulas and becomes unresponsive, especially as data volumes increase in size.

It has limited capacity in modeling data; it can't rival the functionality of modern analytical applications like Power BI or Tableau.
The importance of spreadsheets cannot be overstated, however. The way with which business practices are evolving around the world, and the increased pace of change demands a solution which blends the practicality of Excel with the vastness of Big Data analytics. Business professionals will inevitably utilize the formulas and templates provided by legacy spreadsheet programs, but they now require a solution which integrates planning and decision making in the equation as well.
According to the BPM Partners 2021 Pulse survey, users are more likely to adapt to a new program if it is in familiar interfaces, without having them to learn new programming languages or relying on a team of IT specialists to perform their work for them. Operative self-sufficiency while financial planning is a prerequisite for these users, and they need a program which delivers fast results, is intuitive in its working, and doesn't require specialized programming knowledge for it to function smoothly.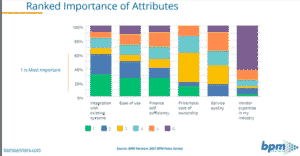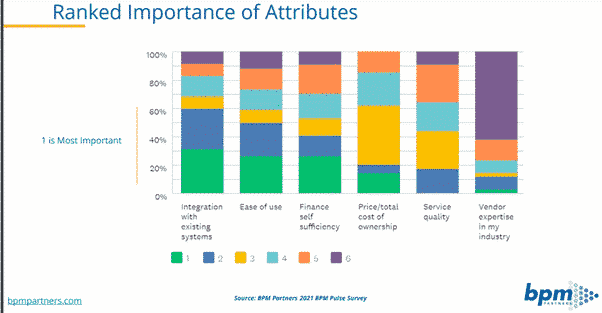 What businesses look for in an Analytics-enabled planning solution?
The increasing shift towards turnkey analytics and planning solutions has been paved by the unprecedented uncertainty of the post-pandemic world, with rising cost control expectations and regulatory compliance pressures. For these reasons, companies are ever more required to exercise decision and contingency planning agility to manage risk through rapid time-to-value and insight, one-click integrations, and scalable configurations as data volumes grow. 
According to the 2021 BPM Partners Pulse survey, dashboards, timely reporting features, and data visualization solutions to business problems tops the list. Another important aspect that these businesses consider is how well the novel solution will work with the way they work, and how seamlessly it can integrate with programs which they are already using. And of course, these solutions should be time and cost-effective to ensure maximum efficiency.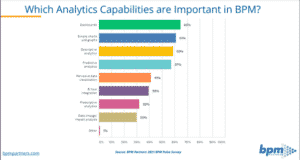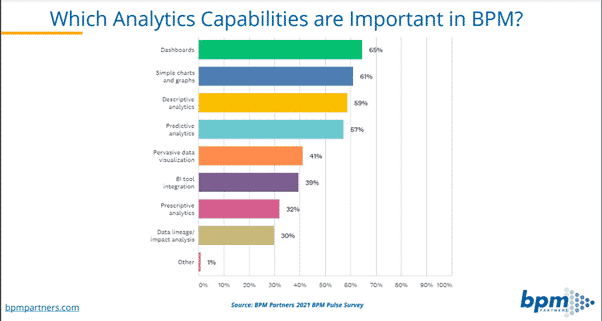 An integrated business solution would enable you to:
1)                  Understand:
       

Past performance data:

Utilize the historical data to build on future plans with sophisticated machine learning algorithms.

       

Root of your problems: Dive in deep with Acterys Matrix's drill-down features, reap the benefits of data granularity and focus on your problem areas.

       

What drives your business

? See how changing certain parameters and drivers affect your sales. Simulate scenarios and play around to achieve maximum productivity.

       

Your Ideal Customer Profile

: Target the right kind of customer based on past sales and interactions

       

Profitability factors of your product

: Deduce with past data on what makes your product line stand out.

       

The ins and outs of your cash cycle: Keep a check on when cash is due and how to plan for long-term investments.

2)                  Unite:
       

Teams within your company:

Foster a collaborative environment within the business where teams operate in harmony and transparency.

       

Financial and operational data:

Consolidate workforce, finance, accounts and sales data to create clear performance reports and dashboards.

       

Purchasing and trading capacity:

Plan for production, payment, and sales strategies keeping in alignment with your purchasing and marketing capacity.

       

Analysis with planning:

Put data-backed business policies to practice and create predictive models and forecasts.
3)                  Accelerate
       

Adaptation to change

: With integrated analytics, predict and plan for the challenges coming ahead.

       

Production processes:

Take note of supply and demand trends and utilize rough-cut capacity planning tactic to speed up production.

       

Planning and forecasting:

Make closing and planning cycles quicker, shorter and more frequent to anticipate change.
The Challenges Ahead
1. Inefficient Utilization of Data
As the amount of data that a business deals with grows, so do its surrounding issues. Large datasets require more sophisticated solutions, a technologically sound team, and a robust data management. To utilize business data to its utmost potential, the entire data culture of the organization needs to be adjusted. Often, companies end up working in silos, with each department virtually cut off from the other, gathering numbers of their own, but with no concrete plans on utilizing them efficiently.  A comprehensive data management system is key to a robust analytics function for accurate forecasting.
2. Analytics Integration Functionality
Tackling complex and copious amounts of data with obsolete analytics processes  could drive any business in a rut. The value of data can only be truly realized through the actionable insights gained off of robust integrations of leading third-party analytics tools such as Power BI. Applying legacy solutions can only slow down processes and increase costs. And while companies have invested heavily on Big Data and AI initiatives, only a small number of them feel that they are truly data-driven and have gained valuable insights from numbers. A major reason behind this notion is the disconnect between number and actions, which could be bridged through the power of analytics.
3. Cross-functional Collaboration
A strategic framework to make all teams – purchasing, finance, operations, supply chain – work and report in tandem would not only streamline financial and operational reporting, but would also build on information required to make key decisions based on consolidated data.
Acterys does not only decrease the time spent on managing different sources of data, but enables data manipulation, write-back, modelling and integration into familiar environments to fast-track your planning and forecasting capabilities across multiple departments. It is a self-service platform which doesn't require a dedicated IT team to run it, with best-practice templates for strategizing and planning, forecasting and budgeting, for a holistic business solution. 
 The Acterys Advantage
Acterys replaces all individual software a business may employ for separate functions, such as data collection and warehousing, modelling and planning, report writing and data discovery, to an all-encompassing solution which is fast, familiar, and easy to use. It cuts down on the friction caused by linking all standalone software, prevents sloppy data collection and saves a considerable amount of capital and time in the process.
Its unified data model which caters to the requirements of modern businesses. With easy connectors, link all major accounting applications into the data model. Enable write-back capabilities in existing Power BI reports for modeling and simulation, and have complete control over who does what, maintaining specific user rights and data security while giving access of your data models to various users.
At Acterys, all aspects of the finance and planning department are well-catered to. The need to be quick, easy and accessible to all is what our planning solution fulfills, with significantly lesser costs for licensed software and technical expertise which would have been required otherwise. Generating sales reports, profit/loss statements, closing and consolidating accounts, facilitating zero-based budgeting, top-down and bottom-up planning, and
With smart integration options for both widely used business applications Excel and Power BI, Acterys packs a complete package. It offers templates, models and workflows for all finance tasks, it can generate visualizations and predictive models in minutes with data integrated from a variety of sources.
Encompassing all aspects of planning, Acterys improves overall business operations in the departments of budgeting, consolidation, and sales and demand planning. With Acterys-powered Business Analytics, foresee any disruption and adapt accordingly. Observe the power of one decision through driver-based modelling, and look at the repercussions in real-time.
Chalking Out the Right Business Strategy
Another crucial aspect of integrated business planning is that many companies may have lofty long-term goals, but they lag behind in short-term planning and ultimately fail to realize their true potential. Corporate strategy builds the groundwork for automations, analytics, and AI to work their magic on updated data sets. Similarly, training models on the latest data through forecasts done on shorter intervals yields accurate predictions. Integrating analytics in your annual forecasting and budgeting processes through Acterys gives your organization an edge over traditional planning, by modelling what-if scenarios and rolling forecasts.
The Way Forward
Integrating your planning processes with AI-backed analytics will certainly not eradicate all uncertainty from business. But it does give all your hard-earned data a purpose; a 'why'. Combined with the in-built models and data representation tools provided by Acterys, your data tells a story. Integrated planning processes take into account the history, possibilities and present situation of each department, to give you a holistic view. With automated workflows, you can spend more time on interacting and predicting off models rather than building them. 
Watch Webinar: Why Your Organization Should Unify Planning and Analytics for an in-depth walkthrough of how the Acterys platform resolves modern planning and analytics challenges.