We are thrilled to announce the latest release of our platform: Acterys 22.2!
In the past six months, tremendous efforts went into the improvement of all Acterys components. With the Acterys Modeller, we embarked on moving to a completely new development platform with the benefits of unparalleled speed and usability that result in faster "time to value" and streamlined operations. Our team is dedicated to setting customers up for success in the future by providing them with agile solutions that address their toughest challenges.
What's New in Acterys v22.2?
Here's a list of major updates and epic new features in Acterys v22.2:
Dramatic performance improvements in the Acterys Planning Engine
New Modeller UI + Enhanced Acterys Hub
Power BI Visuals: Acterys Matrix GEN2, Acterys Variance 3.0, Visual Planning and Reporting Visual
Acterys App for Stripe
Check out the full release video:
1. Dramatic Performance Improvements to the Acterys Planning Engine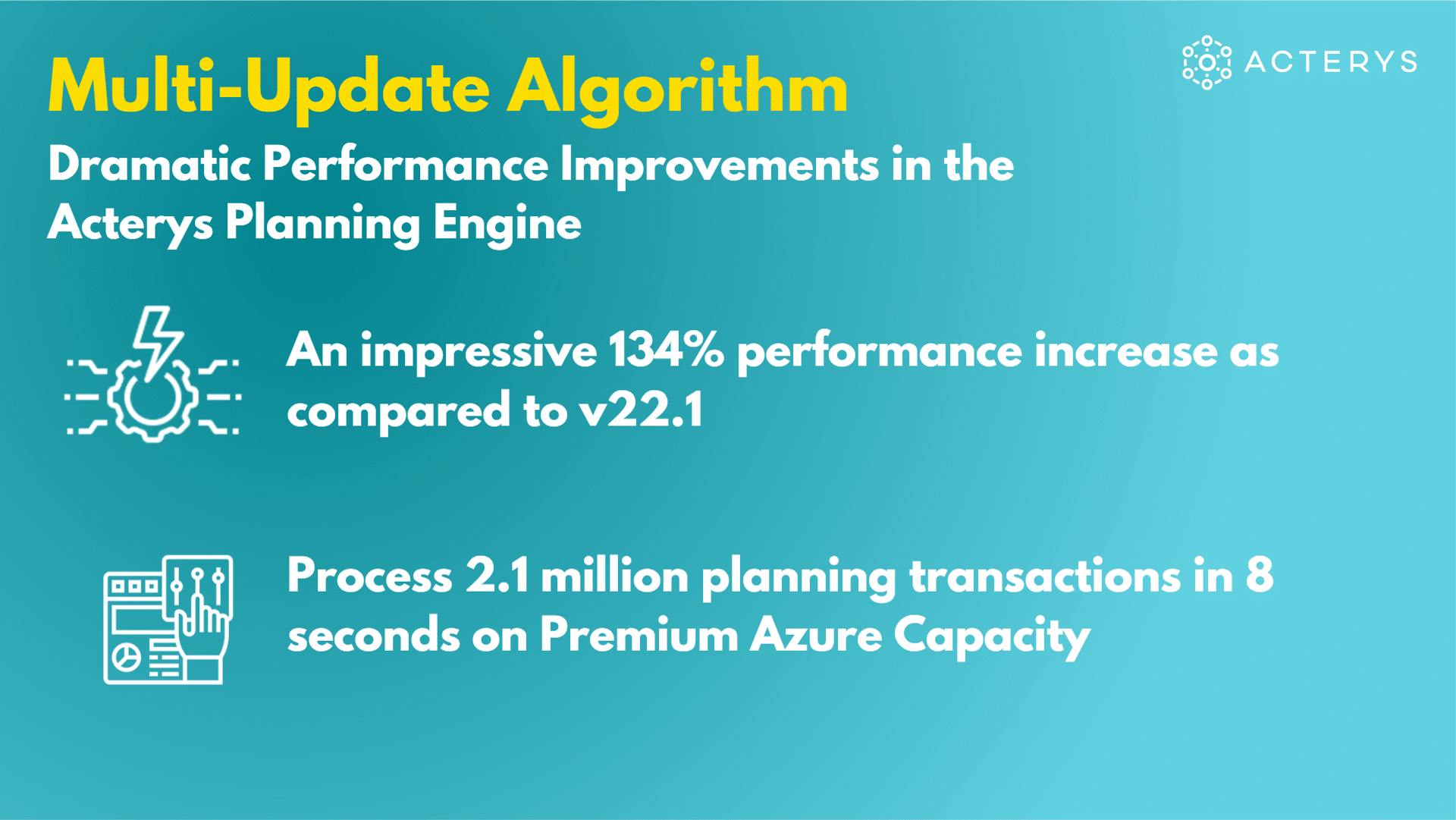 In Acterys 22.2, you will experience significant performance improvements as the Acterys planning engine now intelligently bundles multiple planning activities in a single step.
The result of these improvements has led to an impressive 134% performance increase as compared to the prior version, which makes planning for multiple scenarios fast, effective, and smart. It also enables you to process over 2 million planning transactions in 8 seconds on Premium Azure Capacity.
2. Enhanced Acterys Hub + New Modeller UI
We've given Acterys Modeller a modernized new look that is equipped with an intuitive design to maximize user experience and promote efficiency. Here are some examples: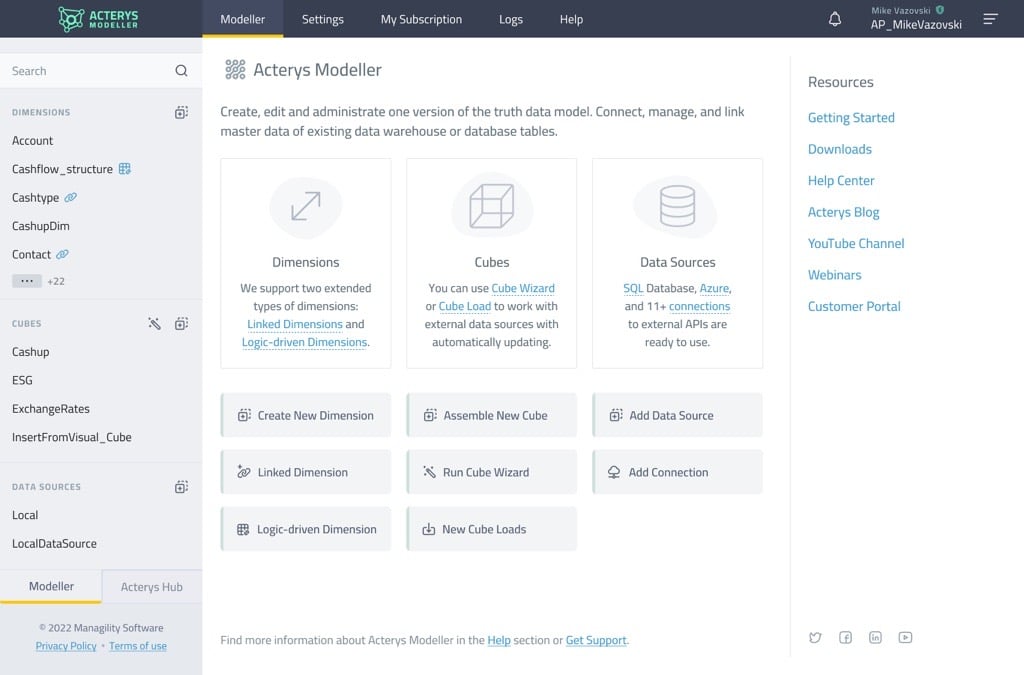 Introduced in our 22.1 product release, Acterys Hub brings all data integration processes together in the Acterys Modeller. This makes integration and modelling tasks more manageable while ensuring faster implementation times.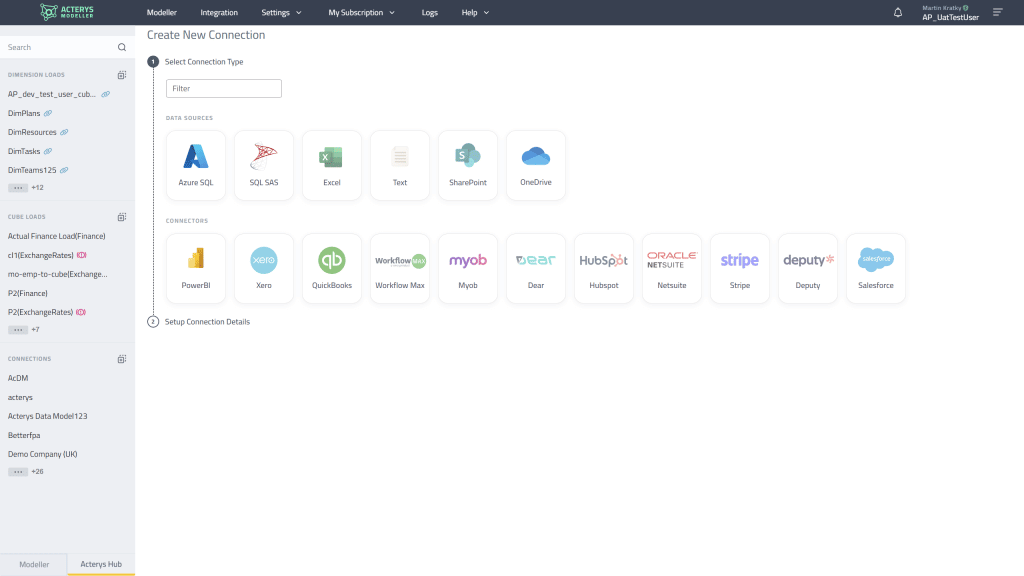 The new Modeller UI and Acterys Hub 2.0 will be rolled out over January 2023 to all customers if you are interested in an earlier deployment in your tenant, please contact Acterys Support.
Acterys 22.2 comes with several key updates that make integration easier and faster. One great example is the new Publish to Power BI feature that allows creating & updating models in Power BI instantly and deploys calculation logic with automatic DAX updates.
3. Functionality Enhancements to Acterys Power BI Visuals for Improved Planning Experience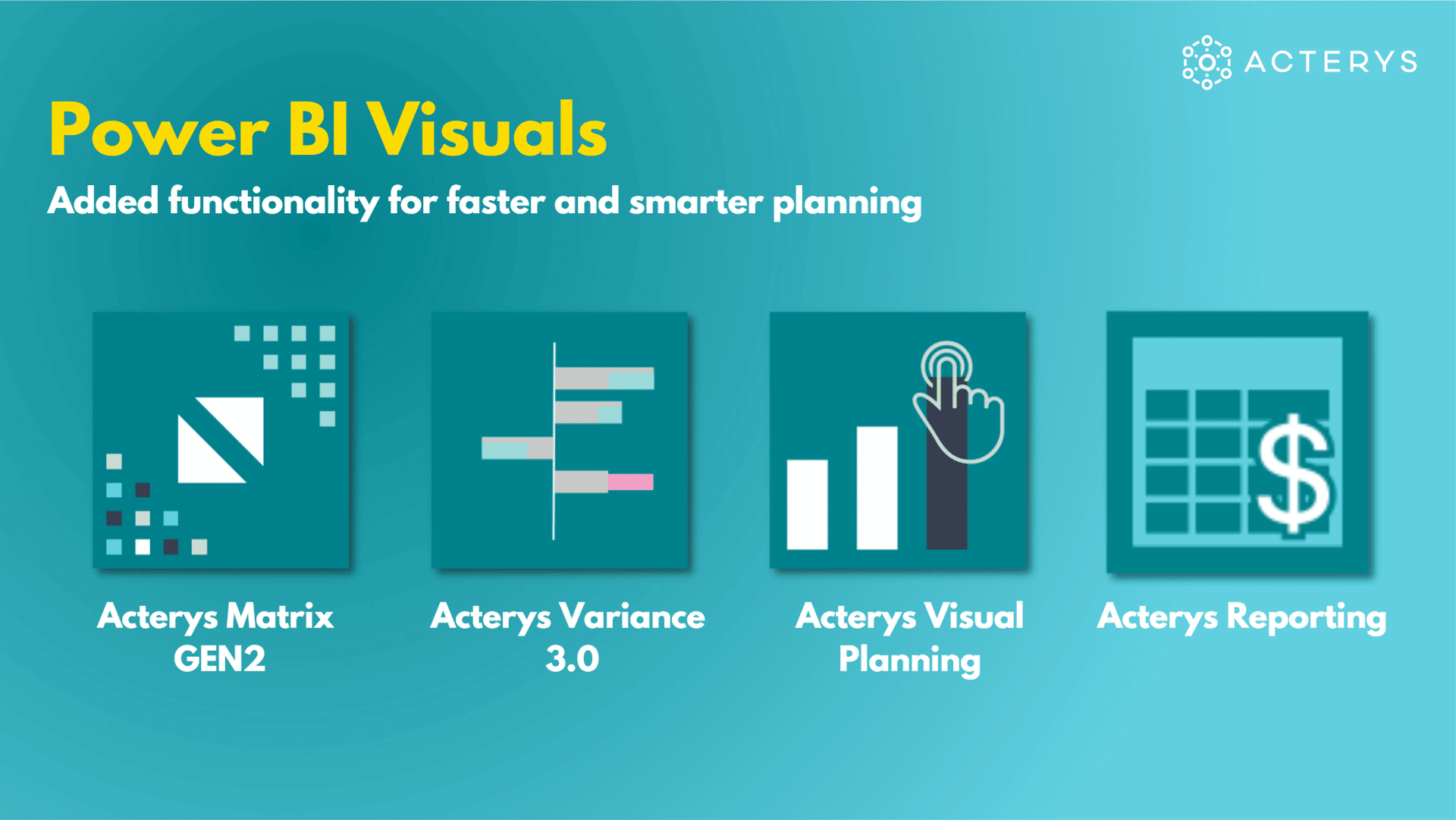 The Acterys Power BI Visuals add unparalleled planning and reporting capabilities to Power BI. They reflect a constant evolution of more than 5 years of R&D, proven at the largest enterprises in the world.
Here is what's new in the Acterys Power BI Visuals:
a. Acterys Matrix GEN2
With version 22.2, we took the Acterys Matrix planning experience literally to the next level with a completely new separate version of the visual – Acterys Matrix GEN2. The GEN2 visual utilizes a new calculation engine that fully supports calculating DAX measures across the hierarchy level.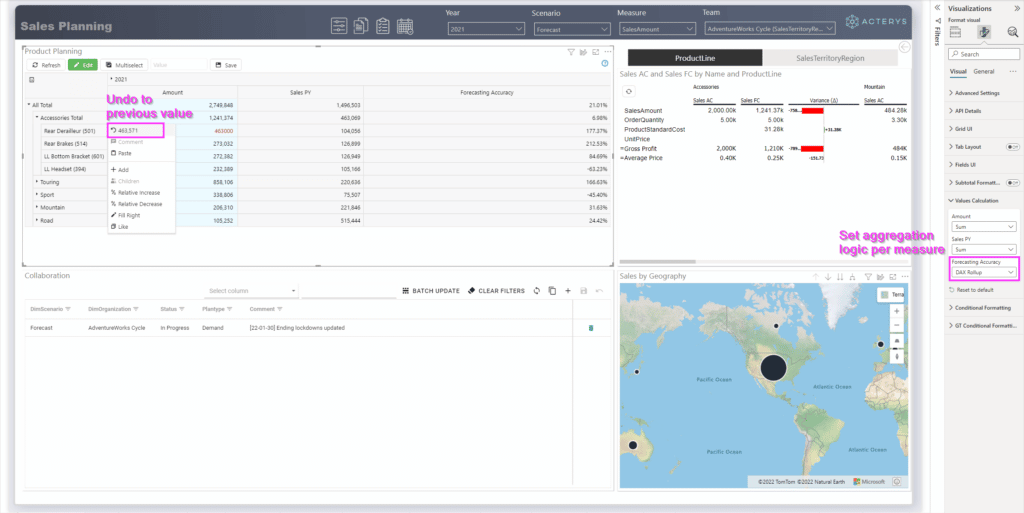 Moreover, we have realized one of the most requested improvement suggestions and added an undo feature.

The visual now also supports level-dependent conditional formatting.
b. Acterys Reporting
The youngest member of our visuals, but already one of the most widely used, is now available without a full Acterys subscription. This is enabled through Microsoft's one-click licensing on Microsoft AppSource.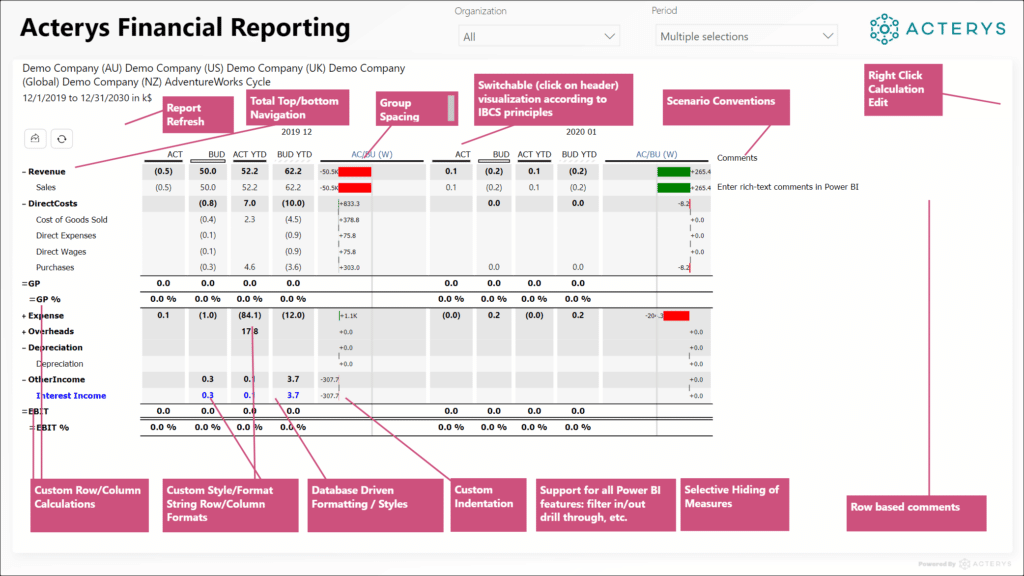 In addition, there have been dramatic functionality improvements:
The game-changing data-driven formatting: users can set flexible format strings per row item e.g. a double underline and bold formatting for a Gross Margin element in the account hierarchy or different number formats for ESG reporting items (kwh, %, $, etc.) and these are automatically applied on every Acterys Reporting visual on any of your reports in your tenant.
Configuration of measure display: just measure, measure + variance graph or just variance graph.
A new table layout option mode for row hierarchies (thanks Accenture for sponsoring that!)
Handling hidden anchor elements: calculations in Acterys Reporting are linked to an anchor element. Now the calculations will be displayed at the correct position even in case of hidden anchor elements.
c. Acterys Variance 3.0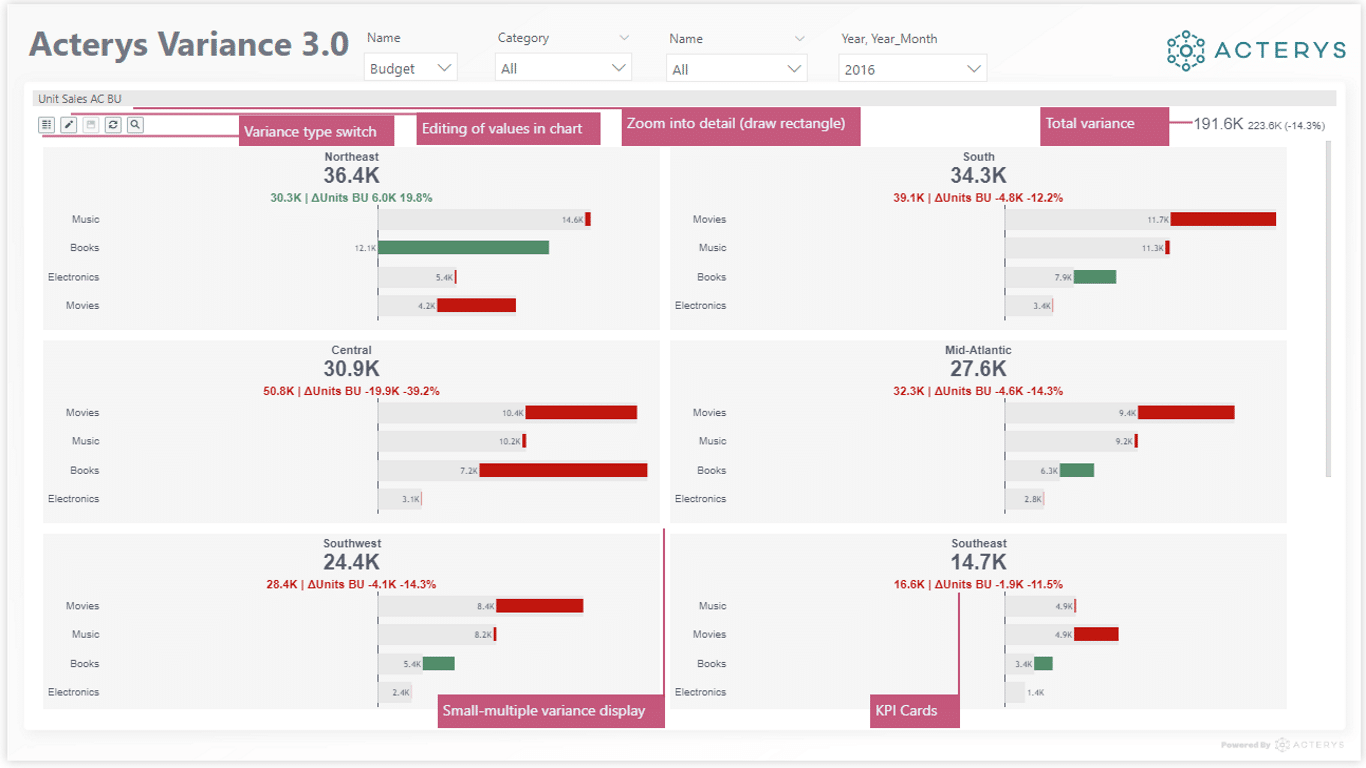 Version 3.0 of the Acterys Variance visual facilitates planning by dragging on small multiples charts and monitoring the impact on any object in your Power BI report in real time. We have introduced the KPI cards feature that unlocks exciting new capabilities for reporting. In addition, the visual now allows users to leverage waterfall visualization and set the desired default view. You can now zoom into charts with smaller values, making it easier to see details.
d. Acterys Visual Planning
Lastly, Acterys Visual Planning, which enables planning directly in a chart, now provides the option of cell locking, planning by percentages, and entering data manually. This gives customers flexibility and power, which makes handling more detailed assumptions easier.
4. Acterys App for Stripe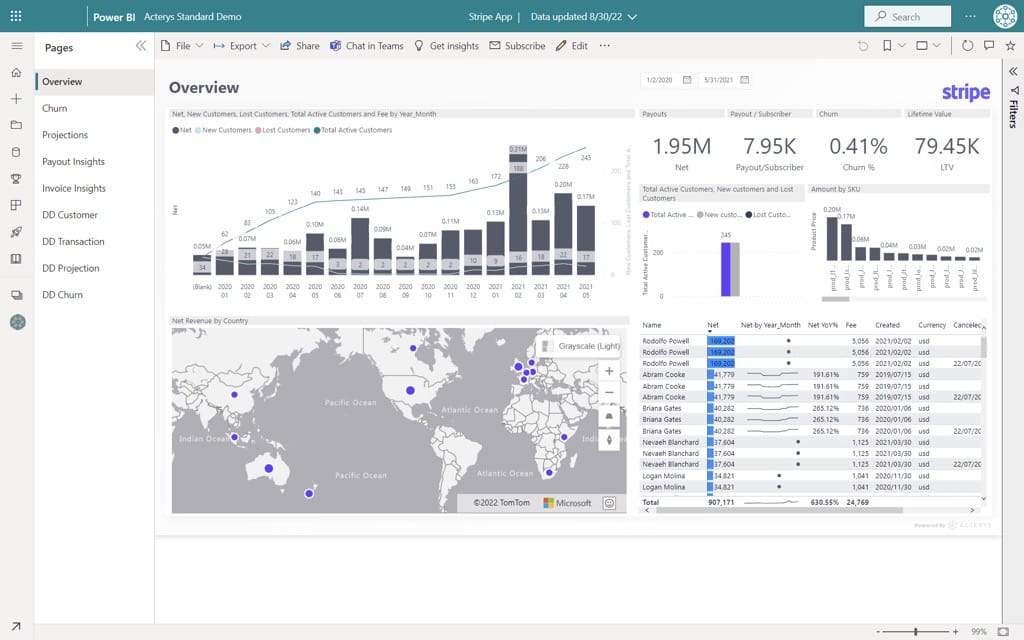 Already the broadest end-to-end solution for ERP, accounting, and SaaS platforms, version 22.2 includes a completely automated and fully customizable Stripe App for customer and billing analytics. View compelling, interactive visualizations, with the ability to drill down to single transactions enabling invaluable insights into customer behavior and trends.
What to Expect in 2023?
As we stand at the edge of 2022 waiting to welcome the new year, we'd like to extend our gratitude to our team, customers, partners, and the community. You have unlocked Acterys' full potential as a cutting-edge provider of forward-thinking xP&A solutions.
We have a lot more in store for you in 2023 – here is a quick sneak peek into what we have planned: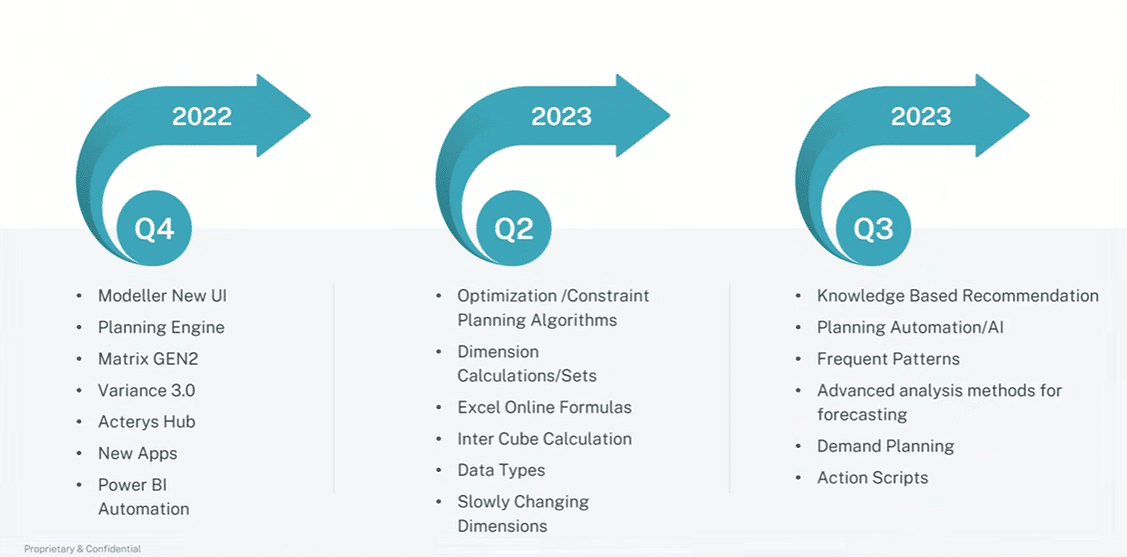 It revolves around adding new artificial intelligence planning capabilities and making complex planning logic scenarios even easier. So, stay tuned for more updates!
To get a first-hand experience of the new features and enhancements, start your free trial today.