Acterys 22.1 marks the biggest update yet in our 4 years journey of developing our platform to be the most comprehensive integrated planning and analytics solution. After seeing the tremendous response for our last version 21.2 update, we are set on the path to take Acterys to the next level and provide unmatched value to our customers.
And here we are with Acterys 22.1 with several new features and functionality enhancements that doubles its ease-of-use, extensibility, and automation capabilities. Before we jump into the updates, a message from our CEO, Martin Kratky:
"I would like to first thank our customers and partners for the fantastic cooperation in 2021. This includes some of the biggest companies in the world that have transformed their extended planning and analytics functions and have realized tremendous improvements and significant cost savings. All these organizations have also provided very valuable feedback that was included in the new version, and we are grateful to them."
Watch the complete Acterys 22.1 launch webinar:
Without any further ado, here are the major updates and epic new features in Acterys v22.1.
10x Increase in Processing Times through Multi-Update Algorithm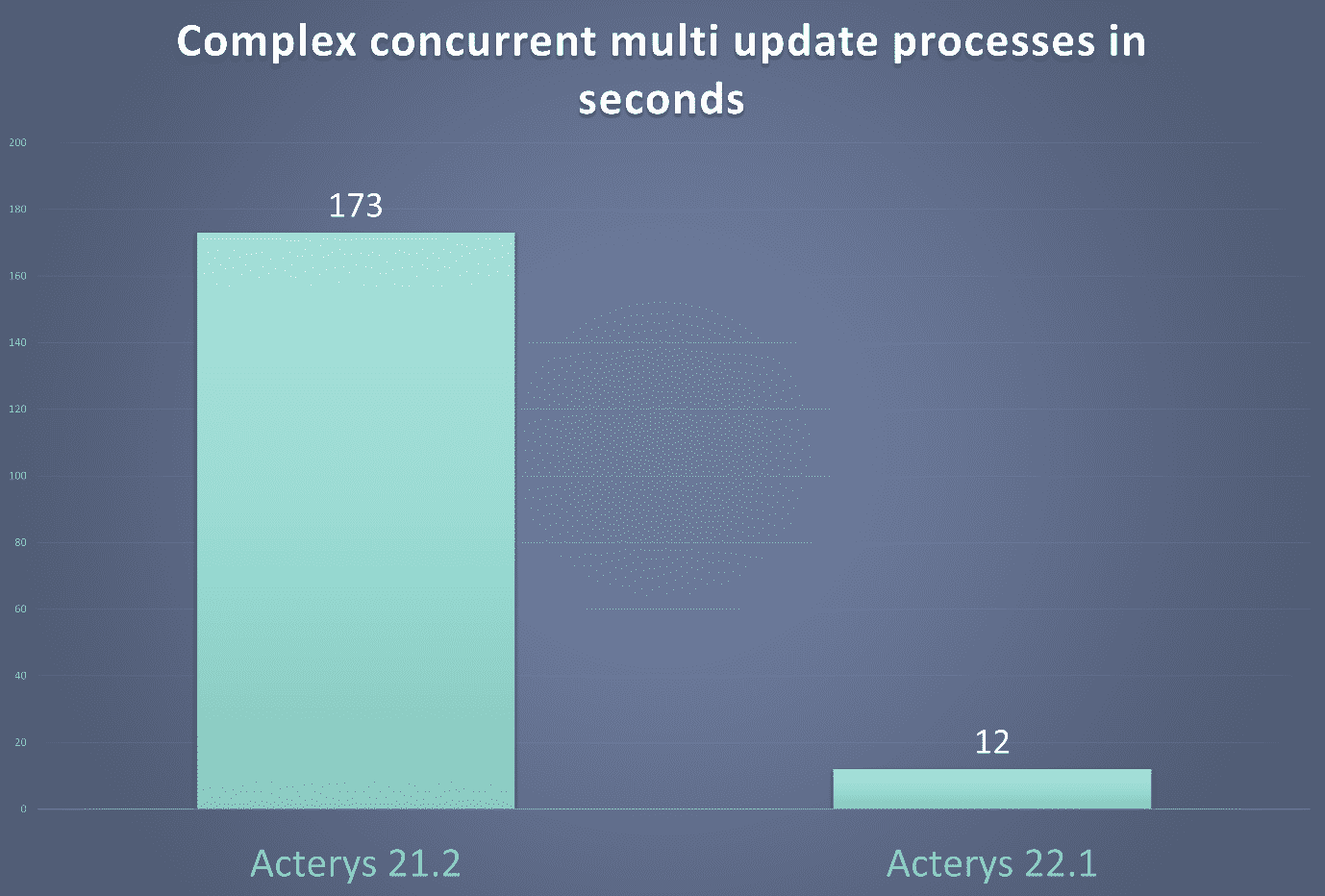 Acterys 22.1 includes major improvements under the hood that further enhance what is already one of the fastest planning engines on the planet for complex, large-scale enterprise scenarios.
Our new multi update algorithm is designed to improve processing times by more than a factor of 10. This means that if you are performing write-backs, let's say, on different aggregated cells through a copy and paste operation or other typical planning use cases, the system has to update a lot of data down the different dimension hierarchies for many cells. In simpler words, what used to take more than a minute to process will now take a user just a few seconds to complete.
Introducing the Acterys Rapid Results Packs
Building on our market leading engine is the new Acterys template store called Rapid Results Packs (RRP). Here, customers profit from best-practice application designs and processes for specific subject matter areas, ranging from SaaS company analytics to Sales and Operations Planning (S&OP), Procurement Performance Planning, and much more.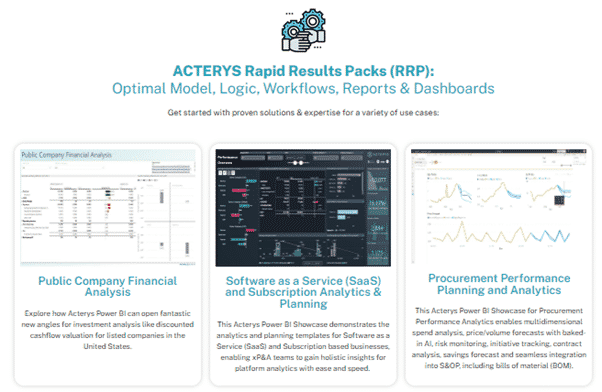 Within these templates, you will find descriptions and video demos of the implemented solution. They also feature a live interactive Power BI report, enabling you to see the data model, logic, workflow, and sample reports and dashboards created. Check out all the listed RRPs and visualize how you can build the analytics infrastructure corresponding to your business environment.
Rapid Results Packs are the work of Acterys' development teams and competent certified partners that have built these solutions for customers across the globe.
Acterys Hub – Data Integration & Modelling under One Roof
Acterys Hub is the latest addition to the roster of features of our platform. As the name indicates, it is a hub that brings all data integration parts into one area of Acterys Modeller. All the data load processes are now in one holistic section, making integration and modelling tasks much more manageable while ensuring faster implementation times.
Here is how Acterys Hub makes data loading processes simpler and faster:
It includes the previously separate app integration area for managing the end-to-end reporting, consolidation, and planning solutions for accounting, CRM, and other SaaS platforms as well as the generic data management options for any of the 600+ Power BI sources as well as generic enterprise systems (e.g. Azure, Synapse, Snowflake etc.).
Users can now easily add new and edit existing models with a simple user interface without any database knowledge and additional ETL tools.
For both Acterys Apps and Enterprise connectors, users can set up their dimensions, create the models in an optimal star schema, and schedule refresh cycles as needed.
It is important to note that these data models are not just in the optimal format for analysis but also immediately planning enabled in Power BI and Excel. Users can extend and edit data from the linked tables without affecting the source while ensuring they are automatically synchronized whenever a change happens.
Acterys Apps – A Complete Solution for SaaS/Accounting/ERP Systems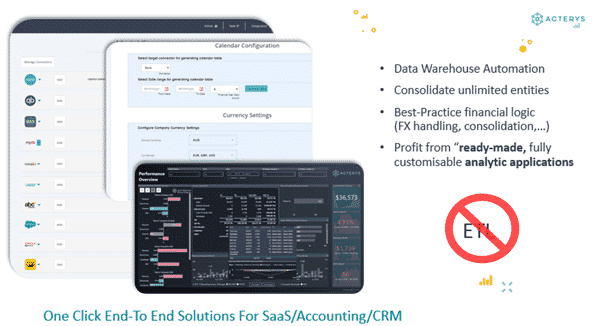 Acterys Apps will continue to be an end-to-end offering that includes the optimal data model, business logic for financial metrics, financial calendars, FX handling, consolidation eliminations, related reports & planning forms, and many other areas.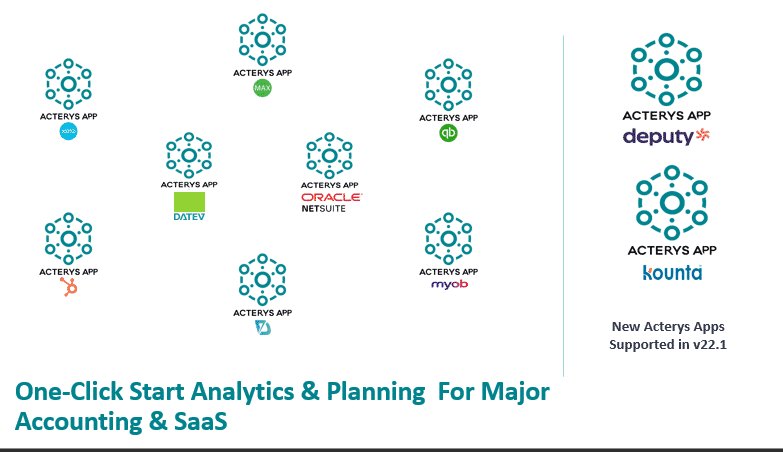 We already have 8 Acterys Apps that are fully functional and secure. In Acterys 22.1, we have added two new systems: the widely used timesheet management system, Deputy, and the reputed POS Management solution, Kounta.
We plan to support up to 80 other solutions that will be developed over time and released with each new Acterys version. Note that the development priority will be given to source systems based on the registered interest on our new Acterys Apps page. So, please express your interest or contact us directly if you don't see the source system not yet listed there.
Supercharge Model Deployment with Automated Power BI Integration
Another big improvement is the new fully automated Power BI integration functionality. Previously, users had to manually connect to the Acterys data models in Power BI. In version 22.1, this is now completely automated and easier than before. All users have to do is point to their Power BI workspace. Once that is done, it takes one click to make models available with all relevant details like relationships (these can also be edited) and user rights. As a world's first, it is now also supported to deploy DAX calculations directly from a web-based browser application without the need for Power BI Desktop.
Speed Up Planning in Power BI with Token-Based Configuration
In Acterys 22.1, we have dramatically improved the visual setup in Power BI with a new token-based configuration. Users only need to add a token automatically created with the Power BI integration in the Modeller into the visual. This includes the relevant details like default database and licensing information, which means users can use the write-back planning features practically in seconds.
Power BI Sync 2.1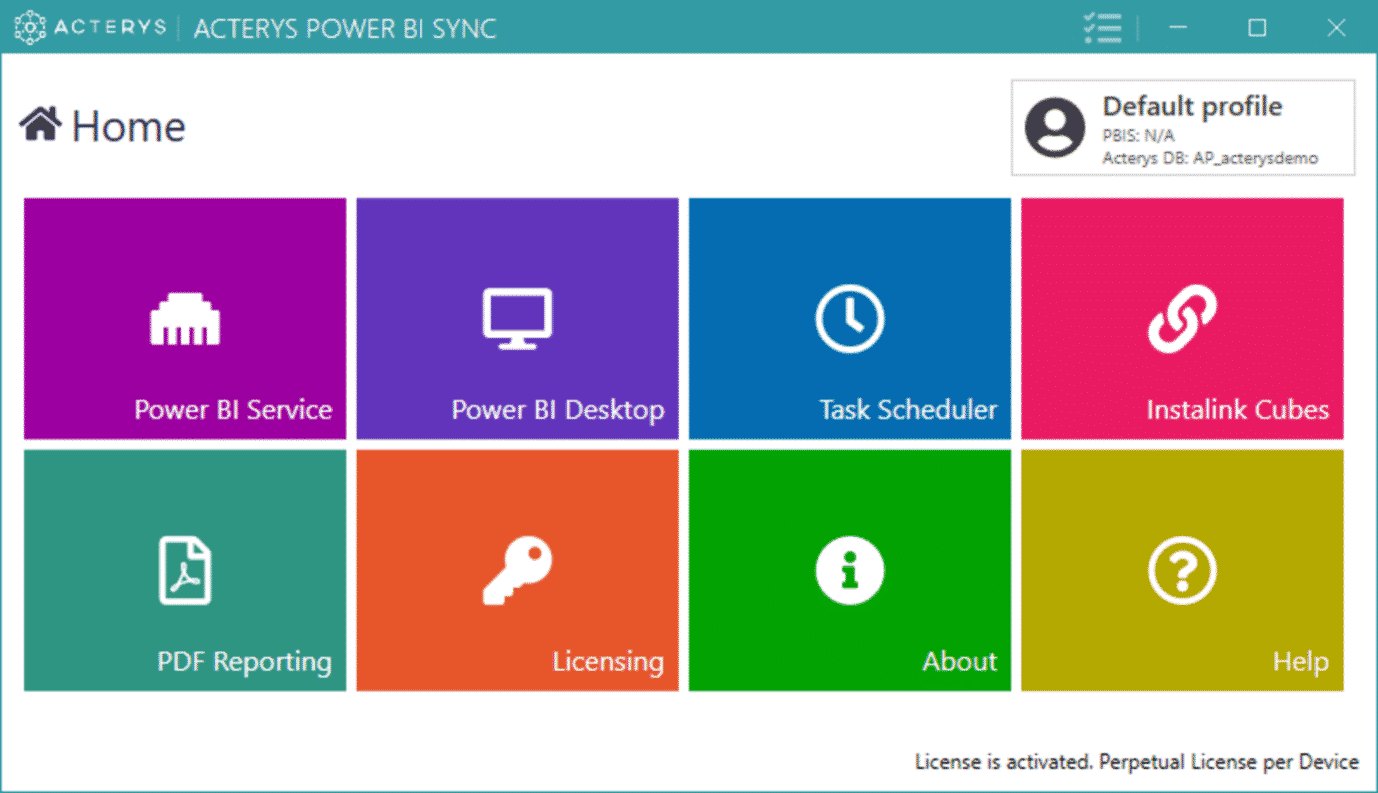 Power BI Sync was introduced back in 2021 to "write and planning enable" all your Power BI models, including the ongoing automatic synchronization of the model as well as with your data warehouse or database. A few key updates include:
A new feature we have added in Power BI Sync 2.1 is Instalink Cubes. This means that in addition to automatically synchronizing dimension data, you can now automatically load data into cubes e.g., actuals from an accounting or CRM system.
The PDF Reporting feature now allows you to customize emails using variables around the automated distribution of reports to relevant recipients.
New Features & Updates in Acterys 22.1 Power BI Visuals
Matrix Visual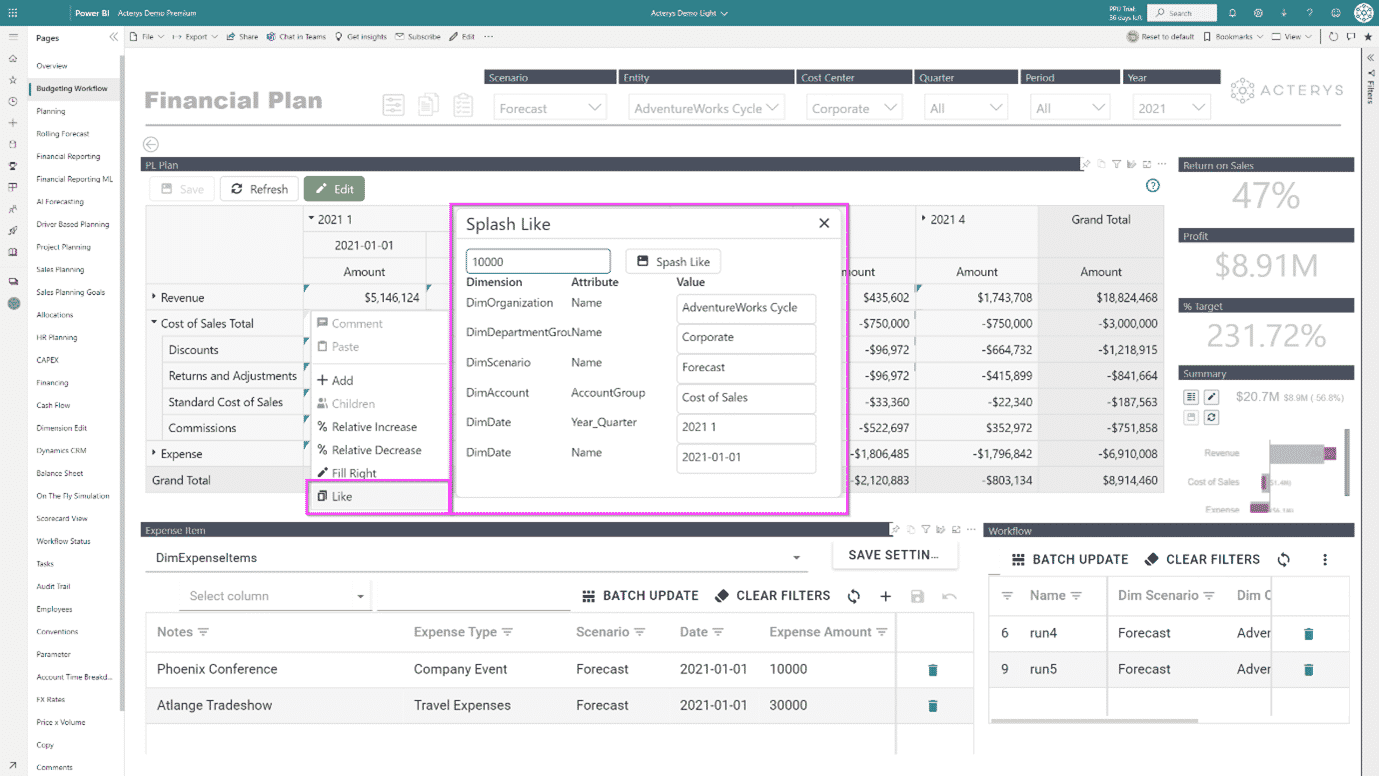 The new Matrix version includes a completely new context menu for all planning features, which is easier and faster to use. The awesome Splash Like feature allows you to distribute a planning entry according to the desired details across all model elements:
Acterys Reporting Visual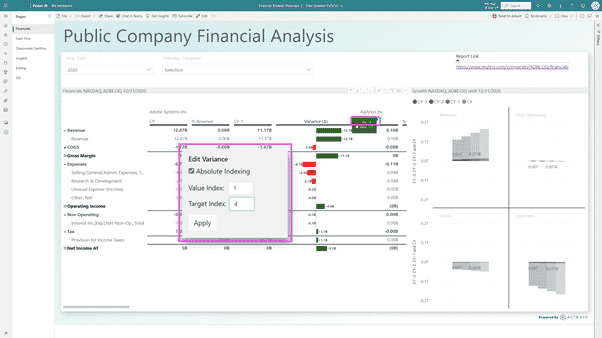 We have made more improvements to our Reporting Visual where it's now possible to set the formatting for any row or column (not just the calculations) and a new really cool option to define calculations between any column.
What's Next?
Acterys 22.1 is truly the biggest update yet with several groundbreaking new components and new features to enhance the user experience for our customers.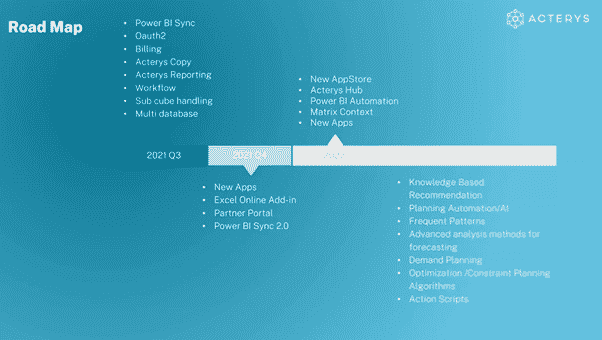 But we are not done yet. We are already working hard on the new versions to be launched this year. These will predominantly revolve around adding AI recommender systems and powerful constraint satisfaction planning scenarios such as adding limits, locking cells, and complex goal-seeking scenarios.
So stay tuned for more updates!
To try out the new and improved Acterys platform, start your free trial today or choose a convenient time for the onboarding with our competent customer success team.