The new Acterys 21.2 version marks an unparalleled set of innovations around all components of the platform reflecting 25 person-years of development efforts. Many of the improvements have already been deployed through the ongoing improvements in our cloud-based components and Power BI visuals on AppSource over the past quarter. Some of them (like the new Excel Online Add-on and logic-driven dimensions) will be only available from the launch date in December 2021.
Here are the details:
Quickest Source System Integration
Acterys Apps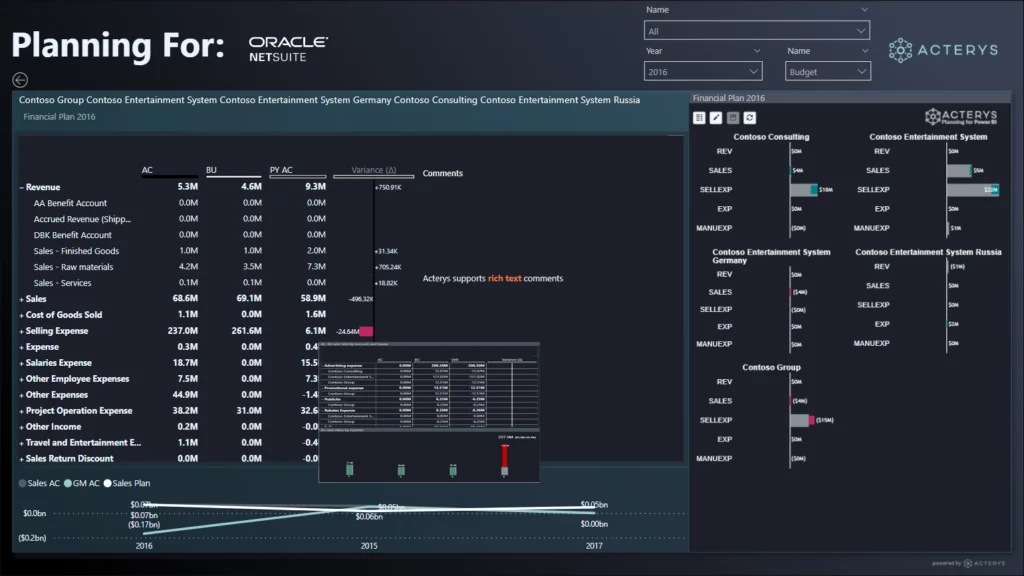 New NetSuite Connector with Save Search Support
This new Acterys App is an end-to-end analytics AND planning offering for NetSuite that includes data model automation for default items like journals, invoices, contacts, etc. as well as an option to integrate custom tables very easily from NetSuite through the option of adding "Saved Search" tables defined in NetSuite. In addition, a wide variety of reports include the versatile Acterys visuals for optimal financial reporting as well as the most comprehensive offering for planning and forecasting in the Power BI ecosystem.
New QuickBooks and MYOB Cubes
Automated Acterys Cubes (write and planning enabled star schema models) are now available for QuickBooks and MYOB.
New Features and Updates for WorkflowMax
– Functionality on WFM scheduler to update last N days.
– WFM/XPM Times can be enabled/disabled on both manual and scheduled updates.
– WFM/XPM: Add StartDate and DueDate to JobTask.
– Functionality to compose a link to WFM/XPM Job and put it in the Location field.
Effective Modelling/ Master Data Management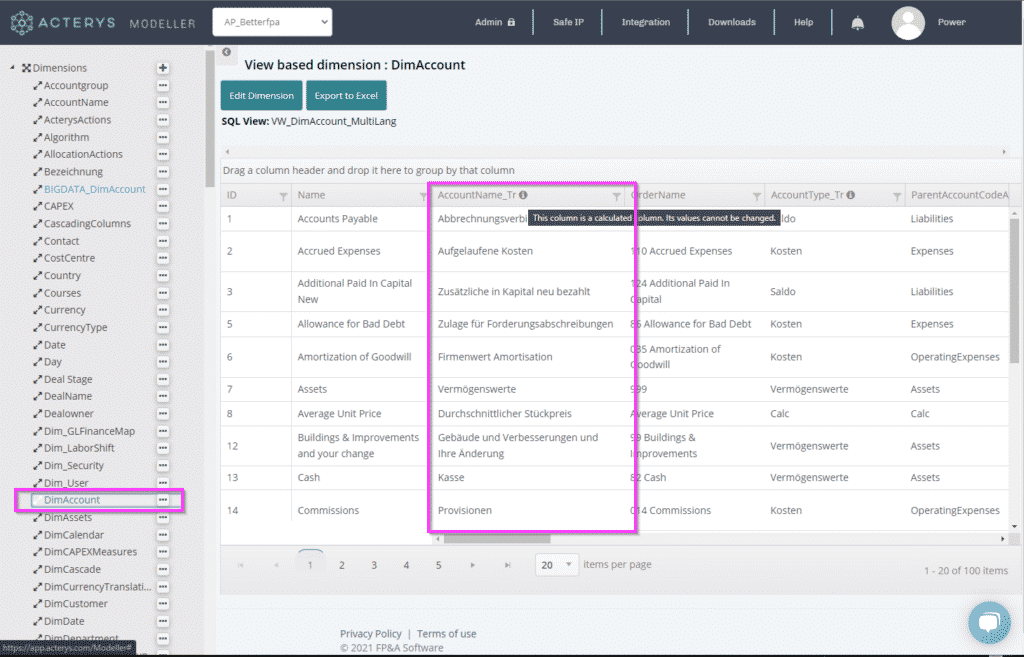 Logic Driven Columns
A "game-changing" feature that enables users to define calculated columns in Acterys dimensions that are rendered in real-time. This adds unparalleled new options for a variety of use cases. For example:
Dynamic account mappings e.g. for report definitions
Multi-language translations
Mathematical calculations and functions e.g. for price, stock level etc.
And many others. In addition to display purposes, these dynamic calculations can be also used in write-back and planning scenarios.
Instant Database Switching
With Acterys 21.2 users can now switch with one click in a dropdown list between multiple databases. This is particularly useful for Acterys Partners and customers with many databases like accounting groups to work effectively.
Improved Formatting: Audit Log Details
Dimension coordinate details are now shown more prominently helping users to see cube details immediately.
Acterys 21.2: Planning from browser, Apple ecosystem directly connected with Power BI and SQL Tables
New Excel Online Add-on
The new Excel-Online Add-on is a completely new development for Excel that offers the proven Add-on functionality (planning from Pivot Table and Excel Formulas) from the existing VSTO version in any version of Excel: Desktop, Online (only requires a web browser) and MAC Excel.
The Excel Online version also includes significant new functionalities to handle very large tables (>1m rows): when editing it is now possible to filter tables for the records to be edited and avoid having to load the entire dimension. In addition to that, users have the option to specify a subset of columns of the table that they want to edit.
Unparalleled Planning & Financial Reporting with Acterys 21.2
Acterys Visuals
Since the last version 21.1 we have made significant improvements to all Power BI visuals particularly driven by customer requirements and large enterprise projects with thousands of users.
One of the major new changes is a new authentication mechanism for all visuals: in addition to the existing authentication, users will be gradually moved over to a new token-based system that is more secure and easier to use. Users just need to add one token field to the visual that includes all relevant details like license, a default database and the API configuration details (e.g., cloud/on-prem). The new authentication also brings performance improvements due to a lesser data points being transmitted.
Table Edit
Grid mode
In addition to the traditional record-based mode Table Edit now supports a grid-based editing mode. This means that users can move around freely in the table, edit as required, and save when finished.
Cascading column filters
Users can now define cascading filters i.e., when selecting a filter for a column, other columns only show filter elements relevant for the selected previous columns.
Options to set access rights on editing features
Admins can now control editing features per visual e.g., if deletion, edit, etc. These restrictions work in addition to the normal access rights. Also supported are now "mandatory columns" that users must complete if they add a new record.
Data-driven validations
These include: HTML links, images, dates, Boolean (tick boxes), integer and others and can be set in the Acterys Modeller
Table Edit will now automatically apply/validate data driven formats set in the Modeller or a table without the need to specify table formats in the visual.
Unicode Icon sets
Acterys now supports using any Unicode icon in a dimension. This means users can setup completely flexible icon sets that can be used in Table edit to set for example status outcomes: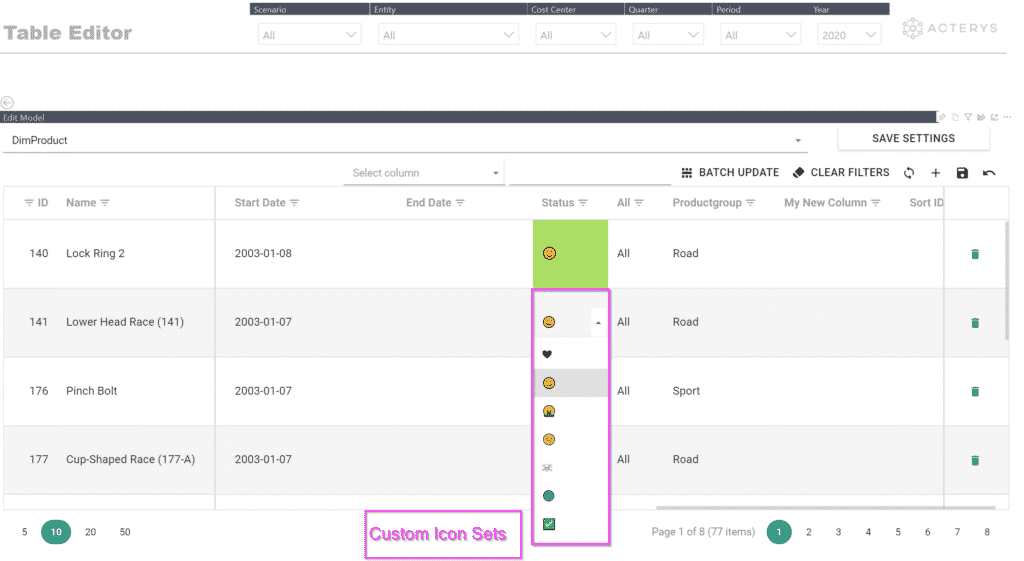 Matrix
Our most widely used visual was again substantially improved: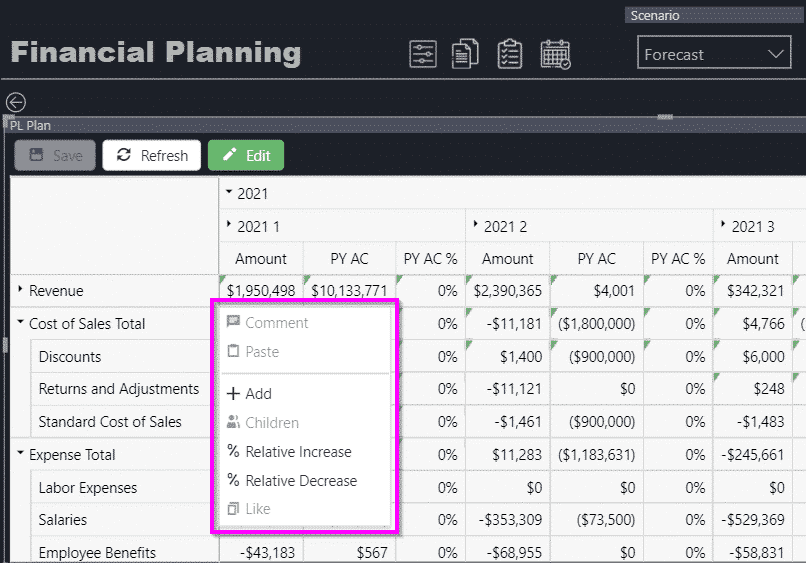 New Right Click Context
In addition to the shortcuts for applying distributions like absolute and relative changes users have now the option to select the required option with a right click on the cell.
"Enter Like"
A completely new feature is the new "distribute like" option that enables users to enter a value and specify the required distribution by selecting details from any dimension in the model from a drop-down list e.g., apply entry like another scenario, year, product, etc.
Copy
The new "All cubes" option allows users to apply copy operation across all models that use the specified dimension coordinates. This is very useful in typical 3 ways forecasting models that combine different business subject matter areas e.g., copying budget into a new forecast version for Sales Details, Financials, HR, etc.
Comments
The comment visual allows now editing of comment AND value. This is useful when you want to add editing capabilities to any other Power BI visual as Copy will use the current inbound filters and allows the users to edit data for that selection.
Insightful Financial Reporting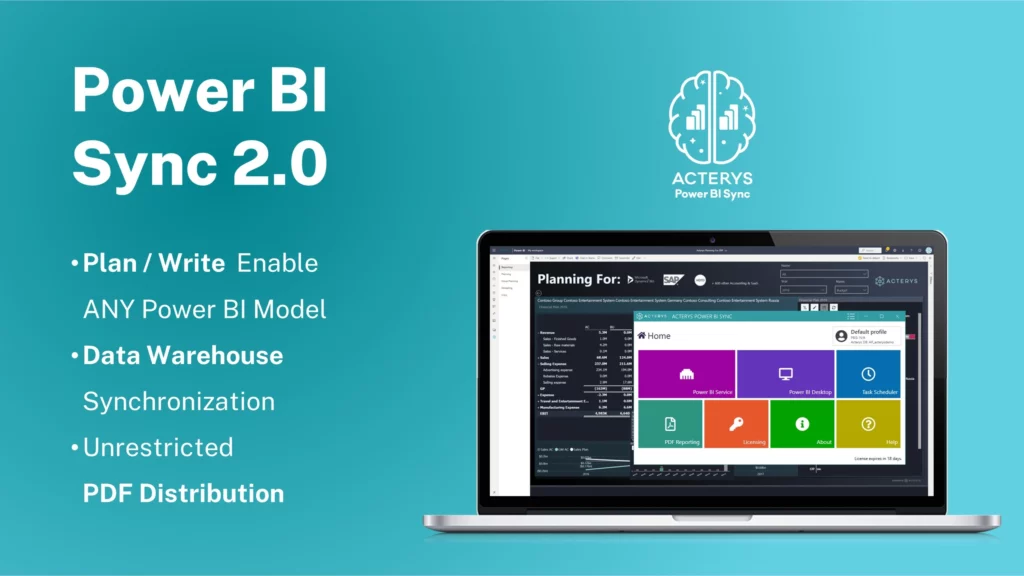 Power BI Sync 2.0
Our new kid on the block that was only launched in this year's 21.1 update -and already a customer favorite- is getting some major upgrades in Acterys 21.2:
Snowflake is now supported as a target database to synchronize Power BI models utilizing an ultra-fast new update mode.
A new PDF distribution feature that enables users to send Power BI reports in PDF format to email recipients. It is possible to apply filters and select only specific pages of a report and not necessarily the entire report. PDF report distribution also supports the use of uncertified custom visuals which is not possible in Power BI.
Better logging options
Try the latest version here: Power BI Sync 2.0 Trial
Power BI Sync in Modeller
Synchronizing Power BI models is now also available in the Acterys Modeller. Users can specify the required Power BI tables that will then be automatically synchronized with the supported databases in Acterys e.g. SQL Server, Synapse, Snowflake, etc. (Due to data volumes and processing intensity this function will require an Acterys Enterprise Tenant)