DEAR Inventory is an incredible order and inventory management platform designed to provide complete back-end management solutions for small and medium-sized businesses, especially manufacturers and ecommerce retailers and wholesalers. It helps businesses build automated processes to manage inventory and orders, provides modules for accurate accounting and reporting, and ensures greater productivity and smarter decisions through near real-time data for sales, inventory, and finance. If you are looking to integrate DEAR Inventory with Power BI, we have explained the best possible solution for you in this blog post.
Why Should You Integrate DEAR Inventory with Power BI?
While DEAR Inventory is an excellent alternative to manual and inefficient Excel-based inventory management, it still lacks planning and analytics features. Because of this missing piece of the puzzle, businesses have difficulty creating dashboards and visualizing data to see how a holistic view of their company's performance. A majority of users prefer using Microsoft Power BI for analytics and visualization purposes, but unfortunately, DEAR Inventory doesn't offer any such integration either.
Time and again, users have requested this functionality to consume accounting and inventory data into Power BI, but there has been no development on that front. So how can businesses integrate DEAR Inventory data with Power BI?
The typical alternative approach to connecting DEAR Inventory with Power BI is to load all data into a data warehouse or data lake or database, perform transformations (if needed), and then call the data tables into BI. However, this adds too many steps in the processes and requires time and money for loading data into additional databases or a data warehouse using a traditional ETL or ELT approach.
To help you bridge this functionality gap of DEAR Inventory integration with BI, we have developed a dedicated Acterys App for DI that provides a zero-code, no-ETL approach to meet your analytics needs. Let's take a look at how Acterys App works and simplifies the process for DEAR Inventory users.
Connect DEAR Inventory to Power BI Desktop in 4 easy steps:
Acterys enables you to connect DEAR Inventory companies within minutes to an optimal Power BI Desktop data model and an extensive set of Power BI dashboards and Power BI reports that cover all typical requirements: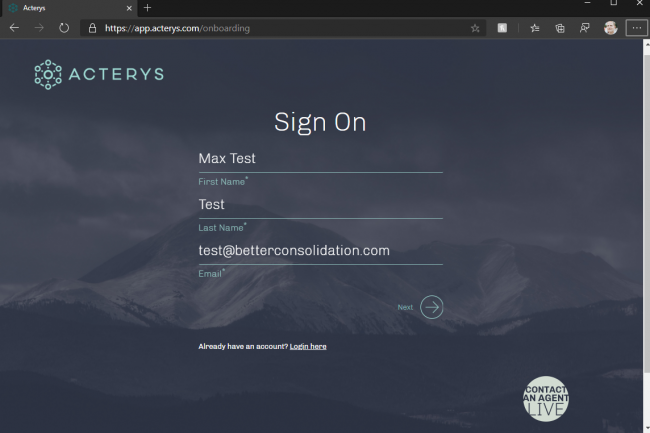 Want to See How Planning at Hyper Speed Feels Like?
Take Acterys Power BI out for a test drive now!
Start Free Trial
1. Sign up and start a free Acterys trial with an expert at your side here: Acterys App Trial.
You will see multiple connectors available on the Acterys dashboard. Select the DI connector and click 'Add' to start the integration with Power BI.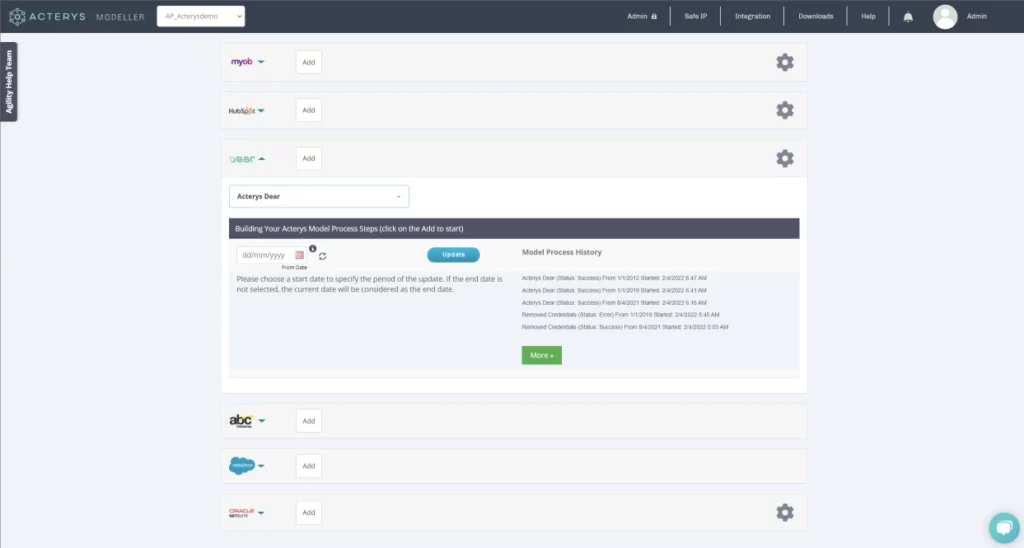 2. Add one or many DEAR Inventory tenants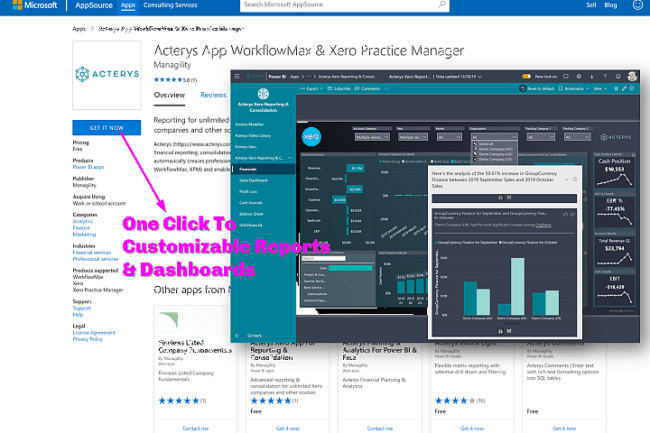 3. Connect your database to the DI App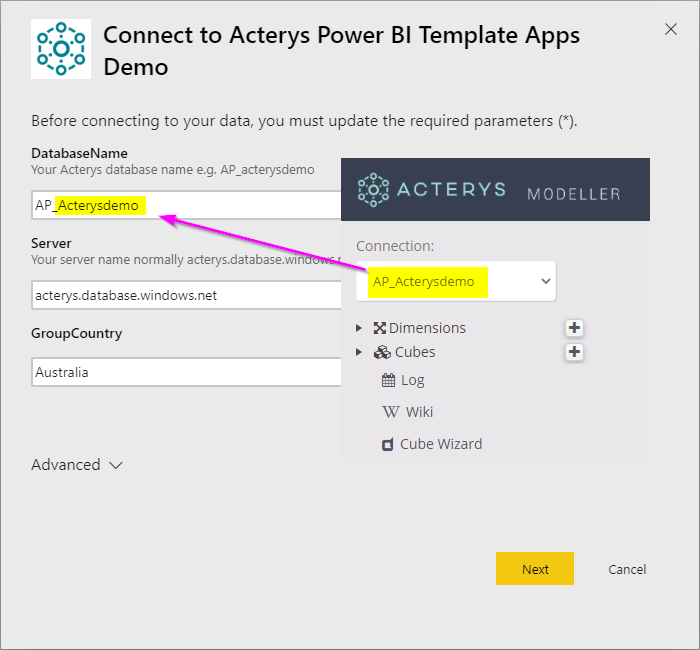 Next, you will need to connect your Dear Inventory Database with Acterys Modeller to load data from DEAR system to Acterys suite. After the data is added to your Acterys server, you can transform, and adjust data accordingly.
Need Tailored Reporting, Planning & Analytics Solutions?
Talk to our solution experts now
Book a Meeting
4. Install the Acterys Power BI App or the Acterys Excel Template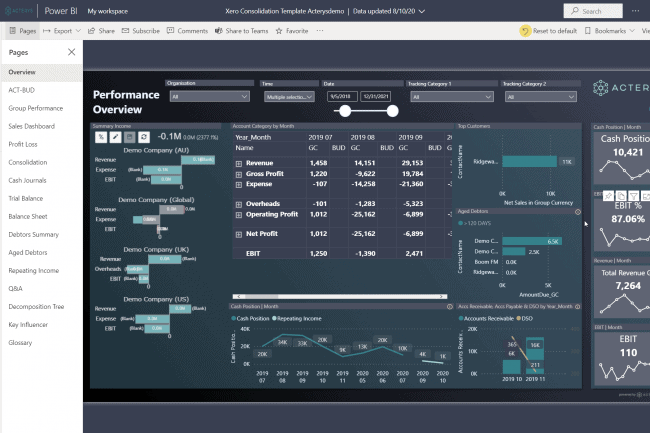 One the DI database is connected with the Acterys modeller, you can use Acterys Power BI apps or Acterys Excel template to visualize and transform data. It is as simple as clicking a few buttons to integrate your Dear inventory data with BI.
Get started with best-practice reports that cover all typically required use cases among others:
Inventory Analysis
Product Profitability
Financial reports
Actual – Budget variance
Multi-company consolidation
Currency translation
Trial Balances
AI-driven sales analysis
Decomposition trees
Acterys Subscribers can download the entire Power BI desktop .pbix file, add any data source that Power BI supports, modify any detail and add new report pages exactly to their needs.
What is Acterys?
Acterys takes your inventory analysis & reporting, planning & forecasting processes to the next level by automating data integration and creating digital workflows with cloud-based inventory management systems and other sources.
How Acterys Integrates DEAR Inventory with Power BI?
Acterys allows you to consolidate data from DEAR inventory and DEAR systems and visualize it in Microsoft's tool.
All data is automatically synchronized with a secure data model in the cloud based on the market leading, secure Azure and Microsoft SQL Server platforms.
Avoid menial spreadsheet work and profit from automatically generated, fully editable interactive dashboards and best practice financial processes in Power BI or via a two way -read/write- Excel Add-on.
Integration Made Possible With Acterys
Get started in minutes and access single company or consolidated results from DEAR Inventory, DEAR Systems, Oracle NetSuite, QuickBooks, Xero, WorkflowMax, Practice Manager/XPM, HubSpot, MYOB, etc.) and nearly any other source.
If you want to try out Acterys Apps and see how it connects both tools seamlessly, start a trial today or get in touch with us for a solution walk-through for your specific use case.
Further details are available at Acterys Wiki Dear Inventory To Power BI and Excel
End-to-End Reporting & Planning Package
Connect any system you want – for unlimited systems
Explore Acterys Apps
Key Takeaways
DEAR Inventory is a robust order and inventory management platform designed for small and medium-sized businesses, particularly in manufacturing, e-commerce, retail, and wholesale sectors.

While DEAR Inventory offers efficient inventory and order management, it lacks planning and analytics features, making it challenging for businesses to create comprehensive performance dashboards and visualizations.

Microsoft Power BI is a popular choice for analytics and visualization, but DI does not have a built-in integration with BI.

A common alternative approach to connect DEAR Inventory with Power BI involves loading data into a data warehouse or data lake, performing necessary transformations, and then importing the data tables into Power BI. However, this approach can be time-consuming and costly.

To simplify the integration process, a dedicated Acterys App for DI is introduced, offering a zero-code, no-ETL approach to connect DI with BI.
FAQs
1. Why do businesses integrate DEAR Inventory with Power BI?
Integrating DEAR Inventory with Power BI provides powerful analytics and visualization capabilities. DEAR Inventory lacks built-in planning and analytics features, and Power BI is a popular tool for creating insightful dashboards and reports. This integration allows you to gain a holistic view of your company's performance, make data-driven decisions, and streamline your inventory management processes.

2. What challenges do businesses face when trying to visualize DEAR Inventory data with Power BI?
The primary challenge is that DI does not offer native integration with BI, making it difficult for users to import data seamlessly. As a result, businesses often resort to complex data loading and transformation processes, which can be time-consuming and costly. This blog discusses a more efficient and user-friendly alternative to overcome these challenges.

3. What is the typical approach to connecting DEAR Inventory with Power BI, and what are the drawbacks of this method?
The usual approach involves loading all DEAR Inventory data into a separate data warehouse, data lake, or database, performing data transformations, and then connecting these data tables to Power BI. However, this process adds multiple steps, increases complexity, and requires additional resources. It can be a daunting task for businesses looking for a simpler solution to integrate DEAR Inventory and Power BI effectively.