For over 20 years the Acterys founders have been very closely involved in the evolution of performance management processes working with most major technologies.
What is Data Platform Unification?
Data platform unification is the process of consolidating and integrating various data-related tools, systems, and processes into a single platform. This unified platform streamlines data management, storage, processing, and analysis, and significantly reduces complexity, improving efficiency, and enabling organizations to leverage their data more effectively.
Cost Saving and Process Efficiencies for Planning & Analytics Through Platform Unification
In this blog, we address the potential for efficiencies and cost savings through platform unification in organically grown, often very disparate approaches that we see at customers.
By Performance Management in this context, we are referring to the feedback loop between:
Planning: Setting Targets & Drivers
Monitoring: Actual vs Target Analysis
Forecasting: Projecting and Adapting Targets
Knowledge Management: Document Learnings
Task Management: Ensure Things Get Done
and collaboration in the process: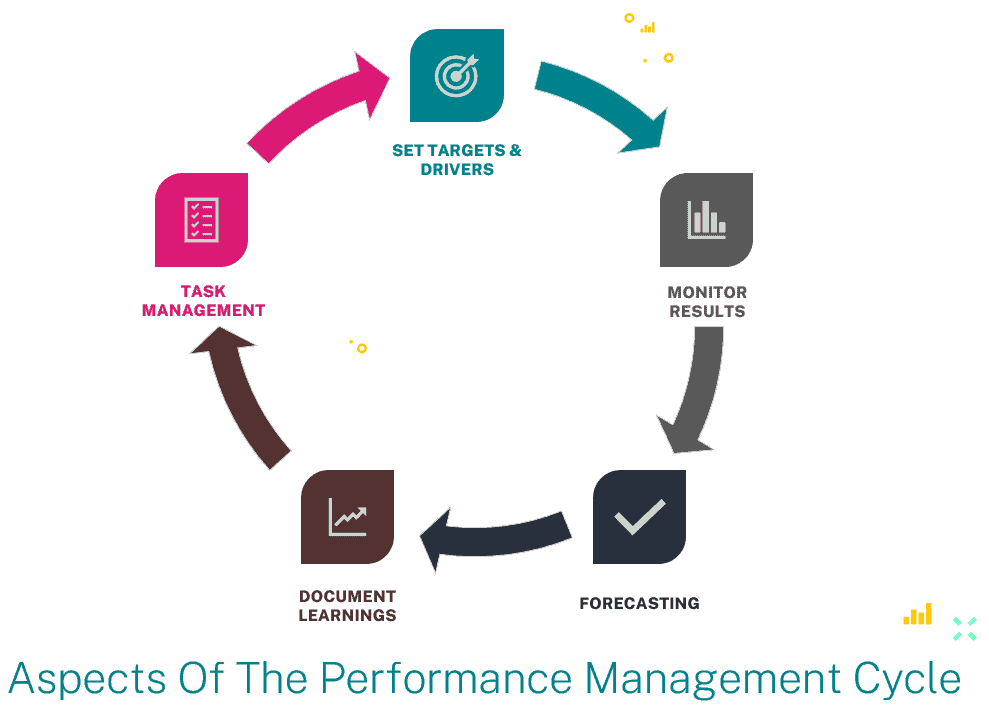 Current Situation
What we still see as the prevailing status quo at our clients is a disparate mix of applications that are used in the performance management process: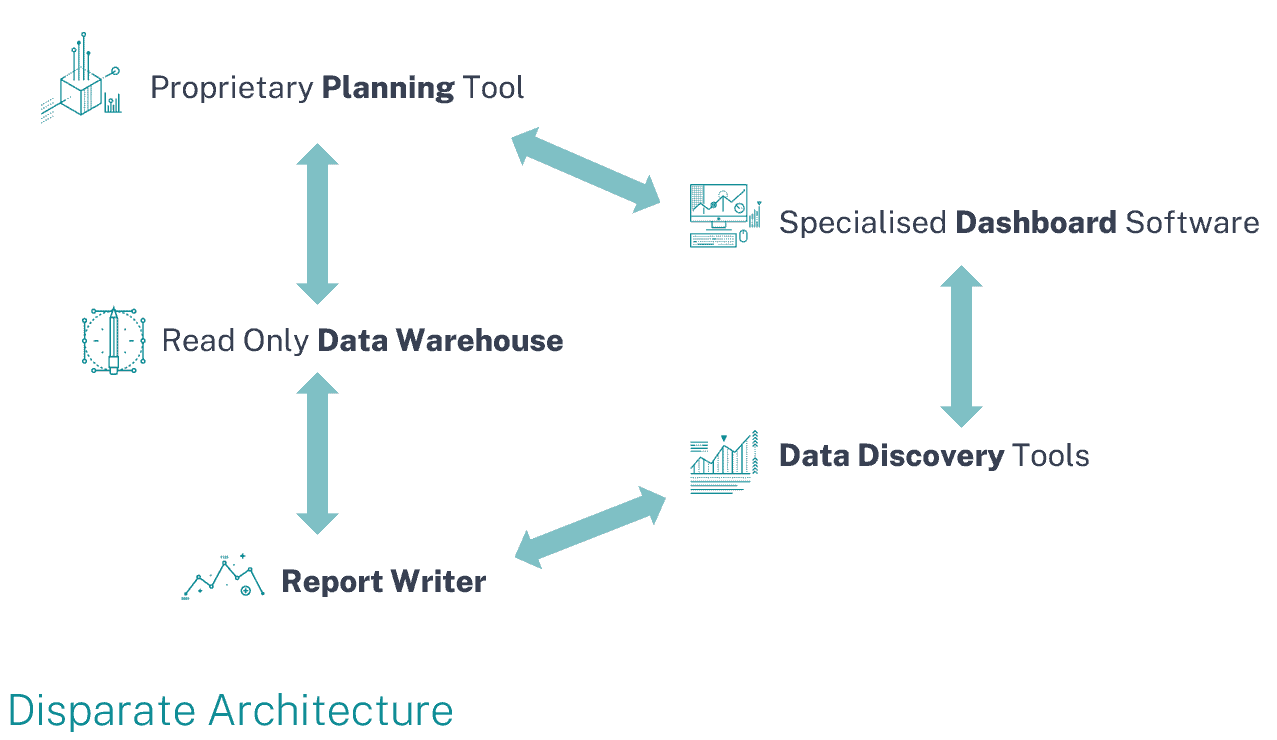 The Software Ingredients
In most enterprise cases the core technology part of the process is a data warehouse or a central data model often using one of the main RDBMS (Relational Database Management System) platforms (e.g. Microsoft SQL Server, Oracle, Snowflake etc.). This is in nearly all cases is a "read-only" environment. So, the users on the business side (finance, marketing, operations, etc.) must find another application for their requirements.
Spreadsheet or Expensive Specialized Application
For the "less well-heeled", the standard is more or less a manual spreadsheet solution, that typically takes a lot of effort to maintain. Organizations with higher budgets typically use specialized applications that cater in most cases only for some aspects of the process (a consolidation app, an analytics solution, a planning tool, etc.) with varying, often very high price tags (more details in this blog).
So, it is not uncommon that an organization after having invested a few million Dollars in a data warehouse, spends $3,000-4,500 per power user, per year on planning software to enable write back into a separate "planning database". Typically, proprietary technology is different from the relational database used in the data warehouse.
Prior to commodity self-service solutions like Power BI and Tableau users would spend another $1,000+ for licenses for that.
And this is just the software portion…
Expensive, Rare, Specialized Knowledge
To make all this work in nearly all cases expensive, outside consultants with daily price tags ranging from $1,500-$4,000 are needed that often exceed the software investment manifold. Quickly adding up to hundreds of thousands of dollars investment.
The Plumbing
These consultants are not just required to configure the respective performance management component but also to bring it all together again.
The data warehouse data must be loaded and synchronized with the planning, consolidation or other specialized applications, then when finished often back to the data warehouse.
The Big Bill
All in all, adding up to an excessive cost bill and unnecessary efforts for maintaining performance management processes.
A Better Approach
At Acterys our preferred approach is focused on unifying all performance management processes on a single architecture with a single data store: "the planning enabled data warehouse" based on relational storage: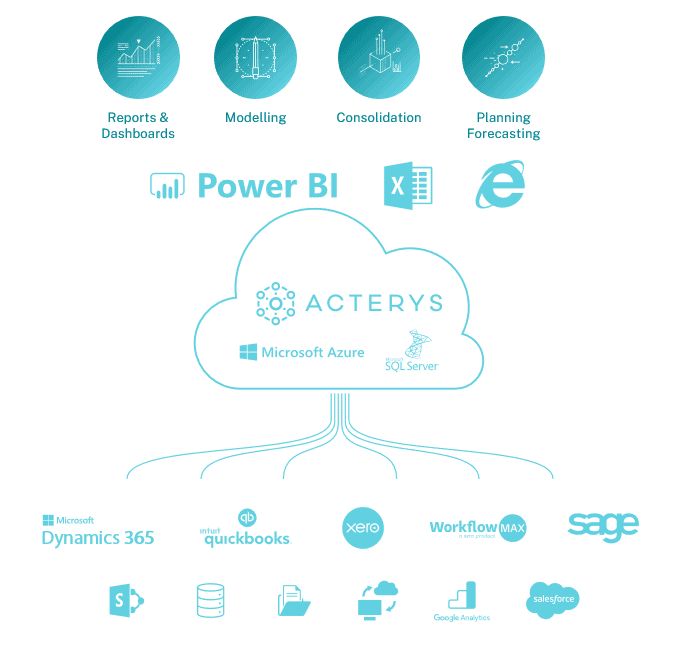 Relational databases have tremendously evolved over the last few decades, with the elastic capacity of the cloud, in-memory processing, column store indices etc.
They perfectly cater for all necessary requirements from detailed transaction orientated ones (e.g. for HR planning that legacy, proprietary OLAP databases cannot easily deal with) to highly summarized multi-dimensional ones.
On this single platform the Acterys engine adds:
ERP/SaaS Integration: Automated processes to generate and update data models optimized for analytics and planning
An engine to handle high performance, multi-user, write back with comprehensive planning features: driver-based, top-down/bottom-up, AI/ML supported.
Business user-driven modelling: users without special SQL or other technical knowledge can build, update, and maintain their performance management models and processes
Ready-made best-practice templates for: reports, planning, consolidation, and other performance management workflows
The Benefits
Leverage Investments
This approach enables companies to leverage in many cases to leverage the architecture, security policies. Either in the cloud on the market-leading Azure platform or on-premise with standard MS SQL Server.
Leverage Knowledge
Build on your existing knowledge or use widely available knowledge pools without being "held at ransom by specialized application provider consultants.
Process efficiency & simplification
All your data is in one place no need to move data around between different data stores and application
Integration into existing Office Productivity
The Acterys approach natively integrates with the productivity solutions that the users utilize in the process: from Power BI, Excel to the latest workflow automation solutions that the Power Platform provides.
Conclusion
Over the last 5 years, we have implemented this approach at hundreds of clients around the world who at a minimum were able to reduce costs at a minimum by 50% on all levels, software, service, and maintenance.
The following table shows a simplified breakdown for a 20-Planner User scenario:
Position
Cost (USD)
Unified Approach
Relational Data Warehouse / Centralized Data Model
Similar investment – Acterys offers automated data warehouse generation for many systems, respectively business user driven wizards that greatly facilitate the implementation for any source.
Acterys Unified Approach Software license cost (p.a.)
$10-$40k
Average Specialized Planning Solution Software (p.a.)
$30-$70k
Average Specialized Consolidation Software (p.a.)
$30-$70k
Consulting Initial (once off)
$140k (1:2 Software vs Consulting)
$20k (1:1 Software vs Consulting savings through existing knowledge in organisation and cheaper generic knowledge)
Ongoing External support p.a.
$20-30k outside specialist support
Business user controlled, existing internal resources
Total Year 1
$220-310k
$30-60k
Savings
$190k-$250k (~80%)
Key Takeaways
Performance management processes often involve disparate and expensive solutions, resulting in high costs, inefficiencies, and complex maintenance.

Traditional performance management solutions include data warehouses, specialized applications, spreadsheets, and costly consultants, leading to significant expenses.

Acterys offers a unified approach, consolidating all performance management processes on a single architecture with a relational data store.

This approach leverages existing investments, knowledge, and integrates with productivity solutions like Power BI, Excel, and workflow automation tools.

Clients adopting the Acterys unified approach have experienced cost reductions of at least 50% across software, service, and maintenance.
FAQs
1. Why do organizations use disparate applications for performance management?
Many organizations rely on a mix of tools, such as data warehouses, spreadsheets, and specialized applications, to manage their performance management processes. This leads to inefficiencies, high costs, and a lack of integration.

2. How can platform unification benefit organizations in terms of cost savings and efficiency?
Platform unification involves consolidating all performance management processes onto a single architecture with a unified data store. This approach reduces costs, leverages existing knowledge, streamlines processes, and integrates with existing productivity tools, leading to significant cost savings and increased efficiency.