Gone are the days when decision-makers relied on weekly or monthly installments of accounting data and used manual Excel-based planning processes for planning and forecasting.
In the post-pandemic world, speed is of essence and flexibility is all the rage when it comes to responding to changing dynamics of consumer demand and the global market. To stay ahead, CFOs and business leaders need to work with self-service solutions that provide insights based on real-time data and tell the story about their business's current performance right up to the minute – not what it was a few hours or days ago.
Modern software, like Xero, MYOB, and QuickBooks, have streamlined accounting processes significantly. But the output of these software is still an Excel workbook. Business teams continually find themselves tangled in the spreadsheet cobwebs and struggle with integrating data from multiple accounting, ERP, CRM, and other information systems into their FP&A and xP&A processes (Extended Planning & Analytics).
Accounting firms can jump this opportunity to untangled FP&A teams and partner with advanced EPM solutions, like Acterys, that can automate consolidation, simplify planning, and speed up reporting and analytics for clients.
Acterys – Your Firm's Right-Hand Man in Extended Planning & Analytics (xP&A)
If your accounting firm is setting out to offer financial planning and advisory services, Acterys provides the complete toolset for end-to-end business performance management. The platform lets you connect as many entities as needed to populate reports and analytical dashboards with up-to-date accounting data directly on Power BI. It comes with ready-made reporting templates that are fully customizable and write-enabled to suit your clients' financial reporting and planning.
Once Acterys is implemented in your clients' reporting environment, decision makers can seamlessly drill down and through data to identify opportunities, avoid potential pitfalls, and plan for a reality that ensures optimal business performance. Since Acterys embeds planning capabilities in Power BI, your clients can have the flexibility and convenience to get a holistic view of their business KPIs on the go, even on their mobile devices.
Let's dive into some of the key xP&A use cases you can manage for your clients with Acterys Power BI:
Planning, Budgeting & Forecasting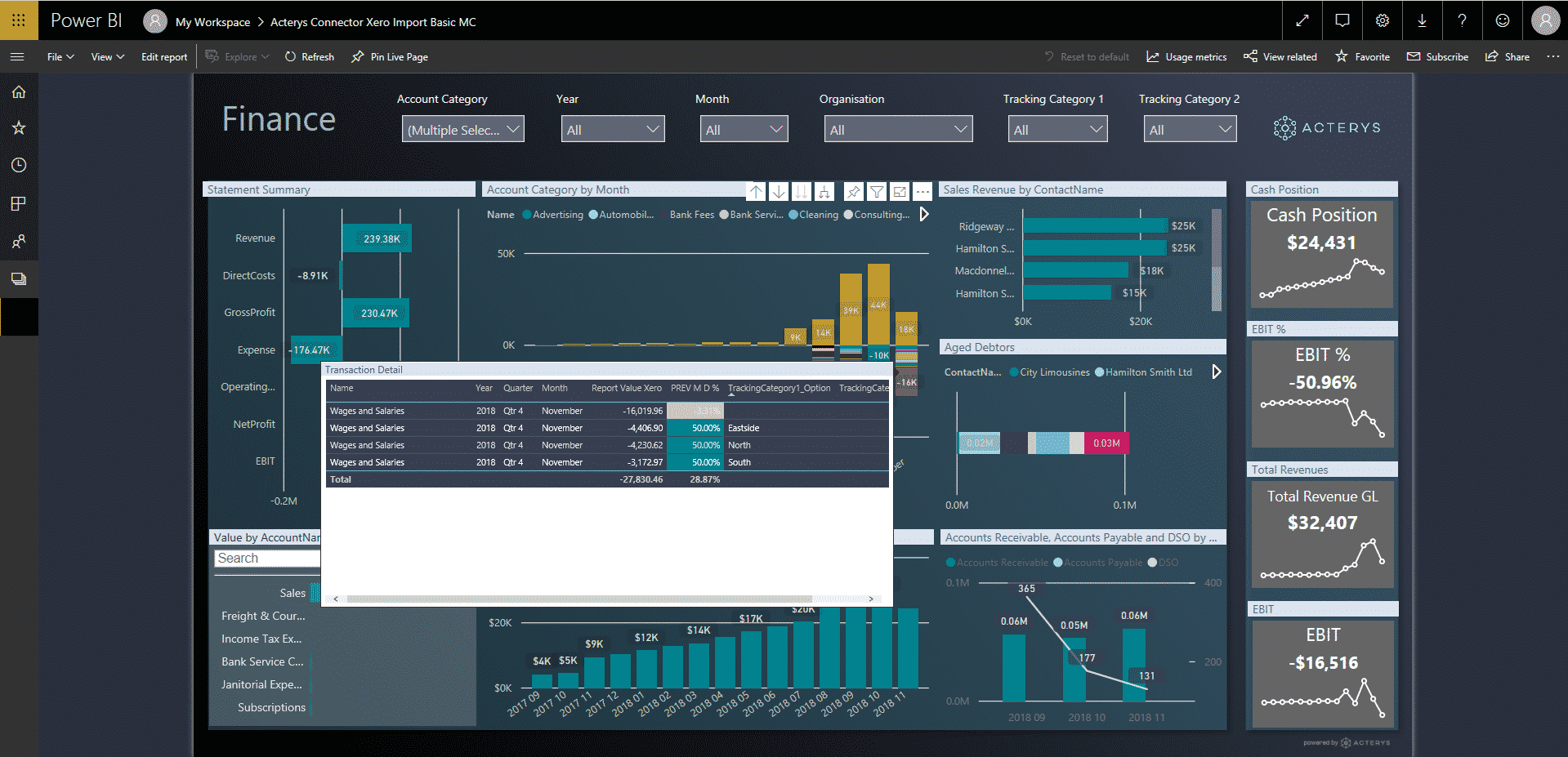 Bring speed and accuracy to your PF&B processes and react to changing market dynamics now instead of tomorrow with Acterys Apps. You can instantly connect as many business entities as you like and automate data consolidation into a single data warehouse.
From there, build customized models that deliver just the data needed for planning to achieve long and short-term goals, creating budgets and allocating resources, and forecasting accurately to maximize opportunities with just a few clicks. With table editing and visual planning capabilities, see how financial numbers can impact a single business unit or process or the entire organization in real-time.
Want to See How Planning at Hyper Speed Feels Like?
Take Acterys Power BI out for a test drive now!
Start Free Trial
Financial Close and Consolidation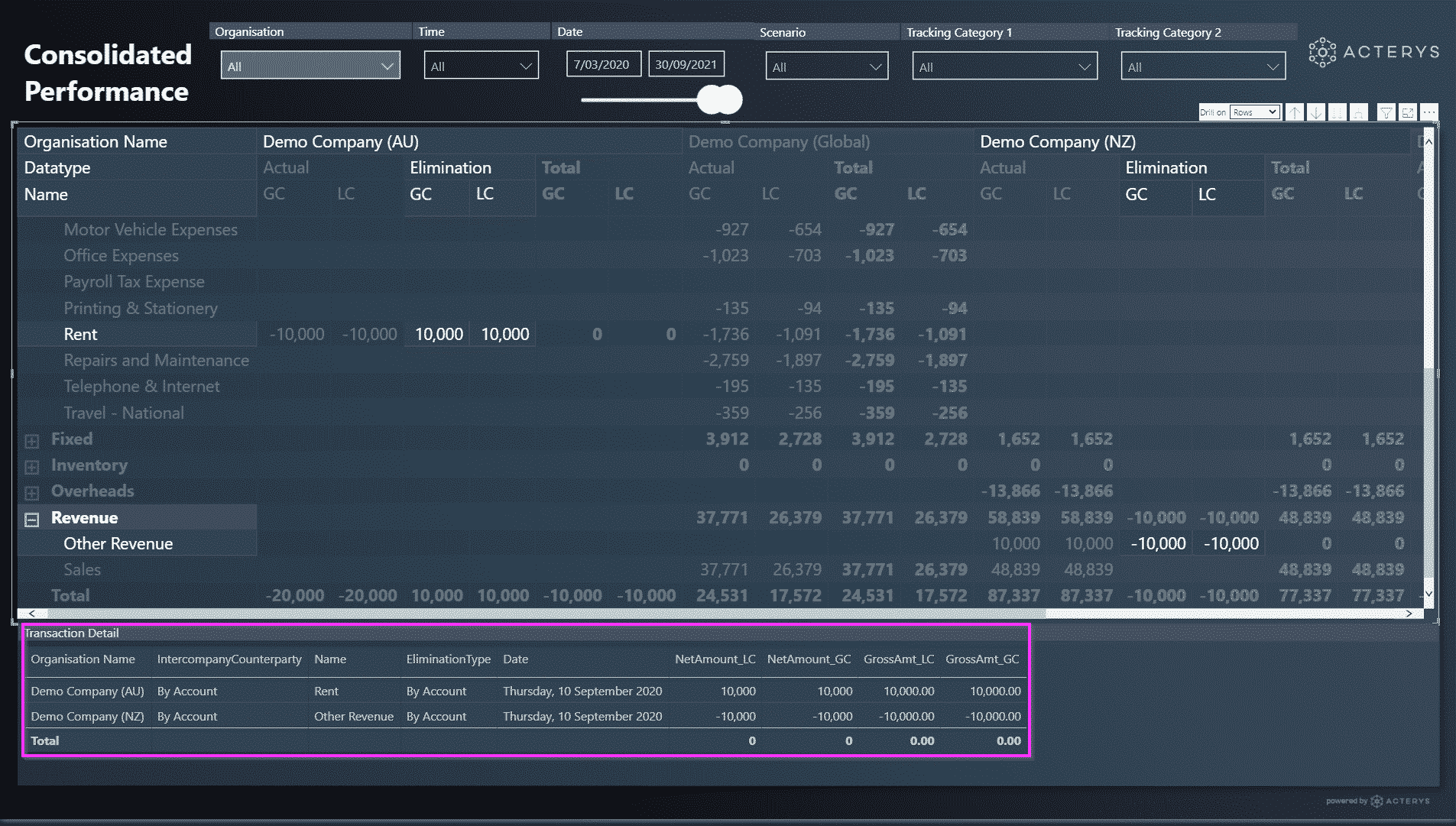 Accounting systems are the primary suppliers of financial data for organization-wide reconciliation and closing processes. But with multiple legal entities, currency translations, and account structures involved, manual spreadsheet processes make it daunting and time-consuming to consolidate data from multiple sources and carry out reconciliations at the department and company level during the close period.
Acterys is a single, integrated platform that covers the entire financial close and consolidation lifecycle and helps link reports with your planning, budgeting, and forecasting processes. Thanks to write-enabled and AI-driven planning capabilities, your clients can easily perform cumulative translation adjustment, intercompany corrections and eliminations, and reporting without external help. With robust workflow features, you can help perform all financial close and reconciliation tasks confidently using the most up-to-date accounting data in FP&A processes.
Watch: Reporting, Consolidation, Planning & Forecasting in Power BI + Excel
Cash Flow Planning and Forecasting
Having timely maintained accounts payables and receivables and complete visibility of your cash flow ensure you are protected from a liquidity crisis. With cash flow forecasting, your accounting firm can help clients to maintain a positive working capital all through the year so that they can meet all financial obligations without any delays or implications.
Since Acterys offers continuous connectivity with all ERP & accounting systems, clients can see a complete picture of their cash position across every business unit. With a central data model holding all the financial data, the solution further enables building cash flow reports with just a few clicks and projecting the company's financial position over multiple periods. In addition, the AI-enabled visual planning capabilities help perform scenario analysis and forecasting by simply clicking and dragging values on graphs and charts.
Watch: Implement Impact Analysis & Cashflow Forecasting and Planning with Power BI
Scenario Planning/What-if Analysis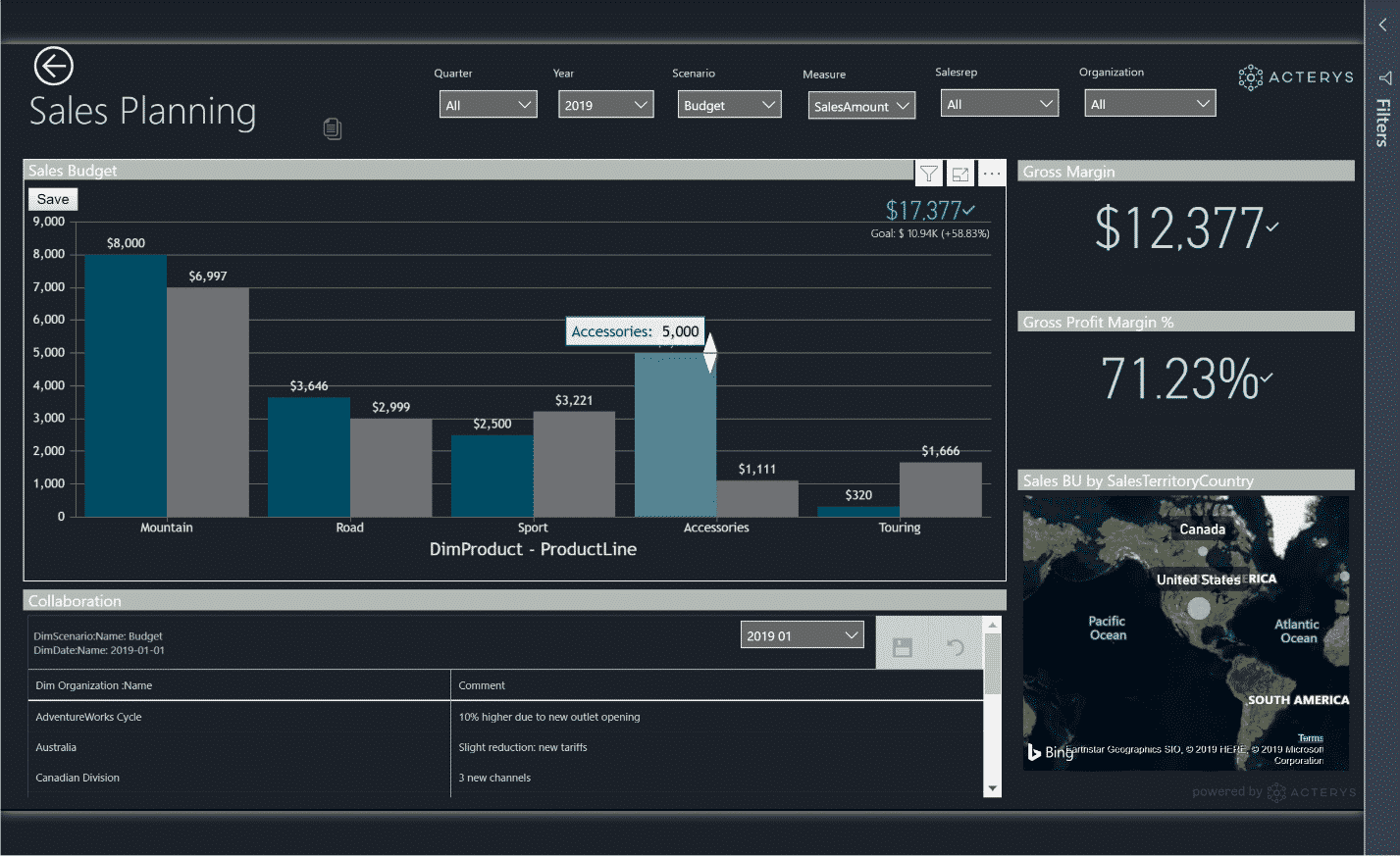 To plan for the future, businesses need to factor in hundreds of known business drivers and unknown variables inside and outside the organization. With an integrated FP&A platform, you can automate manual planning, perform multi-dimensional what-if analyses, and build scenarios with speed and accuracy, allowing business leaders to make the right call when it matters most.
Acterys enables you to create elaborate models based on real-time and historical data and grants you clairvoyance to plan for potential outcomes with confidence so that your clients can quickly adapt as they get close to reality. With its powerful visual planning and consolidation capabilities, accounting firms can instantly integrate critical datasets, see financial results on an aggregated or granular level, factor in unexpected externalities and create versions of your company's best financial future.
Watch: Scenario Management in Power BI with Acterys Copy
What Acterys Brings to the Table for FP&A Success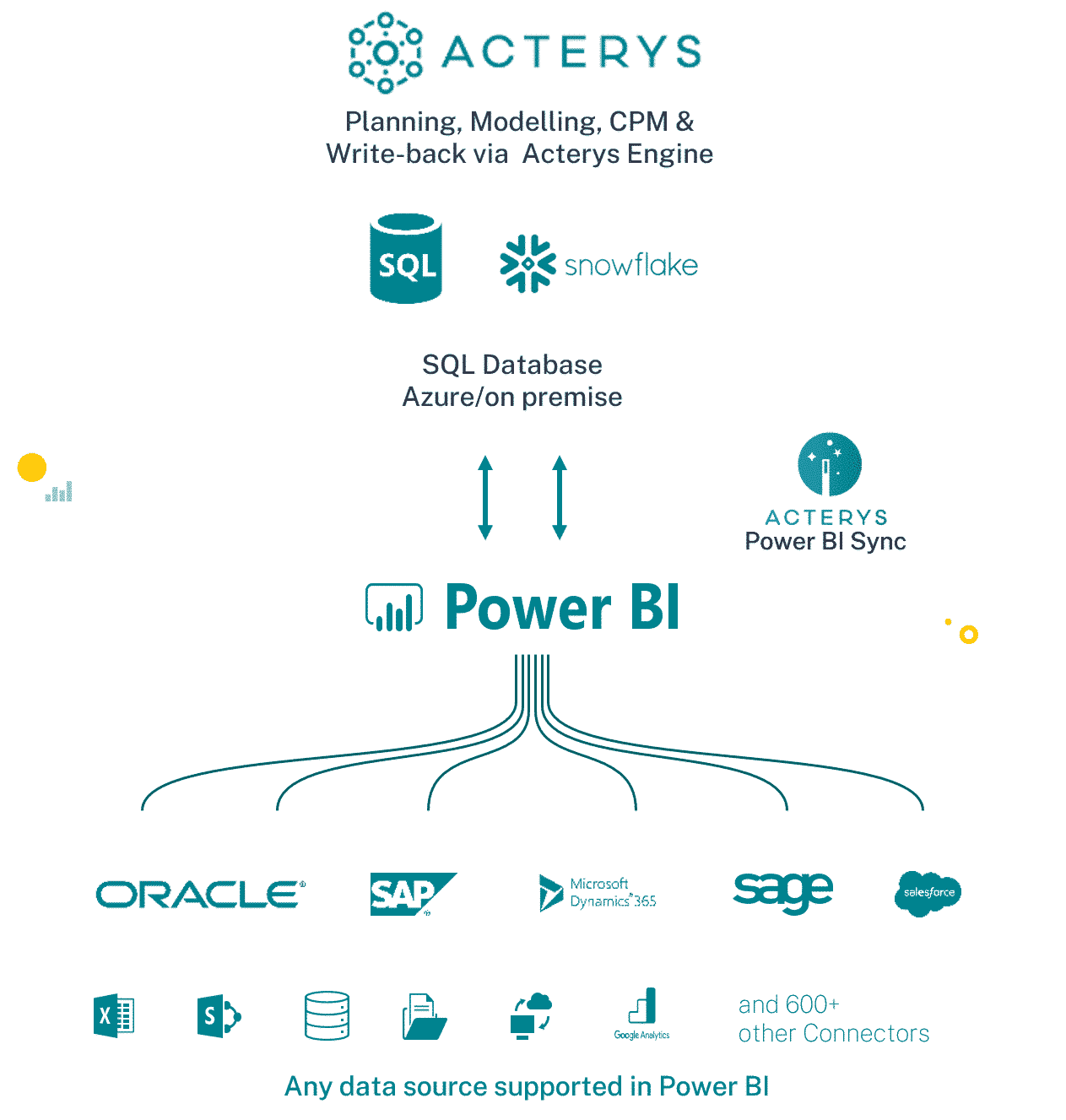 All-in-one Solution: A single unified platform to consolidate data, transform it into interactive reports, and manipulate it in real-time for planning and forecasting with market-leading SQL Server technologies (Azure & on-premise)
Instant Connectivity: Get started in minutes with one-click ERP/accounting software connectors or use our proprietary Instant Link technology for easy integration with all your source systems
Smart Data Warehouse: Dedicated SQL-based data warehouses containing all the clients' accounting data from linked Xero, Workflow Max, or MYOB entities, which can be scheduled for real-time data using Acterys Power Sync.
Write-enabled Planning: Power BI Apps and Custom Visuals focused on write-back and planning, a two-way (read/write) Excel integration and best practice process templates
Built-in Workflows: Easy to use, automated workflows for cost center, HR, CAPEX, cash flow budgeting and forecasting as well as legal consolidation
Ready-to-Use Templates: Use fully editable Power BI financial reporting templates, as well as Power BI custom visuals that enable comprehensive planning features and editing directly on your Power BI report.
Fluid Collaboration between Teams: Enjoy an integrated ecosystem of the latest Microsoft technologies like Teams, PowerApps and Flow that allow you to set up real-time collaboration, powerful workflows and tailored mobile/web analytical applications
Take the Leap into the Financial Planning World with Acterys
The increasing volatility of the global market due to the pandemic and rapid shifts in consumer behavior has rendered the manual, spreadsheet-based financial planning models obsolete. It's time for accounting practices to up their game and infuse agility when providing strategic financial planning services to make the next surefooted business move.
Join hands with Acterys to complement your financial planning and advisory services with its best-in-class business performance management solutions. Get in touch with our solution experts today to see the many ways we can add value to your accounting practice.
Need Tailored Reporting, Planning & Analytics Solutions?
Talk to our solution experts now
Book a Meeting