Retail sales in November 2022 rose 4.5% YoY. Senior Industry Analyst Ted Rossman explained that this rise "marks the slowest year-over-year retail sales growth since 2020,". This shows that the pandemic significantly impacted consumer behavior, market demand, and supply chain operations. As retailers and manufacturers try to rebuild responsibly in a post-pandemic world, the importance of effective inventory planning has never been greater.
Forecasting optimal inventory levels is a big part of inventory management. It helps retailers and manufacturers minimize the fear of having too much or too little inventory during the forecasted period. However, it is also one of the most difficult tasks to get right.
In this blog, we cover some basics about inventory planning: what it is, why do you need it, and what are its benefits and challenges. Let's get started.
What is inventory planning?
Inventory planning is defined as the process of:
Determining the most optimal restocking strategy for a business to meet customer demand, reduce costs and increase profitability.
Inventory is one of the most important assets of a business – whether it is in the form of raw materials, in-progress items, or finished goods. Planning inventory is simpler when a business sells a few products to limited customer segments. As a business expands its product offerings and spreads across the globe, basic inventory planning techniques become useless; it gets more complicated to understand the right balance between your restocking strategy and the cost-to-serve the forecasted inventory requirements.
3 aspects to optimize for an inventory plan
An inventory plan helps you to answer a basic question:
What to order and how often to place orders?
A good inventory plan helps you to answer this question while optimizing other significant business parameters, such as:
Reducing the overall costs associated with inventory management, for example, out-of-stock or overstock situations, as well as storage, shipment, supplier, and service costs, etc.
Aligning inventory replenishment with long-term business goals and objectives of revenue growth and profitability.
Meeting market demand to enable customer satisfaction and loyalty.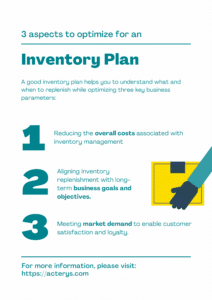 Why do you need to plan your inventory?
In a data-driven world, it is detrimental for a business to rely on guesses and assumptions about customer demand. Today's inventory planning is a more sophisticated endeavor, requiring careful consideration of both the amount and kind of stock required at key points in time. A successful approach to managing supply can yield significant benefits for any business. It is also about connecting your inventory investment plans to overall corporate performance so that you can find answers to bigger questions like:
Which customer segments are the most profitable and require bigger inventory investments?
Where to hold inventory in the supply chain and in what quantities?
What are the potential impacts of varying demand, supply, and other factors on inventory levels?
Which product categories require safety stocks to prevent stockouts?
Which warehouse locations can potentially minimize inventory lead time and holding costs?
Simply put, the main objective of an inventory plan is to meet customer demand while remaining profitable. Efficient warehousing, accurate inventory forecasting, and improved cash flow management play a big role in making that happen.
Benefits of inventory planning
You might create an inventory plan to forecast optimal inventory levels, but the process offers numerous other benefits. Some of the most common benefits include:
1. Reduced costs
Accurate inventory forecasting and planning can help reduce unnecessary costs incurred, due to:
Overstocks: This is the surplus inventory that you purchased but failed to sell. As time passes, overstocks are labelled as deadstock because they either expire or go out of season.
Oversells: This is the inventory that your customers purchased – probably through an online channel – but it did not exist in the warehouse. This increases costs as you may run to make last-minute purchases or end up returning money to customers.
Stockouts: This is the inventory that customers came to buy from your store but did not find what they were looking for because the product was out of stock. This leads to unhappy customers who start looking for other options in the market.
Holding and damage: Another preventable cost is holding and moving inventory. Between suppliers, warehouses, stores, and customers, inventory must be managed and stored effectively to avoid inventory damage.
2. Satisfied customers
With enough inventory on hand to meet demand, you can prevent unfavorable situations like oversells and stockouts to satisfy customers. Advanced demand and scenario planning techniques can help business leaders determine how certain products may perform in different customer segments and the impact of varying factors such as seasons and trends on customers' purchasing behavior. Those insights can lead you to build personalized customer experiences and plans at different stages of the customer journey.
3. Improved business planning and performance
Inventory planning plays a huge role in the rise or fall of your business performance. Whether you want to remain within budget, gain a competitive edge in the market, increase sales and revenue, or enter a new market segment – everything is tied to accurate inventory planning and forecasting. For this reason, it is imperative for companies to analyze inventory drivers and correlate them to business success.
Moreover, by identifying and building such connections among inventory replenishment, product development, and marketing and sales operations, you can enable integrated business planning across the entire organization.
4. Managed omnichannel inventory
As your business continues to thrive and expand, diversifying sales channels can be a great way to increase overall retail success. By opting for an omnichannel experience, businesses face unique obstacles when modernizing their inventory and supply chain systems. For example, you decide to display most of the inventory in a physical store – only to realize that the forecasted demand came from online sales and the inventory should have been held in a distribution center.
To resolve such challenges, you need to have true visibility of your inventory levels and their sales across channels. By utilizing sophisticated methods to optimize and plan your omnichannel inventory, you'll be able to gain a better understanding of future demand across all sales channels while gaining key insights into their performance.
5. Integrated supply chain
Supply chain management today has become quite complex as it involves multiple distribution networks. Businesses need advanced techniques like multi-echelon inventory optimization that help manage inventory levels between different centers. By leveraging the power of data analysis, you can optimize your inventory allocation strategies to ensure that customers get their orders faster and at a reduced cost. This will enable significant savings in delivery times as well as travel expenses, allowing for improved customer satisfaction rates. An effective inventory optimization strategy can be a powerful tool to maximize profitability driving your bottom line upwards.
Finance Transformation for Agile Planning & Reporting
Discover how finance transformation facilitates dynamic planning processes
Read Whitepaper
Challenges to inventory planning
When companies decide to invest their time and effort into inventory planning, they may come across several challenges. To select a suitable strategy, technique, and tool for your inventory planning requirements, you must consider these challenges to understand how they can impact your plan and how you can potentially resolve them.
1. Disconnected data systems
Most businesses have their data spread across multiple applications, databases, local files, and servers. When forecasting demand and optimal inventory levels, data must be pulled from all necessary locations, otherwise, you may end up basing important decisions on incomplete information. Disconnected data systems are the main reason behind inaccurate forecasts, poor communication between different business departments, and inefficient resource utilization.
To overcome this challenge, you need to opt for a solution that offers the functionality to:
Connect to any data application or SQL database,
Extract necessary data points,
Consolidate them in a new database,
Create data models, and
Generate customized reports and analytics.
2. Outdated demand planning and forecasting techniques
The retail and supply chain management industry experienced some inevitable changes during COVID. Nowadays, simple, and straightforward forecasts do not account for future unpredictability, possible variations in customer demand, and the impact of inventory drivers.
For this reason, businesses, more than ever before, must utilize probabilistic and continuous demand forecasting techniques, like scenario planning, driver-based planning, rolling forecasts, and prescriptive analytics. The goal should be to account for all possible outcomes so that you can create flexible forecasts that can be changed as market and economic changes are encountered. These changes can include product shortages, delayed lead times, supply chain problems, insufficient warehouse capacity, seasonal changes, trend hype, and so on.
3. Lack of automation
Forecasting optimal inventory levels can be quite difficult, especially if your team doesn't have access to a tool that automates labor-intensive tasks like data extraction, transformation, consolidation, and modeling. You may end up spending hours manually connecting data sources and getting the required information in one place. By the time you come to act on it, any data gathered is out of date.
Apart from this, automation can provide a lot of operational benefits to your business, such as enabling automated triggers and workflows for placing orders when reorder points are reached or alerting necessary staff to collect and move inventory when the stock reaches the warehouse.
Want to See How Planning at Hyper Speed Feels Like?
Take Acterys Power BI out for a test drive now!
Start Free Trial
Conclusion
Inventory planning is crucial to determine the right balance between customer demand and business profitability. Modern organizations are adopting solutions that enable flexible, user-driven planning, budgeting, and forecasting. Such systems allow you to prepare for the future and meet business goals and objectives at the same time.
You can sign up for a 14-day free trial of Acterys today and see how it enhances your inventory planning process and outcomes.
Check out our second blogpost where we share the four cornerstones of a solid inventory plan and practical tips on getting them right.