Given the high volatility of today's global market, prices have been consistently fluctuating across all upstream and downstream supply chain processes. As a result, demand volume prediction with comprehensive 'what-if' analysis for price changes has become more important than ever for supply chain management.
The Role of Modern Power BI Procurement Planning Solutions
A recent study shows that CPOs and Chief Supply Chain Officers are aware that a professional procurement performance management tool provides valuable insights into business strategy problems and supply chain issues. The more procurement departments are supported with all necessary information and analysis, the better they perform in their key task: to timely acquire goods and services to fulfil the company's strategic objectives. Modern planning solutions come with process optimization and automation features that help free up time and reduce costs while allowing procurement managers to be better prepared for negotiations with suppliers.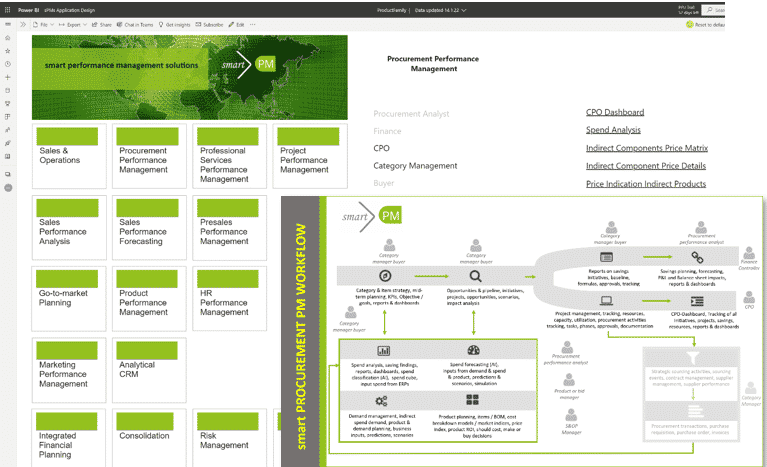 Procurement PM as an essential part of xP&A, guided PPM workflow
Spend Analysis for Higher Cost Savings
Whereas CPOs define top-down saving targets, procurement analysts and finance teams monitor direct and indirect spend and saving initiatives they are in charge of.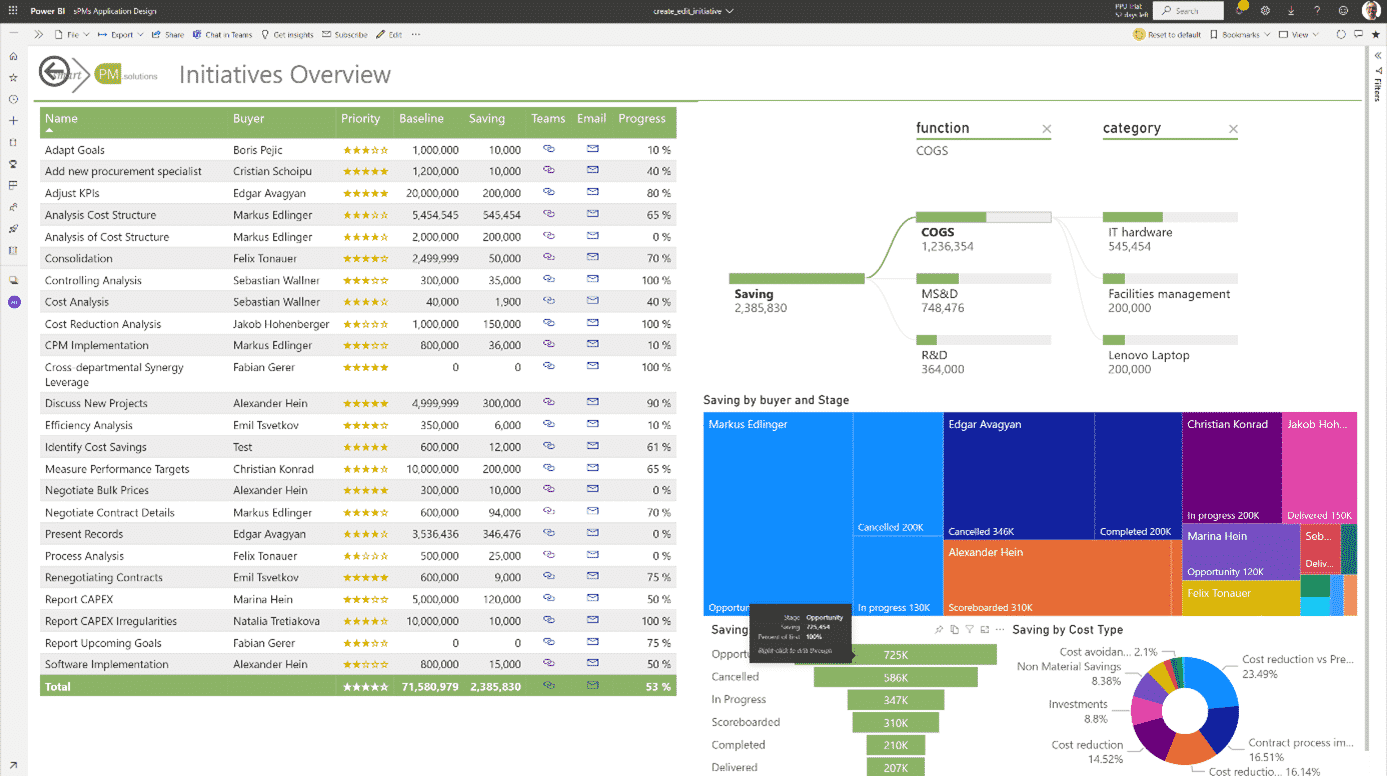 Top-Down Spend/Savings Targets & Initiatives
Monitoring actual spending, savings, and suppliers is certainly important, but balancing supply & demand is crucial in S&OP and SCM as well. Combining Acterys AI-enhanced planning capabilities and smartPM's PPM module, businesses can factor in external price forecast sources to simulate direct and indirect price and volume changes across several dimensions like category tree, product, material/cost driver, region, supplier, and many dimensions more.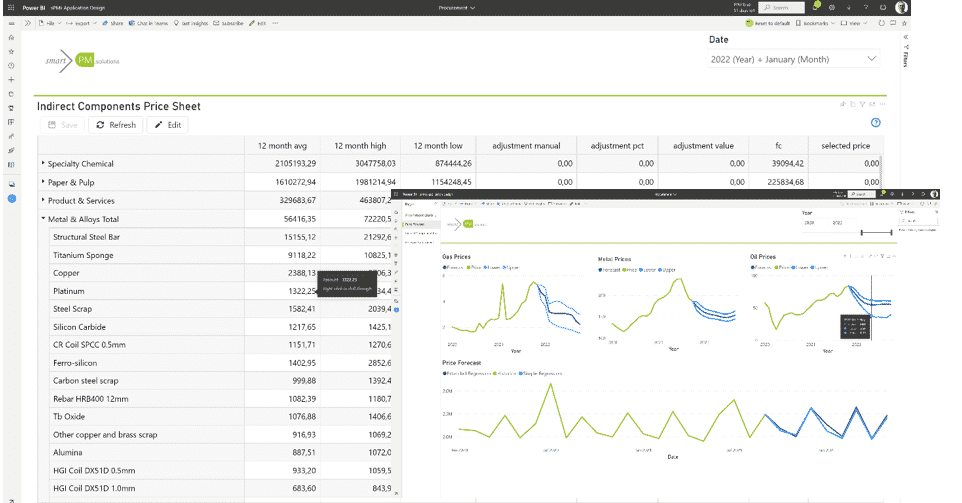 Component prices (Actuals, Low/High, Forecasts) and forecast boundaries
Blending Sales Forecasts with Procurement Demand
With the right procurement planning tool, sales forecasts can be translated into procurement demand via the Bill of Materials ("BOM"). Expected demand from sales can be balanced with production capacity, allowing procurement managers to make accurate demand volume predictions. As an added bonus, Acterys provides integration wih online collaboration tools, like MS Teams, that facilitate seamless collaboration and task alignment for quick target achievement.
The solution fosters seamless collaboration among SCM, Procurement, and S&OP departments, leading to pro-competitive effects. It enables all internal and external experts/stakeholders to work on the same data, have common goals, and contribute as a team to achieve strategic objectives.
Thus, Finance, S&OP, SCM, Procurement, Production & HR are on the same page regarding target achievement and enterprise performance. All loose ends of typically scattered information can be connected in a truly integrated business planning framework ('extended Planning & Analysis, xP&A').
As a bonus, check out the first session of Acterys' new xP&A Fireside Chat series. Martin Kratky has an insightful discussion with Alexander Hein from smartPM.solutions on integrated procurement planning and optimizing performance management processes:
About the PPM Solutions
This procurement performance management solution has been implemented by smartPM.solutions using the Acterys platform. Acterys provides write-back enabled and AI-enhanced planning capabilities in Power BI, enabling users to perform consolidation, reporting, and analytics with ease and speed. This PPM solution provides multidimensional spend analysis, price/volume forecasts with baked-in AI, risk monitoring, initiative tracking, contract analysis, savings forecast, and seamless integration into S&OP.
If you'd like to see how you can implement this solution to optimize procurement performance and build an integrated business planning framework, get in touch with our solution experts today. Or you can start a free trial here.