In the face of global economic turbulence causing widespread disruptions to supply chains, companies are diligently scrutinizing market dynamics to gain insights into consumer behavior and improve demand prediction. Amidst these uncertain times, in-depth demand planning analytics emerges as a crucial strategy for controlling operational expenditures, guaranteeing pleasing customer experiences, and securing long-term profitability.
How do you harmonize your demand planning with production, sales, and inventory management strategies amidst the ever-changing conditions of the supply chain? What are the ways to leverage the advantages of demand planning to streamline and automate this complex process?
Let's dive right in and uncover all the essential details about demand planning and learn how businesses can effectively leverage it.
What is Demand Planning?
Demand planning is a vital supply chain management process that enables businesses to accurately forecast their future demands while simultaneously aligning their product or service output according to the market needs.
Businesses leverage demand planning insights to analyze sales, consumer trends, seasonality, and historical information. It enables predicting demand for products and services, managing inventory and production, allocating resources, and making informed decisions in case of sudden supply and demand changes. These strategies can help businesses take advantage of potential opportunities for higher sales and maximize their profitability.
Demand planning utilizes internal and external sources and then incorporates sales forecasting to predict the future supply and demand ratio. This helps businesses strategically position their business to meet the changing market condition and rapidly evolving customer needs.
5 Best Practices for Planning, Budgeting, & Forecasting
Download this whitepaper to discover the perfect recipe for driving Planning, Budgeting & Forecasting transformation.
Read Whitepaper
Importance of Demand Planning – Driving Successful Forecasting & Optimization
Efficient demand planning is crucial to successful supply chain management. It enables companies to understand the relationship between optimal inventory levels and consumer demand, providing key insights to achieve increased profitability and customer satisfaction.
As per a case study by , the fastener factory in the Boston region improved its service levels to the desired 95% and reduced inventory by 75% after implementing planning software for accurate demand planning. Prior to the change, the corporation had a surplus of inventory, with four times more than necessary. Additionally, half of the company's SKUs experienced significant seasonality.
While demand planning and forecasting offer numerous benefits, implementing the process can be challenging due to the need for collaboration among various departments. Nevertheless, their impact on the business's bottom line is substantial and cannot be overlooked.
For instance, excess inventory depletes working capital, increases inventory carrying costs, and heightens the risk of being left with an obsolete or near-zero inventory. Furthermore, the lack of demand planning can lead to critical issues, such as unexpected delays, inventory shortages, or costly product losses.
As such, demand planning is crucial due to fluctuating external factors, resulting in longer wait times and dissatisfied customers. Therefore, prioritizing the demand planning process can be a game-changer for businesses looking to thrive in today's competitive market.
Key Components of an Effective Demand Planning Process
Forecasting future demand for a company's goods or services is critical to demand planning. Implementing a systematic strategy is essential to produce reliable demand projections. Here are some of the most important elements that play a crucial role in accurately predicting demand forecasts.
1. Trade Promotion Management (TPM)
TPM is the process of managing discounts, rebates, and other incentives to maximize revenue, expand market share, and strengthen customer loyalty through strategic advertising and marketing. In retail, Trade Promotion Management allows businesses to plan, execute and analyze promotions to generate product demand, build brand awareness, and captivate customer interest.
In TPM, seamless collaboration with retailers, distributors, and other interested parties is common practice to develop promotional programs tailored to their unique needs. With well-managed trade promotions, companies can maximize their marketing ROI, boost sales, and generate revenue.
Importance of Trade Promotion Management
A strong TPM process benefits businesses by enabling collaboration with retailers and stakeholders to create custom ad campaigns that align with business goals. These campaigns are designed to resonate with target audiences, resulting in higher conversion rates, positive brand associations, and increased sales.
TPM also provides valuable insights into promotional budgets, identifying successful campaigns, and informing future resource allocation. As a result, implementing a robust TPM process can lead to better long-term results and increased sales while enhancing competitiveness in the marketplace and building closer relationships with retail partners.
Top-down and Bottom-up Trade Promotion Management
You can approach demand planning in one of two ways; a top-down or a bottom-up strategy.
Top-down TPM entails corporate-level goal formulation for marketing with subsequent resource allocation and campaign implementation. Contrary to this, the bottom-up TPM method entails researching customer habits and finding openings for targeted advertising efforts.
The top-down method allows for resource allocation based on overarching business objectives and a bird's eye view of marketing aims. However, it's possible that this approach doesn't cater to the demands of niche markets or particular consumers.
The bottom-up method may help businesses better focus their marketing by revealing niche markets and client preferences. However, this approach might lead to muddled messages that don't always reflect the organization's overarching goals.
2. Product Portfolio Management
Product portfolio management is the process of managing an organization's product catalog. It involves evaluating the performance of each product, identifying trends and opportunities, and making strategic decisions about supply and demand, manufacturing priorities, and future investment opportunities.
As a demand planning manager, managing a product portfolio without any strategic planning is a complex and challenging process. Product portfolio management is a crucial element of the demand planning process that involves evaluating and improving a company's offerings to serve consumers better and secure its financial future simultaneously.
Importance of Product Portfolio Management
Companies that dedicate time and resources to managing their product lines can:
Reduce expenses and maximize the use of available resources
Improve customer satisfaction by delivering high-quality goods and services
Keep ahead of the competition by monitoring market trends and adapting product offers accordingly
Invest in novel goods and services serving their long-term goals and customers' current needs to boost innovation
Scenario Planning in Product Portfolio Management:
Businesses often need to perform scenario planning to manage a product portfolio effectively. This involves developing multiple hypothetical scenarios to anticipate various possible outcomes. By employing scenario planning, companies can better foresee and respond to demand fluctuations, competitive pressures, and changes in customer behavior.
By leveraging this approach, businesses can improve their agility and resilience, proactively adapting to changes in the marketplace and optimizing their product mix to meet evolving customer needs.
3. Statistical Forecasting
One of the biggest challenges companies face is accurately predicting consumer demand. Businesses can use statistical forecasting to predict demand by analyzing past data and using statistical models. It also enables you to plan production, manage inventory levels, and allocate resources effectively.
Importance of Statistical Forecasting
By utilizing statistical forecasting for product line management, businesses can reap several benefits, such as:
Improved inventory management by accurately estimating demand, preventing stock shortages, and reducing unnecessary inventory expenses
Enhanced supply chain management by identifying the best production levels, lead times, and order quantities
Better strategic decisions for growth opportunities, new product launches, and market expansions by evaluating market potential, assessing demand fluctuations, and being informed about market trends
Accurate evaluation of possible uncertainties, variations, and disruptions to help businesses create backup plans and reduce potential risks
Enable businesses to make data-driven decisions, staying competitive in dynamic and rapidly changing market environments.
Techniques Used in Statistical Forecasting
Statistical foresight makes use of several methods:
| | | |
| --- | --- | --- |
| Method | Definition | Advantages |
| Absolute Percentage Error | A method of comparing the accuracy of a forecast against actual demand by calculating the percentage difference between the forecast and the actual demand. | Provides an easy-to-understand metric for evaluating accuracy |
| Time-Series Analysis | A technique used to analyze historical data to identify trends and patterns in demand over time. | Helps identify trends and seasonality |
| Regression Analysis | A statistical method that involves creating a mathematical model to predict future demand based on other relevant factors. | Identifies key drivers of demand & supply |
| Machine Learning | A form of artificial intelligence that involves training algorithms to analyze data and make predictions automatically. | Identifies complex patterns in demand and provides accurate and reliable forecasts. |
| Standard Deviation | A statistical measure that represents the degree of variation in a set of data. | Measures uncertainty and helps businesses make informed decisions about resource allocation and inventory levels. |
4. Collaborative Demand Planning
As part of the demand planning process, it is essential that all parties engaged in the supply chain work together to develop a consolidated forecast, a process known as collaborative demand planning. This method helps organizations better match inventory and production plans by providing a holistic perspective of demand. Data-driven insights from planning and analytics help stakeholders in collaborative demand planning make better choices and more precise forecasts.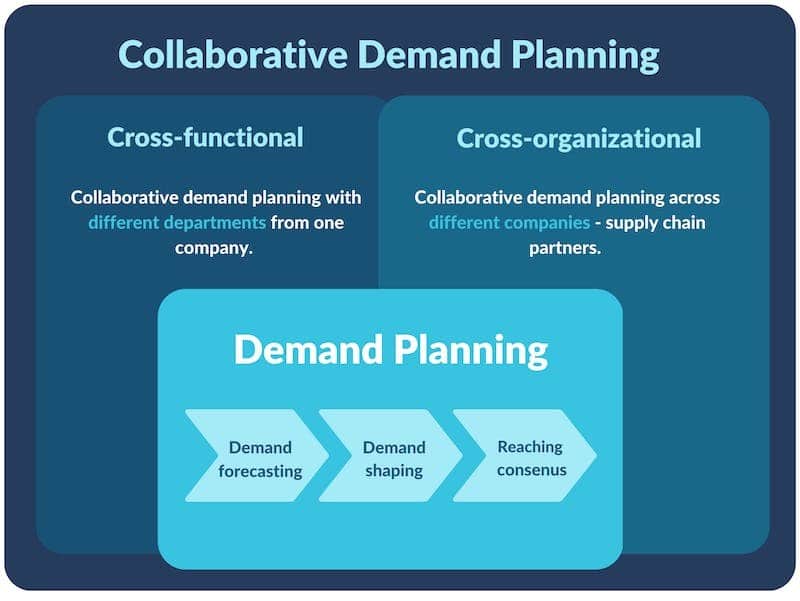 Advantages of Collaborative Demand Planning
Companies can reap substantial benefits from collaborative demand planning, such as:
Improved Accuracy: A more precise demand prediction results from improved data exchange among
Foster Better Communication: Collaborative demand planning improves communication across departments, allowing them to work together to achieve a single objective.
Optimal Inventory Control: Data sharing allows businesses to improve their inventory management practices, resulting in a more optimal stock level at all times.
Fast Response Time: This approach allows for rapid modifications to the supply chain in response to fluctuations in demand, increasing the likelihood that such fluctuations will be satisfied.
Increased Efficiency: It results in less wasted time and energy and better utilization of available resources.
Tools Used in Collaborative Demand Planning
Collaborative demand planning tools improve the supply chain processes through forecast precision, inventory optimization, and reduced lead times.
| | | |
| --- | --- | --- |
| Category | Description | Tools |
| Collaborative Planning and Forecasting | Help businesses to collaborate effectively, share data and insights | Acterys, Oracle Demand Planning Cloud, SAP Integrated Business Planning, Anaplan, Kinaxis |
| Inventory Management Systems | Allow businesses to optimize their inventory levels, reduce carrying costs, and improve customer satisfaction. | JDA Software, Manhattan Associates, Logility |
| Supply Chain Analytics Platforms | Gain insights into supply chain operations with these platforms and identify opportunities for improvement. | Tableau, Acterys, Power BI, IBM Cognos Analytics, QlikView |
| Customer Relationship Management (CRM) | Manage customer interactions, improve customer retention, and drive sales growth. | Salesforce, Oracle CRM, Microsoft Dynamics 365, Acterys, HubSpot CRM, |
| Communication and Collaboration Tools | Allow businesses to collaborate effectively and communicate in real-time. | Microsoft Teams, Zoom, Slack, Google Meet |
| Machine Learning and Artificial Intelligence (AI) Tools | Analyze large volumes of data and make accurate forecasts, predictions, and decisions. | IBM Watson Supply Chain, SAS Supply Chain Intelligence, Oracle Autonomous Database |
Best Practices for Collaborative Demand Planning
By adhering to the best practices, demand planning managers can accelerate business revenues and meet market demand effectively.
1. Establish clear communication channels
Successful collaborative demand planning and consolidation requires establishing open lines of communication between all parties involved. Effective cooperation and a common understanding of objectives and expectations are fostered through frequent meetings, well-specified procedures, and widespread access to essential information and data.
2. Set common objectives and KPIs
Key performance indicators (KPIs) and objectives help gauge the planning's effectiveness. For the process to be seamless, all concerned parties must agree on its scope, frequency, and format. In addition, the projections must be conveyed and updated in a defined manner, with clear roles and duties for all parties involved.
3. Continuously review and update forecasts
Collaborative demand planning is an iterative process that requires constant evaluation and modification. It is crucial to maintain flexibility and adapt quickly to changes in market conditions, buyer preferences, and other external variables. Keep your predictions up-to-date with new information to ensure their continued accuracy and market relevance.
4. Leverage advanced tech and tools
For an accurate inventory planning process, it's not enough to simply share data from the past and apply averages or trends. The global market's complexity and unpredictability necessitate employing cutting-edge forecasting tools like the Acterys Power BI platform. Machine learning and AI can also help factor in uncontrollable variables and provide predictions with varying degrees of certainty.
5. Measure and evaluate historical data
To ensure the success of forecast planning, it is important to cultivate a culture of transparent data sharing and honesty. Boost demand planning accuracy by inviting stakeholders to provide their insights, historical data, and market statistics with the entire collaborative body. The combined effort increases the depth of the demand factors and the precision of future projections.
6. Use a unified data source and platform
The demand forecasting process becomes significantly smoother when you have a single source of truth. For this, you require integrating and syncing data from multiple sources, such as enterprise resource planning (ERP), customer relationship management (CRM), point-of-sale (POS), and market research.
With tools like Acterys xP&A Suite, you can easily consolidate and model data, allowing for real-time visibility and analysis of the demand and supply signals while reducing the likelihood of data silos, duplication, and inaccuracies. In addition, the platform must accommodate a wide variety of languages, currencies, and units of measurement for the data to be standardized, verified, and safe.
Challenges of Demand Planning
Consumer pull is the main challenge in demand planning. As consumers evolve, so are the needs for quick delivery, instant response, and much more. As a result, businesses must be prepared to deal with frequent peaks and valleys in product demand.
Aside from this, there are several common challenges demand planning manager faces, including:
1. Dynamic Nature of the Market
In this fast-paced information age, industries are becoming more volatile than ever. Demand planning managers must factor in uncertain market conditions, including economic fluctuation, customer preference, disruptive events, etc., making adjusting demand plans challenging.
2. Seasonality Impact on Demand Variability
Many industries experience seasonality, meaning demand varies greatly depending on specific times and events. This creates challenges for managers who must allocate manufacturing capacity, manage inventory, and distribute resources to meet fluctuating demand and handle peak seasons.
3. Limited Accurate Datasets
Accurate and up-to-date data, such as sales records, market tendencies, and consumer feedback, is vital for demand planning. Unfortunately, fragmented data, missing documents, and limited visibility across the supply chain often hinder enterprises' access to such information.
4. New Product/Service Introduction
When a brand-new product is pushed into the market, it can take time to predict consumer demand. Therefore, to successfully introduce new products, it's crucial to use analysis and forecasting techniques. However, this can be challenging due to limited historical data, uncertain customer acceptance, and difficulty estimating initial demand.
5. Supply Chain Complexity
Complexity is infused in today's supply chains due to the multiplicity of vendors, factories, warehouses, and transportation hubs. However, achieving streamlined supply chain operations can be challenging due to the complexity of demand planning, timely replenishment, and managing inventory levels.
6. Forecasting for Global Operation
Multinational corporations face complexities in the demand planning process due to various factors. These include accounting for different currencies, complying with diverse regulatory frameworks, considering cultural norms, and analyzing regional market dynamics.
To overcome these obstacles and ensure successful demand planning, businesses must use tools and tactics such as cutting-edge data integration, planning, and analytics solutions, cross-departmental collaboration, and flexible and adaptable strategies to keep up with the volatile nature of the market.
Strategies for Overcoming Demand Planning Challenges
Businesses facing demand planning challenges must implement effective strategies to reduce forecast errors and streamline demand operations to align with changing customer demands and marketing dynamics.
1. Incorporate market intelligence
As a manager, it is important to stay updated on competitive intelligence, current market trends, and any changes in the industry. It is also necessary to monitor changes in consumer needs, advancements in technology, and any new regulations that could impact demand. Factor market data into demand planning procedures to confidently anticipate potential demand changes.
2. Integrate demand-sensing technologies
To deduce consumer demand, leverage real-time data sources, including data from social proof analysis, point-of-sale systems, and Internet of Things (IoT) sensors. Insights from these systems allow organizations to keep up with demand fluctuations, react fast, and modify their strategies as needed.
3. Implement Effective sales and Operation Planning (S&OP)
Implement a Sales and Operations Planning strategy that aligns the demand, supply, and financial predictions. This approach enables a balance in demand, promotes cross-functional cooperation, and facilitates scenario planning to optimize production capacity, inventory levels, and resource allocation.
4. Monitor and evaluate performance
Create KPIs to track demand planning's success and check in on forecast precision, stock levels, customer service indicators, and other metrics. Conducting a root-cause analysis can help identify forecasting errors and discover areas for improvement. Then, take action to enhance the possibility of stellar demand planning.
5. Embrace scenario planning and risk management
In demand planning and forecasting, anticipate and strategize for prospective risks. Create contingency plans, scenario-based forecasts, and work on creating risk-mitigation processes. It's crucial to assess the impact of future scenarios on demand to increase preparedness and resilience in unstable markets.
6. Enhance the forecasting technique
Using the forecasting techniques like time-series analysis, statistical modeling, and machine learning algorithms enhances forecasting precision by better capturing complex patterns of demand and factoring in relevant external variables. Adapt to the ever-evolving nature of the industry by routinely testing and updating your forecasting models.
Conclusion
In the modern business world, accurately predicting demand is essential for efficient supply chain management and providing excellent customer service. By utilizing advanced demand planning techniques and tools offering strategic planning visuals, organizations can improve supply chain optimization, forecast accuracy, stakeholder collaboration, and data-driven decision-making. This continued development of demand planning software has allowed businesses to improve the reliability of their forecasting.
Recap of Demand Planning
The ability to forecast and control future demand is essential for firms, making demand planning an essential function.
By utilizing demand planning, businesses can effectively manage product demand, inventory, production, and resources while making informed decisions in response to changing supply and demand.
Product portfolio management analyzes and enhances a company's products and services to increase customer satisfaction and ensure long-term success.
Statistical forecasting is a method of making educated predictions based on historical data and statistical models.
To ensure that supply meets demand, every link in the supply chain works together through collaborative demand planning to create a single, unified forecast.
Collaborative demand planning is facilitated by software like inventory management systems, supply chain analytics platforms, customer relationship management software, customer communication software, and software for machine learning and artificial intelligence.
Demand planning is complex because of several factors, such as the ever-changing structure of markets, the influence of seasons on demand fluctuation, the scarcity of reliable data, the introduction of novel products, the complexity of supply chains, and the need for precise forecasts for worldwide operations.
To overcome obstacles, businesses can employ several approaches, such as integrating demand sensing technology, implementing efficient S&OP, monitoring and evaluating performance, planning for different scenarios, managing risks, and improving forecasting based on market intelligence.
Future of Demand Planning
Supply chain and demand planning are among the numerous functions of a corporation that are becoming more digitized. This automated process in the supply chain has advanced to the point that it integrates many IoT sensors and xP&A solutions, like Acetrys, to make real-time adjustments to demand and supply. This allows for more efficient inventory management while still meeting demand.
Learning how to optimize a lean, agile, and data-driven approach using artificial intelligence and machine learning programs is a key skill for supply chain professionals looking to reduce operational costs, increase revenue, and gain a competitive edge.
Acterys – Get Unparalleled Demand Planning in Power BI & Excel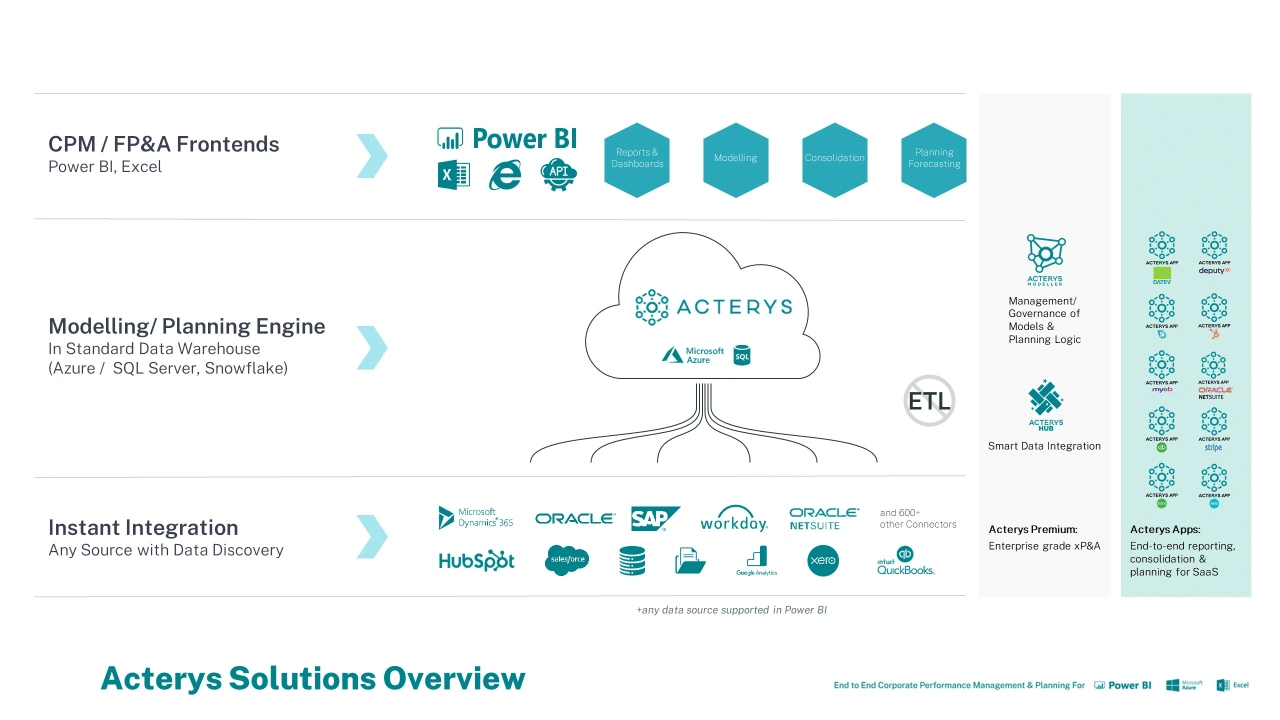 The Acterys platform provides proven, enterprise-grade planning and analytics solutions that support multi-dimensional modelling and forecasting simulations to handle your specific demand planning needs. It offers advanced features, like writeback & AI-assisted planning, smart data warehousing, multi-currency handling, automated data integration, workflows, and more, enabling your team to forecast demand and plan your next moves confidently.
With all these capabilities packed into a unified platform, you get a forecasting powerhouse that helps identify changing consumer patterns, sense demand signals, and predict possible market shifts accurately.
To help businesses get the best planning software for their specific needs, Acterys offers a guide to choosing the right planning tool. You can start a free trial now to experience the powerful capabilities of Acterys and see how it can benefit your business.
Key Takeaways
Demand planning allows businesses to accurately forecast future demands, align product or service output with market needs, and optimize resources.

Through demand planning, companies can understand the relationship between inventory levels and consumer demand, leading to increased profitability and customer satisfaction.


Key components of an effective demand planning process include Trade Promotion Management (TPM), Product Portfolio Management, Statistical Forecasting, and Collaborative Demand Planning.


Collaborative demand planning involves all supply chain parties working together to create a consolidated forecast, resulting in better accuracy, optimal inventory control, and faster response times.


Some demand planning challenges include market volatility, seasonality, limited data, new product introductions, supply chain complexity, and global operations.



The challenges are overcome through strategies such as incorporating market intelligence, integrating demand-sensing technologies, implementing efficient S&OP, monitoring and evaluating performance, embracing scenario planning and risk management, and enhancing forecasting techniques.
FAQs
1. What is demand planning?
It is a process that involves predicting future demand for a company's goods or services based on historical sales data, market trends, and other factors.
2. Why is demand planning important?
Demand planning is important because it helps businesses optimize inventory levels, reduce costs associated with overstocking or stockouts, improve customer satisfaction, and increase overall profitability.
3. What factors can impact demand planning?
Several factors can impact demand planning, including changes in consumer behavior, economic conditions, market trends, and competitive pressures.
4. What is trade promotion management?
TPM management is a process that involves planning, executing, and evaluating promotional activities aimed at driving sales of a company's products or services.
5. How can trade promotion management help businesses?
Trade promotion management assist business to increase sales, improve brand awareness, build customer loyalty, and gain a competitive advantage.
6. What is product portfolio management?
The term implies the process of managing a company's range of products or services to ensure that they align with the company's overall strategy and meet the needs of its customers.
7. What is statistical forecasting?
It is a technique that uses historical sales data, market trends, and other variables to predict future demand for a company's products or services.
8. How can statistical forecasting improve demand planning?
Statistical forecasting can improve demand planning by providing more accurate demand projections, which can help businesses optimize their inventory levels, reduce costs, and improve customer satisfaction.
9. What are some best practices for collaborative demand planning?
Best practices for collaborative demand planning include establishing clear communication channels, involving stakeholders from different parts of the organization, using data-driven decision-making, and regularly reviewing and updating the demand plan.
10.What are some common challenges in demand planning?
Demand planning invites its own set of challenges, including inaccurate demand projections, insufficient data, poor communication between departments, and unexpected changes in market conditions or customer behavior.
Need Tailored Reporting, Planning & Analytics Solutions?
Talk to our solution experts now
Book a Meeting