Selecting the right inventory planning solution is critical for efficient supply chain management. As the amount of data increases, organizations want to invest in a complete planning solution that can connect to multiple data sources, extract, and optimize data models, and offer accurate demand forecasts that can help manage optimal inventory levels.
Previously, we talked about the basics of inventory planning, the four cornerstones of an inventory plan, and the six-step process to build an inventory plan. In this blog, we will explore the various solutions available for inventory planning and help you choose the best that fits your business needs. Let's get started.
How to Perform Inventory Planning?
An extensive list of demand drivers and other external factors can make the planning process quite overwhelming. For this reason, opting for the right planning solution can offer huge benefits to your business. In this section, we cover the systems and technologies that organizations use to create their inventory plans.
1. Spreadsheets
The most common solution used to forecast customer demand and create inventory plans are spreadsheets, such as Microsoft Excel or Google Sheets. These solutions can be useful for small businesses that have limited datasets, product categories, and customer segments.
However, if we consider thousands of products, spreadsheets fail to offer accurate forecasting and planning capabilities. Plus, if we factor in the manual effort required to collect data from several sources, cleaning and consolidating them into one sheet, and manually creating formulae, spreadsheets can quickly become time-consuming and burdensome – not to mention, provide limited value.
2. Inventory management systems
Organizations often use their inventory management systems (IMS) for planning and forecasting. IMSs are designed to store real-time data about inventory levels, lead times, and reorder points. Some vendors do offer basic inventory analytics, but they are limited since the focus of these applications is to effectively manage inventory, supply chains, warehouses, and distribution networks.
By understanding the different "what-if" scenarios, business leaders can be better prepared for future opportunities or challenges that arise in this ever-changing economy. Such scenario planning is not possible with an IMS, since it represents the actual, real-world values of all data points. To plan effectively, you need to integrate a comprehensive database that forecasts potential values and evaluates probable results.
3. Corporate performance management solutions with advanced xP&A capabilities
Today, organizations have access to powerful corporate performance systems that provide sophisticated planning and analytics capabilities. This cutting-edge technology lets businesses maximize efficiency while optimizing their future goals. CPM solutions can connect with virtually any data source, extract the required data, optimize it using custom data models, and generate probabilistic forecasts about future demand. Moreover, they allow you to conduct driver-based planning where you can predict outcomes by weighing the impact of crucial inventory drivers.
An xP&A platform offers detailed dashboards that allow you to visualize the impact of real, dynamic factors on inventory levels and clarifies how you can incorporatethem in your planning process. Such dashboards can help you to perform:
Multi-dimension spend analysis.
Multi-dimension price forecasting based on categories, material/cost drivers, suppliers, etc.
Price analysis across the supply chain.
Inventory requirement planning based on sales forecasts.
Top-down cost saving analysis.
Risk monitoring, and much more.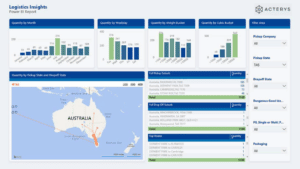 Businesses have access to the next level of intelligence systems, allowing them to gain greater insights into their operations and make better decisions. Power BI is at the forefront of this new generation of analytics technologies. They not only provide valuable insights into your inventory, but enable integrated business planning by identifying relationships between different data dimensions – for example, the impact of staffing on sales, sales on inventory, inventory on business revenue, and so on. Retailers and manufacturers that have complex demand and budget constraints are adopting systems to prepare for the future.
Finance Transformation for Agile Planning & Reporting
Discover how finance transformation facilitates dynamic planning processes
Read Whitepaper
How can an xP&A Platform Enhance your Inventory Planning Process?
Traditional inventory planning methods and solutions can generate inaccurate forecasts. We briefly discussed how modern corporate performance systems can transform your inventory planning process by enabling greater visibility and integrated planning.
Acterys is one solution that helps organizations prepare for the future with more certainty and predictability by plan-enabling virtually any data source. It offers a complete suite of smart data modeling, planning, and forecasting solutions on the cloud and on premises.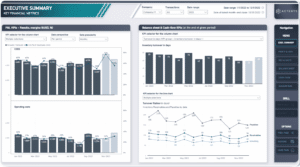 Acterys offers these capabilities by integrating with familiar tools like Power BI, Excel, SQL Server, and Azure Cloud. Users do not have to set up new systems or acquire knowledge of new technologies. With Acterys , you can transform your inventory planning process with advanced concepts like:
Integrated business planning (IBP): Identify hidden connections between inventory investment, customer segment profitability, cost-to-serve, and customer service.
Probabilistic and continuous forecasting: Avoid overcompensating or undercompensating demand variation by utilizing more accurate techniques that lead to inventory reduction of about 10-20%.
Revenue and demand planning: Combine collaborative demand planning with financial revenue planning and align your revenue targets with resource and inventory plans.
Multi-network inventory optimization: Determine inventory planning drivers by using techniques like multi-Echelon inventory optimization and reduce your inventory by 10-20%.
Cash flow and product development: Identify the impact of free cash flow on product development and sourcing to enable effective decision and performance management systems.
Scenario planning: Predict the worst case, best case and most likely case based on the changing variables and create different plans to handle those scenarios beforehand.
Key features of Acterys
Acterys is designed to deliver unparalleled speed, accuracy, and flexibility to its users. Some of its key features include:
Unified platform: Streamline data extraction, integration, modeling, and reporting processes with an all-in-one solution for planning, budgeting, and forecasting across each vertical.
Instant database connectivity: Connect to virtually any database or source with a few clicks using pre-built connectors and plan-enable your CRM, ERP, or any other application.
Smart data warehousing: Host your planning and analytics data in a dedicated SQL data warehouse and enable real-time data synchronization with multiple sources.
Standard styles and formats: Apply standard table formats and styles to all reports and control them centrally within data models.
Write-back functionality: Carry out scenario planning by changing different data points and visualizing its impact on the plan or forecast.
Built-in workflows: Minimize managerial overhead by automating data syncs and refreshes at scheduled time intervals.
Pre-built templates and custom visuals: Leverage built-in Power BI report templates and custom Power BI visuals.
Collaborative planning: Involve necessary team members in your planning process by integrating your forecasting and budgeting reports into Microsoft apps like Teams, PowerPoint, and Flow to enable real-time collaboration.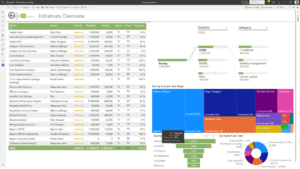 Want to See How Planning at Hyper Speed Feels Like?
Take Acterys Power BI out for a test drive now!
Start Free Trial
Conclusion
Finding the right balance between customer demand and business profitability is crucial, and effective inventory planning is key to achieving this. Many modern organizations are using solutions that enable flexible, user-driven planning, budgeting, and forecasting to prepare for the future and meet their business goals and objectives. These systems allow for a more dynamic and efficient approach to inventory planning.
You can sign up for a 14-day free trial of Acterys today and see how it enhances your inventory planning process and outcomes.