Solutions xP&A pour le secteur public
Rationalisez la planification financière avec les solutions modernes xP&A d'Acterys pour optimiser l'utilisation des ressources, aligner les dépenses d'investissement et les plans d'exploitation, et prévoir les futurs ralentissements économiques. Acterys fournit aux dirigeants des organisations gouvernementales un accès rapide à des informations en temps réel pour une budgétisation précise et permet de construire une infrastructure de reporting flexible grâce à une plateforme unifiée.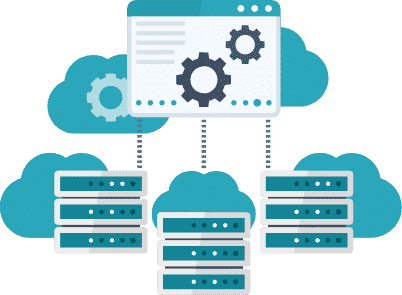 Modernize Your Planning & Analytics with our Free Trial Now
Make actionable decisions with Acterys and fast-track your plans and budgets. Changes in data can be modeled in minutes and viewed in real-time, informing you of possible risks and allowing you to simulate what-if scenarios quickly.
Apporter de l'agilité et de la flexibilité aux rapports et aux budgets des gouvernements
Des feuilles de calcul et des systèmes existants à la planification intégrée
Acterys évite aux organismes du secteur public de travailler avec des solutions patrimoniales disparates, comme des applications distinctes pour la découverte, la consolidation, le reporting, la planification et l'analyse des données. Au lieu de cela, elle combine toutes ces capacités dans une plateforme xP&A complète et entièrement intégrée qui utilise des technologies Microsoft performantes et sécurisées, notamment Azure, SQL, Power BI et Excel.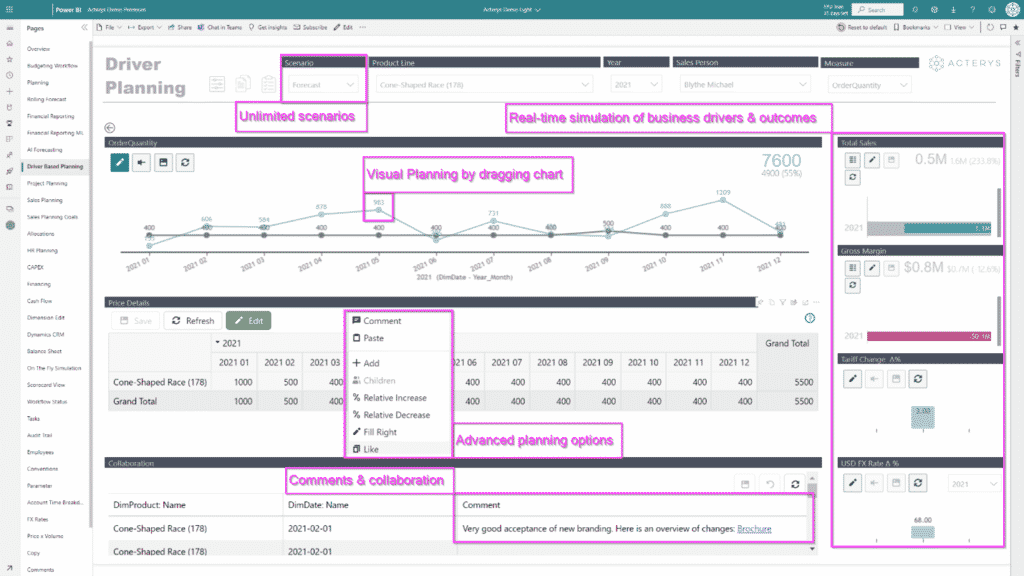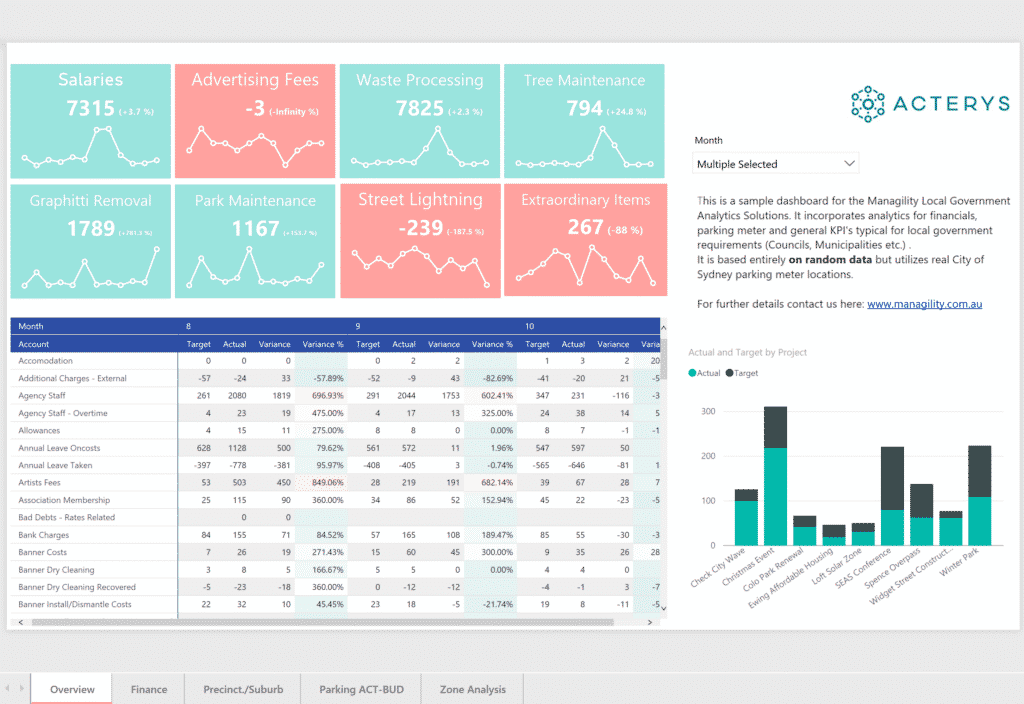 Obtenir des informations sur plusieurs projets gouvernementaux
Acterys fournit une intégration en un clic aux sources critiques pour l'entreprise et automatise tous les processus de chargement de données qui permettent de travailler avec une source unique de vérité pour obtenir des informations sur plusieurs projets gouvernementaux en cours et archivés. Acterys construit automatiquement un modèle de données centralisé qui vous permet de définir une logique de reporting par le biais d'un schéma en étoile et facilite l'alimentation de données en temps réel dans des tableaux de bord en direct. Les utilisateurs peuvent
Utilisation optimale des ressources et du personnel
Aux niveaux local, étatique et fédéral, les organisations gouvernementales doivent travailler avec des ressources fixes et des budgets serrés tout en répondant aux attentes des citoyens et en produisant des résultats dans les délais. Avec Acterys, les utilisateurs ont des informations sur les performances au bout des doigts sur des tableaux de bord de gestion interactifs et des rapports directement dans Power BI ou Excel, ce qui leur permet d'allouer efficacement les ressources humaines.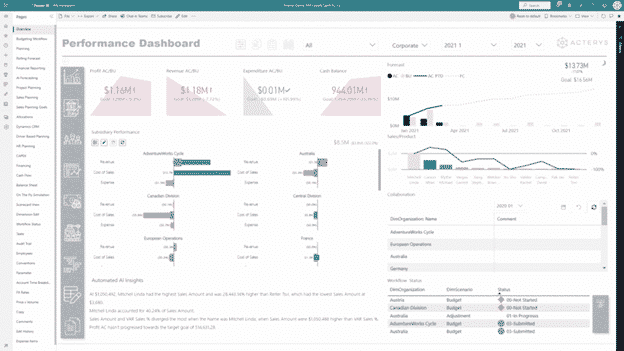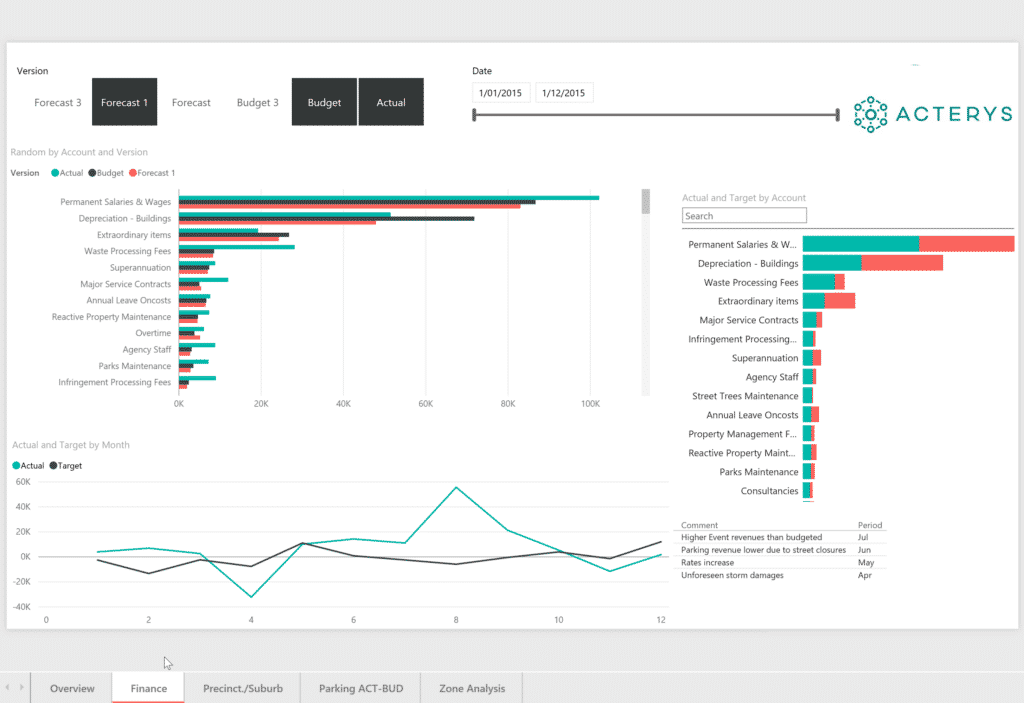 Budgétisation efficace grâce à la planification de scénarios d'hypothèses
Acterys permet aux organisations gouvernementales d'élaborer des modèles détaillés pour de multiples scénarios et de mesurer l'impact de différentes variables et dimensions sur les plans et les budgets. Les utilisateurs ont la possibilité d'apporter des ajustements aux rapports et aux tableaux de bord dans Power BI ou Excel à l'aide des visuels activés par Acterys et d'utiliser les données en temps réel pour effectuer une analyse des écarts en un seul clic. Vous disposez ainsi de l'image la plus récente de vos actifs, de vos dépenses et des fonds disponibles pour établir des budgets efficaces et flexibles.
"Nous avons testé toutes les alternatives : la seule solution qui fonctionne vraiment de manière transparente avec Power BI est Acterys"
"Mise en œuvre rapide et sans heurts du reporting, de la planification et de la consolidation pour nos 30 entités internationales".
"Nous n'en revenions pas de la rapidité avec laquelle nous avons obtenu des résultats parfaitement intégrés à nos processus existants."
"Notre processus de prévision est passé de 3 semaines à 4 heures".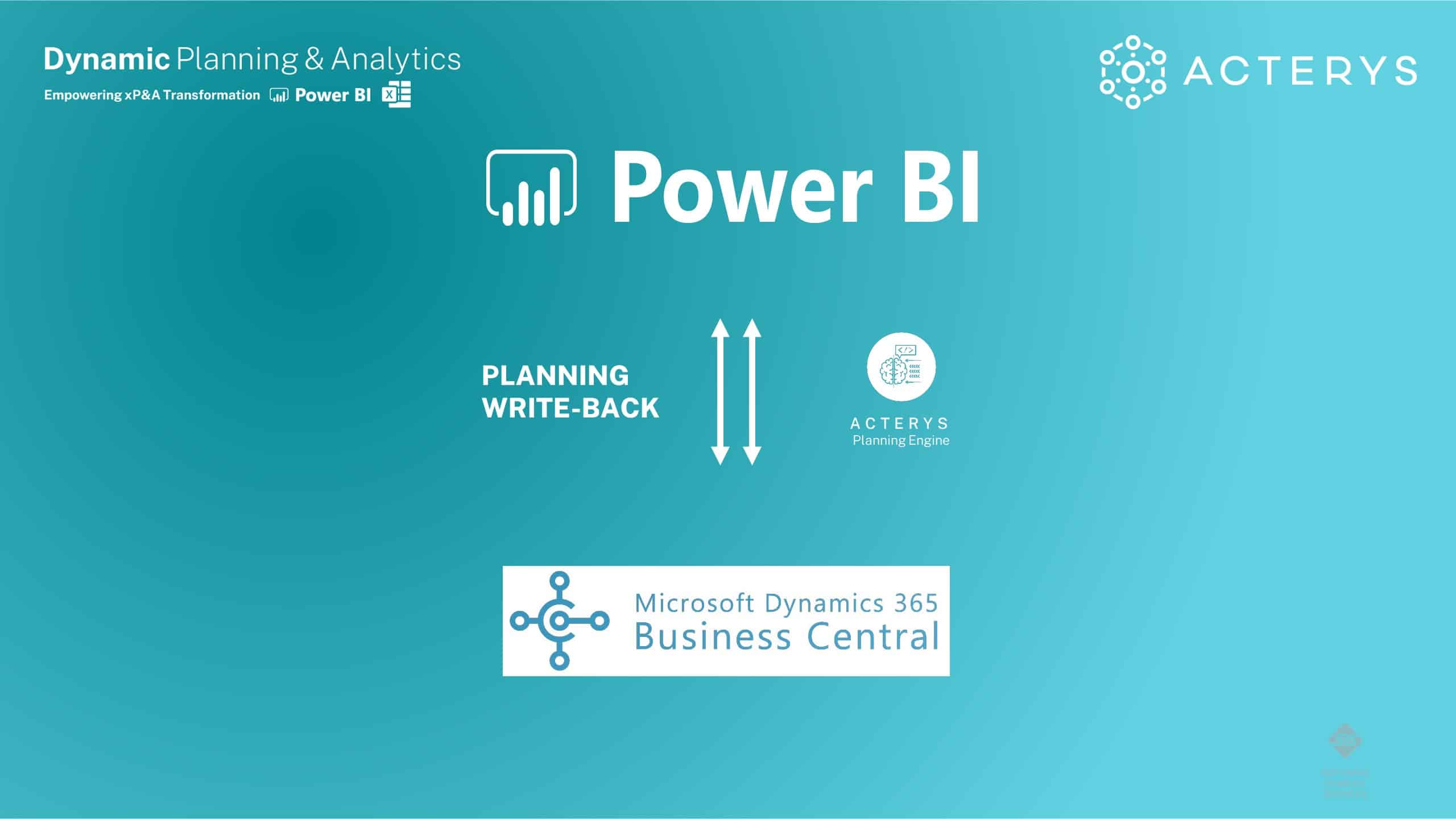 Comment ajouter la planification et la budgétisation avec Business Central NAV dans Power BI
Power BI offre des fonctionnalités inégalées pour l'analyse et la visualisation : dans ce post, nous expliquons comment vous pouvez ajouter une planification et une budgétisation complètes avec toutes les éditions de Business Central et NAV.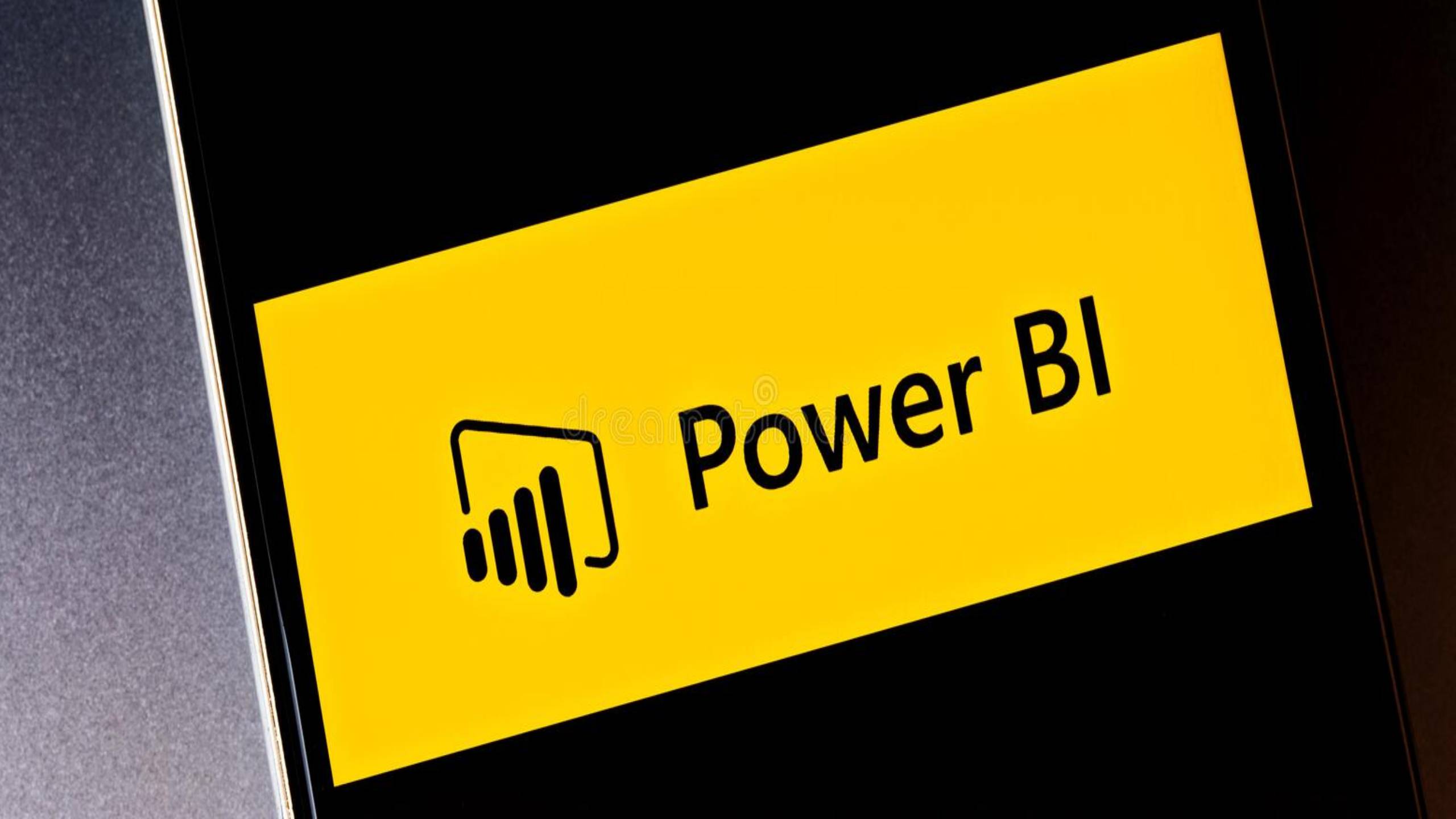 Comment implémenter la planification, la prévision et la réécriture dans Power BI
Power BI est la principale plateforme d'analyse - avec la bonne approche, elle peut être transformée en une plateforme extrêmement polyvalente et puissante pour la planification, les prévisions et la rétroaction.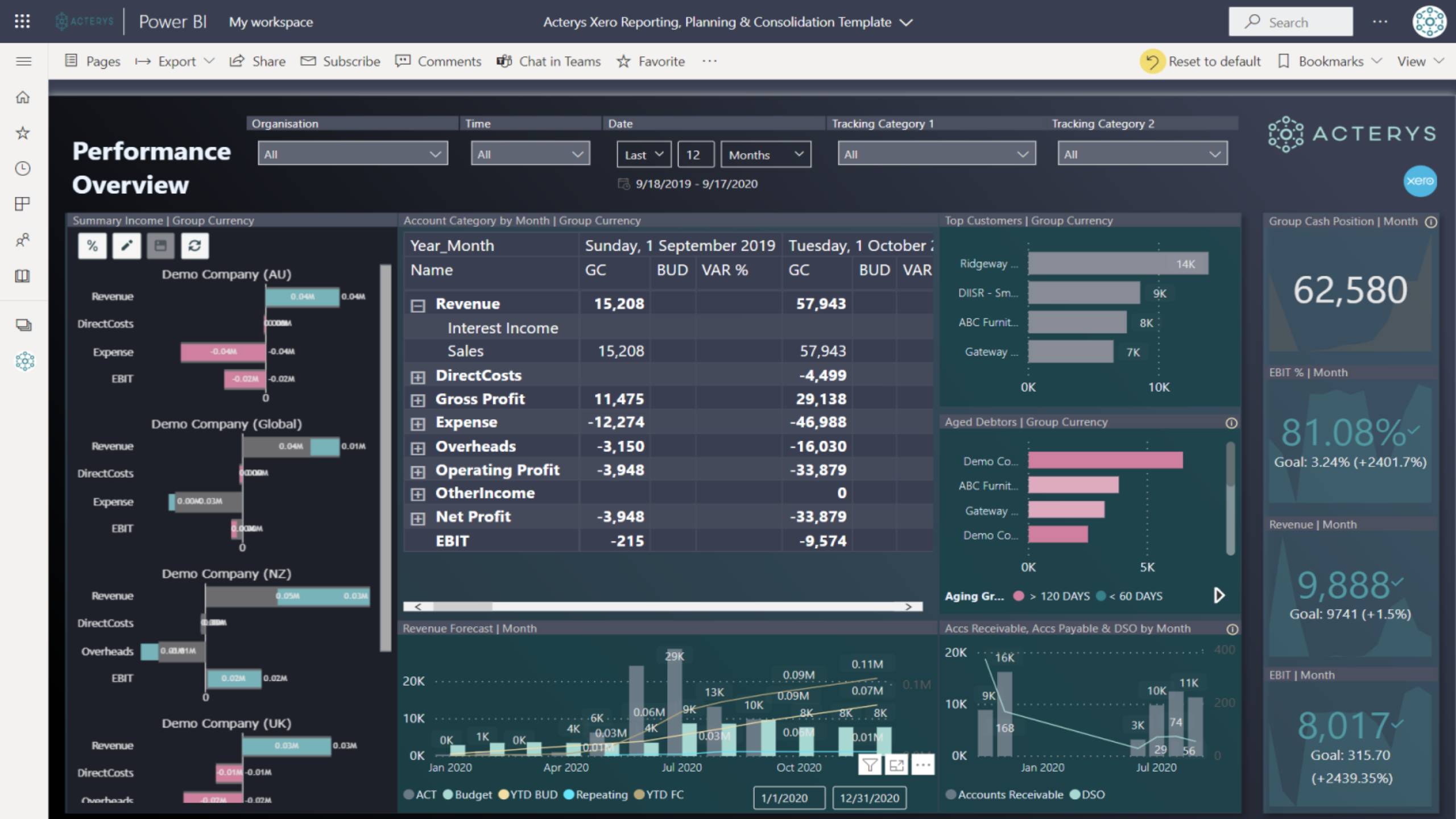 Reporting et planification redéfinis : Xero | QuickBooks | HubSpot | Dear | MYOB
Suite à l'énorme succès de ces solutions, avec maintenant plus de 1000+ entreprises sous gestion, nous avons apporté des améliorations significatives à toutes les Apps.